The Tron cryptocurrency has been trying to stabilize and even grow during the last couple of days, but the optimistic movements remain scarce.
The TRX is clearly lacking an impulse. It is balancing around $0.0163.
TRX fundamental analysis
Fundamental news that could stimulate the TRX is also not enough. For example, the TRX tokens are included into the listing of the South Korean exchange Bithumb alongside the BitTorrent service. It is known that the TRX will be traded there in pair with the BTC and the US dollar, while the BTT — with the USD and the USDT. Earlier, Bithumb was planning to create a separate committee regulating cryptocurrencies on the platform. It could keep track of serious capitalization fluctuations ss well as the intraday volume of trades, the work on applied projects, and some other factors. The cryptocurrencies that fail to meet the requirements of the committee have two months to fix the problem, otherwise they will be excluded from the listing.
The wider the TRX will be spread on various platforms, the better as this will give an opportunity to attract new users.
This is important in terms of the market rumors about the Tron creator Justin Sun having artificially increased the number of his subscribers on Twitter: some of them clearly look like bots. This decreases the market trust to the cryptocurrency as well.
Meanwhile, at the beginning of September, we found out that the number of decentralized apps in the Tron network was growing: now it has reached 569 apps, including two new dApps. The more such apps are created, the healthier the Tron ecosystem becomes. It is now growing steadily, constantly attracting new participants.
TRX/USD tech analysis
On D1, the TRX/USD demonstrates a downtrend upon overcoming the support line of the previous channel. The downtrend might not be over yet as the important minimum of $0.0110 is not reached and renewed yet. Also, on this timeframe, we can see a small impulse of growth break through the line of the descending channel after a convergence on the MACD. The first important goal of the developing growth might become the projection resistance level of $0.0245, while the main goal of the current movement is at $0.0320. Apart from all said above, the whole picture should be analyzed by wave analysis. The construction of the last two waves suggests an upcoming third wave. This supposition should be confirmed by a breakaway of the maximum of the first wave.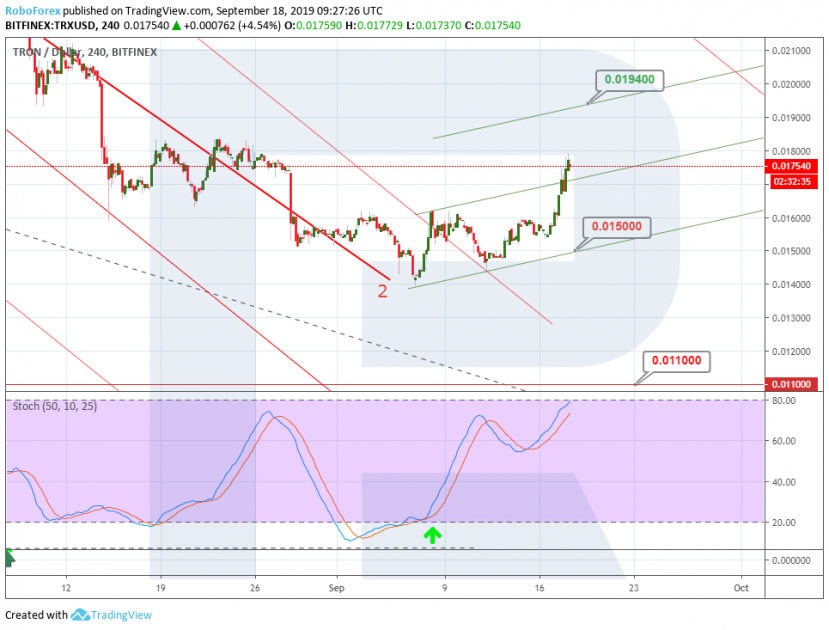 On H4, there is another impulse of growth developing, breaking through the resistance line of the primary channel. The goal of the short-term plan of growth may be the resistance line and the level of $0.0194. A breakaway of the local support of $0.0150 may signal the development of a new impulse of decline to the key minimum.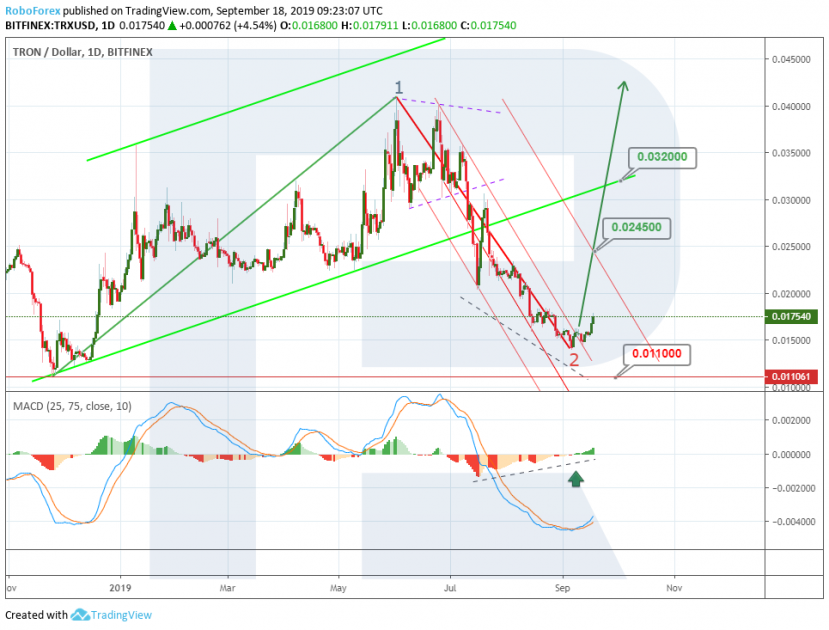 ---