Forex Bonuses and How to Get Them?

To enhance their popularity and attract new clients, many broker companies offer various bonus programs. Bonuses are meant for receiving additional finances or making your trading conditions better. In this review, we will discuss several interesting bonus programs provided by the RoboForex broker company.
What is to be known about bonuses on Forex?
A bonus is a sum of money that the company deposits on your account at certain conditions. There are various types of bonuses: welcome bonuses, bonuses for depositing your account, money turnover, and others. Thanks to bonuses, you can try Forex without investing substantial sums.
First of all, bonuses seem attractive to beginner traders, but experienced players are also happy to use them – receiving additional income from a large number of trades, for example. Bonuses provide the trader with additional opportunities for making money on the market. You should study the conditions of bonus programs carefully and decide, which type suits you most.
Types of Forex bonuses
Let us discuss the three main types of Forex bonuses.
Welcome Bonus of 30 USD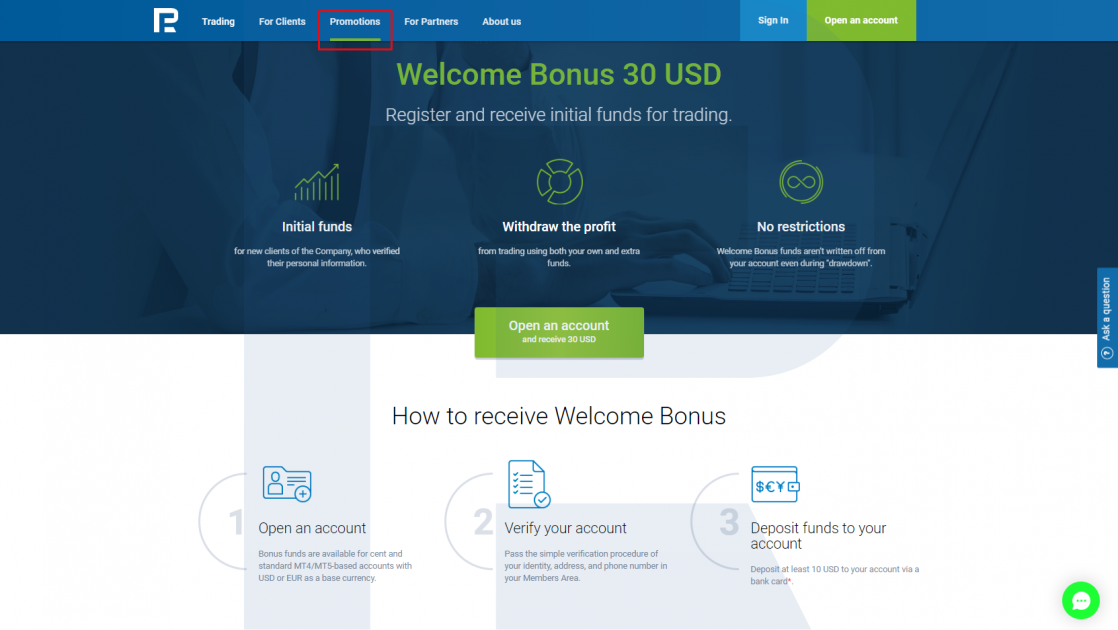 This is a bonus for new clients of the company. It is available to anybody provided that they have not yet participated in bonus programs of receiving seed money. The size of the bonus is 30 USD or 3,000 cent for cent accounts. The money may be used for trading without limitations.
All the profit from trading and your funds may be withdrawn. The bonus sum may not be withdrawn, it can only be charged off in the case of a Stop Out or in case you reject the bonus. You can find out more detail about Welcome Bonus and receive it on the RoboForex website.
Classic Bonus for your deposit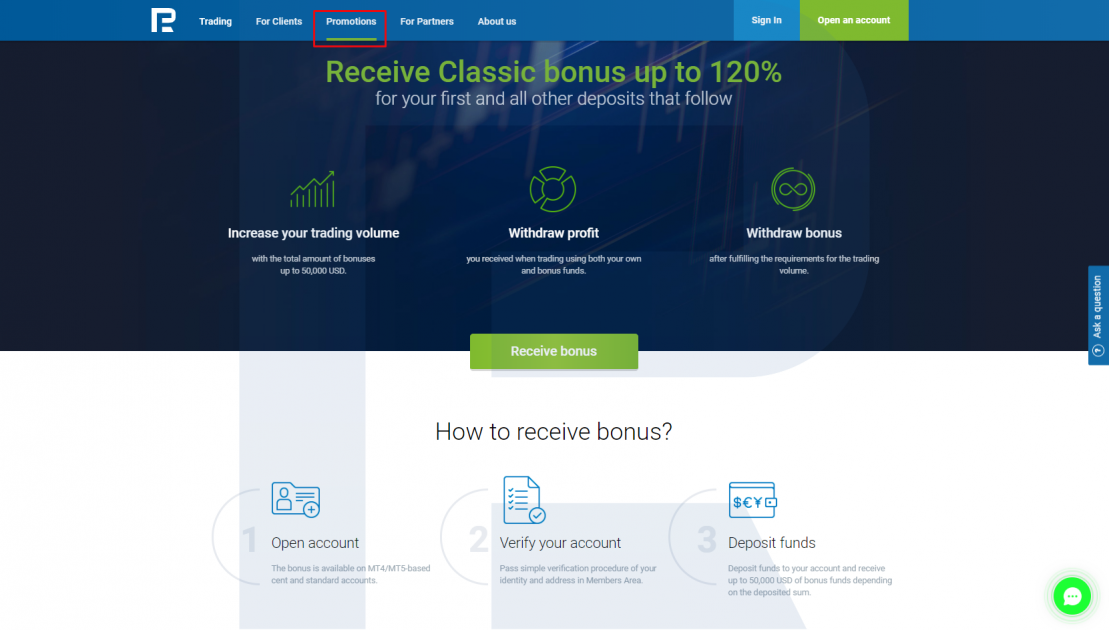 A classic bonus is additional money deposited on your account in a certain ratio with your existing deposit. Currently, you can receive a Classic Bonus of 25%, 50%, 100%, and 120% from the deposited sum. The Classic Bonus may not be included in a drawdown: if your equity is less than the sum of your active bonuses, the Classic Bonus will be withdrawn from your account.
The main advantage of Classic Bonus is that you may manage it at will (including withdrawing it) if there is a certain money turnover on your account. Until you reach it, the bonus and the sum that it was deposited on may not be withdrawn. The necessary turnover is calculated as:
Number of lots = Sum of Classic Bonus (USD) / 2
You can find out more detail about Classic Bonus and receive it on the RoboForex website.
Advanced Profit Share Bonus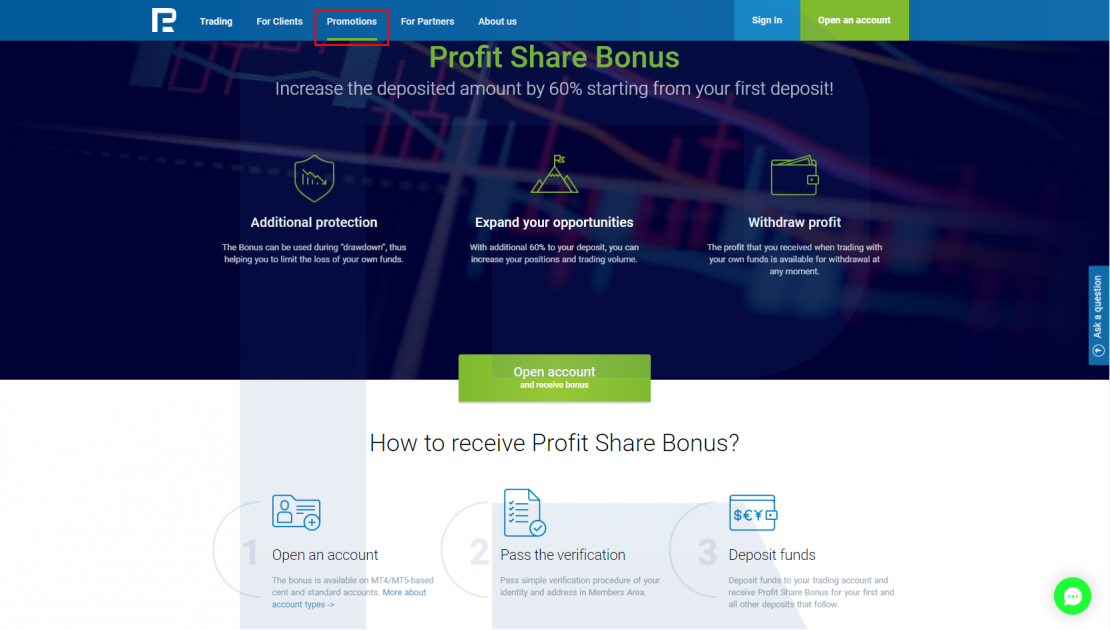 Profit Share is additional money deposited on your account. Unlike Classic Bonus, this one may be part of a drawdown. Currently, the maximum available Profit Share is 60% of the deposited sum. After the bonus is deposited, the money on your account is divided into shares: your own and bonus money. The Profit Share will be withdrawn from your account in the case of a Stop Out or if you reject the sum.
Like Classic Bonus, Profit Share may be withdrawn from your trading account after there is the necessary trading turnover. The calculation formula is the same as for Classic Bonus:
Number of lots = Sum of Profit Share (USD) / 2
You can find out more detail about Profit Share and receive it on the RoboForex website.
How to get RoboForex bonuses?
Bonuses are deposited on your trading account, hence, your first step is to open an account on RoboForex.
To receive deposit bonuses Classic Bonus and Profit Share, open the depositing page, choose your bonus and its % and deposit your account. The bonus will be deposited together with your money.
Bonuses can be received a limitless number of times, but the overall sum of bonuses on one account is limited: 50,000 USD for Classic Bonus and 20,000 USD for Profit Share.
The conditions for Welcome Bonus are slightly different. You will need to:
verify your personal data
verify your phone number
deposit your account by a plastic card for no less than 10 USD or the same sum in any other currency.
After all conditions are fulfilled, you will receive a special code on your email. It must be activated in your Personal Members Area, after which, in a 5 day time, 30 USD (or 3000 cent) will be deposited on your account. Each client may get a Welcome Bonus only once.
How to choose a bonus?
Bonuses should be chosen based on your necessities. For example, Welcome Bonus will suit beginners who want to try playing on Forex but have limited funds or are not quite sure of their trading system. Also, it will suit those traders who want to get acquainted with the company's conditions, checking it on bonus money before investing their funds.
Profit Share is good for experienced and active traders, especially those who have a highly risky trading style, leading to large drawdowns from time to time. Because it participates in drawdowns, the bonus makes the deposit more survivable and allows receiving an additional profit.
Classic Bonus will suit traders who make a lot of trades. Thanks to a large money turnover, they can work off the bonus money and manage it at will. Also, Classic Bonus will be useful if you decide to trade an instrument with large margin security — the bonus money will help you meet the requirement.
Can you make money using bonuses?
Of course, you can make a profit using bonuses. Welcome Bonus will let you start trading virtually without investing your own money. The deposit bonuses Classic Bonus and Profit Share will extend your trading opportunities and bring you extra profit if you work them off gradually by increasing your trading turnover.
However, note that the biggest part of your profit is made not thanks to bonuses but your reliable trading system. A bonus is just extra opportunities, the main thing is your ability to trade and discipline. I advise you against trying too hard to work off your bonuses as this may entail breaking the rules of trading and subsequent losses.
Use bonuses rationally, and they will be of great help.