How to Trade Cryptocurrencies: a Guide for Beginners

In this overview, we will discuss the main issues of trading cryptocurrencies. A cryptocurrency is a digital (virtual) financial asset. Operations with such assets remain safe thanks to various methods of cryptography. Cryptocurrencies are still a rather new but already popular financial instrument.
How to trade cryptocurrencies via a broker?
All the main cryptocurrencies are traded in crypto exchanges, which are modern platforms for buying/selling cryptocurrencies. You can register in a crypto exchange directly and carry out operations with various cryptocurrencies. However, if you plan to use one account for trading cryptocurrencies and other financial instruments (currency pairs, stock indices, oil, gold, etc), you will need to open an account in a broker company.
Apart from the opportunity to trade various assets on one account, a broker provides access to different trading platforms. A modern trading terminal allows using advanced methods of tech analysis, setting up necessary indicators and expert advisors, and controlling risks.
To start trading cryptocurrencies via a broker, you only need to open an account in a broker company with the conditions suitable to you.
How to open an account for trading cryptocurrencies at a broker?
First, register your Personal Member's Area in a broker company (provide your e-mail and create a password) and get your personal information verified. As a rule, verification requires a scan of a document or two that confirm your identity and dwelling address. The procedure does not take long, normally up to two days.
Then study the types of trading accounts on the company's website very carefully. The trading conditions of different account types may differ significantly. So, you need to choose an account with the conditions optimal for you and a trading platform. When this is done, open your PMA and deposit the account (there are plenty of ways to do it). Install a trading terminal – and get started.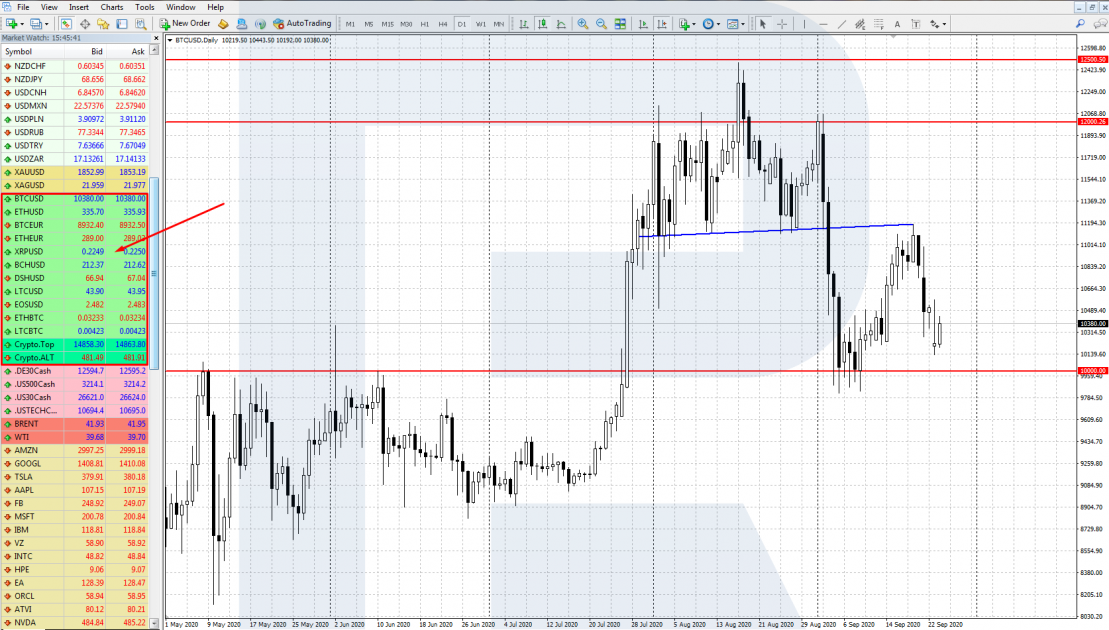 The conditions of trading cryptocurrencies
The conditions may vary depending on the broker company. Let us have a look at the conditions in RoboForex:
Minimal deposit – 10$
CFDs for 26 (the number depends on your account type) popular cryptocurrencies available
24/7 trading
Leverage up to 1:50
Execution type: Market Execution
Floating spread and a fixed commission fee for certain trading volume (on certain accounts).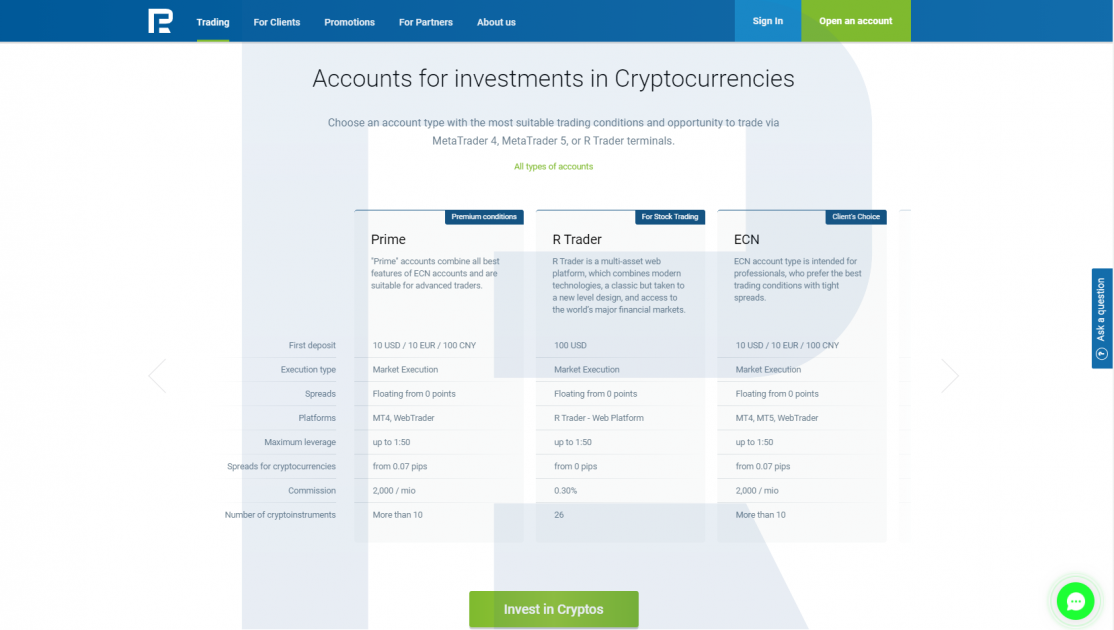 A trading plan for beginners: what to pay attention to
When creating and analyzing a trading plan, use the tech analysis of the chart and the current fundamental background:
Tech analysis is a method of forecasting changes in the price of an asset by analyzing the chart of the previous period. Tech analysis helps detect the actual trend, draw important support/resistance levels and lines, or find various patterns on the price chart. Technical indicators provide additional trading signals.
Fundamental background means current market and financial details that influence the price of the asset. Cryptocurrencies are mostly influenced by the news, as well as the ICO, mining, capitalization, fork, halving, new law drafts, possible bans, etc. Also, the price of the Bitcoin and other crypto leaders influences other crypto assets.
Crypto market price dynamics
Crypto prices are characterized by increased volatility. If a day is extremely active, the price may fluctuate by 10-20%, even over 50%. For example, on March 12-13th, the Bitcoin price fell abruptly from about 8,000 USD to under 4,000 USD. It turns out that in those two days, the Bitcoin became 50% cheaper. It may grow as quickly if the demand is increased.
Seeing such surges on the chart, beginner traders may have a false impression that cryptocurrencies can bring a huge profit almost every day and that making money in the market is very easy. However, practice shows quite the opposite: about 90% of beginners lose their money right after they start trading. To reach a stable result in trading, you will have to put a lot of effort into it.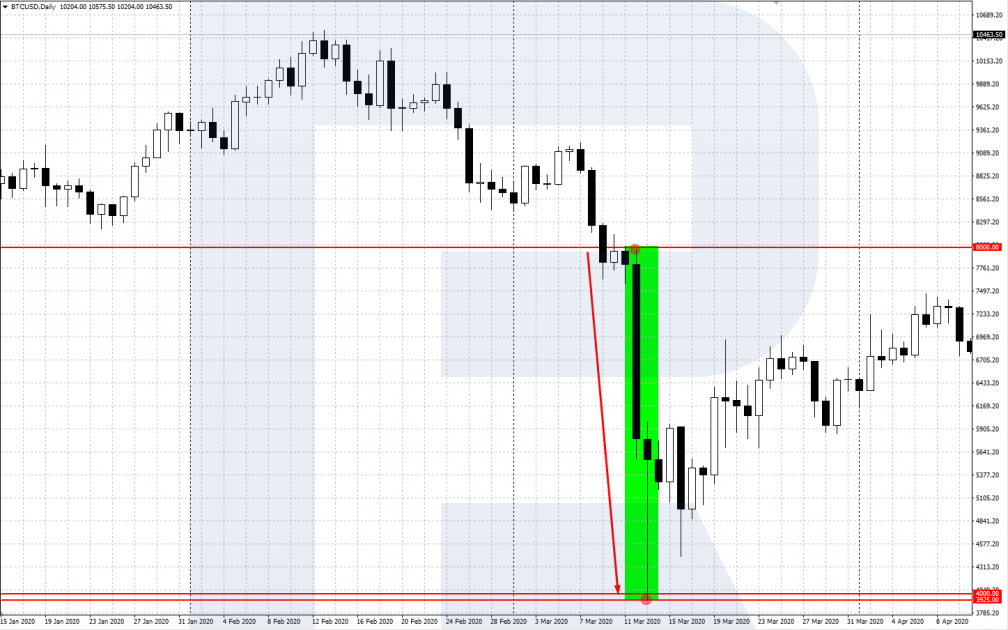 Safety issues of trading via a broker
Unfortunately, the safety of crypto trading is far from perfect yet. We often hear about this or that exchange hacked and the users' assets stolen. Moreover, the creators of exchanges are sometimes frauds who try to steal money from traders.
That is why trading via a famous broker company that boasts all licenses, many years of successful work, and an immaculate reputation seems more reliable. The company's assets are kept on bank accounts, and its business is officially regulated.
You can find a more detailed comparison of brokers and exchanges in the article Trading Cryptocurrencies: Exchange vs Broker.
Trading strategies for cryptocurrencies
In essence, trading cryptocurrencies via a broker does not differ from trading anything else. I would single out two main approaches to trading cryptocurrencies:
Long-term investing is a simple and quite clear strategy with the main principle "buy and hold". You need to analyze fundamental factors and choose an attractive cryptocurrency (or several). It may be a top cryptocurrency or a very young one but promising. Buy with minimal leverage or without it. For your profit to become substantial, you will need to wait.
Active trading is short- or medium0term trading with leverage. Decisions are usually based on tech analysis. The means of trading include support/resistance levels and lines, price, candlestick, and Price Action patterns, signals from indicators. Almost all Forex strategies apply to cryptocurrencies.
Risk management in trading cryptocurrencies
Trading cryptocurrencies that feature bursting volatility entails increased risks. Hence, to avoid losing the whole of your deposit in one or two losing trades, you need to control risks. To do it, we use risk management.
The main rules of risk management when trading cryptocurrencies are as follows:
Any trade may turn out to be losing – you have to limit possible losses in advance (the simplest way is to place a Stop Loss);
Enter the market strictly by the plan, do not dare to enter if there are no clear signals from your tactics. Fill in your trading diary;
Limit your losses per trade (by, say, 2%). Set a "red line" for a series of losing trades – for example, if your losses in a series of trades reach 20% of your capital, stop trading and analyze your mistakes: whether your strategy is erratic, or you are overwhelmed with emotions;
Use a good risk-to-profit ratio. Try to find and open technically correct positions with the ratio of ½, 1/3, at least;
Stay disciplined. Controlling your emotions is crucial for trading. Your fear, greed, fear of losses, or excitement – you have to control all these emotions lest they multiply all your emotions by zero.
Closing thoughts
Regardless of being young, cryptocurrencies have stepped confidently into the world of trading, taking a special niche in it. Availability, diversity, and bursting volatility make cryptocurrencies a popular instrument for trading.
You can trade cryptocurrencies on either special exchanges or via a reliable broker. Anyway, you have to remember that cryptocurrencies are a risky financial asset, and risk management is essential for long-term success.