IPO of ForgeRock: Сloud Identification Service

Any company that quickly staffs up and becomes a large business feels the need for an employee control system. To say the least, they require to track working hours, late arrivals, and movements of their personnel. And when a business is growing, this need is increasing as well: for example, if we talk about a small coffee shop, then this task can be managed by a competent administrator, but in the cases of large business ventures this method won't be as efficient and will require implementation of cutting-edge technologies.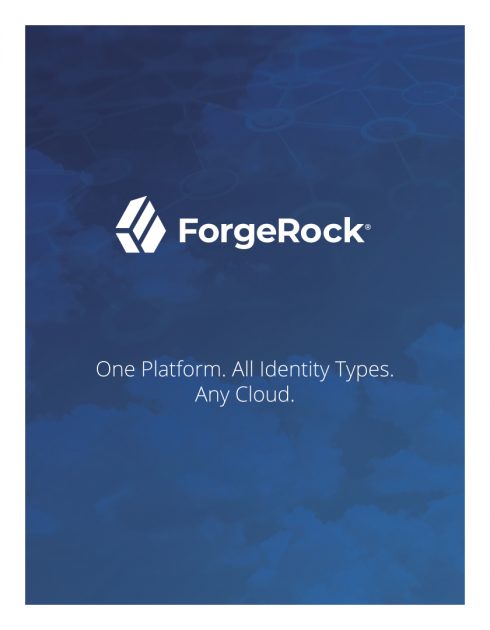 ForgeRock has created one of the world's best Saas platforms for digital identification. The company's IPO is scheduled for September 15th, at the NYSE, and its shares will start trading the next day under the "FORG" ticker. Let's take a closer look if the company's shares are interesting for investments.
Business of ForgeRock
ForgeRock was founded in 2010 with a headquarters in San Francisco, the USA. Francis Rosch has been the company's CEO since 2018. The company developed its own digital identification platform (Identity-as-a-Service) called ForgeRock Identity Platform. ForgeRock's solution includes customer identity and access management (CIAM), access management (AM), and identity governance and administration (IGA).
The platform has an open API and can be easily integrated into the solutions of other developers. It allows to identify not only personnel but also clients and partners. A Saas differentiated architecture helps to provide a very high level of safety and confidentiality. ForgeRock serves over 3 billion profiles.
The company's clients have access to the following functionality:
Client identification: allows to create and provide security of clients' profiles on contractor websites.
Personnel Management: helps to optimize personnel's working hours and increase their efficiency.
Identification management: configuration of primary authentication, security, and data protection.
Internet of Things: granting access to users, as well as protection from the hacking of servers and employees' PCs.
Over 1,300 companies all over the world employ services provided by ForgeRock. Forrester and KuppingerCole have recognised the company as the leader in the CIAM and AM identification services market. Below we'll talk about the opportunities this industry can offer.
The market and competitors of ForgeRock
According to Grand View Research, the digital identification market in 2019 was estimated at $3.34 billion. By 2027, it may reach $16 billion. As a result, a compound annual growth rate (CAGR) will be 22% from 2020 to 2027.
The key factors that will help the industry to expand are regulatory restrictions on data protection and an increasing number of employees who work remotely. According to Gartner, in 2021 the global access management market was $11.6 billion.
ForgeRock's key competitors are:
Ping Identity
Homegrown, in-house solutions
CA Technologies
Oracle
IBM
CyberArk
SailPoint
Financial performance
At the time of the IPO, the company doesn't generate net profit, that's why we'll start analysing its financial performance with the revenue. According to the S-1 form, ForgeRock's sales in 2020 were $127.63 million, a 22.15% increase relative to 2019. Over the last 12 months, the company's revenue is estimated at $133.93 million.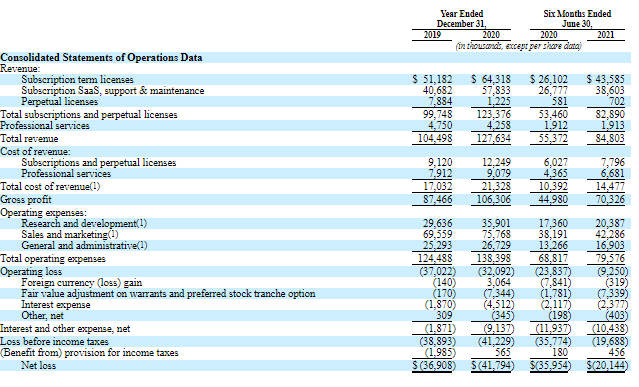 Over the first 6 months of 2021, this indicator was $84.8 million, with a 53.15% increase if compared with the same period of 2020. As we can see, the growth rate is accelerating and for rapidly-growing tech companies is a pretty positive signal. if this pace continues, the company's sales may reach $195.27 million by the year-end of 2021.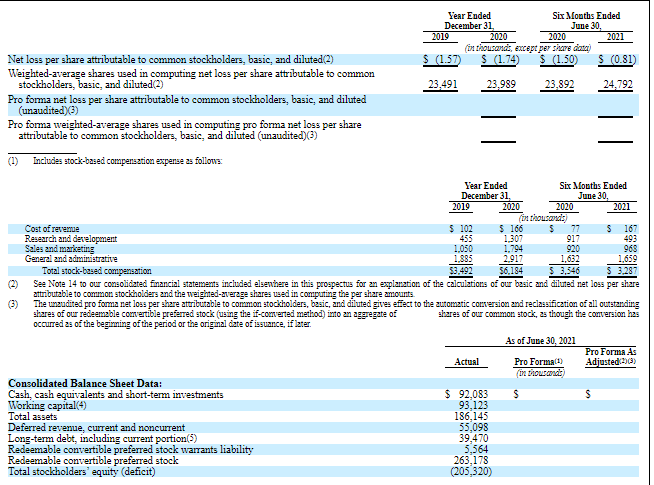 In 2020, ForgeRock's gross profit was $106.31 million, an 18.11% increase relative to 2019. Over the first two quarters of 2021, this indicator reached $70.33 million with a 56.36% increase if compared with the same period of 2020. As we can see, this aspect is also boosting.
The company's net loss in 2020 was $41.79 million, a 13.22% increase in comparison with 2019. Over the first 6 months of 2021, ForgeRock lost $20.14 million, a 43.98% decrease relative to the same period of 2020. As a result, in 2021 the net loss may be $23.42 million. The business efficiency growth is surely a positive signal.
Cash and cash equivalents on the company's balance sheet are $92.08 million. At the same time, its total debt is $44.77 million. As a result, the company's total balance is $47.32 million. ForgeRock's debt is also within normal limits.
Strong and weak sides of ForgeRock
Having acquired comprehensive information on the company's business model and finance, let's highlight its strong and weak sides. I believe ForgeRock's advantages are:
The growth of the revenue and gross profit is gathering pace.
Low debt.
Loss reduction is a sign of the business model efficiency.
Unique advantages of the product.
Sound management.
The target market growth rate is over 20% until 2027.
A recognised leader in its industry.
Risks of investing in ForgeRock shares are:
The company is loss-making and doesn't pay dividends.
Highly competitive industry.
IPO details and estimation of ForgeRock capitalization
During the previous rounds of financing, the company raised $235.5 million. During the IPO, ForgeRock is planning to sell 11 million common shares at the price of $21-24 per share. If shares are sold at the highest price in this range, the IPO volume may be $247.5 million.
The underwriters of the IPO Truist Securities, Inc., Piper Sandler & Co., Cowen and Company, LLC, BTIG, LLC, William Blair & Company, L.L.C., HSBC Securities (USA) Inc., Mizuho Securities USA LLC, Deutsche Bank Securities Inc., Morgan Stanley & Co. LLC и J.P. Morgan Securities LLC. are If shares are sold at the highest price in this range, the company's capitalization may be up to $1.77 billion.
To assess the company's potential upside, we use a multiplier, the Price-to-Sales ratio (P/S). At the time of the IPO, the P/S value is 11.37, and it may reach 20 before the end of the lock-up period considering the potential target market. As a result, the upside for ForgeRock shares may be 75% (20/11.37*100%) of the IPO price.
Considering all that said, I'd recommend the company's shares for mid-term investments.
Invest in American stocks with RoboForex on favorable terms! Real shares can be traded on the R StocksTrader platform from $ 0.0045 per share, with a minimum trading fee of $ 0.5. You can also try your trading skills in the R StocksTrader platform on a demo account, just register on RoboForex and open a trading account.