IPO of Rhodium Enterprises: Miners from Texas

In 2008, a then-unknown programmer under the pseudonym Satoshi Nakamoto published an algorithm for creating the world's first cryptocurrency called Bitcoin (BTC).
The process of creation is called mining. It solves extremely complex computational math problems. At first, medium specs personal computers were for this process. However, as time went on, the complexity increased and required more powerful CPUs.
Nowadays, cryptocurrencies are mined by special companies on large server spaces.

One of the biggest mining companies from Texas, Rhodium Enterprises, Inc., is planning to go public by listing on the NASDAQ under the "RHDM" ticker symbol. By the decision of underwriters, the IPO was postponed due to the Bitcoin market crash.
Let's discuss aspects of the issuer's business and try to find out if this stock would be attractive to investors.
The business of Rhodium Enterprises
Rhodium Enterprises, Inc. is a relatively young company – it was founded in September 2020 for buying and managing Bitcoin mining equipment. It's a founder-led enterprise run by Chief Executive Officer Nathan Nichols.
Rhodium's legal address is in Delaware, while its mining facilities are located in Texas. Since most parts of the operations are performed by machines, the company's staff is only 43 people. Rhodium's major investor is Imperium Investments Holdings.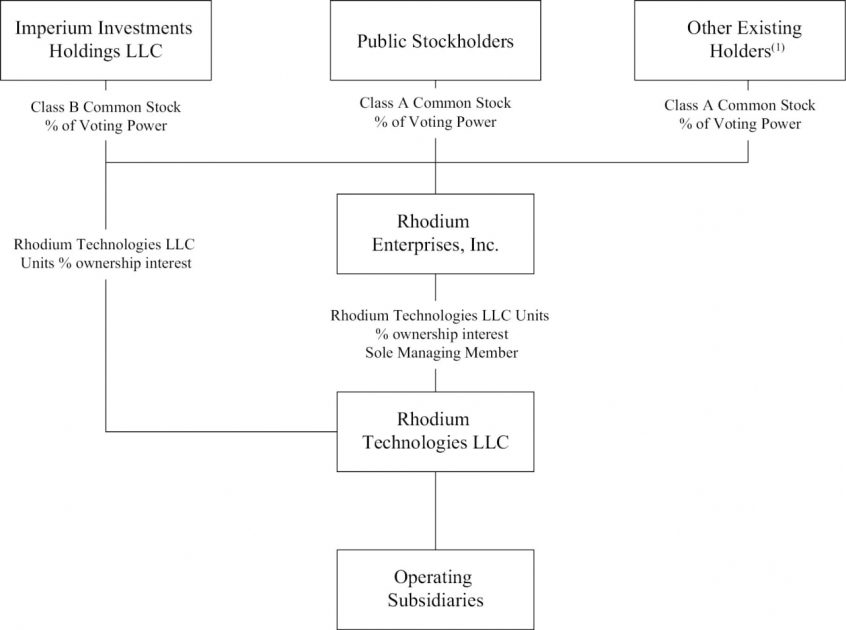 In spring 2022, Rhodium Enterprises is planning to launch one more mining centre. The company patented a unique equipment cooling technology, which increases mining efficiency and the server lifetime by 30-50%. This, in its turn, helps to reduce operational expenses.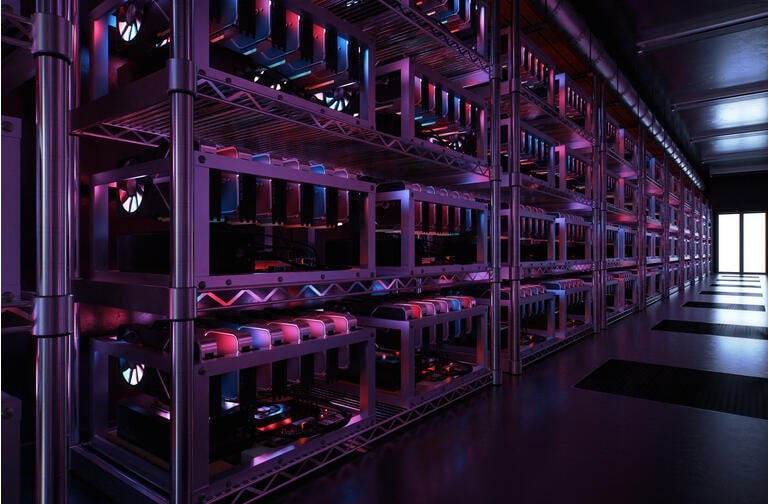 The market and competitors of Rhodium Enterprises
The global Bitcoin mining market is currently in the transformation stage: China banned cryptocurrency mining, so miners are now looking for a place to relocate their facilities.
Profits from the BTC mining directly depend on the Bitcoin price on crypto exchanges. The "lion share" of a miner's profit is a mined block of 6.25 BTC. When the Bitcoin cost $50,000, miners' annual income was $16.43 billion.
The current BTC price drops this sum to $12.16 billion. The cryptocurrency mining ban by China boosted the growth of this industry in the US.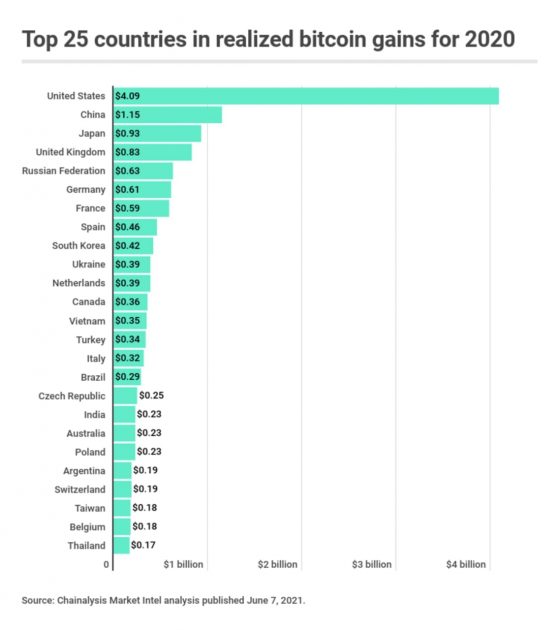 Rhodium Enterprises' key competitors are:
Bitfarms
Argo Blockchain
DMG Blockchain
Hive Blockchain
Hut 8 Mining
HashChain Technology
DPW Holdings
Layer1 Technologies
Riot Blockchain
Marathon Patent Corp.
Stronghold Digital Mining
Financial performance
At the time of the IPO, Rhodium Enterprises is generating net profit: according to the provided report, over 9 months of 2021 it was $46,15 million against the loss of $1.06 million in the same period of 2020.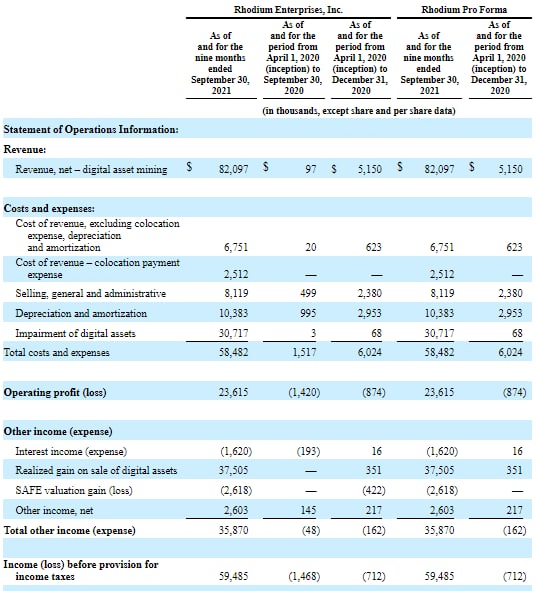 Over 9 months of 2021, the company's revenue was $82.09 million against $5.15 million in the same period of 2020. As a result, the revenue over the last 12 months as of the report date was $87.24 million. However, there is no data for comparing a relative growth rate.
The company's total liabilities are $189.14 million, and the cash equivalents on its balance sheet are $103.79 million, which means that Rhodium Enterprises has a negative cash position of $85.35 million. Still, given net profit, this factor is not dramatically negative.
The issuer's financial health can be characterised by strong revenue and net profit growth, and also growing operating expenses.
Strengths and weaknesses of Rhodium Enterprises
The advantages of investing in Rhodium Enterprises are justified by the following:
Sound management
Net profit
Business innovativeness
Unique mining technology
Bitcoin capitalisation growth
The risk factors of investing in the stock are:
Strong competition among miners
Small Bitcoin market share
No dividends
IPO details, and estimation of Rhodium Enterprises capitalisation
The underwriters of the IPO are Cowen and Company, LLC, Needham & Company, LLC, D.A. Davidson & Co., Northland Securities, Inc., and B. Riley Securities, Inc.
Rhodium Enterprises is planning to sell 7.7 million common shares at the price of $12-14 per share. The IPO volume will be $100 million, and the company's market capitalisation could amount to $1.6 billion. Rhodium Enterprises may yet increase the IPO volume and the highest price of this range, although the current cryptocurrency market dynamics suggest otherwise.
To assess loss-making companies, we use a multiplier – the Price-to-Sales ratio (P/S ratio). A P/S value for the technological sector with such a rapidly-growing target market could be 15.0 during the lock-up period.
The issuer's P/S is 18.33, which indicates that the company is filing for an average IPO. However, Rhodium Enterprises has exhibited high revenue growth, which may be attractive to investors since the company operates in the cryptocurrency sector.
Taking all this information into consideration, an investment in this company could well be of a venture nature. The stock could be interesting to investors who are ready to take risks.
Invest in American stocks with RoboForex on favorable terms! Real shares can be traded on the R StocksTrader platform from $ 0.0045 per share, with a minimum trading fee of $ 0.5. You can also try your trading skills in the R StocksTrader platform on a demo account, just register on RoboForex and open a trading account.