Any trader must have faced the need to launch and test a new expert adviser. Forex exchange market works 24 hours a day, 5 days a week; however, testing might be problematic if the main computer is occupied or it is not possible to leave it working for a long time. Some solve the problem launching new advisers on separate PCs or notebooks, purchased for this purpose.
This variant is not available for everyone as it entails additional expenses which are not always justified. There are plenty of moments that can complicate work and testing, from Internet malfunction to power failures. Internet connection can be doubled through various types of connection; power protection can be used. Anyways, technology offers a much easier and comfortable way of solving the problem – a Virtual Private Server (VPS).
What is VPS?
In essence, a VPS is a remote desktop; or, in other words, it is a computer that allows to install necessary trading software irrespective of the main computer. The virtual server has a processor, a disk, random access memory, though it is situated remotely from the user on special data centers. It can be accessed from any spot on the globe and via any equipment with the Internet connection. All that a trader will need is any gadget with a screen and text input.
The data center commits itself to provide steady power supply of the virtual server and all necessary maintenance; it is ready to use alternative sources of power in case of a force mageure. This is for the VPS to work smoothly 24 hours a day.
Types of VPS
Presently the industry offers both paid and free versions of VPS. Any version has its drawbacks and advantages. RoboForex company provides a free VPS to its clients upon their fulfillment of certain conditions. A VPS can be used for launching several terminals and expert advisers for testing trade. The server can be accessed from any gadget connected to the Internet.
It is worth mentioning that a computer or a notebook are not always necessary for accessing the server: a smartphone or a tablet will serve equally good. It is enough to log in the virtual server to make all planned actions. Upon finishing the manipulations the trader can turn to other activities: the server will be working independently for as long as it is required. The trader can log in and control the launched processes any moment.
Advantages of VPS
A trader can choose one of several variants of VPS; they need different volume of disk space and random access memory. The stability of your Internet connection is irrelevant as the connection of the server itself is steady. The VPS also features a high speed of Internet connection which is, no doubt, important for the work of expert advisers.
The VPS is protected from power failures, which is also important, because in case of a power disturbance many processes must be started from scratch. The server is accessed remotely, which is convenient as the trader is not conditioned neither by place nor by time. Launched software and robots can work independently day and night, while the main computer is ready for other use or may even be switched off.
The server is deigned for active work and allows for simultaneous launching of a terminal under one login on the VPS and the computer for working with different trading accounts. Every RoboForex client receives administrator rights for the server. In other words, they get everything that is important for a modern trader – comfort, speed, flexibility and safety.
However, there are certain nuances to be noted. On of them is that the server is available only to those clients who comply with certain requirements, i.e. certain volume of trading and a certain sum on the account. Nonetheless, it is unlikely that these rules will stop a trader eager for their expert advisers to work without delay during all trading sessions.
How to order a VPS
To use a VPS the client has to fill in an application form in their account on the RoboForex website. A VPS is available only for those clients who have completed the data verification process and comply with a number of additional requirements.
The whole procedure contains of 5 steps:
Step 1. Log in your account on RoboForex; in your Profile choose Your VPS 2.0.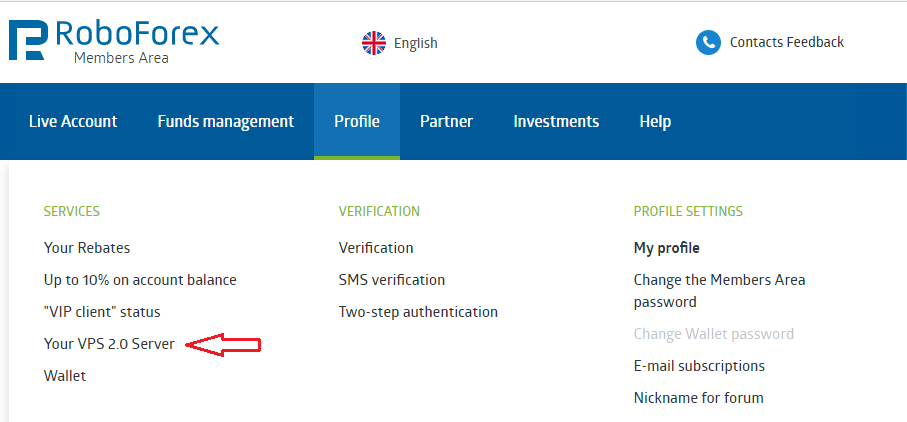 Step 2. Read the terms and conditions and leave an application.
Step 3. If the application status is Processed by the manager, it means that the employees are setting up your VPS.
Step 4. Check your email that you used for registration on RoboForex: the information about your VPS will be sent there.
Step 5. You can also check the information about your VPS in your RoboForex account. To activate the service you will need codes: Administrator login, Administrator password and RDP.

After submitting all necessary data you can start enjoying you VPS.
How to connect a VPS to Windows?
Let us regard Windows 10 operating system.
1. Choose Start – Programs – Standard – Remote Desktop Connection. It will be convenient to create an icon on the Desktop.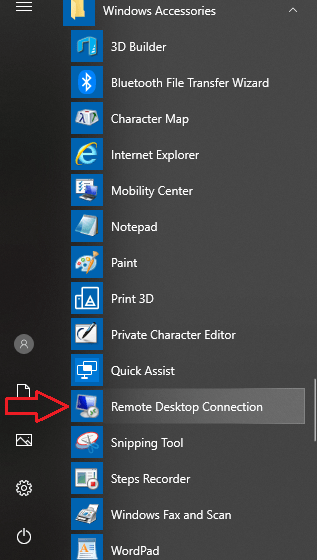 2. Launch Remote Desktop and choose Parameters. Fill in all boxes in General. You will need some data from your RoboForex account: enter RDP in the box Computer and Administrator login in User. Check the box Allow saving account data, you will need this option later.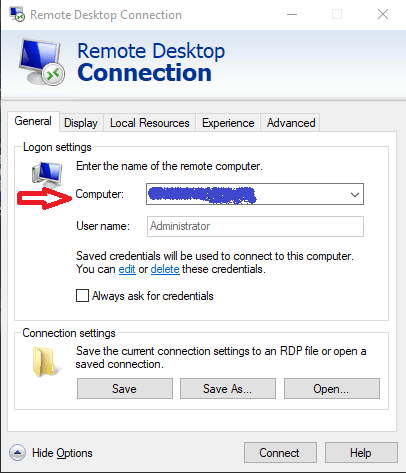 3. In Display you can set the colour scheme and the optimal size of the window.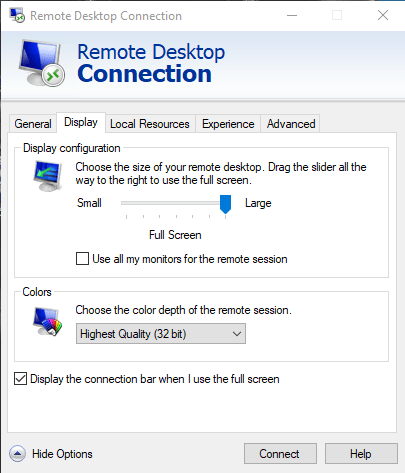 4. Local resources will require setting up Local resources and devices. Normally you can remove the tick from the box Printers. Conversely, check the box Clipboard. Than check More.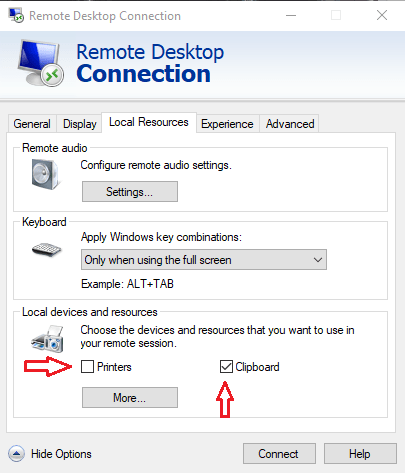 5. Then you should choose a local disk used together with the VPS: it can be a hard disk or a removable storage device.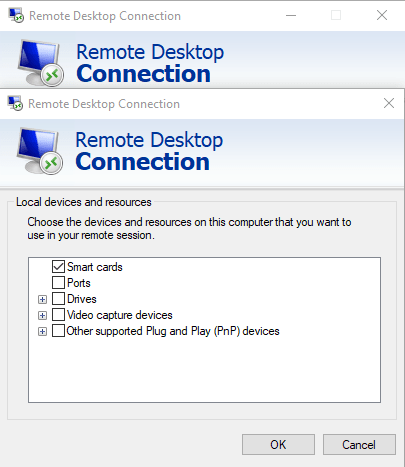 6. Performance allows to choose the optimal speed of Internet connection.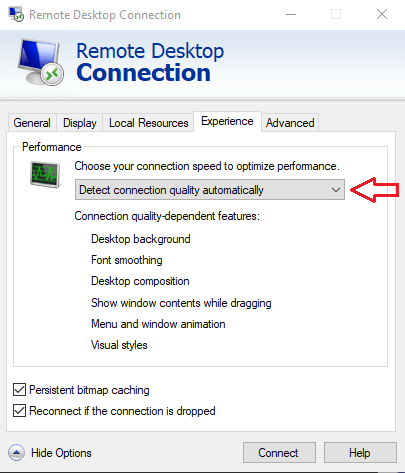 7. Advanced will save your time later: in Server authentication you can check Connect and don't warn me.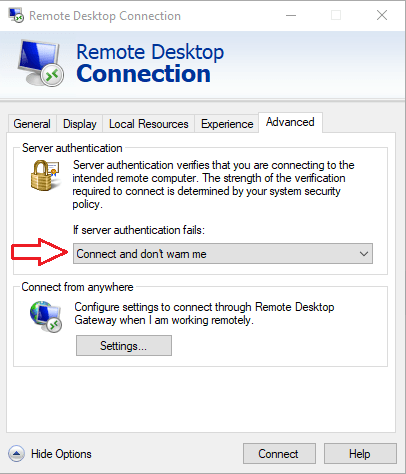 8. After clicking Connect you will have to enter the Administrator password (from your RoboForex account).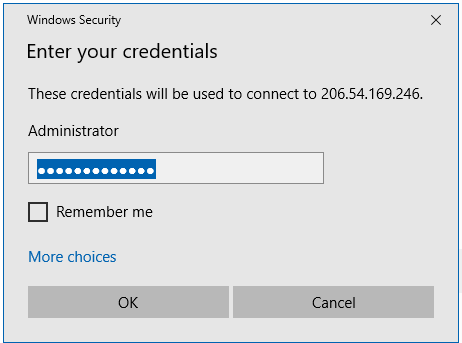 9. The system will start connecting your computer to the VPS. An installation box will appear on the screen.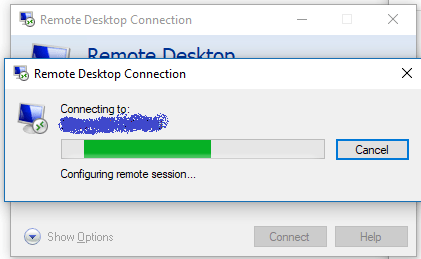 10. If you commanded the system to remember the data of the account during the setup, for the next connection it will be enough to click Connect.
11. You can find the icon of the VPS in My computer: it will look and function like a normal local storage.
---