What are ECN Accounts on Forex?

In this review, we will discuss the use of ECN accounts for trading on Forex. Such accounts feature better trading conditions.
How do ECN accounts work?
ECN stands for Electronic Communication Network; it is a system meant for carrying out trades on Forex without agents. All applications of market participants trading via ECN are gathered in a database called market depth. A special algorithm processes the applications automatically.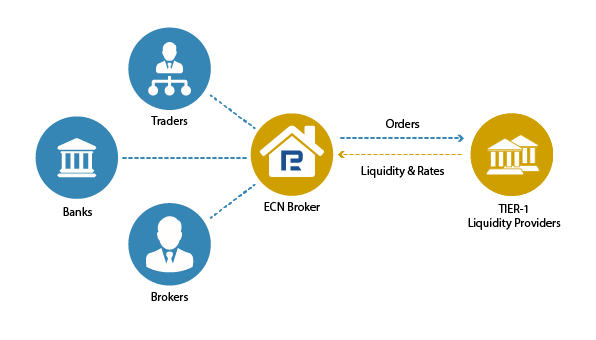 ECN accounts first appeared in 1999. Since then, the system has been constantly extending and growing popular. Its members are large banks, broker companies, various funds, individual traders. Thanks to a big number of participants and high liquidity, ECN executes orders almost momentarily and with small spreads.
The peculiarities of ECN accounts are a small floating spread and a broker's commission fee. The floating spread is normally minimal (starting 0 points) but may increase if volatility grows rapidly or liquidity shrinks. To access the ECN smoothly, its members pay a small commission fee for each trade to their brokers.
Regardless of the commission fee, an extremely narrow spread makes the trader's expenses on each trade smaller than they would be on standard Forex accounts. Thanks to a high speed of trade execution and a lack of requotes (troubles with opening or closing a trade due to a rapid change of the price), the trading conditions of ECN accounts suit well for active trading on Forex.
Advantages and drawbacks of ECN accounts
Let us discuss the main advantages and drawbacks of ECN accounts in more detail.
Advantages of ECN accounts
A unified automatized system of processing applications
Thanks to the unified automatized ECN, traders enjoy high liquidity and execution of orders at the best price. Besides, there are no non-market quotations.
Narrow spreads
When the market is calm, spreads may be minimal — from 0 points.
Fast execution
Orders are executed almost instantly; there are no requotes.
Orders may be placed inside of a spread
Orders may be placed at a minimal distance from the current market price, even inside a spread.
You may use any trading strategy
Any trading strategy will do: from long-term to scalping ones (i.e. those requiring lots of trades with a profit of several points).
Drawbacks of ECN accounts
Floating spread
Such a spread may widen in the times of increased volatility or low liquidity, say, at night or at festive times.
Commission fee
The broker's interest is a small fixed commission fee for a certain trade volume.
Possible slips
When the market moves, orders may be executed with slips, i.e. if a market movement is strong, a market order may open or close 1 point higher or lower than stated in the application.
How to open an ECN account?
A broker company that works with ECN accounts may provide you with one. Choose your broker company responsibly - it must have all necessary licenses, boast good reputation and trustworthiness, and its trading conditions must suit you. Make sure the trading platform (or mobile application, if needed) is comfortable to work on.
For example, you can open an ECN account from RoboForex with the following conditions:
Starting depo - 10 USD
Maximal leverage - 1:500
Floating spread from 0 points
36 currency pairs, metals, CFDs available for trading
Popular trading platforms: MetaTrader 4, MetaTrader 5, cTrader, mobile apps
Commission fee from 15 USD (Prime accounts) or 20 USD (ECN) for 1,000,000 USD of trade volume
Cashback (Rebates): a service returning you a part of the commission fee for reaching certain trade volume
Prime accounts with lower fees for professional traders.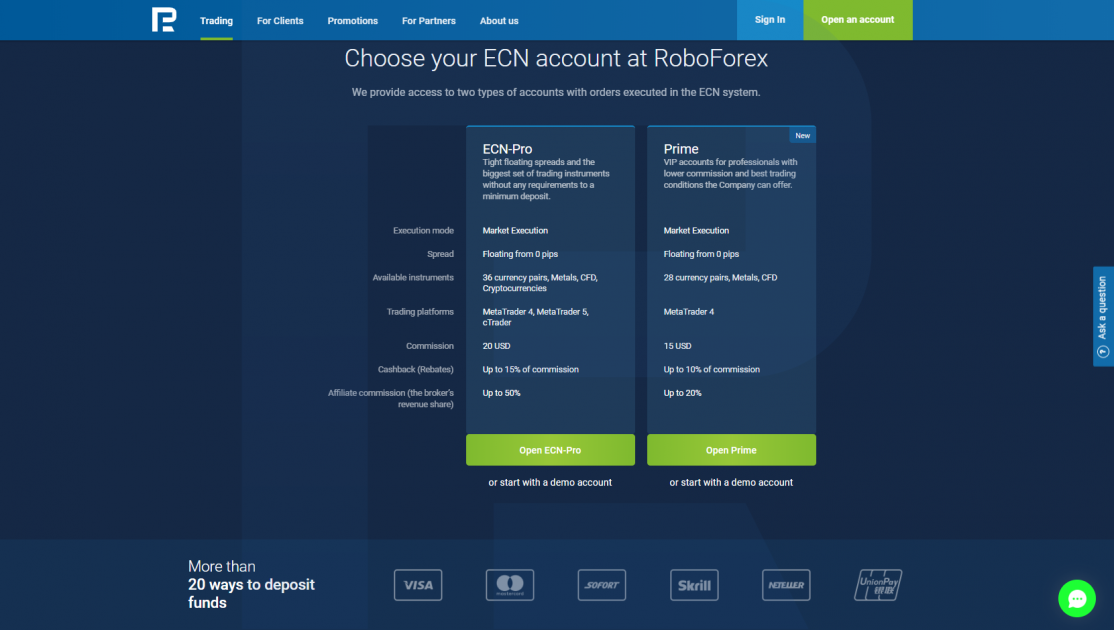 Summary
ECN is an up-to-date, hi-tech system of electronic trading with quite appealing conditions of work. To my mind, ECN accounts have more advantages than drawbacks. To start trading, open an ECN account at a reliable broker and check on practice that the trading conditions suit you.