What an NFT is and How One can Make Money on It

The stock market is so dynamic that sometimes investors find it difficult to keep track of all tendencies. To avoid such an exhausting race, many of them turn to long-term investments but there are some who always crave adrenaline and try to jump into all possible reckless ventures.
Last week, I wrote an article about SPAС, shares of which skyrocketed by hundreds of percent and now the time has come for Non-Fungible Tokens (NFT).
Today, we'll discuss this topic and tell you what an NFT is, what companies can benefit from this new trend, and whether shares of these issuers are worth investing in.
What is a Non-Fungible Token?
A Non-Fungible Token is a digital unit, which certifies the right of ownership and uniqueness of digital assets. An NFT can also be created for things in the real world.
What is a distinctive feature of an NFT?
Here's an example: an artist is doing a painting, which can be later photographed and uploaded online. This photograph will be copied by other users in the same quality, in which it was initially uploaded. As a result, it will be difficult to see the difference between the original digital painting and its copy, and the original will be only the painting from the real world.
An NFT allows the creation of a unique code of the painting, which can help to define its original and the true owner in both real and digital worlds. At the same time, an asset can be created in the virtual world without binding it to the same object in the real one.
But there are some who took it a step further. They destroyed the original painting leaving only its digital copy. It's difficult to accept but that's the reality.
Injective Protocol burned the original painting "Morons (White)"
Injective Protocol bought a famous Banksy painting from the New York gallery Taglialatella Gallery for $95,000 converted it into an NFT, and then burned the original. As a result, only a virtual asset with a unique code is left. Now the painting doesn't require any alarm systems, specific storage conditions, and other things to accompany it in the real world.
A tokenized asset will continue its existence in the digital environment, all the people will have to do is to relocate into the virtual world and everything will fall in its place.
Where can an NFT be used?
As you have already understood, one of the applications of tokens is artwork-collecting. An NFT is created for originals of paintings and sculptures, and when the owner wants to sell a physical object, they can place an NFT on auction and it will be enough for proving the authenticity of the asset and the right of ownership.
In online games, users often buy clothes, lands, weapons, characters, and other gaming accessories. Creating NFTs for virtual objects will allow arrogating the right of character ownership for example, and this right will be beyond the game developer's power. Such objects could be exchanged or bought for real money. This might fuel further development of the gaming economy
Personal identification can also be one of the areas of potential NFT usage. Passports, driving licenses, birth certificates, and other personal documents can be assigned with NFTs, which can be used for approaching different institutions in your country or outside it without personal attendance. Probably, the coronavirus may lead to the creation of COVID-passports using NFTs.
A more promising area is copyright protection on the Internet. NFTs will allow to define and ensure the right of ownership of authors and partly decrease their dependence on the obsolete state accounting system. The development of NFTs offers a chance for opening new business opportunities for art and media employees. Nowadays, the distribution of freely available digital copies on the internet undermines the owner's ability to monetize their work.
Musicians are already releasing their music and songs with their unique NFT code. The latest thing discussed in the media is a tokenized collection of songs owned by Coinbase founder Brian Armstrong and DJ DAVI.
How to make money on this?
There are several ways to make money on NFTs. The first one is to create an NFT and sell it online. This method is available to anyone but we're more interested in the stock market, that's why let's look into the possibility of getting profit by buying stocks.
The growth of interest in NFTs resulted in a price surge of shares of some particular companies, such as:
Dolphin Entertainment, Inc. (NASDAQ: DLPN)
Funko, Inc. (NASDAQ: FNKO)
Takung Art Co., Ltd. (AMEX: TKAT)
Hall of Fame Resort & Entertainment Company (NADSAQ: HOFV)
WISeKey International Holding AG (NASDAQ: WKEY)
Let's see what kind of companies they are.
Dolphin Entertainment
Dolphin Entertainment is an independent American company involved in entertainment marketing and premium content development. The company was founded in 1996 by Bill O'Dowd and offers a full range of services in the sphere of creative branding, as well as marketing services in social networks for important persons.
In March, the company announced its intentions to enter the NFT market in partnership with the Hall of Fame Resort & Entertainment Company. Their cooperated product will be an exclusive NFT collection of athletes, who won the Heisman Trophy and were inducted into the NFL Hall of Fame.
Hall of Fame Resort & Entertainment Company
Hall of Fame Resort & Entertainment Company, which was founded in 2015, is a resort and entertainment company that uses the power and popularity of professional football and its iconic players in cooperation with the Pro Football Hall of Fame.
The piece of news about the partnership between Hall of Fame and Dolphin aimed at entering the NFT market led to a surge in shares of both companies. For example, Dolphin Entertainment shares skyrocketed by 500% in two days.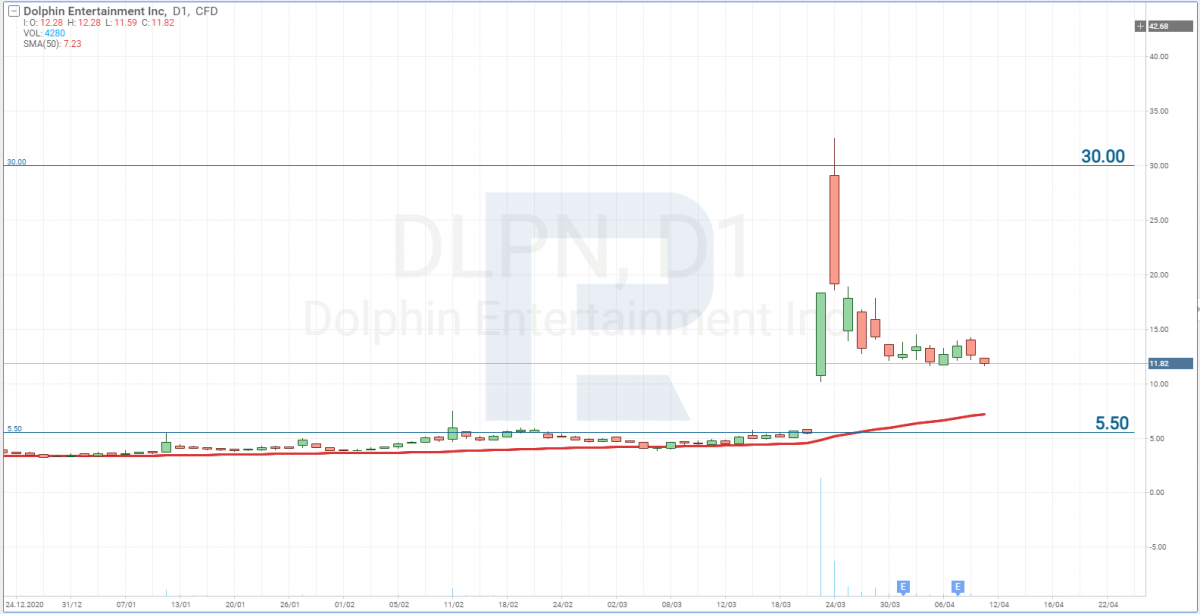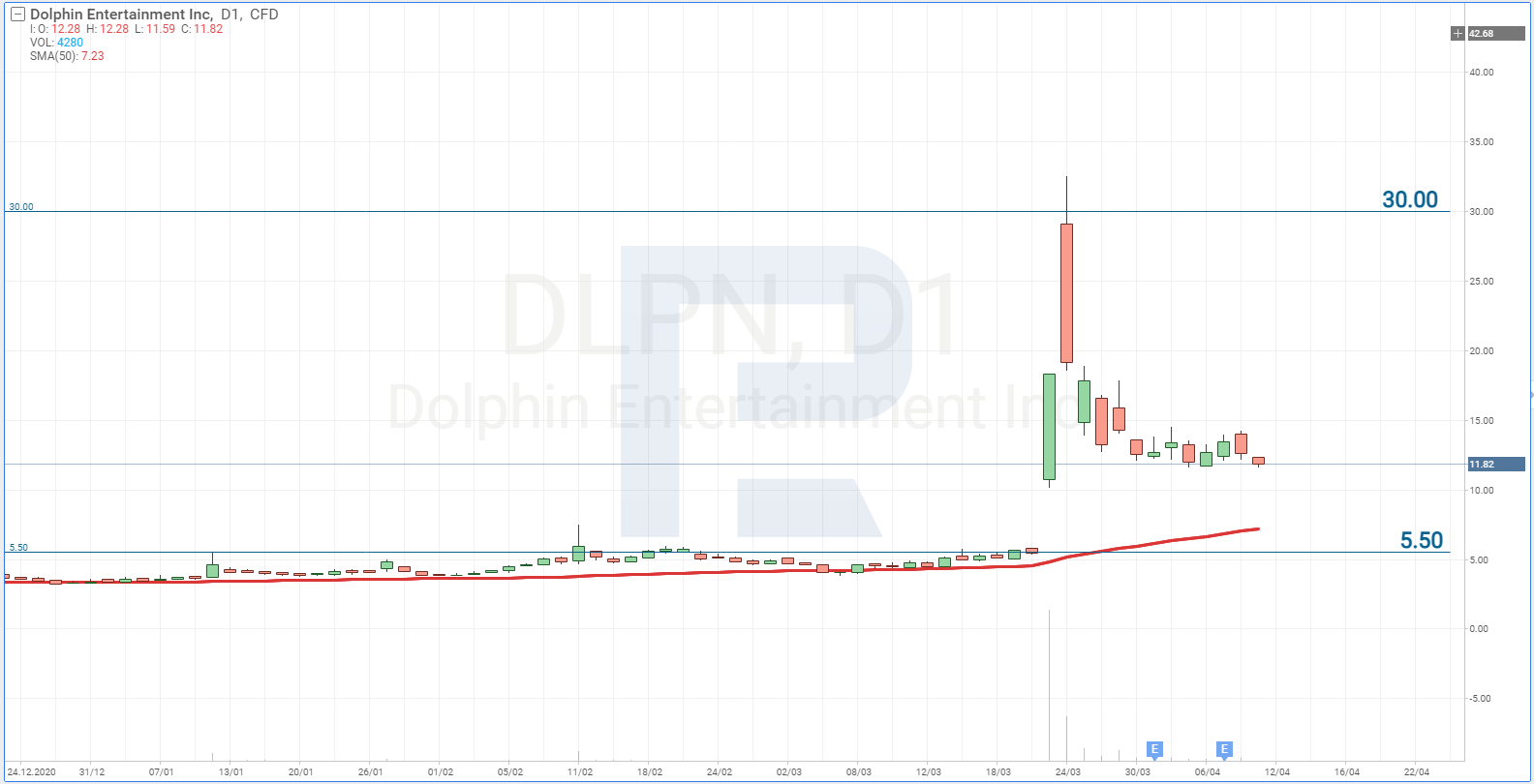 Hall of Fame shares didn't add that much but the increase exceeded 100%. The sheer fact that the companies are going to work together won't generate quick profits and the release of this exclusive collection won't have a significant influence on their long-term income, that's why shares of both companies dropped in a couple of days.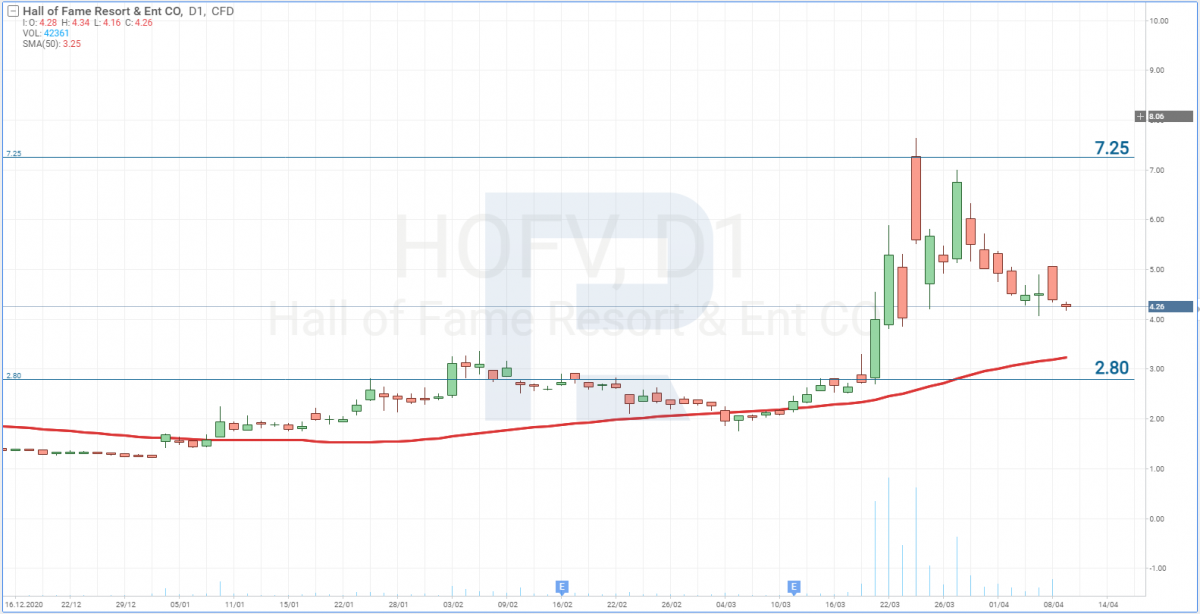 The "entering the NFT market" information itself was important – it offers Dolphin Entertainment great opportunities on this market but it is not the case for the Hall of Fame because its activities are limited by Pro Football. This explains such a big gap in the growth of companies' shares.
Funko, Inc.
Funko, Inc. was founded in 1998 by Mike and Claudia Becker. The company is involved in manufacturing licensed pop culture collectibles, as well as licensed toys, action figures, USB drives, headphones, and other accessories. At present, Funko has license agreements with different big companies.
This company is known to people as a manufacturer of vinyl figurines, bobbleheads, and toys with big heads, faces of which look pretty much like popular movie and TV show characters, and pop culture celebrities. Funco's shares also carried a price hike, which resulted from buying the major share of the TokenWave stock, a company that created an app called TokenHead, which is used for showing and tracking NFTs.
The app is currently showing about 10 million NFTs. The reason why TokenWave was acquired is quite logical: Funko has a lot of licensed products that can be digitalized and sold in the virtual world.
Funko shares went up but not too much. However, unlike Hall of Fame and Dolphin, they didn't drop shortly after, which means that investors are in no hurry to get rid of Funko securities.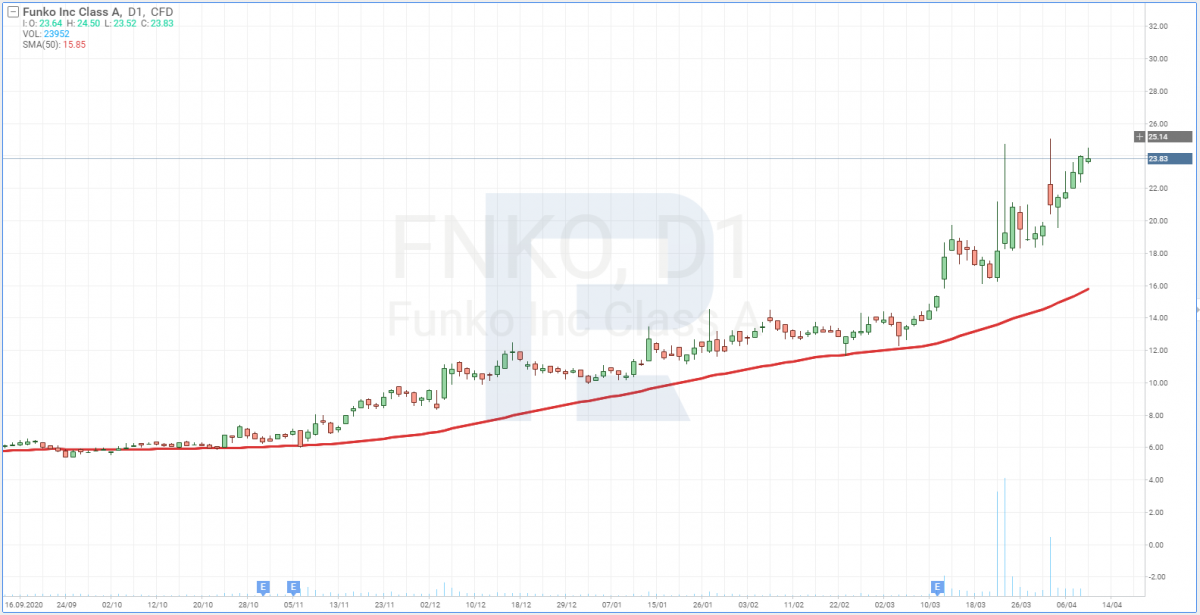 Takung Art Co., Ltd
Takung Art Co., Ltd is a Hong Kong-based company that manages an online platform for artists, art dealers, and art investors. Using the platform, the company offers online listing and trading services, which allow artists and art dealers to get access to the artwork trading market where they can communicate with investors.
Another distinctive feature of Takung is partial asset ownership with an investor, which means that the company offers the opportunity to invest in artwork by paying a part of its cost. Implementation of NFTs will increase the number of items in the platform and, as a result, boost the number of transactions, which is good for the company's profit.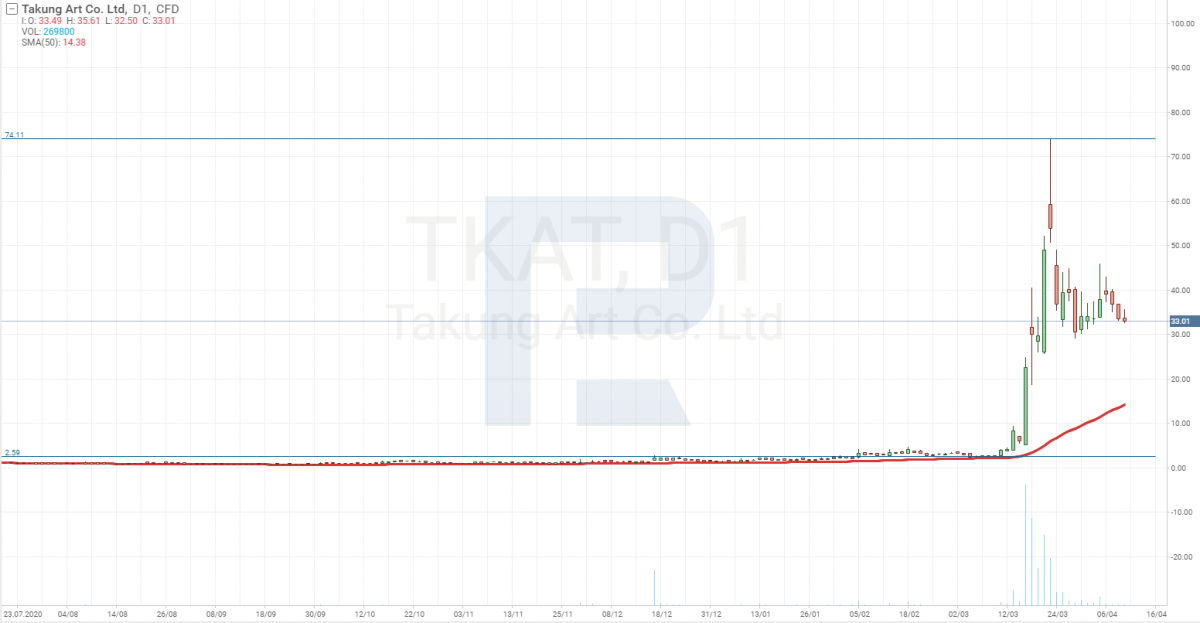 The information about Takung's entering the NFT market lead to a surge in the company's shares, which skyrocketed by over 2,700%. Of course, this surge was accompanied by speculative transactions, that's why shares are currently falling a little bit.
WISeKey International Holding AG
WISeKey International Holding AG is a global leader in cybersecurity. WISeKey is currently deploying large-scale digital authentication systems for people and objects using blockchains and artificial intelligence. The company's products are already being used in cars, smart cities, crypto-tokens, and devices for protection against forgery. In March, WISeKey announced that it would switch its focus to the NFT market.
The company creates digital identification tokens that allow investors to be sure that they bought an original object or a digital asset. The company brings a focus on protecting investors against fakes. Probably, in the future cyber-crooks may learn how to falsify NFTs, that's why WISeKey is trying to act preventively: if there are fake NFTs, this company's services will be highly demanded.
In this light, the company's shares added 200% but right now they are slowly moving back to the level where they started rising.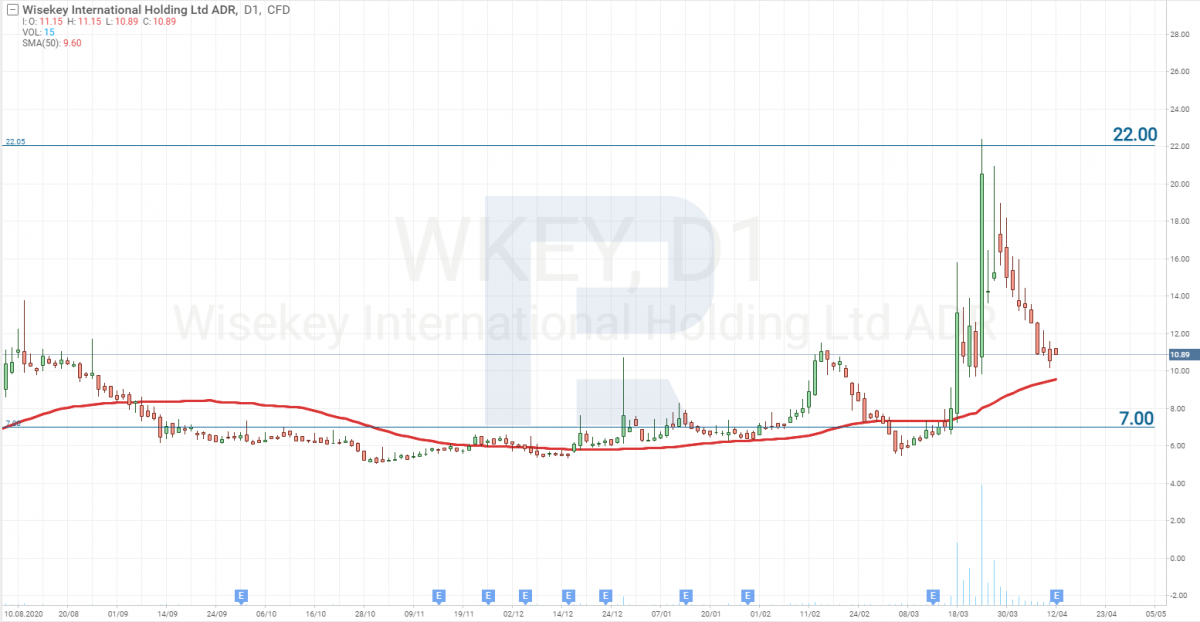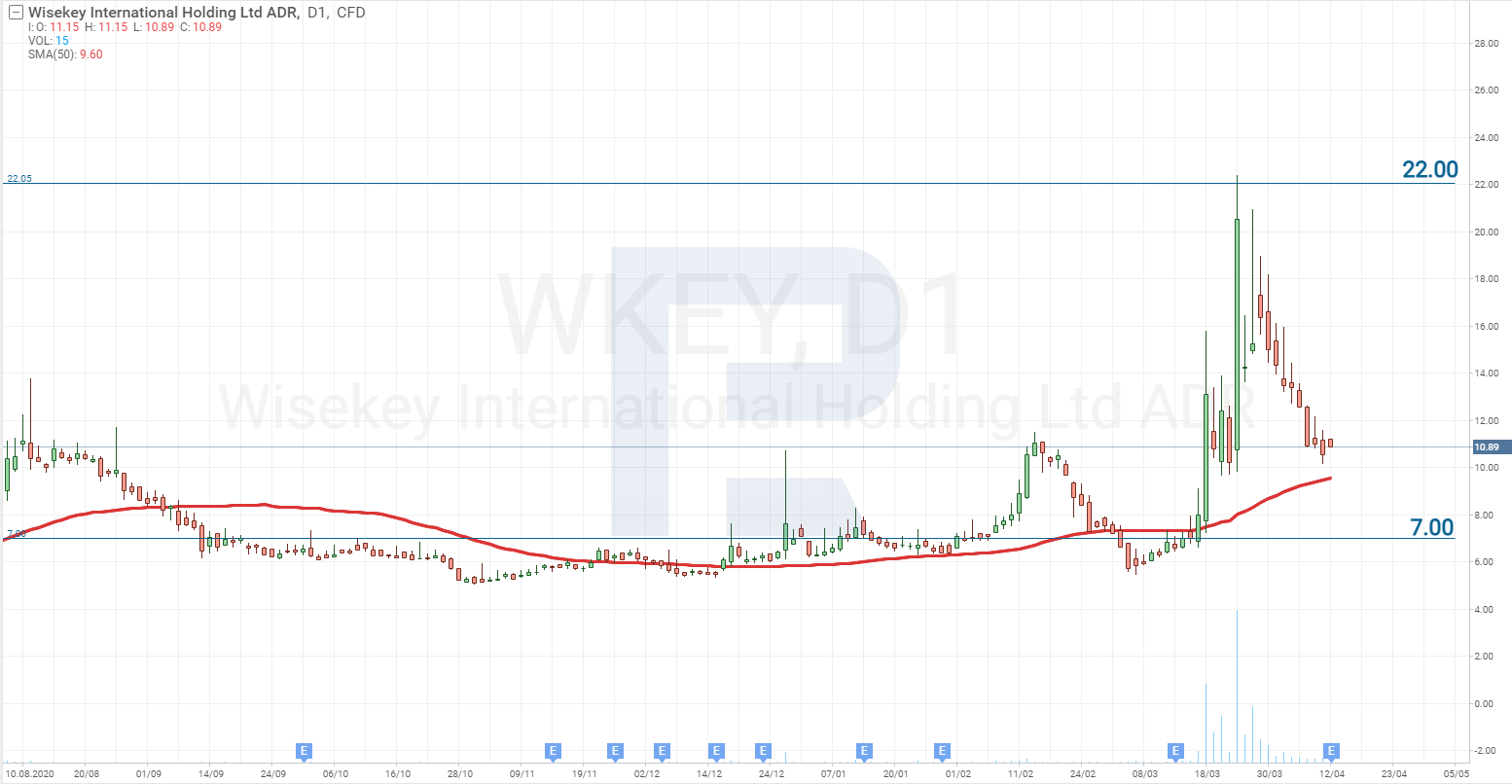 The NFT industry is gathering pace
Since February 2021, the NFT trade turnover on the 12 largest platforms exceeded $500 million. Entrepreneurs, politicians, and aristocracy of talent started paying attention to the segment. Music albums, president portraits, twits, gifs – all these tokenized assets are sold for millions of dollars.
The largest online trading platform that is used for placing digital collectibles registers a steep increase in the number of daily users, while the number of transactions has exceeded half a million.
Closing thoughts
Investors are totally at sea so far. It's not quite clear which company will benefit and profit from the NFT market evolution. Stocks skyrocket but then plunge in a couple of days.
This area is interesting and promising but will it be able to continue evolving the way it is doing right now? Or maybe NFTs will change its direction dramatically and the companies that look promising right now will be eventually left behind. At this point, investments in NFTs are suitable only for those who prefer high risks.
Invest in American stocks with RoboForex on favorable terms! Real shares can be traded on the R StocksTrader platform from $ 0.0045 per share, with a minimum trading fee of $ 0.5. You can also try your trading skills in the R StocksTrader platform on a demo account, just register on RoboForex and open a trading account.