What are Forex Cent Accounts Needed For?

In this article, we will review cent accounts and what they are needed for. Such accounts let beginners dive in real trading with minimal expenses and experienced traders – test their trading strategies or robots, as well as some psychological relief.
What is a cent account?
A cent account in Forex is a trading account provided by the broker; the balance is measured in the base currency (US Cent, EU Cent, etc.) denominated 100 times. Trading conditions on cent accounts are almost the same as on real ones. You only need to deposit it for 10 USD to get a 1,000 US Cent deposit.
The Cent account type is widely used for market beginners and those traders who practice or want to test a certain strategy in real market conditions with smallest expenses.
A cent account is always a transition point between a demo account and a classic one, the first step to real trading with a decreased risk. If, for example, a trader wants to work with a capital of 10,000 USD, they only need 100 USD to open a 10,000 US Cent account.
What are cent accounts used for?
Whether one needs a cent account or not, this is always for each trader to decide. One needs it for practicing for real with minimal risks, another – as an account for making unsystematic emotional trades. Let us focus on the main reasons for using cent accounts.
Test trading
This must be the most widespread reason for using cent accounts. Beginners practice their skills on demo accounts, but as long as money is virtual there, they do not include one of the main aspects of trading – the psychological one. Hence, for further development, they need to switch to a real account, and a cent one is a great choice. It allows getting real trading experience and check the working ability of their trading system with minimal expenses.
They can just keep in mind the capital that they plan to use in the market. For example, to check the abilities of a capital of 5,000 USD, they can open a cent account and deposit it for 50 USD to get a 5,000 US Cent capital. As a result, the trader can fully test their strategy on this deposit, risking 50 USD at worst. However, their profit will also be in cents, not in dollars.
In such cases, the trader's task is not to make a large profit but to train their skills and develop psychological stability. After the trader makes sure their trading is stable (they get a positive result over a reporting period: quarter, semester, year), they may switch to a real trading account.
Psychological vent
Another reason for using cent accounts is making emotional trades that go counter your trading rules. For example, you see on the chart that after some important fundamental news there is a strong active movement. You are sure that a mighty impulse will follow but your trading system does not give any signals in this direction. You want to open a position but this is against your rules, right?
You can use a cent account as a vent for your emotions. Put your hands off your main account, there you need to stick to your rules while opening all emotional positions on your cent one. This will satisfy your craving and keep your money safe.
If your "emotional" trading ideas are correct, you will make a small profit; if not (which is more probable), you will lose just a bit. As they say, all the wolves are fed and the sheep are safe.
Testing and using advisors
Among traders, special trading algorithms called expert advisors are rather popular. They allow making your work automatic and decreasing your time at the terminal. But before entrusting your trade to an expert advisor, you need to test it in real conditions with minimal risks. For this, you can use a cent account and make sure the robot brings you a profit and has no bugs.
Another option is trading directly on cent accounts with expert advisors that open a lot of orders simultaneously and allowing for deep drawdowns. These can be Martingale, Averaging, other "order grid" variants. These are risky trading systems that need sustainability, provided by the size of your capital.
Instead of a standard account with 5,000 USD or 10,000 USD on it, risk your cent account, so that you potentially lose 100 times less.
Where to open a cent account and how to trade?
Many brokers, including RoboForex, offer cent accounts to their clients. They can be called differently, yet they are United by the same idea: they use cents as a base currency unit.
Opening such an account is in no way different to opening other accounts — you also choose a convenient currency, leverage, and a trading platform.
Trading on such an account is quite similar to other types of trading, only remember that 1 point, as well as your profits and losses, is 100 times smaller than on a real one. Have a look at an example:
Open a cent account and deposit it for 10 USD, getting a 1,000 US Cent deposit;
Open a position for 0.1 lots in GBP/USD. The price goes up for 10 points and brings you a profit of 10 US Cent.
To see your profit in dollars, just divide the sum by 100: 10 / 100 = 0.1 USD.
If you had opened a position for 1 lot, you would have gained 100 US Cent, which is 1 USD.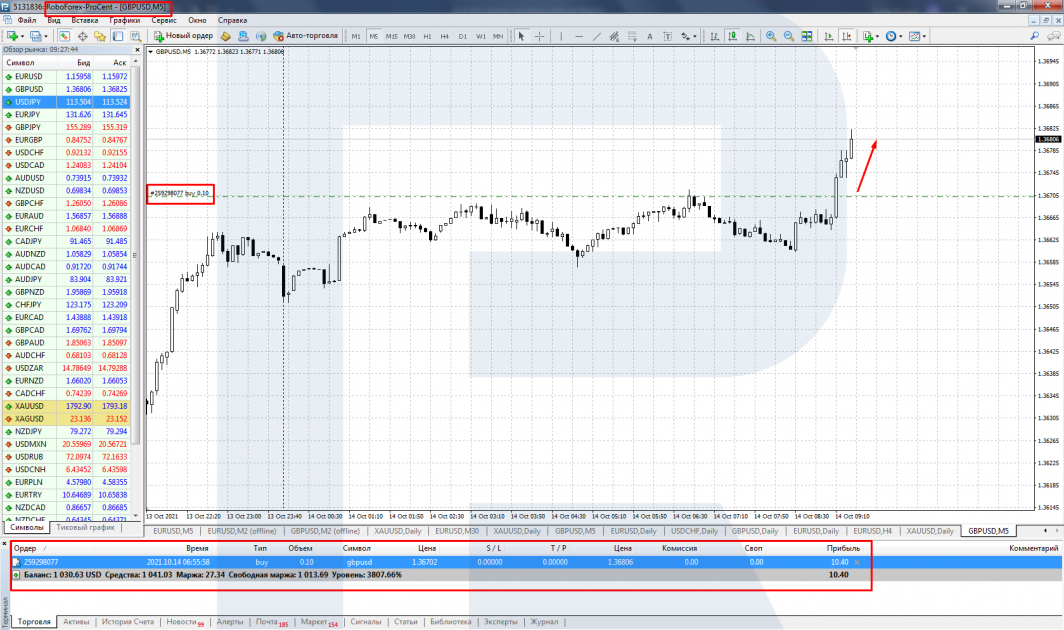 Closing thoughts
Cent accounts are rather popular in Forex, and they deserve it. They give beginners an opportunity to check their skills in real conditions with minimal investments. They can also be used by more experienced traders to get rid of emotional strain (by making random unsystematic trades), as well as to test or use various trading advisors.
Find more about the conditions of trading on cent accounts at RoboForex on the website of the company in Cent Accounts.