Emergency in US: Solar Energy Attracts Attention Again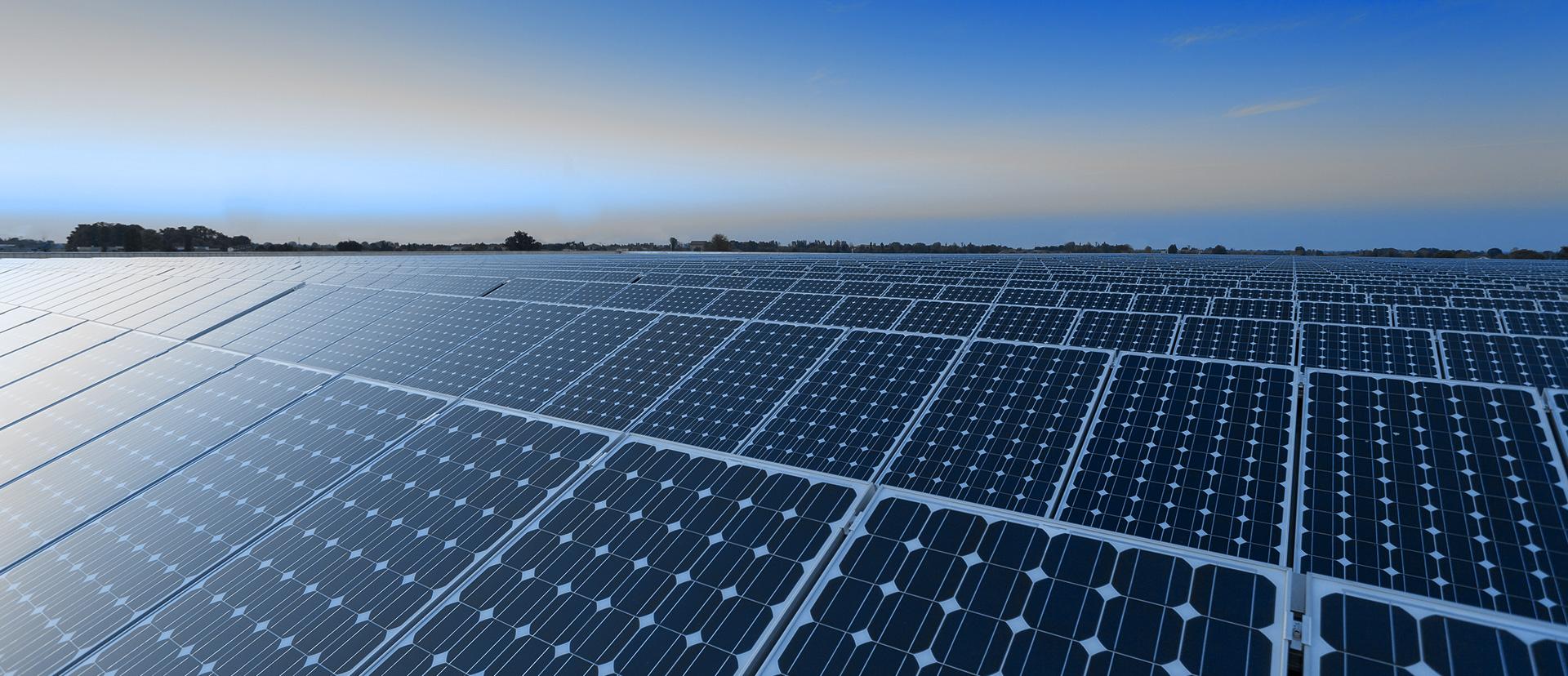 Due to global circumstances, renewable energy issues have somewhat faded into the background. However, this sector can still provide investment ideas to look at: even more so because the US have declared a state of emergency over the country due to power supply problems.
Why US have declared state of emergency
At the beginning of June Joe Biden declared a state of emergency in the country because of shortage of equipment for electric energy production. After that, taxation was cancelled for two years on import of solar panels from Asia.
President specified that state of war in Ukraine alongside abnormal weather conditions had an adverse effect on the energy market. Power grid operators and utility companies were recommended to get down to building new production powers that would satisfy the expected demand on electricity.
Solar power as alternative
According to Joe Biden, solar energy is the most promising source of electricity in the US; hence, we should expect increased demand for solar panels in the country.
In such circumstances, the consumer will have to choose whether to live in current shortage of electricity and power outages from time to time – or find an alternative energy source.
Among such sources, there are gas and diesel generators, but all-time high fuel prices make these options less attractive and at the same time increase the attractivity of solar panels.
In such a situation, one should check out companies from the US solar power market because those companies can easily become the beneficiaries of what is going on. The three leaders represented in US exchanges are Enphase Energy Inc., SolarEdge Technologies Inc., and First Solar Inc.
Enphase Energy
Enphase Energy Inc. is an American company that produces microinverters, energy storage systems, and supplies software for solar plants management. Its capitalisation is 28 billion USD.
Microinverters convert the direct current generated by solar panels in an alternating current that goes to energy storage equipment or power grids. Microinverters serve the panel directly while monoinverters are meant for whole solar stations.
Solar powers with microinverters can work indepentent from each other which allows avoiding general loss of generated energy if a panel contaminates or darkens. Moreover, microinverters are safer in maintenance: energy storages consume voltage of 24 V, which is safe for people.
Enphase Energy works with households and companies producing solar panels. The more solar panels people buy, the higher the demand will rise on microinverters, energy storages for their installation and power grid connection, and on software necessary for maintenance of solar power stations.
The shares of Enphase Energy Inc. (NASDAQ: ENPH) are trading 30% lower than their all-time highs. The nearest resistance is at 220 USD, while the support level is 190 USD.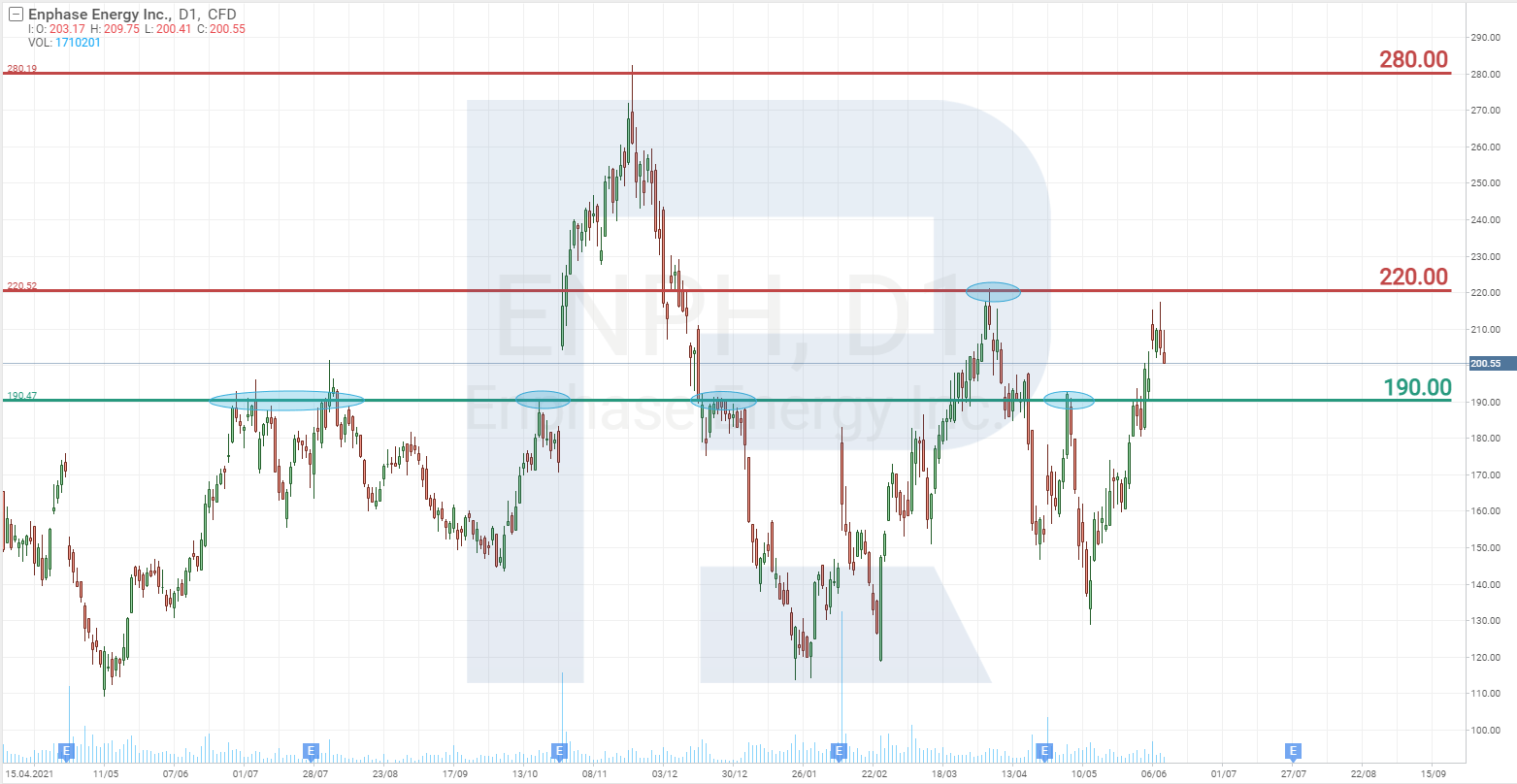 SolarEdge Technologies
SolarEdge Technologies Inc. is an Israel company working in the US, Germany, Italy, Japan, and Israel. It produces power optimisers, solar inverters, and software for monitoring solar panel systems and energy storages.
Unlike Enphase Energy, SolarEdge Technologies installs power optimisers instead of microinverters on each solar panel. Optimisers track the work of the panel, optimise voltage, and send it to the central inverter. Note that power optimisers are already built in microinverters by Enphase Energy, but the solution by Soalr Energy Technologies is more economical.
However, optimisers by the Israel company are compatible only with central inverters made by the SolarEdge Technologies. This is good for the company because the buyer has to return to it for accessory. Yet question is whether the consumer will be happy about it.
The company has signed an agreement with Tesla (NASDAQ: TSLA) for designing rechargeable batteries for houses and industrial buildings. After the joint design was presented, SolarEdge Technologies got orders for 800 million USD over the first week only. Moreover, it was heard about its partnership with Schneider Electric: the companies will develop the US solar energy market for households together.
Since 2020, the shares of SolarEdge Technologies Inc. (NASDAQ: SEDG) have been trading between 200-370 USD. The state of emergency declared by Joe Biden can give an impulse to the price because this event might increase the demand for solar plants equipment.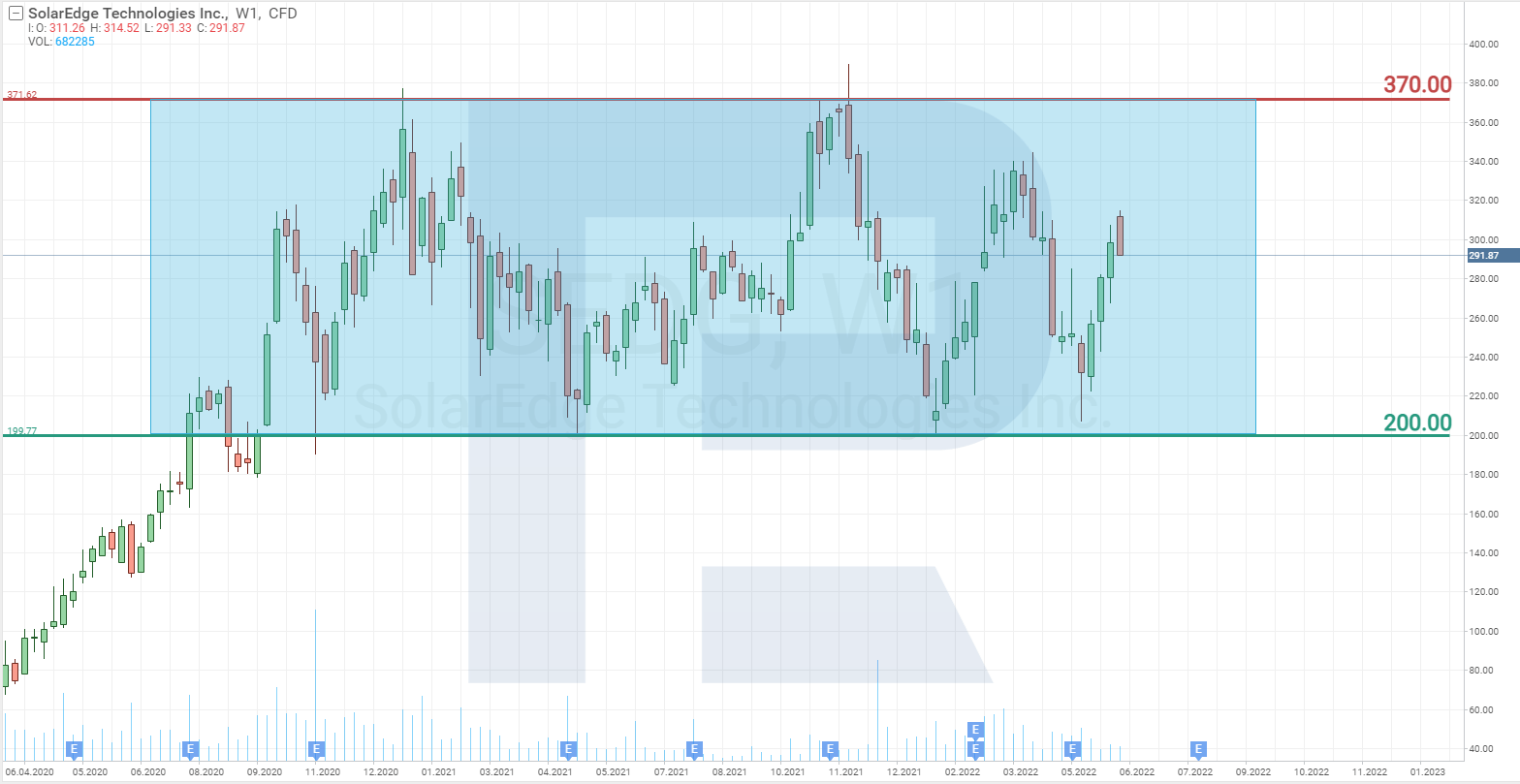 First Solar
First Solar Inc. is an American maker of solar panels and a supplier of solar electric plants for companies. The company financing construction, technical maintenance, and disposal of used panels. It works in North America, Europe, Asia, Australia, the Near East, and North Africa.
Enphase Energy and SolarEdge Technologies produce equipment for processing energy and controlling all processeson the way of energy from the panel to the consumption source. Meanwhile, First Solar produces the main things – elements that facilitate production of solar energy. All three companies work in the same chain, hence the growth of the solar energy market is likely to do good to their income.
The shares of First Solar Inc. (NASDAQ: FSLR) are trading 43% below the all-time high. The nearest support level is 61 USD and the resistance level is 80 USD.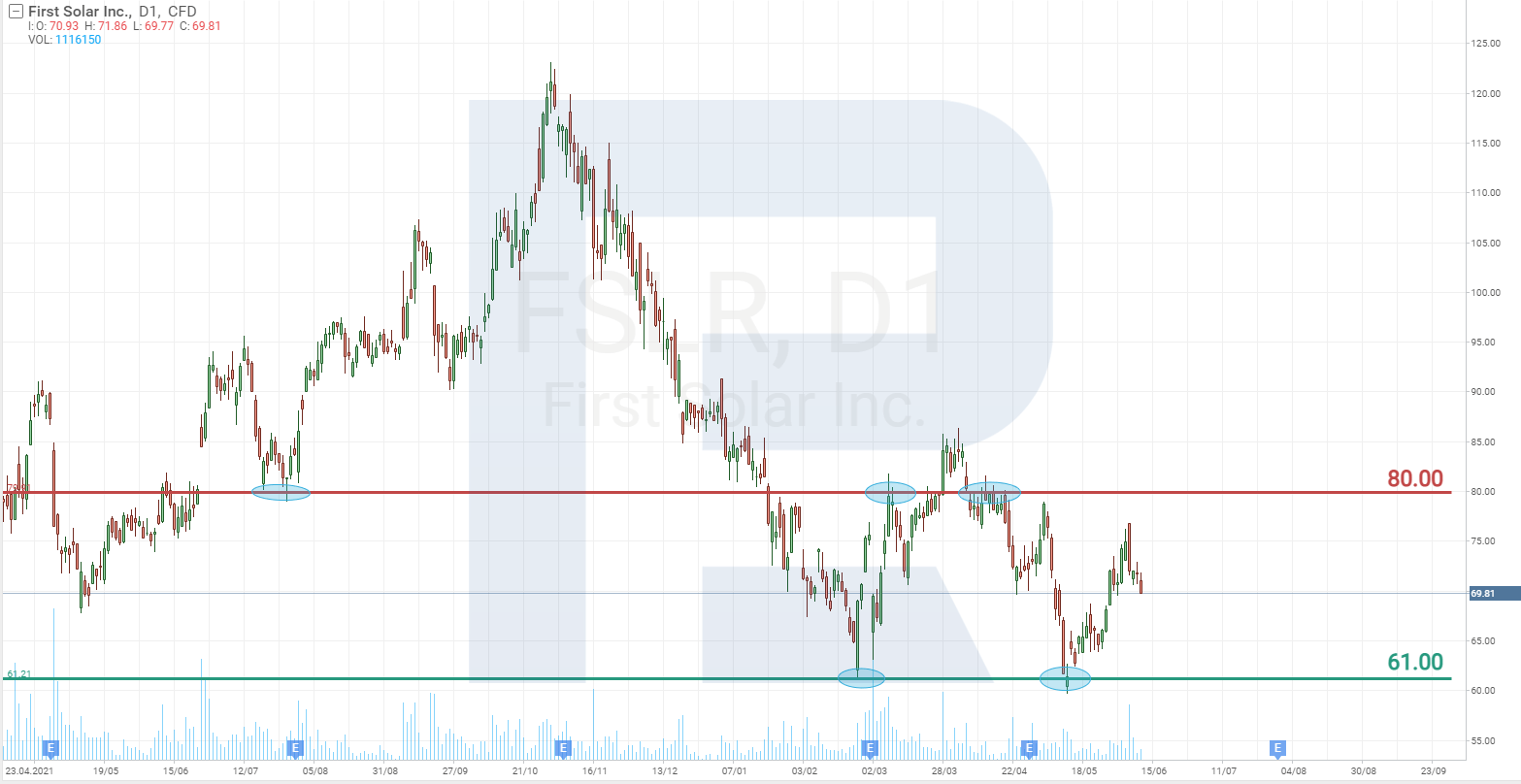 Whether there are risks in investing in solar energy
Joe Biden declared the state of emergency and cancelled taxation for solar energy equipment makers from Malasia, Cambodia, Vietnam, and Thailand for 2 years.
Cost of work force in these countries is lower than in the US, which entails lower primary cost. Taxation was introduced to protect American companies from rivalry, and after it will be cancelled, competition will grow abruptly.
However, it is hard to imagine that the US government will let domestic companies drown. Most likely, when the demand will fade and supply&demand get balanced, taxation will be returned.
Closing thoughts
When the market is growing, it is not that important which share of the market the company occupies: all companies can make money, only the amount of money differs. Joe Biden made it clear that the demand for solar energy will be growing.
If supply will be low, price will grow, and then it will be good for issuers. A bright example is the oil price and the growth of shares of oil-making companies. And if supply grows, sales volume will increase, which is also good for issuers.
In such circumstances, the sector of solar power can be fruitful for ideas; however, it is vital to keep in mind the rivalry emerging from the ban on taxation.
Invest in American stocks with RoboForex on favorable terms! Real shares can be traded on the R StocksTrader platform from $ 0.0045 per share, with a minimum trading fee of $ 0.5. You can also try your trading skills in the R StocksTrader platform on a demo account, just register on RoboForex and open a trading account.