Which Companies May Increase Aluminum Supply to EU in Decreasing Production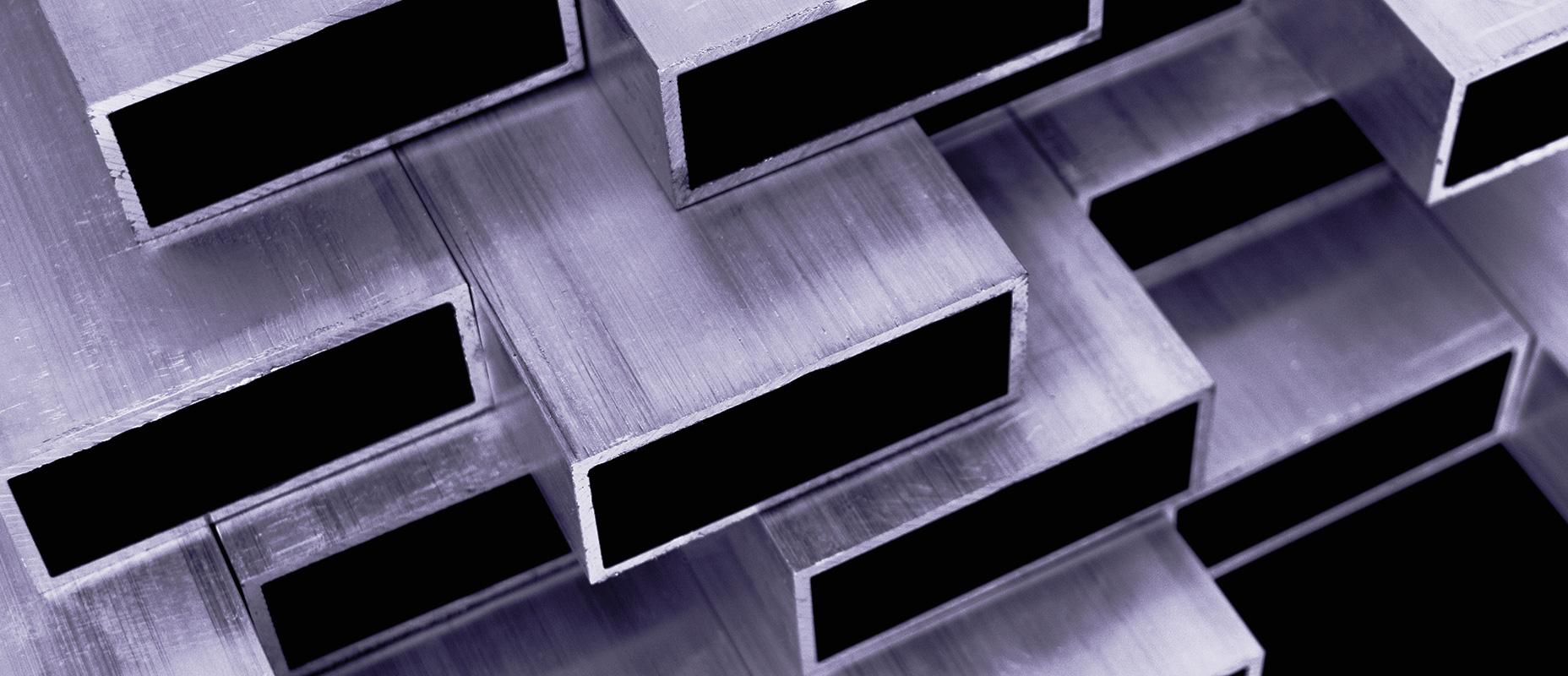 Energy crisis in the EU makes some companies put production on a halt, while others simply go bankrupt. Those enterprises that go on working face high cost prices of their produce, which decreases its competitiveness. For example, production of 1 ton of aluminum in Germany now requires energy that costs 4,000 USD, while the market price for this metal is 2,300 USD. Obviously, buying aluminum in the EU is two times cheaper than producing it. In this review, we will touch upon the topic of aluminum production: which companies work in this market, and who can benefit from European companies leaving the market.
Behaviour of aluminum prices during and after crisis
The aluminium market like any other commodity market, experiences times of growth and falling. Now aluminium prices are falling: since March 2022, they have lost 44%. If we look at the chart over the last 25 years, we will see that nothing extraordinary is going on now.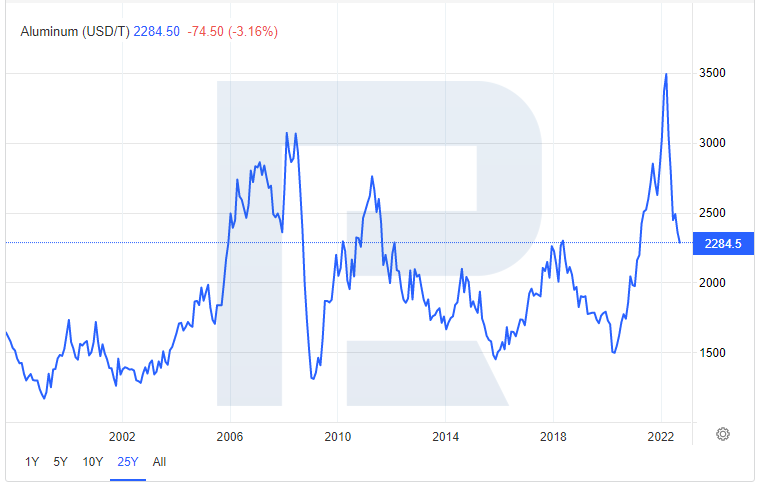 After the financial crisis of 2008 the quotes of aluminum also headed up. Growth stopped upon reaching 2,772 USD, and the price reversed. It is only the size of the movement that differs. 2009 through 2011, aluminum prices rose by 1,450 USD, while 2020 through 2022, the price grew by 1,996 USD. In the end, nothing has changed globally, yet there are local changes.
Aluminium production in EU
War in Ukraine made the EU consider limiting aluminium import from Russia. However, Europe is unable to cover up for the lost market volume on its own.
According to the statistics of the last 40 years, Europe has always imported aluminium, while domestic production has remained roughly at the same level of 3 million tons.
The demand for aluminium in the EU has always been higher than domestic supply. In 2007, they reached 14 million tons. After the financial crisis, several plants closed, and domestic production volumes dropped to 2 million tons, while demand for aluminium in 2019 reached about 13 million tons.

To support domestic production, the EU introduced taxation on aluminum import, yet now this is hardly a threshold, and taxes need to be increased several times.
Importers of aluminum to EU
The main suppliers of aluminum to the EU are China (37%), Turkey (24%), Switzerland (7%), and Russia (7%). Russia is still exporting aluminum to the EU, and consumers are increasing purchases of the metal because they are afraid of sanctions imposed on aluminum supply from Russia. Aluminum import from the US in 2019 was no higher than 2%.
It is still possible that Russia will be left out of supply chains and replaced by other producers. Those will profit from the situation who use cheaper energy carriers and have no problems with getting them at hand.
Due to an unusual heatwave, China faced a shortage of electricity, and plants started closing in Sichuan. However, this is not the main problem. With sanctions imposed on Russia, the EU became more dependent on Chinese products that wins in the rivalry with local producers in terms of prices. This makes European companies balance on the verge of efficiency, so to save its companies the EU might impose additional taxes on Chinese goods.
However, this does not solve the problem of aluminum shortage, someone has to cover up for it. Here Turkey comes up to the scene: its currency lost 120% over a year, making its produce more competitive on the global market.
"Fortunately" (after an accident at the Freeport LNG plant), the US decrease export of nature gas and left domestic prices for energy carriers at acceptable levels; hence, the States also can increase export of aluminum to the EU. Dependency on the US hardly worries anyone in Europe.
Companies in aluminum market
In the US exchanges, there are only five companies that work directly with aluminum. These are Alcoa Corporation (NYSE: AA), Aluminum Corporation of China Limited (NYSE: ACH), Century Aluminum Company (NASDAQ: CENX), Constellium SE (NYSE: CSTM), and Kaiser Aluminum Corporation (NASDAQ: KALU).
Aluminum Corporation of China Limited
This is a Chinese company, and as was written above, the EU is now trying to decrease the dependence on Chinese aluminum. As a result, supply of this Chinese company to the EU may decrease with time.
Constellium SE and Kaiser Aluminum Corporation
Constellium SE is a French company, but it only refines aluminum, not mines it. It means, the company first buys aluminum and then sells goods with added value. The American Kaiser Aluminum Corporation works on the same principle.
There are two companies left: Alcoa Corporation and Century Aluminum Company.
Alcoa Corporation
Alcoa Corporation is an American company that mines bauxites and produces it into alumina, from which aluminum is later made. The company sells both alumina and aluminum as the final product.
Business of the company is diversified, and plants are situated in Australia, Brazil, Canada, Hungary, Iceland, the Netherlands, Norway, Spain, and the US. A decrease in production in Europe can be compensated for by other countries.
If we look at the share price chart, we will notice a correlation between the share price and aluminum prices.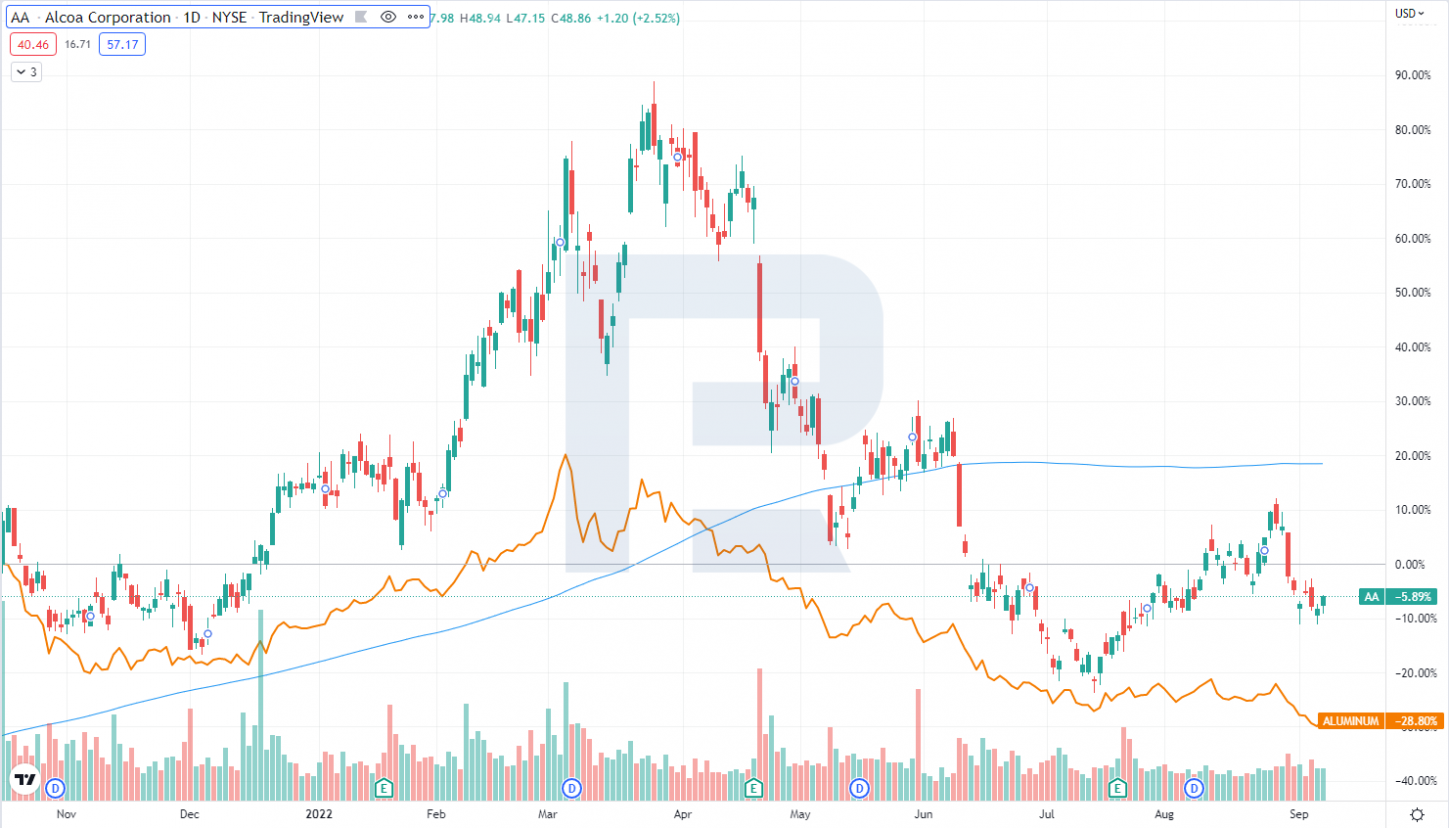 However, in July this year the situation changed a bit: aluminum quotes went on declining, while the shares of Alcoa Corporation, on the contrary, grew by 22%.
Century Aluminum Corporation
Unlike Alcoa Corporation, Century Aluminum Company does not mine bauxites but produces aluminum from alumina bought from companies like Alcoa Corporation. Its plants are situated in the US and Iceland, from where the company sells goods ready for production, including to the EU.
In Europe, companies with a similar business structure have faced a problem of high cost of alumina — so high that it exceeds the price of the final product. Hence, the demand for Century Aluminum might also grow.
Risks
OPEC+ voiced its plans for decreasing oil production starting October 2022. The reason is to stabilise oil prices. The US have just recently insisted on increasing oil in South-East Asia to hold back the prices, but now OPEC+ speaks of decreasing production. The conclusion is one and only: the demand for oil shrinks, and this inevitably leads to falling of commodity prices.
Something similar may happen to aluminum. Developed countries are increasing the interest rate to stop inflation. The US, EU, Great Britain, Australia, Canada, etc. — all of them are increasing the rate, hence, the development of the global economy will be slowing down. Firstly, this will lead to a decline in the consumer demand because with the high rate credits will become more expensive. Secondly, this will bring down production volumes, and the demand for the metal will also fall. Hence, aluminum prices might continue falling, and earnings of aluminum companies will follow. In this case, it will be hard to count on growth of share prices of aluminum companies.
One more risk for aluminum makers is that Russian metal will remain on the EU market. While the Russian ruble is expensive, commodity companies, such as MMC Norilsk Nickel or Rusal have to compete in the European market with Turkey, China, and the US. If the ruble goes down, Russian companies on the global market will become stronger. It should also be minded that even in the current situation Russia has managed to increase export in the EU by 21% compared to last year.
Bottom line
Aluminum is vital for the development of humanity. COVID-19 and the war in Ukraine changed the normal situation in commodity markets, so we are now watching supply and demand trying to find some balance. Aluminum prices may continue falling but the companies above have a chance to compensate for these losses by increasing sales in the EU market.
Invest in American stocks with RoboForex on favorable terms! Real shares can be traded on the R StocksTrader platform from $ 0.0045 per share, with a minimum trading fee of $ 0.5. You can also try your trading skills in the R StocksTrader platform on a demo account, just register on RoboForex and open a trading account.