Next-Generation Tactical Systems Manufacturer KWESST Micro Systems Inc Files for an IPO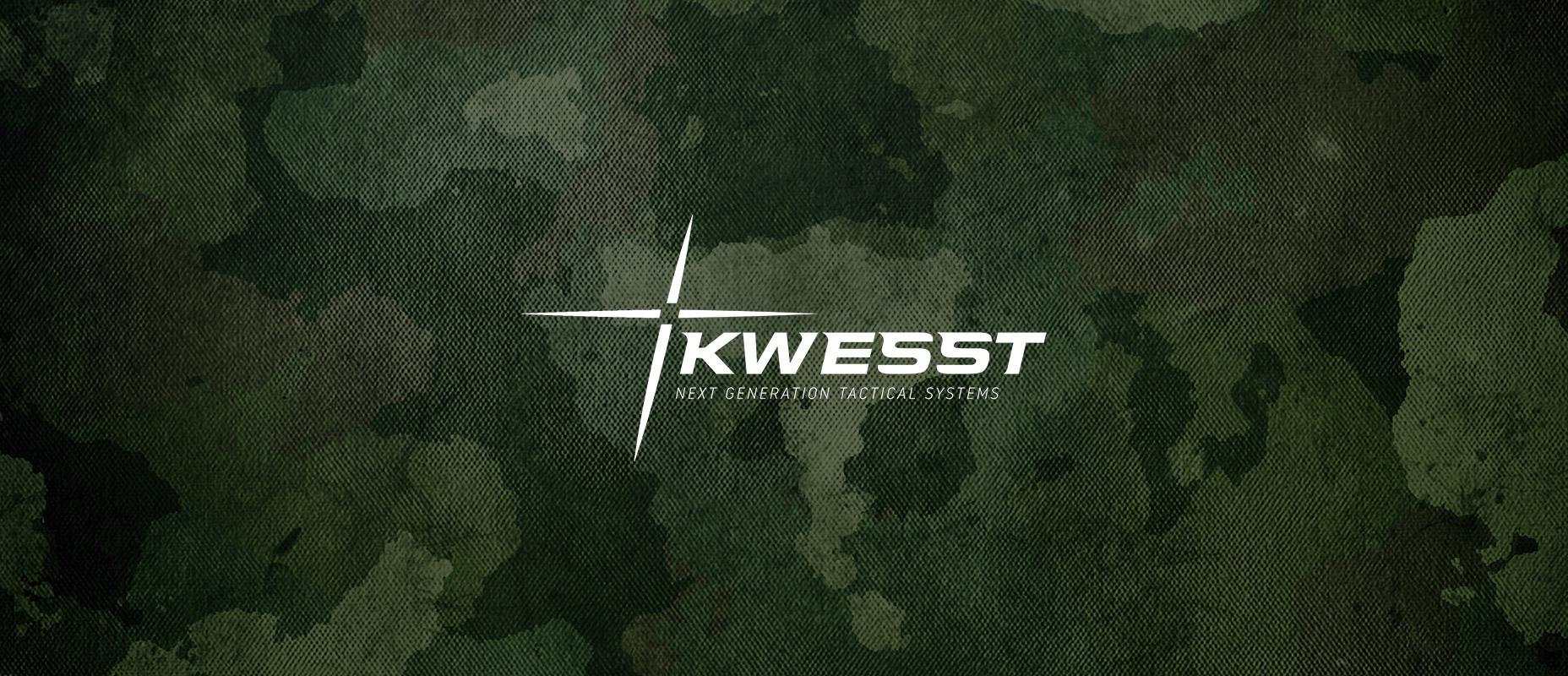 In modern times, technology plays a critical role in the effective execution of military missions and public safety tasks. It is precisely such technology that is being developed and commercialised by KWESST Micro Systems Inc. The company, which develops non-lethal weapons and technology, and whose equipment was widely used to break up demonstrations in downtown Ottawa during protests against vaccination demands in winter 2022, is going public on 18 November 2022 under the ticker symbol "KWE."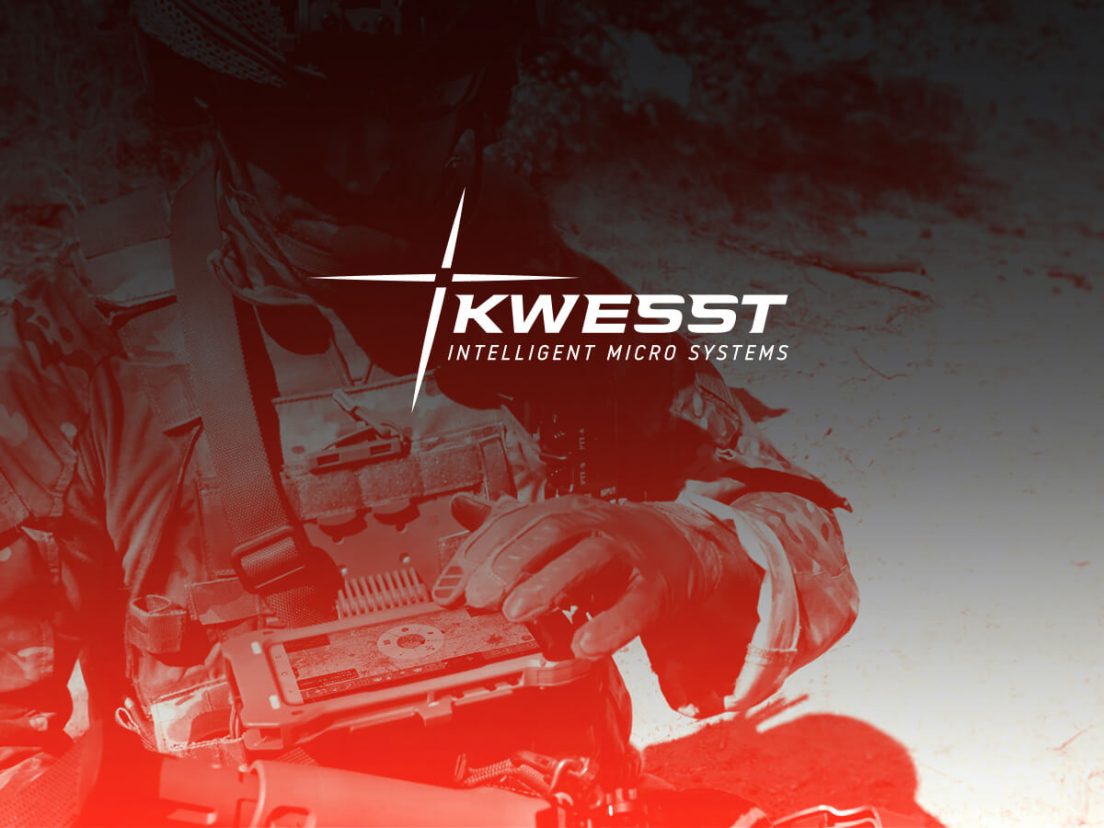 About KWESST Micro Systems
KWESST Micro Systems was founded in 2017 and is headquartered in Ottawa, Canada. It is led by CEO Jeffrey MacLeod, who has been with the firm since October 2019. KWESST develops and markets next-generation advanced tactical systems and non-lethal firearms counterparts for self-defence and personal protection. The company participates in NATO programmes to develop tactical-level command and control systems.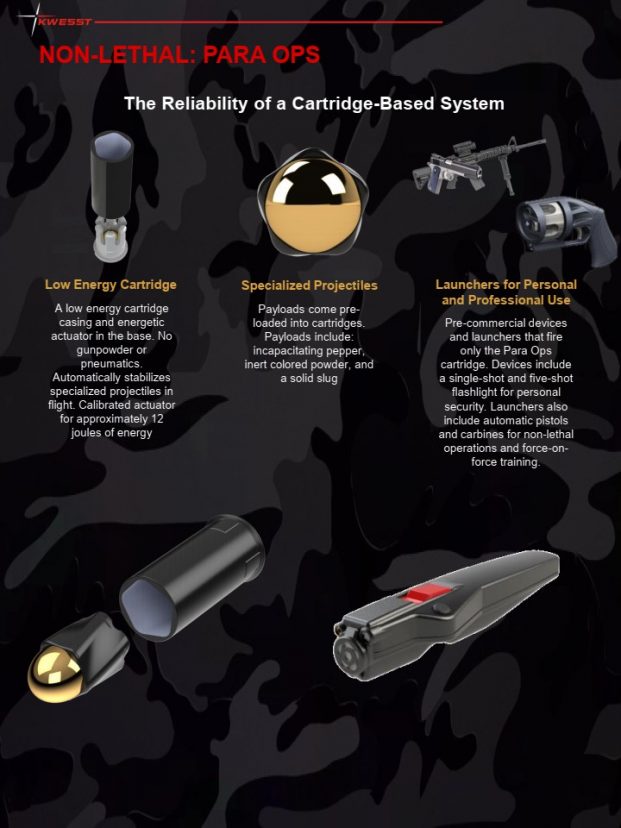 The focus of the issuer's principal operating activities is on the following three areas:
Development and production of non-lethal weapons
Protection against laser threats, e-detection
Digitalisation of management processes on the battlefield
KWESST Micro Systems is testing two weapons: the PARA Ops single-shot and multiple-shot rifles (ARWEN), which are expected to go on sale in the second quarter of 2023. The target markets are security organisations and individuals. Three types of ammunition developed by KWESST can be purchased with these rifles: rubber bullets, coloured powder (for close combat simulation), and pepper gas. In addition to military and security agencies, these items may also be of interest to law enforcement agencies. These products offer broad prospects for the issuer's targeted markets.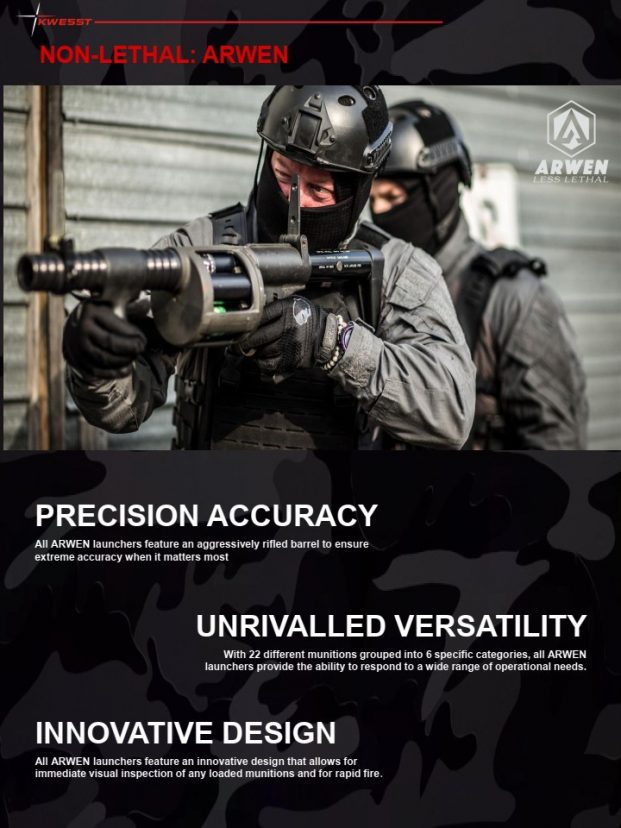 KWESST is also developing various UAV (unmanned aerial vehicle) detection and protection systems, such as the GreyGhost autonomous man-portable missile system. Another development, called Phantom, is a miniaturised electronic warfare device capable of simulating NATO electronic communications. Phantom is designed to conceal the operator's real position.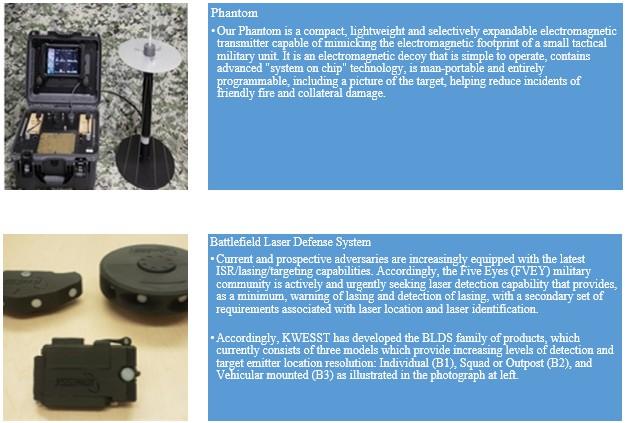 As part of the digitalisation of troop control systems, KWESST Micro System has developed the Tactical and Situation Control System (TASCS) platform. It is a mobile app that soldiers can install on their secure smartphones to communicate with each other and with commands. The signal can be transmitted in a variety of ways, including with the help of a radio reconnaissance UAV.
KWESST stocks are currently traded on the OTC market under the ticker 'KWEMF' and are also listed on the Frankfurt and Toronto stock exchanges.
The prospects of the KWESST Micro Systems addressable market
According to Allied Market Research, the global market for non-lethal weapons (Non-Lethal Market) was valued at USD 7.4 billion in 2020. It is projected to grow to USD 12.5 billion by 2028, at an average annual growth rate from 2022 to 2028 of 7.4%.
According to Fortune Business Insights, the global public safety market was worth USD 435 billion in 2021. It is expected to reach USD 868 billion by 2028, with an average annual growth rate of 10.4% between 2022 and 2028.
Fortune Business Insights forecasts that the global electronic warfare market will reach USD 33.5 billion by 2028, with an average annual growth rate of 5.2% from 2022 to 2028.
The issuer's total addressable market will therefore reach USD 914 billion by 2028. The main growth drivers are expected to be the conflicts in the Middle East and rising defence spending by NATO alliance countries on the back of the military conflict in Ukraine.
KWESST Micro System's main competitors:
General Dynamics Corporation
Raytheon Company
Sony Interactive Entertainment Inc.
Northrop Grumman Corporation
Microsoft Corporation
Financial performance at KWESST Micro Systems
he issuer does not generate net income, so we will analyse the company's financial position by looking at its revenue. The financial results presented on Form S-1 for the 12 months ending 30 September 2021 show sales of USD 1.27 million. Unfortunately, it is not possible to establish the dynamics of this indicator due to the lack of data for similar periods.

The net loss for the 12 months ending 30 September 2021 was USD 9.32 million. This was due to significant operating expenses amounting to USD 9.07 million.
As of 30 June 2022, the company had USD 13.4 million in its accounts, with total liabilities of USD 4 million.
Strengths and weaknesses of KWESST Micro Systems
Strengths:
Promising addressable market
Global scale of business
Contracts with the NATO alliance
Qualified management
Strong demand for the company's services and products in the current politico-military environment in the world
Drawbacks:
Strong competition
Lack of net profit
Poor data on revenue dynamics
What do we know about the KWESST Micro Systems IPO
ThinkEquity LLC is the underwriter of the KWESST Micro System IPO. The issuer intends to sell 2.3 million common stocks at prices ranging from 4.13 to 6.30 USD per unit. The gross proceeds from the sale of the stock may amount to USD 11.4 million (assuming an average price of USD 4.95 per unit), excluding the sale of common options by the underwriter. The funds raised will be used for general corporate expenses. If the offering is successful, KWESST Micro Systems, Inc. will be capitalised at USD 15.35 million. The issuer's P/S (capitalisation/revenue) multiple will reach 12.09, which is quite high for the current market phase.
Invest in American stocks with RoboForex on favorable terms! Real shares can be traded on the R StocksTrader platform from $ 0.0045 per share, with a minimum trading fee of $ 0.5. You can also try your trading skills in the R StocksTrader platform on a demo account, just register on RoboForex and open a trading account.