Exxon Mobil Plans to Go Greener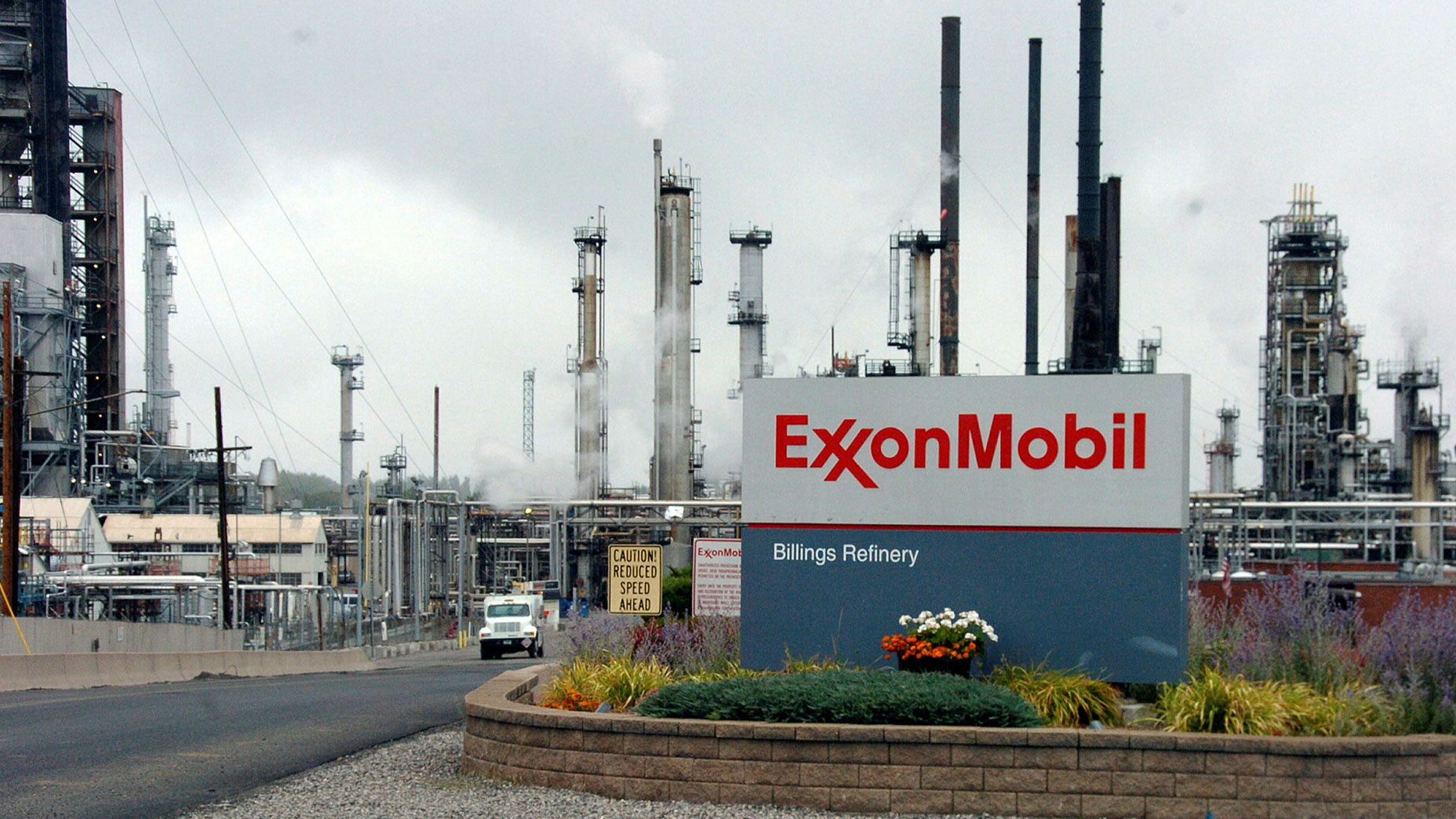 Exxon Mobil Corporation (NYSE: XOM) CEO Darren Woods spoke at an investor meeting on 4 April 2023 about the goals of the company's new strategy to transition its oil and gas production to a greener business. Woods foresees that, in ten years, the company's green business will surpass gas and oil production and sales in terms of revenues.
Today, we take a closer look at the corporation's revenue structure, find out what its environmental business is all about and discuss the highlights of the announced transition.
Exxon Mobil Corporation in brief
Exxon Mobil Corporation is one of the world's largest oil and gas companies. It produces, refines, and sells oil, gas, and petroleum products. The company was created in 1999 through a merger between Exxon and Mobil and is headquartered in Irving, Texas.
Exxon Mobil Corporation is also engaged in research and development in the oil and gas industry. For example, it finances research on methods to improve the efficiency of oil and gas production, as well as the creation of new technologies to reduce the negative impact of major industrial processes on the environment.
Exxon Mobil Corporation's revenue structure
The corporation's 2022 revenues reached USD 413.68 billion. Sales and other operating activities accounted for 97% of this amount, while the profit of joint-stock companies was 2%, and other revenues accounted for 1%. Revenues from the environmental business are not yet published as separate statistics by segment but are included in "Other revenues".
The main areas of the oil and gas business:
Downstream is involved in oil refining, production, transportation, trade, and sales of petroleum products and lubricants. It accounted for 69% of total revenues in 2022.
Upstream - this business area specialises in the prospecting, exploration, development, and production of oil, natural gas, and condensate. It accounts for 25% of total annual revenues.
Chemical is responsible for the production and sale of chemical products to industry and consumers. It accounts for 6% of the company's total annual revenues.
Exxon Mobil Corporation's environmental business structure
Exxon Mobil Corporation's 'green' business consists of several businesses that aim to reduce greenhouse gas emissions and develop a low-carbon economy:
Production and sale of biodiesel and hydrogen, as well as carbon capture and storage. These energy sources have a smaller carbon footprint and can help reduce dependence on fossil fuels. The company plans to invest USD 17 billion in this area by 2027.
The development and use of emission reduction technologies in mining, processing, and production. This is about energy efficiency, process optimisation, methane leakage reduction, use of alternative fuels, and renewable energy. The Corporation is actively involved in the development of emission reduction standards for the industry.
Developing innovative solutions to help other sectors in the transition to a low-carbon model. For example, the company creates and sells lubricants for electric vehicles, plastics from recycled waste, and jet fuel from vegetable oil. Exxon Mobil Corporation works with governments, public and private research organisations, and the public to find new ways to reduce harmful emissions.
Switching to green business
According to Exxon Mobil Corporation's CEO, the plan to change the direction of the business includes three main areas - decarbonisation, carbon capture and storage, and hydrogen and biofuel production.
Decarbonisation
This process involves reducing carbon emissions in the atmosphere. Exxon Mobil Corporation expects to generate high and stable revenues from this segment through long-term contracts with large customers seeking to reduce their carbon footprint.
Carbon capture and storage
This is a process in which CO₂ is collected at industrial and energy facilities, and transported to a storage site where it is kept for long periods of time. Exxon Mobil Corporation estimates that the combined potential of projects related to this area, as well as hydrogen and biofuel production, could reach USD 6.5 trillion by 2050.
Hydrogen and biofuel production
Hydrogen can be produced from methane, coal, water, biomass, rubbish, and other raw materials through steam conversion, gasification, electrolysis, pyrolysis, or biotechnology. Exxon Mobil Corporation already produces about 1.3 million tonnes of hydrogen per year. The company plans to build a dedicated plant in Beaumont, Texas, with a yearly production capacity of one million tonnes of hydrogen fuel. It is also exploring the possibility of producing clean hydrogen for an industrial complex in Rotterdam and is participating in cross-industry initiatives to develop low-carbon hydrogen.
Biofuels are fuels made from plant or animal raw materials from the waste products of organisms, or from organic industrial waste. Exxon Mobil Corporation aims to supply around 40,000 barrels of low-carbon fuels per day by 2025 and to increase this to 200,000 barrels per day by 2030.
Strong earnings drive Exxon Mobil Corporation stocks higher
As the oil and gas business is Exxon Mobil Corporation's main revenue generator, high hydrocarbon prices seen since 2021 had a positive impact on its annual earnings. Over the last two years, the figure has risen from USD 181.5 billion to USD 413.6 billion. The higher revenues allowed the company to increase its dividend payout from USD 3.03 per stock at the end of 2020 to USD 3.54 in February 2023 and to allocate the funds to stock buybacks.
A new stock buyback programme was announced in December 2022, increasing the amount from USD 30 billion to USD 50 billion. The programme is due to be completed by 2024. Consequently, the value of the corporation's stocks has skyrocketed 180% to 119 USD per unit since the beginning of 2021.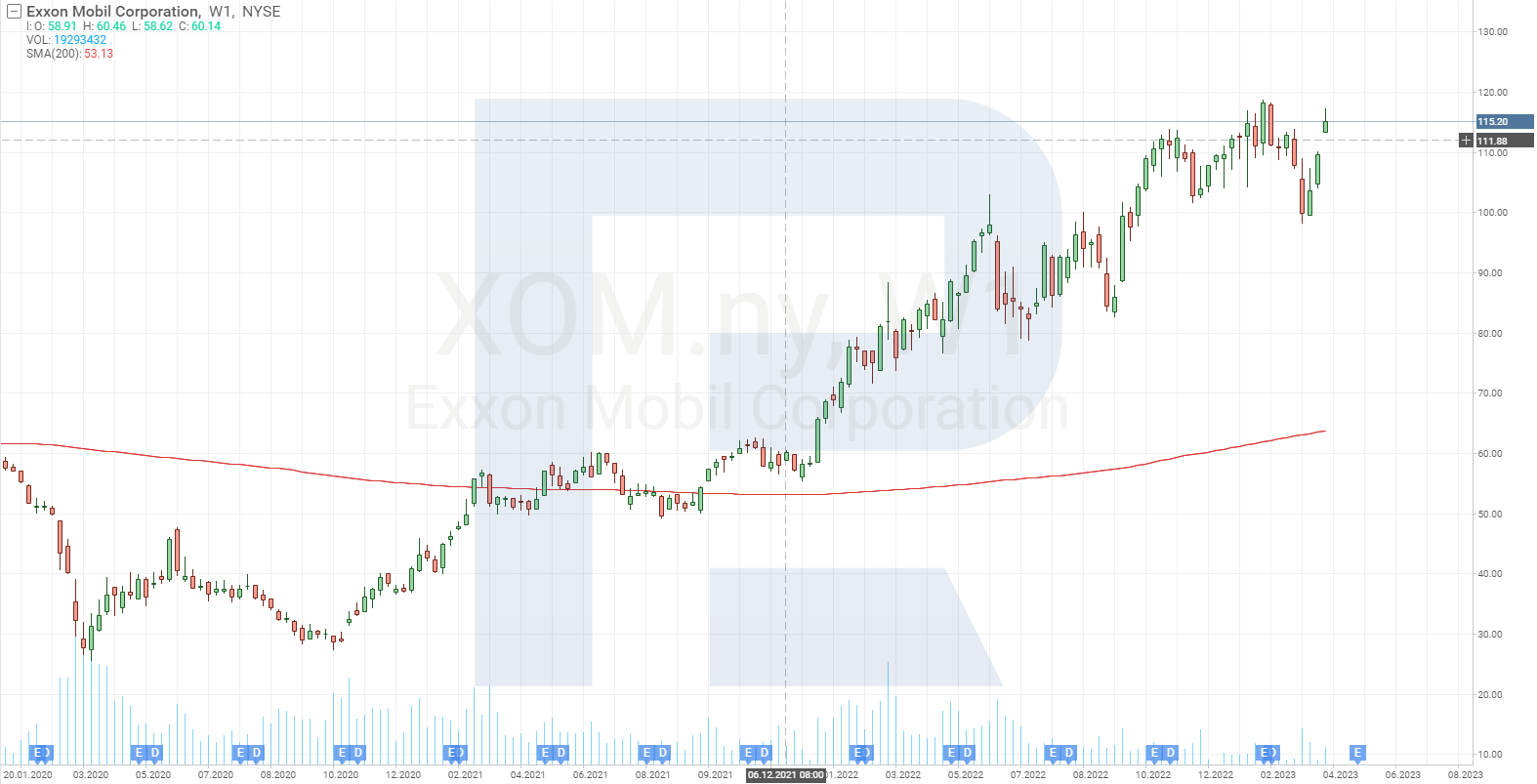 Conclusion
Exxon Mobil Corporation plans over the next decade to shift its focus from oil and gas production and sales to alternative energy development. However, in case of a global recession and a drop in hydrocarbon prices, the corporation's plans might change, and the announced deadline may be extended. At the same time, the continuing rise in oil prices may not only have a positive impact on the company's revenues but also speed up the implementation of its plans.
In addition, for its energy transition, apart from a stimulating demand for low-carbon technologies, Exxon Mobil Corporation needs support from regulators and policymakers on carbon pricing.