Tesla Share Price Analysis: Can Tesla Stock Return to the All-Time High?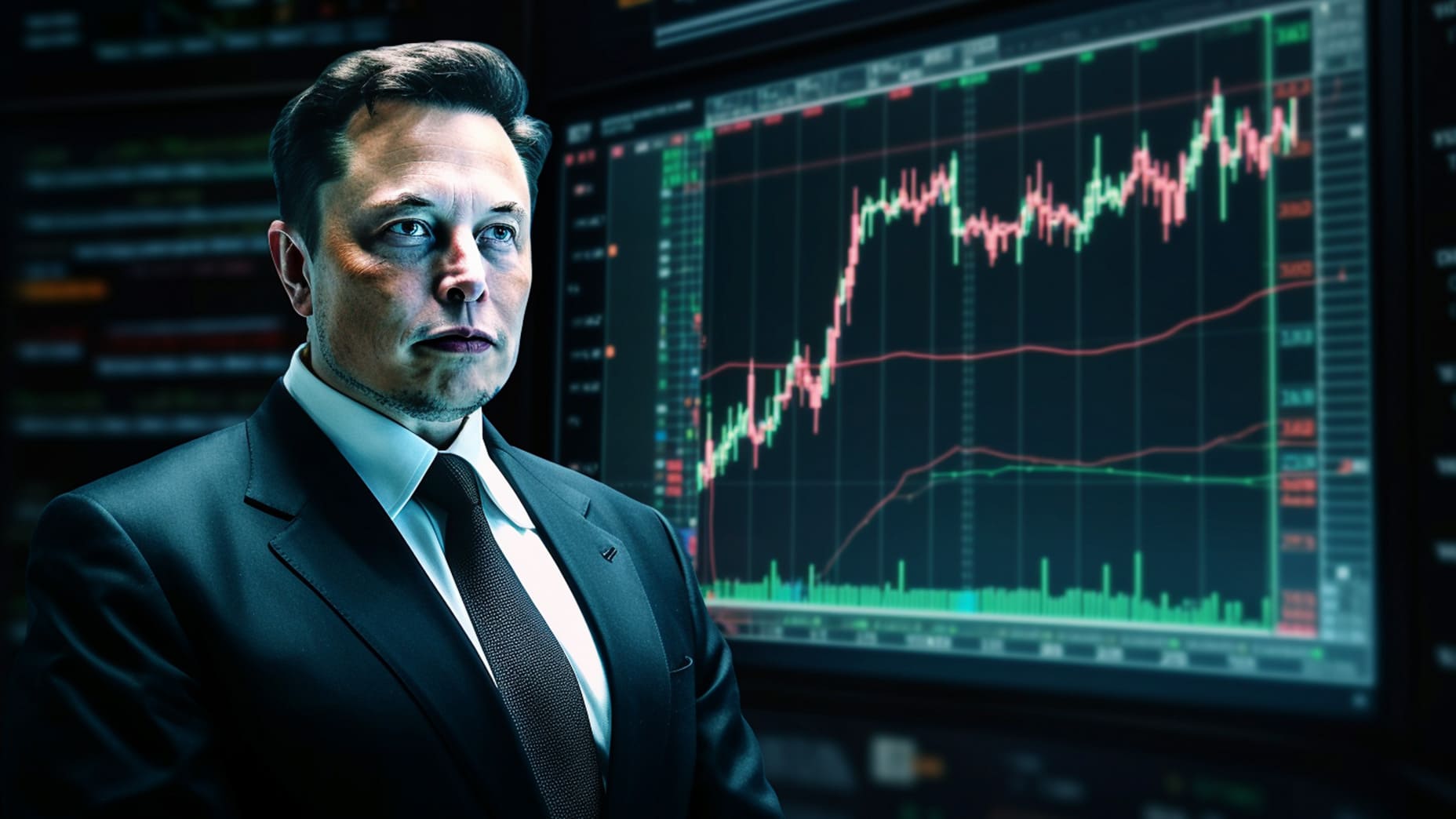 Tesla Inc. (NASDAQ: TSLA) stock has skyrocketed more than 160% since the beginning of the year, outperforming the S&P 500 index by 147%. What is the reason behind this surge and do the quotes have the potential to rise further to their all-time high of 415 USD? We will try to answer these and other interesting questions.
Why did Tesla's stock price rise in the first half of 2023?
Since 2019 when Tesla Inc. posted a net profit, its financial performance has been improving every year. With growing sales of electric vehicles, the company's revenue and net profit also increased. The Q2 2023 report of the automaker will come out on 19 July, and in the meantime, we will study its report for the first quarter. It should be noted that it was during this period that Tesla stock price started to rise following a 75% drop from its all-time high of 415 USD, down to 102 USD per unit.
Tesla's financial performance for Q1 2023
The Q1 2023 revenue increased by 24% to 23.3 billion USD compared to the statistics for the corresponding period in 2022. Let us take a closer look at this indicator: sales of electric vehicles grew by 18% to 19.9 billion USD, energy generation and storage soared 148% to 1.5 billion USD, and services and other revenue increased by 44% to 1.8 billion USD.
At the same time, quarterly net profit fell 25% to 2.5 billion USD or 0.85 USD per share. The reason for a decrease in this figure was the three waves of product price cuts in the fourth quarter of 2022. This also affected the margin of the business, which dropped from 27.1% to 23.1%. However, even this level of Tesla Inc.'s margin outperforms competitors.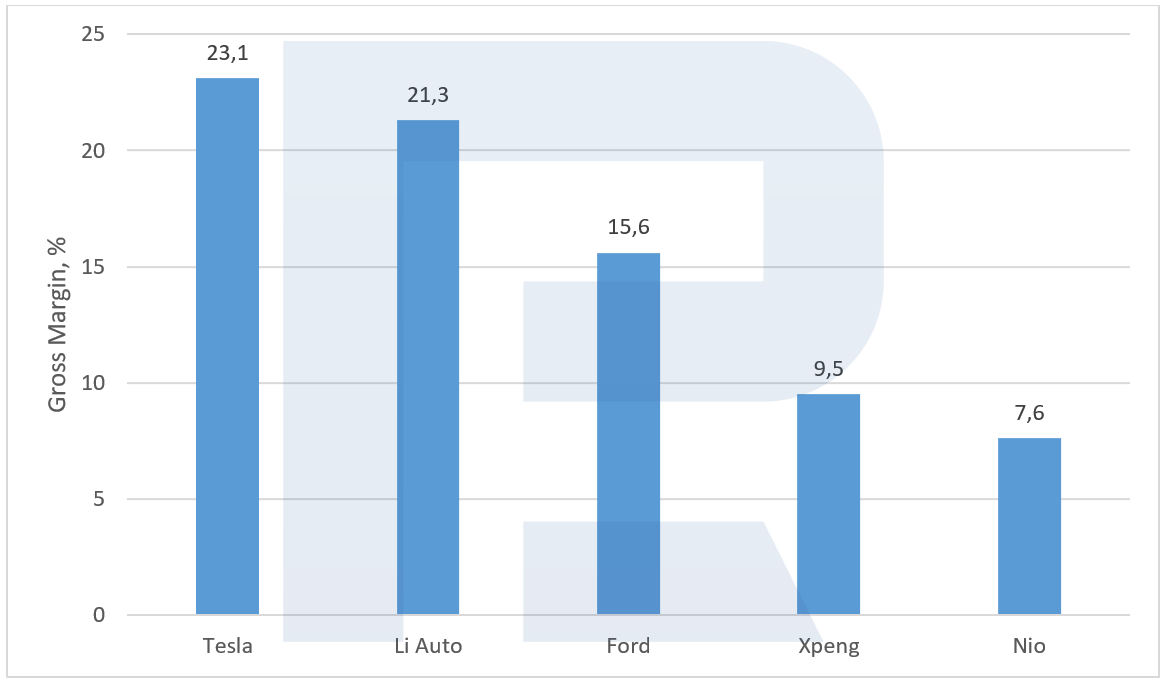 Growth in Tesla electric vehicle sales in Q1 2023
Tesla Inc. regularly cuts prices on its products in various regions, especially in the US and China, to maintain and increase its competitiveness. A reduction in electric car prices can also be attributed to cost and business process optimisation as well as the production scale-up. However, the main goal of such a policy is to increase the market share and boost demand.
As mentioned above, price cutting negatively affected the company's profit and its business margins in the first quarter of this year. But this policy allowed Tesla Inc. to increase the number of sold electric vehicles by 36% to 422,875 units compared to the results for the corresponding period of the last year. The company published sales statistics for the second quarter on 2 July. When compared to the Q2 2022 results, the figure increased by 75% to 446,915 electric cars.
Let us analyse how quarterly electric vehicle sales affect the value of Elon Musk's corporation stock:
Q4 2021 sales grew by 28% compared to the Q3 2021 results, with Tesla Inc.'s stock reaching its all-time high at 414.5 USD per unit in November
Sales in Q1 2022 increased by only 0.4% and dropped by 18% in Q2 with the quotes plummeting from 385 USD
Q3 2022 sales were up 35% compared to the Q2 statistics, setting a new record, while shares continued to tumble. Market players probably needed more time to understand whether the trend has changed
Q4 2022 sales added 18%, and Tesla Inc.'s stock began to rise in January 2023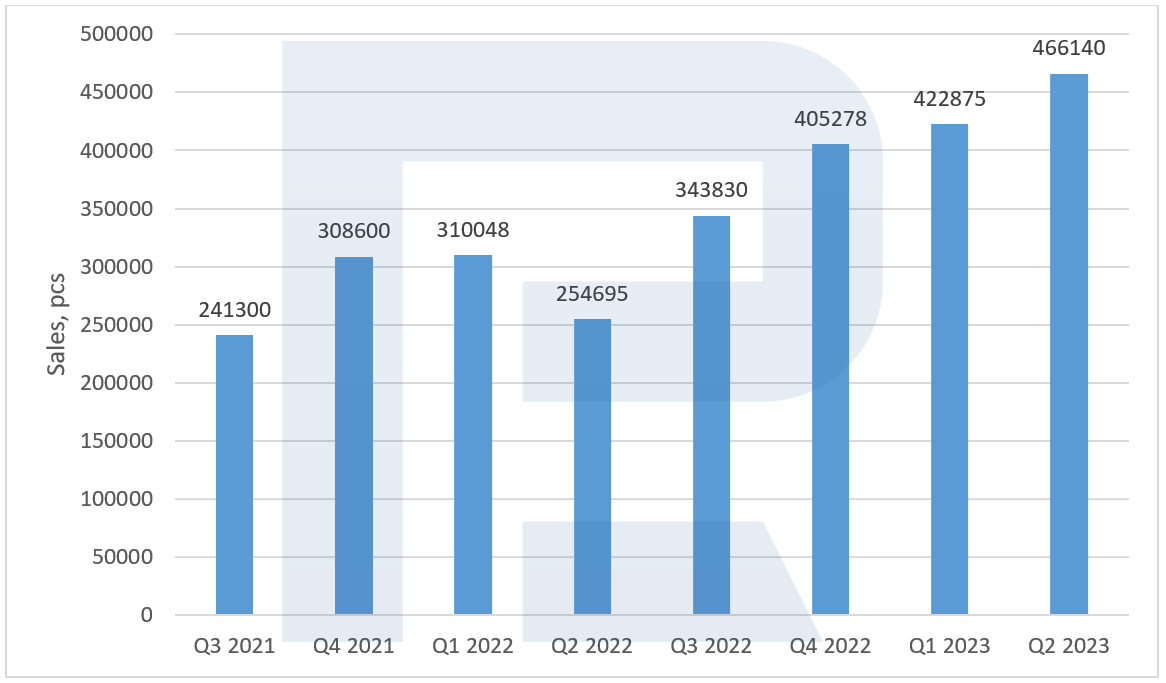 Will Tesla stock continue to rise?
As said above, Tesla Inc. stock has surged more than 160% since the beginning of this year, which is a very high yield. But are the quotes likely to continue to rise? For the stock value to continue growing, the company needs to increase its revenue, which requires ramping up production or introducing new products that will bring additional profit.
Growth in the electric vehicle production
The total manufacturing capacity for all five Tesla Inc. factories exceeds 1.9 million cars per year. At the beginning of 2023, Musk forecast that the annual sales volume would reach 2 million electric cars, showing an increase of 38% from the statistics for 2022.
Over the first six months of this year, the company sold 889,015 electric vehicles, with 1,110,985 units still to be sold. If the sales level continues to go up, the target can be reached, and this will allow the annual revenue to increase by more than 40%.
This indicator can also be positively affected by the start of sales of the long-awaited Tesla Cybertruck, which already has over one million preorders. According to Elon Musk, the model will go on sale in the fourth quarter of 2023. In addition, in early March this year, Mexico's President and the corporation's management confirmed the plans to build Tesla Inc.'s plant in the city of Monterrey. The facility is expected to produce about 1 million electric vehicles per year.
Tesla charging connectors become the standard for the US market
The US does not have a single standard for electric vehicle charging connectors. The most common are SAE J1772 (for AC charging), CCS (for fast DC charging) and Tesla's NACS (for AC and DC charging). In North America, there are twice as many electric vehicles with the NACS connector as those with CCS, and Tesla's network of charging stations has 60% more NACS chargers than all CCS and SAE J1772 networks in the country.
This year, Ford Motor Company (NYSE: F), General Motors Company (NYSE: GM), Rivian Automotive Inc. (NASDAQ: RIVN), Volvo Group, Polestar Automotive Holding UK PLC (NASDAQ: PSNY), and Mercedes-Benz Group AG announced their intention to adopt NACS connectors for their electric cars. In addition, the Society of Automotive Engineers (SAE) plans to list the NACS connector as an international standard for electric vehicles. Favourable conditions are being created so that in the future Tesla Inc. could generate additional income from sales of charging connectors to other automakers and rapidly increase the number of clients of its charging station network.
The monetisation of the autopilot system and Dojo supercomputer
Dojo is a supercomputer designed by Tesla Inc. for video processing and recognition using computer vision. It will be used to improve its Full Self-Driving (FSD), the advanced driver-assistance system. The monetisation of this development could involve selling an autonomous driving service to other automakers and creating an autonomous taxi service.
Let us discuss the second option in more detail. This is not only about the collaboration with companies specialised in taxi services but also about creating a conceptually new type of business. After installing autonomous driving software, Tesla EV owners will be able to rent their vehicles as autonomous taxis when they do not use their cars themselves. The generated income will be divided between the electric vehicle owner and Tesla Inc.
CEO of ARK Investment Management LLC Cathie Wood predicts that such type of business could bring Elon Musk's corporation up to 4 trillion USD in revenue over five years. Therefore, the US automaker's management is striving to increase the number of its electric vehicles on public roads as soon as possible and is ready to sacrifice the business margin level at this stage.
Analysis of Tesla stock chart: correction is about to develop
Tesla Inc. stock is trading in the ascending channel and has currently reached its upper boundary, which implies that a corrective movement is likely to develop. The nearest support levels for the price are 240 and 220 USD. If the quotes break the upper line of the channel, they will continue to rise and probably will soon reach the resistance level at 310 USD. A breakout of this level will open the way for further price growth to the level of 380 USD.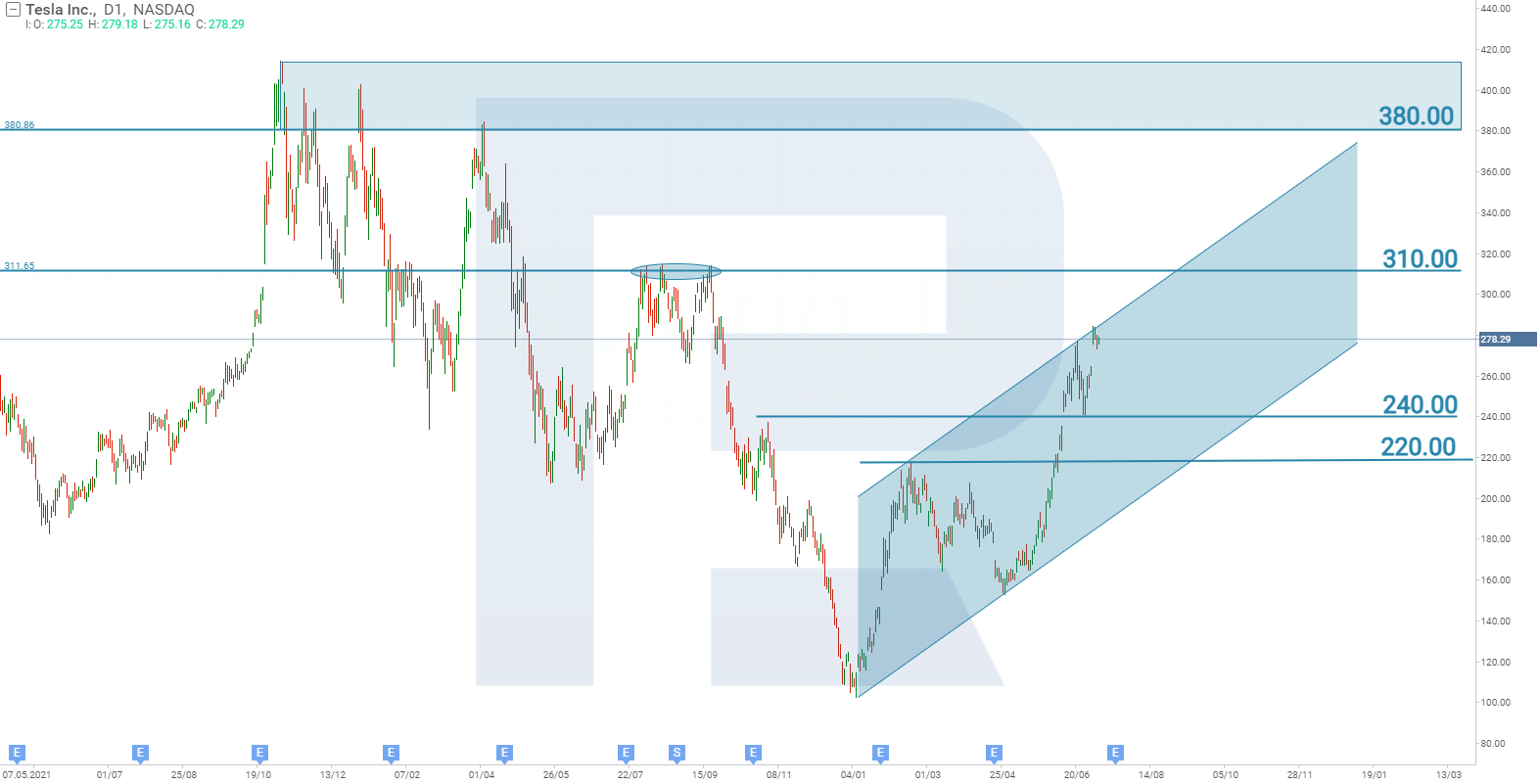 Summary
According to Musk, if the year 2023 does not bring logistical challenges and global problems, his company could reach the set targets, which means an increase in revenues with a subsequent rise in share prices. Furthermore, the standardisation of charging connectors, the Dojo supercomputer, and the autopilot system give the corporation new opportunities to generate additional income. It can be assumed that Tesla Inc. stock has a long-term potential for further growth, and it is only a matter of time before it reaches its all-time high.