Xiaomi, a Chinese maker of smartphones and other gadgets, has long been craving for such brilliant news: the USA agreed to exclude the company from the blacklist. In this article, I'm giving you the details of the event and telling you how Xiaomi shares reacted.
Isn't Xiaomi on the blacklist anymore?
On May 12th, Bloomberg let us know that the representatives of the US government and Xiaomi corporation came to an important agreement: the tech giant will be removed from the blacklist that features companies, investments in which are forbidden to individuals and legal entities in the USA.
According to the journal, the Pentagon expressed its consent with the final order to exclude Xiaomi from the blacklist. All the sides will make official statements on May 20th.
When and why did Xiaomi get under sanctions?
On November 12th, 2020 President Donald Trump signed a decree prohibiting Americans and American companies to make any operations with the shares of Chinese companies that the government considered to belong to or cooperate with the Chinese defense forces.
On January 15th, 2021 Xiaomi got on the blacklist of the US Ministry of Defense alongside eight other Chinese companies. On the same day, the quotations of the tech company slumped by 10.26%.
However, on March 13th, 2021 Reuters reported that the Federal Court put the ban for Americans to invest in Xiaomi to a halt. The quotations of the company reacted by growing by 7.25%.
Tech analysis of Xiaomi shares
On May 12th, after we heard about the ban being lifted, the shares of Xiaomi (HK: 1810) grew by 6.1% to 26.1 HKD. On the next day, they dropped by 2.87% to 25.35 HKD. When I was preparing the material for publication, the shares were trading at 25.9 HKD, having grown by 2.17%.
This is what Maksim Artyomov, analyst, says about the nearest future of Xiaomi shares:
Xiaomi shares keep bouncing off the 200-days Moving Average. This means the quotations have exited a flat and have started an ascending movement.
Technically speaking, the quotations have been forming a Wedge; a breakaway of the resistance level will mean the pattern is working. The aim of further growth is 36 HKD. However, the quotations might correct on their way to the high.

In medium-run, if economic and political conditions are favorable, the shares might renew their all-time highs and keep growing".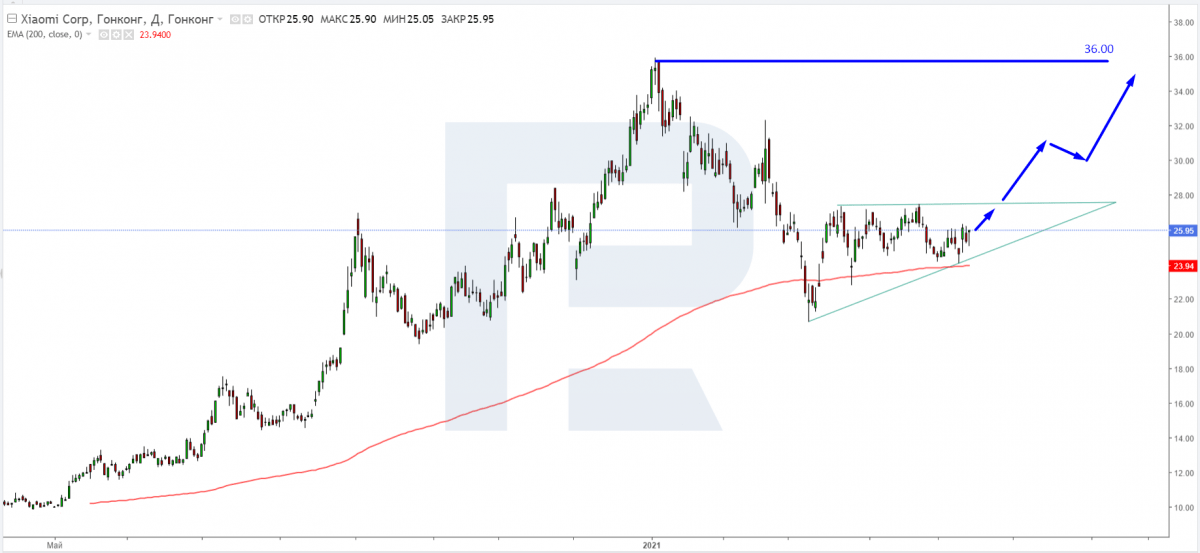 Summing up
On May 12th, we found out that Xiaomi will be excluded from the list of Chinese companies that American individual investors and legal entities may not invest in. This news made the shares of the company grow by 6.1%.
More about the Chinese companies' stocks on R Blog
---