An American company Virgin Galactic that specializes in suborbital space flights, demonstrated quite impressive stock price growth by 28%. Why did this happen and how long will it last? Let's find out now.
SpaceShipTwo made a test flight
On May 22nd, Richard Branson's company finally organized a long-awaited test flight of SpaceShipTwo. As you know, the flight had been scheduled for February this year but was postponed for the sake of further technical checkups.
This is the first successful test of a spaceship by Virgin Galactic since February 2019. It will help the holding to catch up with the schedule of planned flights and start selling tickets for future launches.
Virgin Galactic shares leaped up by 28%
Such an important event naturally got reflected in the quotations of the company. On May 24th, the share price of Virgin Galactic Holdings Inc. (NYSE:SPCE) grew by 27.62%, reaching $26.89.
Note that the shares had been growing for 7 sessions in a row, from May 14th through 24th. Totally they grew by 73.5%. This year, the quotations were at their high in February - $59.41. However, the test flight planned for February being postponed naturally affected the stock price.
Positive dynamics paused on May 25th: on Tuesday, the trading session closed with a decrease by 4.83%; the stock price reached $25.59.
Tech analysis of Virgin Galactic shares
"The shares of Virgin Galactic opened the trading session with a gap after a successful test flight of SpaceShipTwo. The next trading session demonstrated that this must have been an attempt of speculators to raise the price on expectations and rumors.
Currently, the quotations are trading at the upper border of the channel. As long as the general trend is declining, the price is likely to bounce off the support level and get back to its former values. The aim of the decline is the support line at $22.
Another signal for further development of the downtrend is a test of the 200-days Moving Average; a bounce off it will mean the beginning of one more declining impulse. Later, upon testing $22, the quotations might bounce off it and develop a new impulse of growth".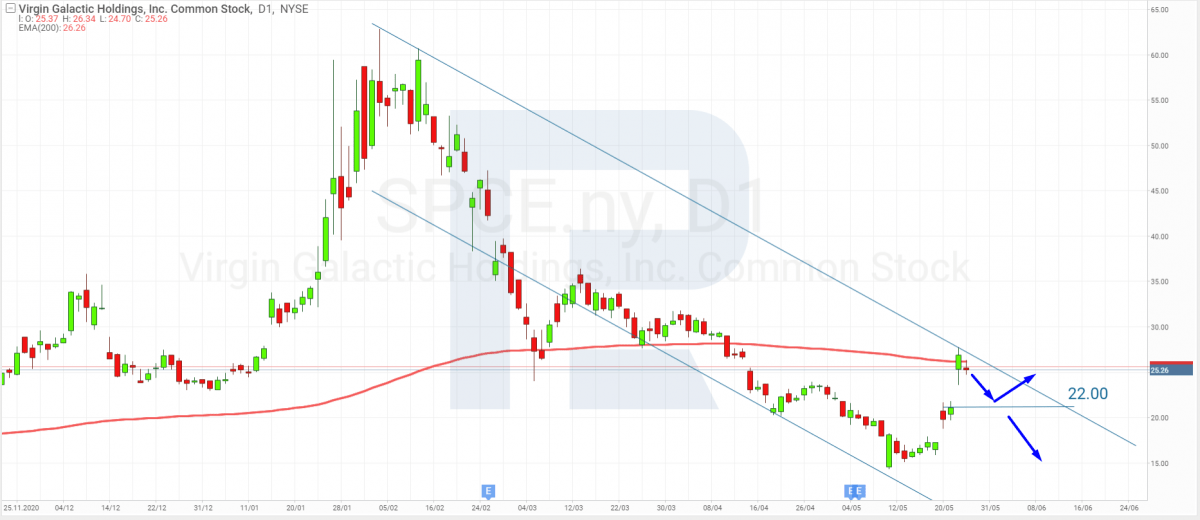 Summing up
The shares of Virgin Galactic started growing, supported by rumors about an upcoming test flight of SpaceShipTwo. According to Seeking Alpha, on May 20th, the daily turnover of the shares increased 5.5 times, reaching 69 million shares.
After the successful test flight the quotations sky-rocketed by 27.62%, reaching $26.89. However, on the next day, they lost almost 5%.
What else to read about space flights companies on R Blog?
---