Cannabis Shares in the Center of Attention Again

Last week, the shares of cannabis-making companies started growing again gradually. The growth was minor but for those keeping a close eye on the cannabis market, this was enough to consider buying stocks. You can see a full picture of what s going on if you check the behavior of investors in this market starting 2018.
The brightest representative of cannabis companies is Tilray (NASDAQ: TLRY), now called Aphria Inc. I will show you what has been going on in the sector on this example.
First wave of Tilray shares growth
In October, 2018, Canada legalized marijuana, and a couple months before this, Tilray carried out an IPO in the NASDAQ. As long as the company's product is the best known among clients, Tilray got into the center of investors' attention. The shares started trading at 18 USD each and a month later they already cost 300 USD.
Legalization of marijuana in Canada opened new markets to companies working in this sector because earlier cannabis products were allowed to be used for medical purposes only.
Falling of Tilray shares
Naturally, after such growth, the shares of the company started falling, because it remained losing, and the whole agitation was explained by the mere desire of investors to make money easily.
In the end, speculators left the shares one by one because they had got what they wanted, and long-term investors had not come yet because the shares looked overbought.
The stock price started falling and kept declining until March 2020. The decline was so deep that you could buy a Tilray share for 2.40 USD, which means a drop by 99%.
In March 2020, the situation changed, and the price started restoring.
Second wave of growth of Tilray shares
As you remember, in March last year the S&P 500 index reached its bottom and started recovering gradually. Starting this month, the shares of 90% of marijuana-producing companies headed upwards, and Tilray shares were among them. There were no events influencing the company and explaining the growth that time. However, in the end of 2020 things changed because there appeared a trigger seriously influencing the shares in the cannabis sector.
US elected President Joe Biden supported legalization of marijuana in the USA. Then United Nations excluded marijuana from the list of dangerous drugs. This event turned the entire world of cannabis companies upside down. As a result, the shares of Canopy Growth Corporation (NASDAQ: CGC), Cronos Group Inc (NASDAQ: CRON), Aurora Cannabis Inc. (NASDAQ: ACB), OrganiGram Holdings Inc. (NASDAQ: OGI), Aphria, Inc. (NASDAQ: TLRY), and HEXO Corp. (NYSE: HEXO) began steep growth.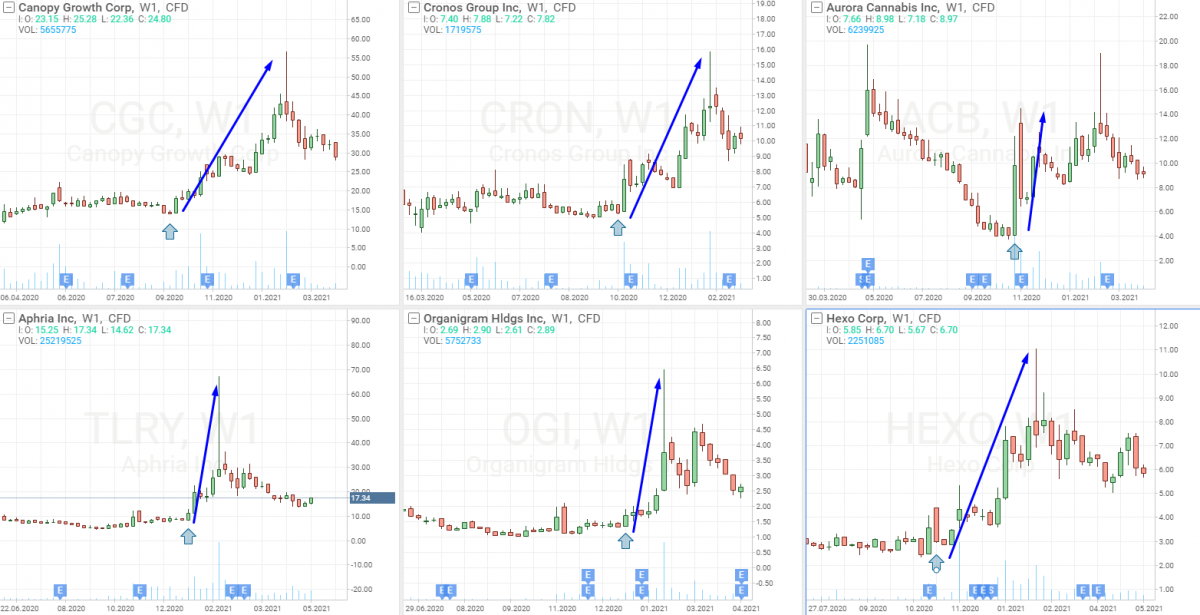 Alongside the shares, cannabis ETFs also sprung up, as well as the shares of companies producing equipment for growing cannabis. The growth of the shares was not as impressive as in 2018 but profitability sometimes reached 1,000%.
We can say that after UN excluded marijuana from the list of dangerous drugs, cannabis companies got a pathway to the global market.
Cannabis shares falling again
Speculators were there again. Like in 2018, the shares sky-rocketed and switched to a lengthy decline. Regardless of the market expanding, cannabis manufacturers are still struggling to make a net profit. For example, Aphria (Tilray) remains losing, though at the beginning of 2021 its shares grew by 1,000%.
Hence, there were two waves of growth in the cannabis sector. And now time has come for a third one.
Hedge funds noticing the cannabis sector
While wave one was packed with speculators, the tide of wave two already brought in some hedge funds. But as long as the stock price was sky-rocketing, and profitability of investors reached hundreds of percent, managers mostly took their profits and left the stocks.
This was logical. A fund manager buys stocks planning to make a profit. Companies pay no dividends. While initially they counted for gradual growth bringing dozens of percent of profit over several years, in reality, they had hundreds of percent of profit over months, so all sane managers took their money, sold the shares and started waiting for them to fall to add them to their portfolios again.
However, this time investors will be pickier, and only the best companies will enjoy their attention. Rivalry is getting tougher in the sector. Companies are trying to bite a larger part of the opening market; I would single out three of tem as the most promising.
Aphria Inc
Aphria completed a merger with Tilray, and the joint company is now trading under the ticker TLRY, though the company is more popular under the name Aphria.
As a result of the merger, the market got a new company leading the sector in Canada. Note that Aphria produces various classes of products: premium, economy, as well as medical.
In Europe, the company has an enterprise for growing and processing cannabis in Portugal and is planning to open one more in Germany.
Aphria chain has 17,000 shops in North America; after buying the SweetWater Brewing Company, it is going to enter the market of cannabis-based drinks.
Legalization of marijuana in the USA at the federal level will let Aphria increase its revenue noticeably and make a net profit. Analysts from the Bank of America are recommending buying Aphria shares.
Tech analysis of Aphria
On May 13th, Aphria shares stopped falling at the level of 13.50 USD and never dropped below 15 USD over 6 days. This means there was a large buyer in the market increasing their position for several days. Then the price started growing again until it reached 17 USD.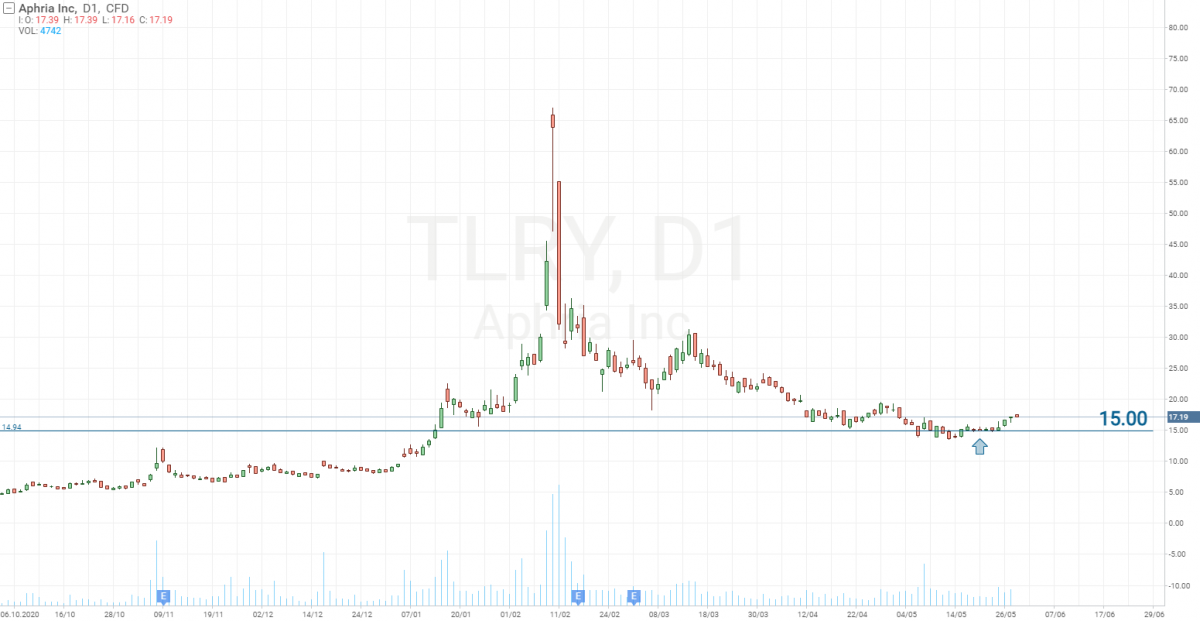 As a result, that large buyer demonstrated an acceptable price for a purchase.
In fact, we do not know whether the price will drop below 15 USD in the future. Most often, however, when the quotations near the previous buying level, they are likely to start growing again because other market participants start buying the shares.
Canopy Growth Corporation
Number two place in the Canadian market is taken by the Canopy Growth Corporation, The company enters the US market with CBD products which is a cannabinoid found in hemp.
CBD products have grown extremely popular in the USA; there is hardly a disease that they have not tried curing by CBD. It is used as a painkiller, for curing arthritis, anxiety, epilepsy, stress. It is even added to food for pets. Moreover, CBD was even tested against COVID-19. Some research claim that CBD decreases inflammation a bit yet there is not enough evidence yet. Even Coca-Cola (NASDAQ: COKE) noticed CBD and is planning to make beverages based on it.
Canopy Growth feels good in the German market as well, offering medical cannabis.
The management has set an ambitious goal to be increasing the revenue by 40-50% annually over the next three years and reach a positive EBITDA value in 2022. If Canopy Growth manages to complete only a half of these plans, the shares will react by growing by dozens of percent.
Tech analysis of Canopy Growth
On the chart, the situation is similar to that with Aphria. Falling stopped at 21.50 USD, then large players accumulated their positions at 22.50 USD, and now the shares are trading slightly below 25 USD.
HEXO Corp
The third company you should pay attention to is HEXO Corp. Unlike its two counterparts described above, it managed to reach a positive EBITDA value over the last two quarters. The company aims at market leadership: in the market of cannabis for grown-ups in Quebec and cannabis-based drinks in Canada.
On May 14th, the company announced buying an enterprise in Colorado via its US subsidiary. The contract will provide HEXO with necessary infrastructure forit to start production and continue expansion in the USA.
Tech analysis of HEXO Corp
In HEXO shares, a support level formed 5.70 USD. After a bounce off it, the shares started growing steeply – by 30% over 4 days. Here, a bounce off 7.50 USD will mean further growth.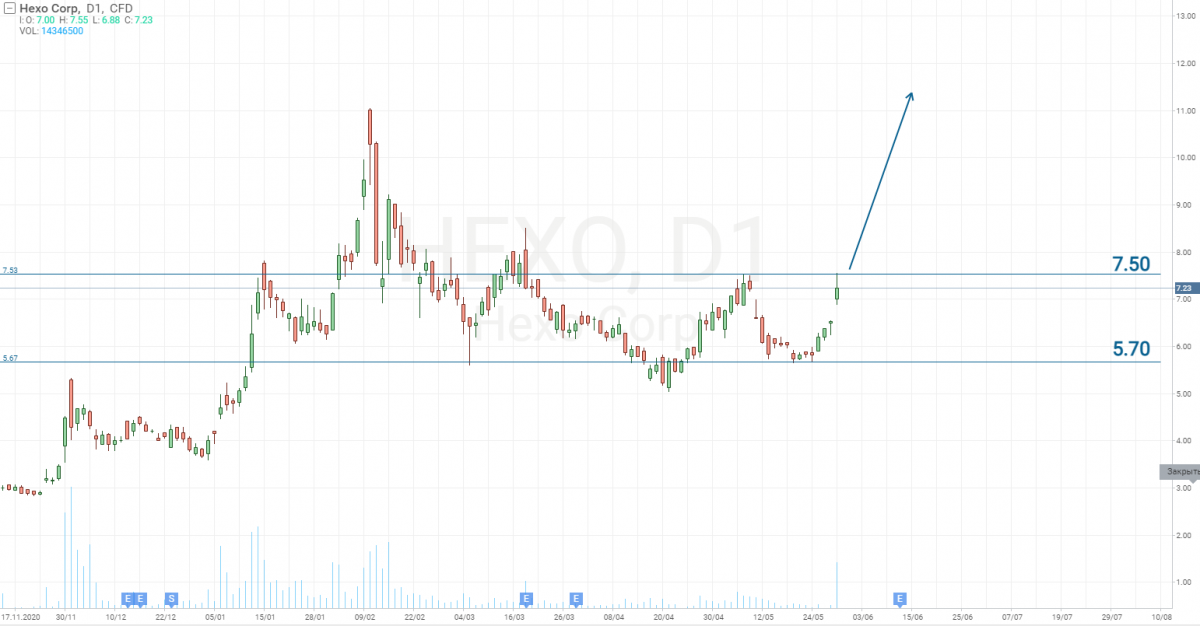 Legalizing cannabis at the federal level
An impulse for further growth of the stock price of cannabis companies will be legalization of marijuana in the USA at the federal level. Current growth is also based on the expectations of this event.
At the beginning of May, two congress people in the House of Representatives presented a draft bill suggesting legalization of marijuana at the federal level, like alcohol. This measure will exclude cannabis from the restricted substances law and provide bank protection for the industry. For companies, this does not only open new markets but also provides room for new research.
Closing thoughts
All attention is drawn to legalization of cannabis in the USA because this opens a huge market for cannabis companies. In 2021, at least 4 states legalized marijuana but the ban still exists at the federal level. For example, you can use marijuana in New York but a company selling it can be punished according to the federal law.
However, the US is trying to legalize cannabis all over the territory as soon as possible because afterwards, companies will head for the districts where the ban has been lifted, which means an inflow of taxes. As we say it, just business, nothing personal.
Those states that are putting legalization aside are risking missing their profits in the form of taxes. The other side of the medal is a possible increase in the number of drug addicts. Anyway, I am sure that the promise of money will do its job.
Hence, 2021 will be a year when cannabis companies will be in the center of attention. It is hard to predict how much they will grow but it seems we are at the beginning of a lengthy uptrend, and the growth of the stock price will be smoother than ever before.
Invest in American stocks with RoboForex on favorable terms! Real shares can be traded on the R Trader platform from $ 0.0045 per share, with a minimum trading fee of $ 0.25. You can also try your trading skills in the R Trader platform on a demo account, just register on RoboForex.com and open a trading account.