Alternative Investments in Electric Cars

How do we invest in electric cars? The most obvious answer is to buy the shares of electric car-makers. I suppose, there are no market participants ignorant of the main companies that develop this type of vehicle.
There are thousands of articles written on this topic, and most of those articles mention such companies as Tesla (NASDAQ: TSLA), NIO (NYSE: NIO), Xpeng (NYSE: XPEV), Li Auto (NASDAQ: LI), and most recently General Motors (NYSE: GM) and Ford (NYSE: F) have been added to this list. Hence, those who want to invest in electric cars already have the shares in their portfolios.
Today, however, I will ponder on investments in electric cars, driving your attention not to car-making companies but to those serving the infrastructure for electric cars maintenance.
Charging electric cars is a profitable business
We all know that cars need fuel bought at gas stations. Over the century of automobile development the network of gas stations has extended so that these days we hardly doubt whether we can find a gas station to fill the car on our way.
Those who drive electric cars cannot enjoy such a luxury yet. To get from point A to point B, they have to plan their route in advance so that it includes a charging facility. This means that charging stations are currently in a high demand.
A charging station takes much less finance and time to create than a gas station. Moreover, an operator can remotely manage dozens of charging stations, which makes them cheaper to maintain and shortens their payback period.
As a result, we get a profitable and promising business with lower expenses; the clue here is to capture the largest possible part of the market from the start. In this article, I will present you two companies developing chains of charging stations.
Blink Charging Co.
Blink Charging Co. (NASDAQ: BLNK) was founded in 2009. It does everything about infrastructure for electric cars. It is the leader in the market of equipment for charging that it owns, manages, and leases via its subsidiaries. The company offers Blink Network software that helps to manage and maintain charging stations.
Blink Charging works with airports, hotels, shopping malls, and other organizations that might need charging services. Currently, Blink Charging contains 30,000 charging stations in 13 countries on the globe. Note that on December 31st, 2020, the company owned just 16,617 charging stations, and 10 months later their number doubled.
Contracts of Blink Charging
According to recent news, the company expands its presence in Los Angeles, where it plans to open 300 more stations. The project will partially be financed by the Ministry of transport of the city.
One more contract was signed with San Francisco, where the company plans to open 202 charging stations.
An agreement with a self-supporting state institution Sourcewell, by which the latter will buy equipment for charging stations, is also an important event for the company. The agreement includes 400 contacts with state and non-commercial organizations, which will yield Blink Charging new clients.
Profit of Blink Charging increases by 170%
Though Blink Charging was founded in 2009, the company is still developing because the number of electric cars sold all over the globe has started to increase just recently.
Previously, Tesla was the main player in the market, but it did not manage to satisfy all of the demand for electric cars; now electric cars are made by huge concerns that can make hundreds of thousands of cars. That is why the revenue of the company is yet relatively low, about 4.3 million USD. Blink Charging allocates the profit from selling goods and services for the development of their chain, which makes the company losing; however, the dynamics of growth of the profit is impressing. Over a year, it has grown by 170%.
Tech analysis of Blink Charging shares
Unfortunately – or fortunately for those who invested in the company at the end of 2020 – the share price of the company during the overall stock price growth in the market increased from 8 to 65 USD. Naturally, 65 USD per share (with the capitalization amounting to 2.4 billion USD) for a company that earns 1 million USD at that time is too much.
As a result, the quotations started going down gradually. The decline stopped at 25 USD, after which investors tried to raise the share price a little. However, 2 months later, the quotations turned back; then another attempt to change the situation was made. The result was the same: the quotations returned to 25 USD.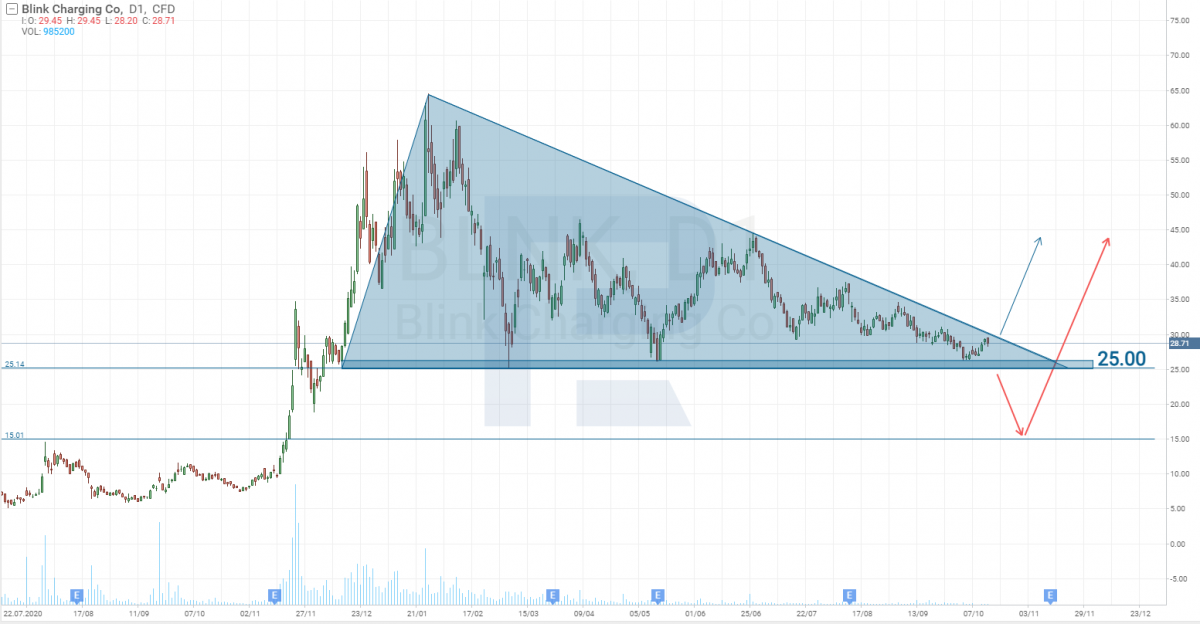 Here is a conclusion. 25 USD and lower is the price at which investors are ready to buy Blink Charging shares. What seems threatening is a Triangle pattern on the chart. Fundamentally, the company is promising, yet do not neglect tech analysis.
Wait for a breakaway of the upper line of the Triangle, which will signal further growth of the share price. Otherwise, a breakaway of 15 USD might provoke a decline to 15 USD.
ChargePoint Holdings, Inc.
ChargePoint Holdings, Inc. (NYSE: CHPT) is two years older than Blink Charging; it was founded in 2007 and also works with electric car infrastructure. It produces and sells equipment for charging stations, provides software and charging services.
ChargePoint works in 14 countries all over the world and owns more than 100,000 charging stations. Among the products of the company there are home charging stations, three-phase chargers for European countries, DC chargers for using indoors, and a module charging system of 400 kilowatt. Simply speaking, the company has equipment for charging any electric car.
In 2017, ChargePoint bought from General Electric (NYSE: GE) 10,000 charging points for electric cars; and two years later, the company signed an agreement with VW Electrify America, by which both companies provide their clients with a general access to charging electric cars.
Financial performance of ChargePoint exceeds expectations of experts
ChargePoint has a 13 times bigger revenue than Blink Charging, amounting to 56 million USD. The most important thing is that last quarter, the company earned a net profit. Profit from network chargers increased by 91%, while sales of equipment and software grew by 61%. These results are much better than what experts had expected.
The shares of ChargePoint behaved in the same way as the shares of Blink Charging and at the end of 2020, they grew by 400%, then started falling. By June 2021, there appeared a support level at 20 USD.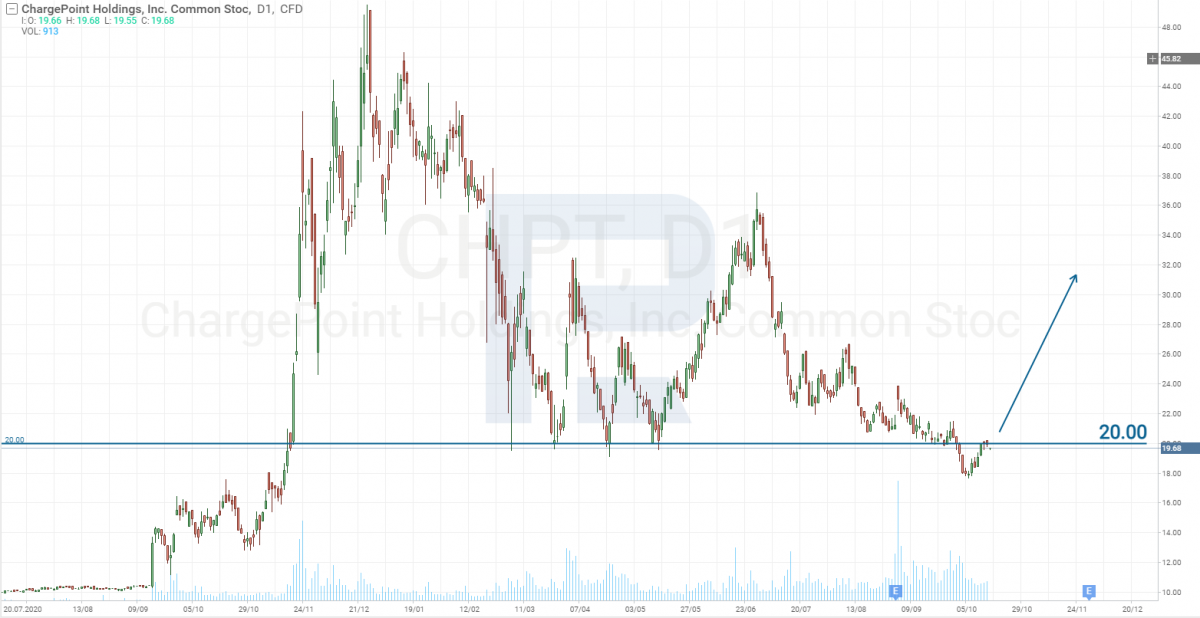 However, currently the shares are trading below this level. In such circumstances, I would expect growth only after breaking through 20 USD.
Closing thoughts
Each month, reports show that electric car-makers increase sales for dozens of percent, which means that we can encounter more and more electric cars in the streets.
All those cars need charging, which entails an increase in the demand for charging equipment and services at charging facilities.
Hence, the revenue of companies working in this sector will only grow. The clue here is to keep increasing the number of stations and withstand competition in the market.
And where revenue grows, there are always those who want to make money on it. Hence, the interest of investors towards these shares will be growing, which will reflect positively in the stock price of the companies above.
Invest in American stocks with RoboForex on favorable terms! Real shares can be traded on the R StocksTrader platform from $ 0.0045 per share, with a minimum trading fee of $ 0.5. You can also try your trading skills in the R StocksTrader platform on a demo account, just register on RoboForex and open a trading account.