Shortly Before UserTesting Inc IPO, We're Analysing The Company

In a highly competitive market environment, any manufacturer or service provider finds it important to receive quick and unbiased feedback from its customers. It's no secret that in most cases customers leave negative feedback because nowadays any quality product or service is taken for granted. A lot of customers' valuable advice and suggestions remain unknown for companies. This is the reason why video reviews of different products are very popular on the Internet. These videos are very thoroughly analysed by the marketing departments of many companies.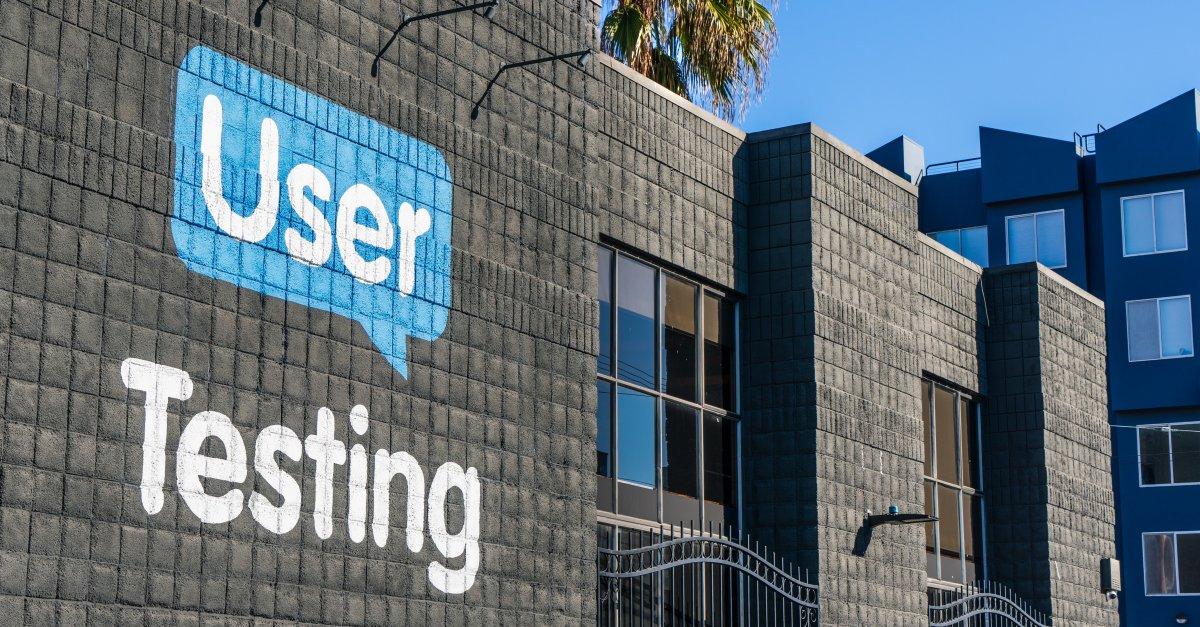 This Thursday, UserTesting Inc., the company that developed a SaaS platform for video feedback analysis using artificial intelligence, is going to have an IPO. The platform allows to carry out research in the field of marketing and receive unbiased feedback from customers. The company's shares will start trading at the NYSE under the USER ticker. In this article, we'll take a closer look at the company and discuss why its services and technologies are considered unique.
Business of UserTesting Inc.
UserTesting was founded in 2007 by Dave Garr and Darrell Benatar. Andy MacMillan has been Chief Executive Officer since 2018; earlier he held the same position at Act-On Software. Over 700 employees work under his authority.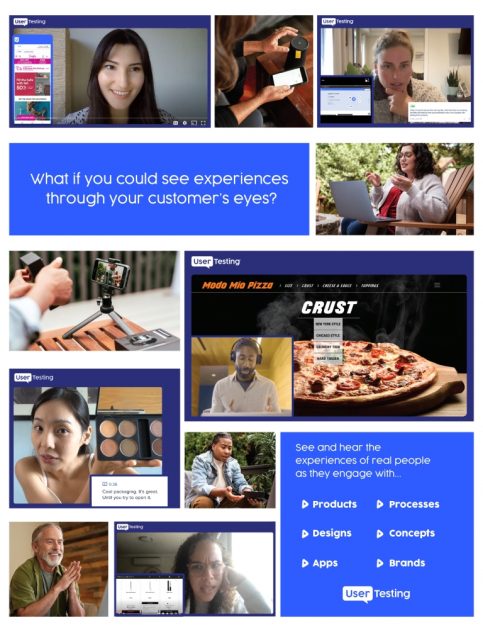 The company's major product is the UserTesting Human Insight platform intended for testing different games, websites, or applications. Testers are registered in the platform, pass the entry test, and complete the form with demographic information. After that, UserTesting forms focus groups according to the client's preferences and send them products and services for testing. Testers provide video feedback and receive monetary rewards for that (from 3 to 60 USD).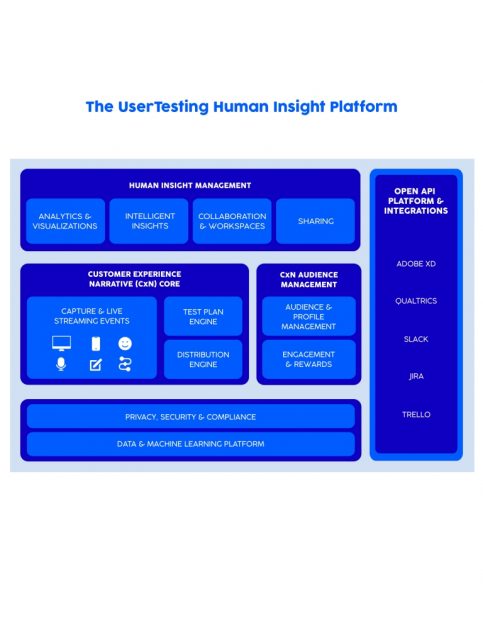 Later, the company analyses the video feedback received using artificial intelligence and machine learning. Algorithms assess everything, the video content, tone, intonation, mimics, body language, or visual effects. As a result, the analysis gains the maximum different responses from potential consumers of any given product.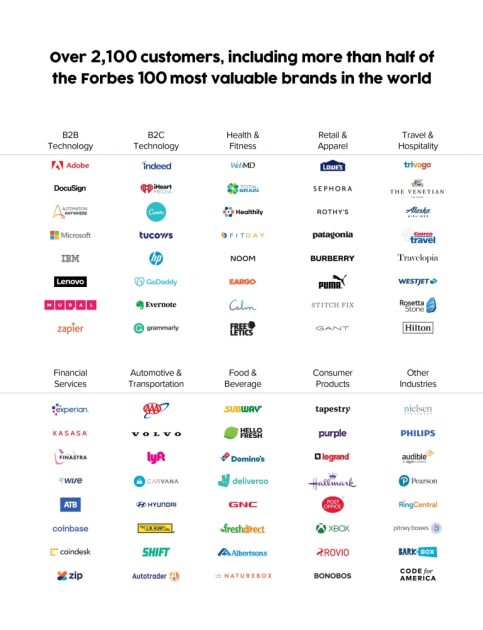 UserTesting clients can run a thorough test of their products and services based on the experiences of their potential customers by building their profiles. If a company finds it difficult, then the UserTesting Human Insight application can help by using testers from different demographic groups.
UserTesting operates in all regions: North America, Africa, India, Europe, and Asia. The company's key investors are Topiary Capital, Insight Partners, OpenView, and Inspiration Ventures.
The market and competitors of UserTesting Inc.
The company operates in the markets of artificial intelligence, public opinion analysis, and marketing. According to Market Research Future, these markets may reach $47 billion by 2024, with an average annual growth of 11.9%. As estimated by UserTesting, a growing number of medium-sized companies require quality analysis ща customer experience, that's why the target market growth rate may be way above the forecasted numbers.
The company's key competitors are:
UsabiliityHub
Qualtrics
SurveyMonkey
Amplitude
UserZoom
TechSmith
Hotjar
Woopra
Financial performance
Let's take a closer look at the issuer's financial performance. According to the S-1 form, UserTesting doesn't generate the net зprofit, that's why we'll start analysing its sales.
In 2020, the company's revenue was $102.19 million, a 33.36% increase relative to 2019.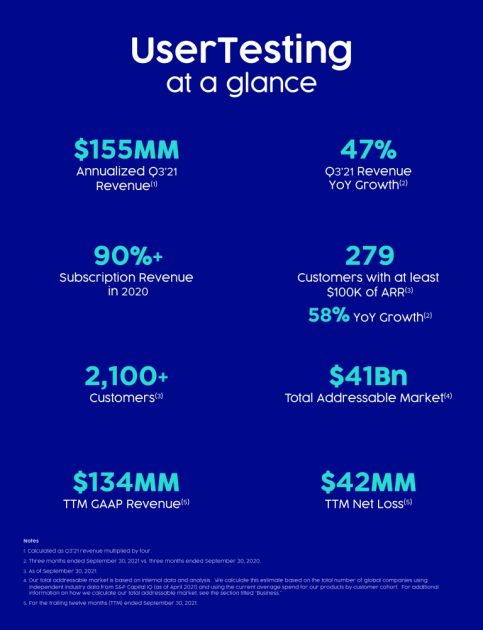 From January to September 2021, the revenue was $104.91 million, a 44.09% increase if compared with the same period of 2020. As we can see, the revenue is progressively growing. As a result, the revenue over the last 12 months was $134.29 million. If this pace continues, the company's sales might reach $147.15 million by the end of 2021.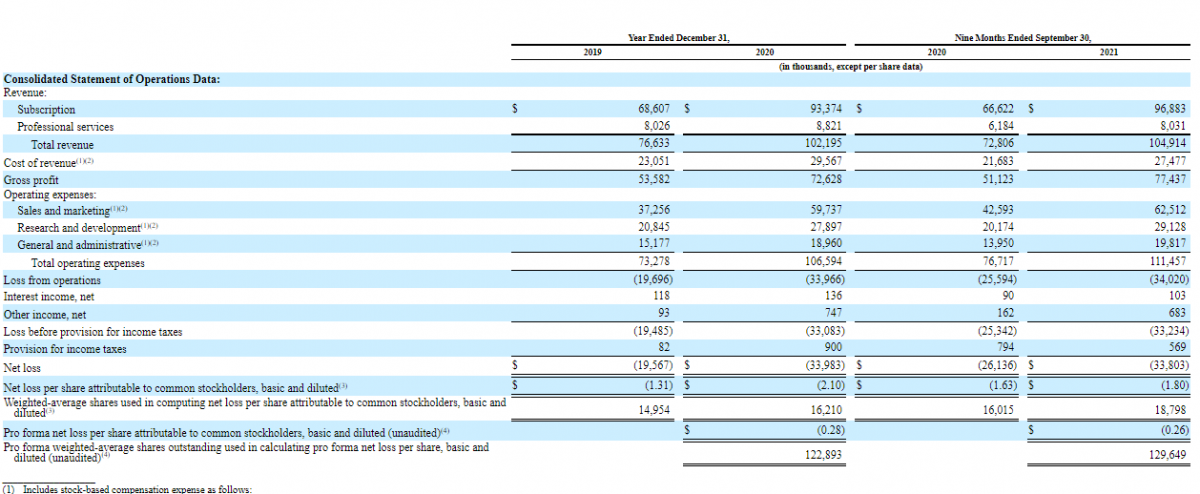 The net loss in 2020 was $33.98 million, a 73.63% increase if compared with 2019. Over the first 9 months of 2021, the net loss was $34.02 million, a 32.94% increase relative to 2020. We can see that the net loss growth is slowly decreasing.
Cash and cash equivalents on the company's balance sheet are $73.47 million, while its total debt is $18.93 million. As a result, the net cash position is $54.54 million.
The company's financial state can be called stable. Positive factors are revenue growth and net loss reduction.
Strong and weak sides of User Testing Inc.
Now let's talk about the pros and contras of this IPO. I believe the company's advantages are:
Sound management.
The upward trend of the revenue growth.
The prospective target market volume.
High demand for the company's product.
High-profile IPO underwriters.
Risks of investing in User Testing Inc. shares are:
The company's unprofitability.
Strong competition.
General market situation.
IPO details and estimation of UserTesting Inc. capitalization
During preliminary rounds of financing, the company raised $220 million. The underwriters of the IPO are Academy Securities, Inc., Loop Capital Markets LLC, Robert W. Baird & Co. Incorporated, William Blair & Company, L.L.C., Canaccord Genuity LLC, Needham & Company, LLC, Oppenheimer & Co. Inc., Raymond James & Associates, Inc., Truist Securities, Inc., Piper Sandler & Co., J.P. Morgan Securities LLC, and Morgan Stanley & Co. LLC.
During the IPO, UserTesting Inc. is planning to raise $226.7 million by selling 140.85 million common shares at the price of $15-17 per share. If shares are sold at the highest price in this range, the company's capitalization may be $2.27 billion.
To assess UserTesting, we use a multiplier, the Price-to-Sales ratio (P/S ratio). After the IPO, a P/S value will be 18.48. The average P/S value during the lock-up period is 35. If the company's revenue resumes rising at the same pace as before, the upside for its shares may be up to 89.39%.
I'd recommend shares of this company as high-risk investments with increased profit potential. However, it would be wise to enter this position in small "batches".
Invest in American stocks with RoboForex on favorable terms! Real shares can be traded on the R StocksTrader platform from $ 0.0045 per share, with a minimum trading fee of $ 0.5. You can also try your trading skills in the R StocksTrader platform on a demo account, just register on RoboForex and open a trading account.