How to Profit from Growing Uranium Prices?

Market players already understand that in 2022, the QE monetary policy will be coming to an end, and the US Federal Reserve System will increase the interest rate.
This understanding makes investors every time less optimistic and sends stock indices down. For example, NASDAQ Composite (NAS100) has lost 4% since the beginning of the year, and S&P 500 (US500) – 1.5%. Dow Jones Industrial Average (US30) is the only one to withstand the troubles: its decline remains within 1%.
In such a market, do not hurry to buy even those shares that look promising. Their prices may fall even deeper down. However, we still need to look for efficient investment ideas. So, in this article I am driving your attention to the green energy sector and another one that is somewhat connected – the atomic energy sector.
Looking for clean energy
Renewable energy sources (sun and wind) cannot replace hydrocarbons yet because the humanity has not figured out how to store lots of energy for a long time.
Using solar and wind power, people become dependent on weather.
Meanwhile, hydrocarbons are more user-friendly and reliable, as well as economically efficient. However, it has a negative influence on the environment. Ecological concerns and the threat of global warming make people look for replacements for hydrocarbons.
Options are few:
Solar energy
Wind energy
Sea wave energy
Water energy
Atomic energy
Thermonuclear energy
Why we do not use thermonuclear energy
Thermonuclear energy is a dream of the humanity. First attempts to get electricity from thermonuclear reactions were made as long ago as in 1950. yet, scientists fail to achieve any satisfactory results: they still spend more energy on carrying out those processes than they get in the end.
This sector is developing actively anyway. A good example is the International Thermonuclear Experimental Reactor project, originating back in 1980. Nowadays, no one can confidently say when the dream will come true, while we need electricity every day, and the need for it is growing constantly.
The EU plans to consider atomic energy "green"
If burning carbons is "evil", atomic energy can become an alternative.
Some steps have already been made in this direction. On January 1st, the Euro Commission presented to member countries a draft bill where it is suggested to consider atomic energy ecologically clean. This means financing of nuclear energy plants construction at least until 2045.
Germany opposes constructing nuclear energy plants
Germany speaks against this project, referring to the consequences of nuclear power plants accidents. German government does not only speak against this project – it takes actions.
By January 1st, it had shut down three nuclear power plants, leaving just three more in the energy system of the country, that are also going to be shut down by the end of 2022.
France, Poland, and six more member countries have a different view on the issue, reminding that without nuclear power plants the EU will not have reached carbon neutrality by 2050 as the international commitment requires.
The EU is not the whole world, which means we need to look at the behavior of other countries. According to the World Nuclear Association, WNA, there are 438 active nuclear power plants in the world, and 400 more are to be constructed soon, 270 out of them – in Asia.
These plants will need fuel, which is uranium. So, here we get an investment idea. Uranium is an exhaustible natural resource, so limited supply will provide for the growing of prices. And companies that mine and sell uranium will theoretically make good money.
Are uranium reserves big?
To get started, let us see how big uranium reserves are, and how long we will last on them.
Global uranium reserves are estimated as 6.1 million tons. To satisfy current needs, humanity uses 67,000 tons of the fuel annually, 62,000 tons out of them – on nuclear power plants. Accounting for the planned construction of 400 more plants, we get twice as large demand. Thus, we have enough uranium for 50 more years, and as long as new nuclear power plants will be put into operation gradually, uranium reserves will last for about 75 years.
We start consuming more electricity
It is quite tricky to avoid an increase in electric energy consumption, especially with electric cars becoming more widespread. For example, while earlier one wind power station produced enough electricity for a small village, its power will not be enough anymore as soon as people from the village switch for electric cars. In the end, atomic energy can become a link between hydrocarbons and the energy of the future; hence, investments in uranium companies are long-term.
Which country is the leader of uranium mining?
When I found this out, I was kind of surprised: 40% of global uranium is mined in Kazakhstan. Next goes Australia, mining 13%, Namibia – 11%, Canada – 8%, and Uzbekistan – 7%.
Which companies do we pay attention to?
Uranium is not produced on its own – the crude material needs refining, on which companies spend extra resources.
Kazatomprom
Number one uranium miner is a Kazakh company Kazatomprom (LSIN: KAP). It supplies 22% of global nuclear fuel. You can buy the shares in the London Stock Exchange.
During recent turmoil, the share price somewhat declined but stopped falling on 34 USD. At the same level, trade volumes of the share leaped up high, which can be interpreted as an increased investment interest in the share. Last year, Kazatomprom shares grew by more than 100% and keep trading in an uptrend.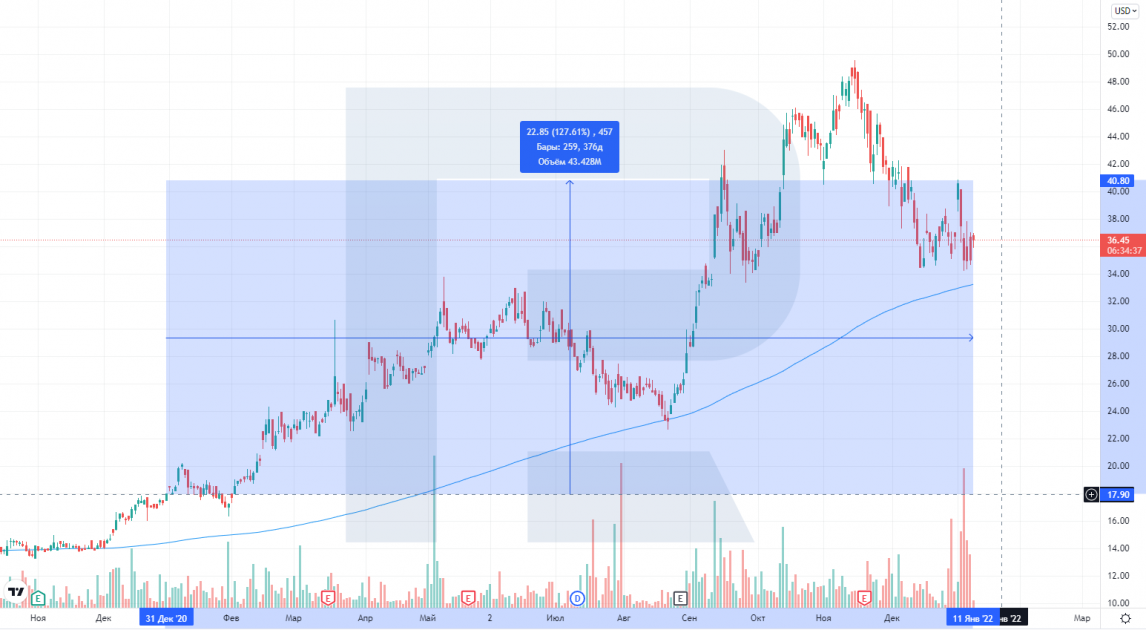 Cameco Corp
Most companies that work with uranium are either state-supported or private, which makes them quite hard to invest in. Yet there is a public company that mines, refines, and sells uranium — Cameco Corp (NYSE: CCJ).
The price chart of Cameco Corp shares is similar to that of Kazatomprom. The only difference is that Cameco shares kept growing when protests began in Kazakhstan. This is quite an easy phenomenon to explain.
Cameco mines uranium in the USA, Canada, and Kazakhstan, which means its business is more diversified. The quotations are now above 23 USD, suggesting further growth.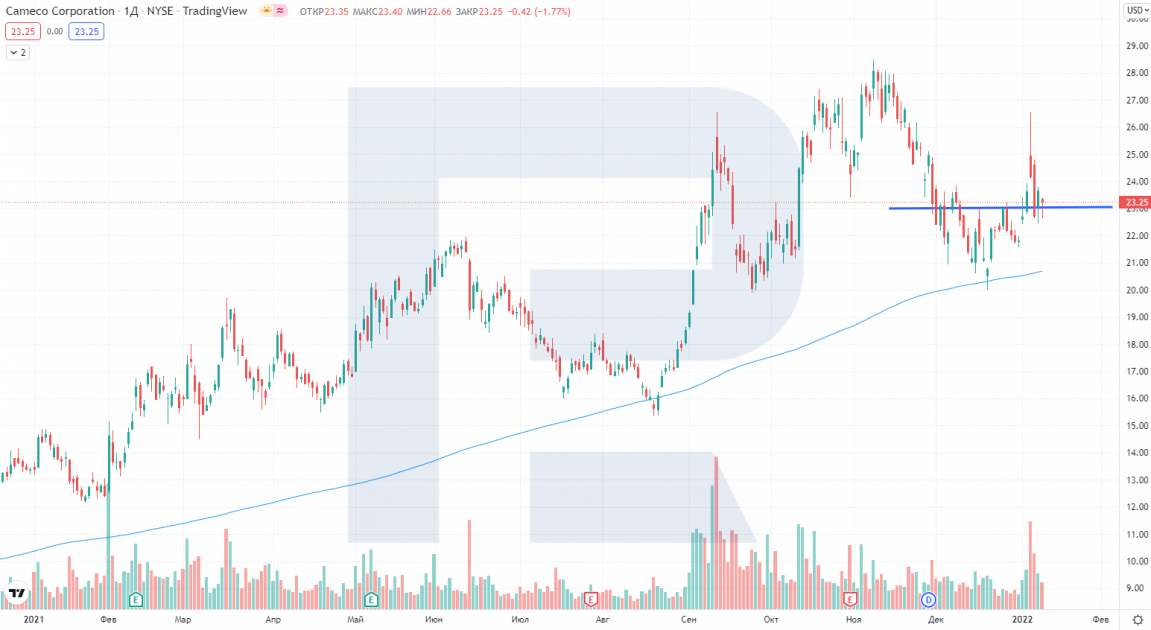 How much can the income of uranium companies increase?
The income of uranium companies can grow in two cases: either the company sells more, or the price of uranium grows. As long as we hear that new nuclear power plants are about to appear, we suppose that the demand for uranium will grow, so companies in the segment have good perspectives for the growth of revenue.
How are uranium reserves spread between countries?
The top-5 countries having the largest uranium reserves are Australia, Kazakhstan, Canada, Russia, and Namibia. Cameco works in Canada and Kazakhstan, which means it will long be mining and selling uranium.
Which ETFs invest in uranium companies?
Investing in one company is always riskier than in several companies. Take a look at the Global X Uranium ETF (NYSE: URA) then.
What is going on with uranium prices
In 2007, uranium price leaped up to 140 USD per pound (453 grams) due to global fears of a resource shortage. 15 years later, the world remains worried, yet facing random power outages in certain countries. The situation of 2007 might repeat itself, and if speculators shed their look on peaceful atom, uranium prices might sky-rocket again.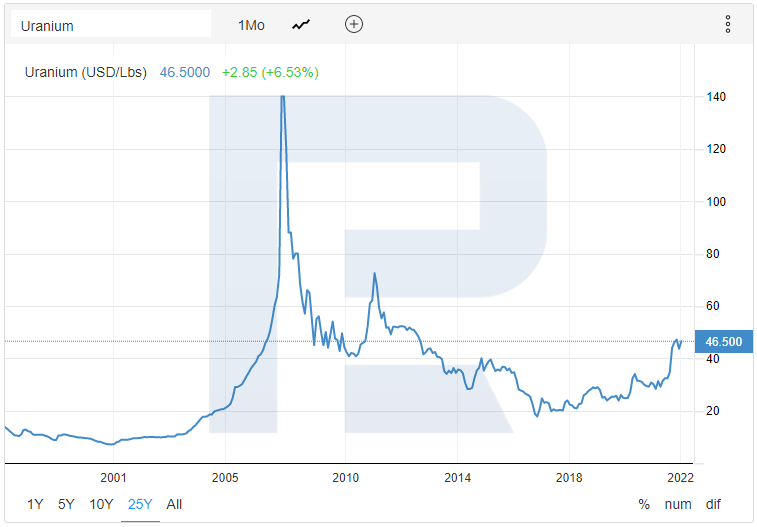 Now we can witness an uptrend that started in 2016. Over five years, the price has grown by 50%, and by 50% - over the last 6 months. This means, investors are finding this sector interesting again. Protests in Kazakhstan are among the things that support this growth: in the tide of the protests, uranium got in the media.
Bottom line
Burning hydrocarbons is currently an economically profitable way of producing electricity, yet global warming puts an end to it. Even if this type of fuel had no influence on the environment, we would have to look for replacements because the crude material is exhaustible.
Compared to hydrocarbons, atomic energy is clean: it is dangerous only in the cases of accidents. Hence, in the transition period, while we are looking for new energy sources, energy from nuclear power plants will be in demand. Unlike solar and wind power plants, nuclear power plants can work all year round, providing energy regardless of the weather.
This means, fuel for nuclear power plants will be in demand as well, and companies working in this segment will make a good profit.
And our hope is that in the 50 years to come, humanity will master thermonuclear synthesis and get access to an unlimited energy source.
Invest in American stocks with RoboForex on favorable terms! Real shares can be traded on the R StocksTrader platform from $ 0.0045 per share, with a minimum trading fee of $ 0.5. You can also try your trading skills in the R StocksTrader platform on a demo account, just register on RoboForex and open a trading account.