The US Invests in Mining: Which Companies Received Government Grants?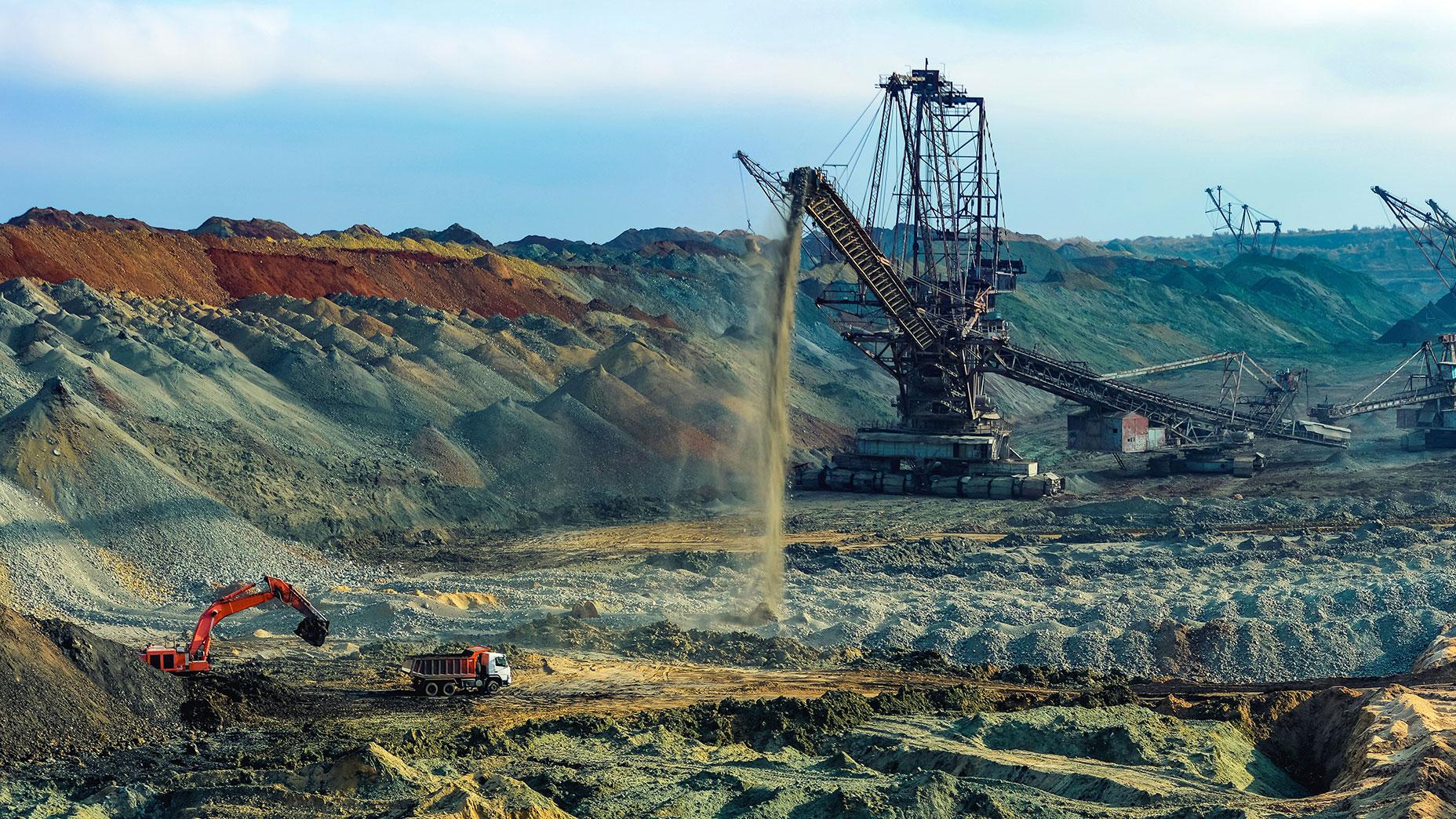 The International Energy Agency (IEA) predicts that the number of electric vehicles could reach 145 million units by 2030, accounting for around 7% of the worldwide total. If governments in developed economies take more ambitious measures to encourage the use of environmentally friendly vehicles, their share in the global car market could rise to 30% by 2040.
This will create conditions for a significant increase in demand for raw materials needed to produce electric cars. For example, lithium is used extensively to manufacture batteries. We will take a closer look at this metal today, and tell you how much money the US government is allocating to reduce the country's dependence on imported minerals. We'll also talk about the companies that have received grants from the Department of Energy and try to find out how and where they plan to spend their budget.
Basic information on lithium: deposits and mining
Lithium is an important element in the production of lithium-ion batteries, which are widely used in electric cars, stationary energy storage systems, smartphones, tablets, laptops, cameras, video cameras,quadcopters, and other portable devices.
Deposits of the metal are found all around the world, with Australia, China, Argentina, and Chile being the top four miners. The US also has large deposits of lithium, although the current output does not even meet the country's domestic needs. The main supplier of lithium and other critical minerals is China.
The US is investing 2.8 billion USD in minerals
The US government, given the context of its growing economic rivalry with China, is seeking to develop its domestic mineral market to significantly reduce the country's dependence on imports from China.
In 2022, the US Department of Energy announced a USD 2.8 billion grant to companies that will help boost the production of battery materials.
The following industries are eligible for the funding:
Lithium mining
Graphite mining
Nickel mining
Production of a lithium electrolyte salt
Production of electrode binders
Production of silicon oxide
Production of lithium iron phosphate cathodes
Battery recycling
Which companies have been awarded grants?
When the government grants were announced in October 2022, Albemarle Corporation (NYSE: ALB), Piedmont Lithium Limited (NASDAQ: PLL), and Talon Metals Corp. (TSX: TLO) were among the first public companies to receive them. Li-Cycle Holdings Corp. (NYSE: LICY) was also awarded a grant, as announced in February 2023.
Albemarle Corporation
Albemarle Corporation is an American chemical company founded in 1994, with headquarters in Charlotte, North Carolina. It specialises in the production of chemical products based on lithium, bromine, and catalysts. Its products are used in the automotive, aerospace, pharmaceutical, agricultural, and other sectors. The company is one of the world's largest producers of lithium, with production facilities in the US, Australia, Chile, and other countries.
Albemarle Corporation has received USD 149.7 million from the US Department of Energy, which will be used to build a plant for processing rock containing lithium. The company stated this will make it possible to double lithium production for batteries as early as June 2023.
In October 2022, Albemarle Corporation stocks were up 44% to USD 333 per unit. This was followed by a decline in price, and at the time of writing the stock was trading at USD 259.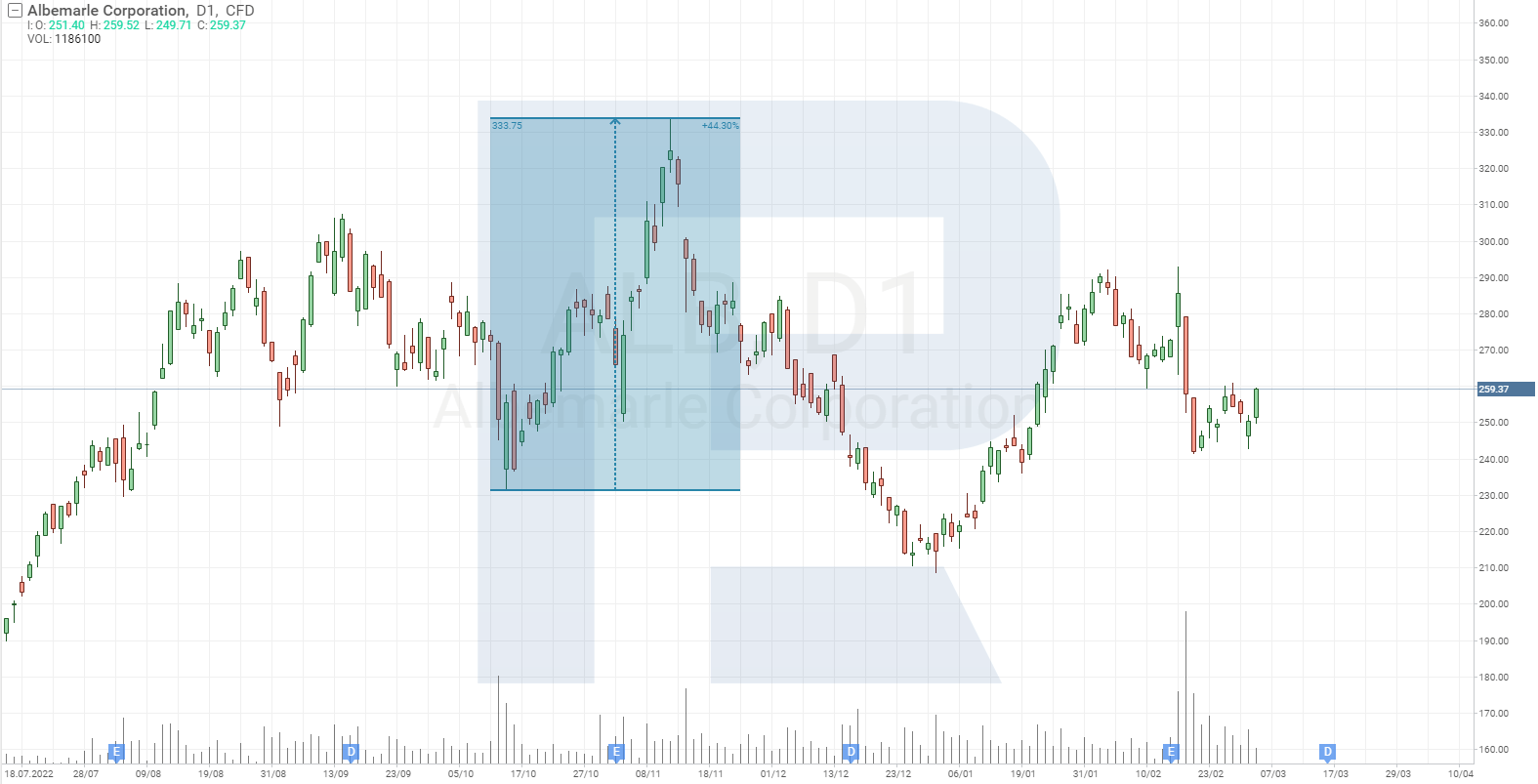 Piedmont Lithium Limited
Piedmont Lithium Limited is an American company engaged in the mining and exploration of lithium ores in North Carolina, US. The company was founded in 2016. Today it is one of the leading developers of lithium projects in North America and aims to become a key supplier of lithium products to markets in the US and elsewhere.
Piedmont Lithium Limited received a grant of USD 141.7 million. The funds were used to build a lithium processing plant in Tennessee. Raw materials are planned to be supplied to the new facility from Canada and Ghana.
In October, stocks of Piedmont Lithium Limited gained 46% to USD 70 per unit. At the time of writing, the value of the stocks was down to USD 65.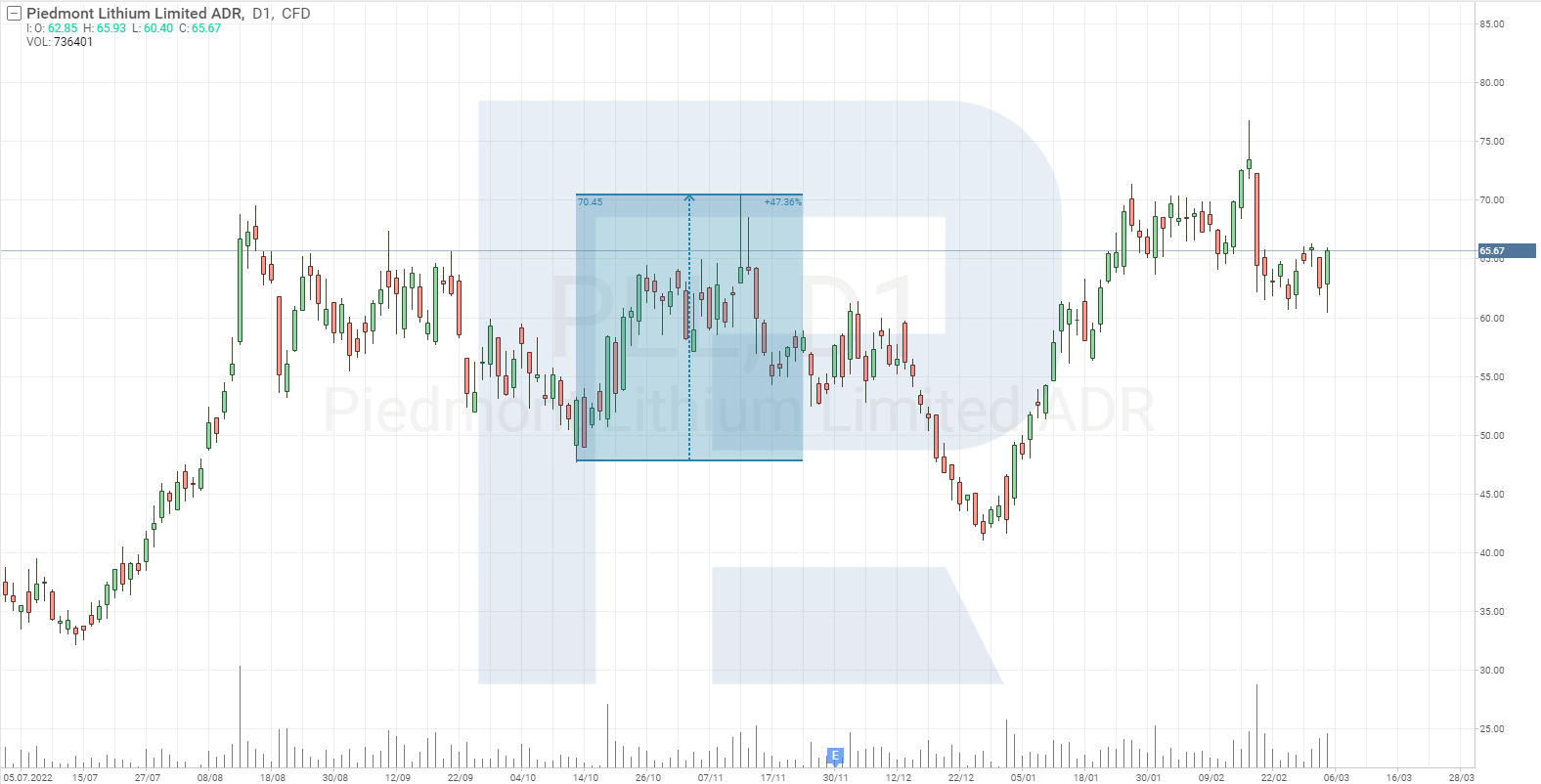 Talon Metals Corp.
Talon Metals Corp. is a Canadian company that was founded in 2005. It mines nickel ores and produces high-quality nickel products used in steel and batteries for electric vehicles and other industries.
Talon Metals Corp. is partnering with Rio Tinto Group (NYSE: RIO) to develop nickel-copper-cobalt deposits in Tamarac, US. The company received a USD 114.8 million grant from the Department of Energy. The money is earmarked for the construction of a processing plant in North Dakota. Raw materials for the new industrial facility will be supplied from Tamarac.
In October, Talon Metals Corp. stock gained 35% to CAD 0.63 but dropped to CAD 0.44 per unit in early March.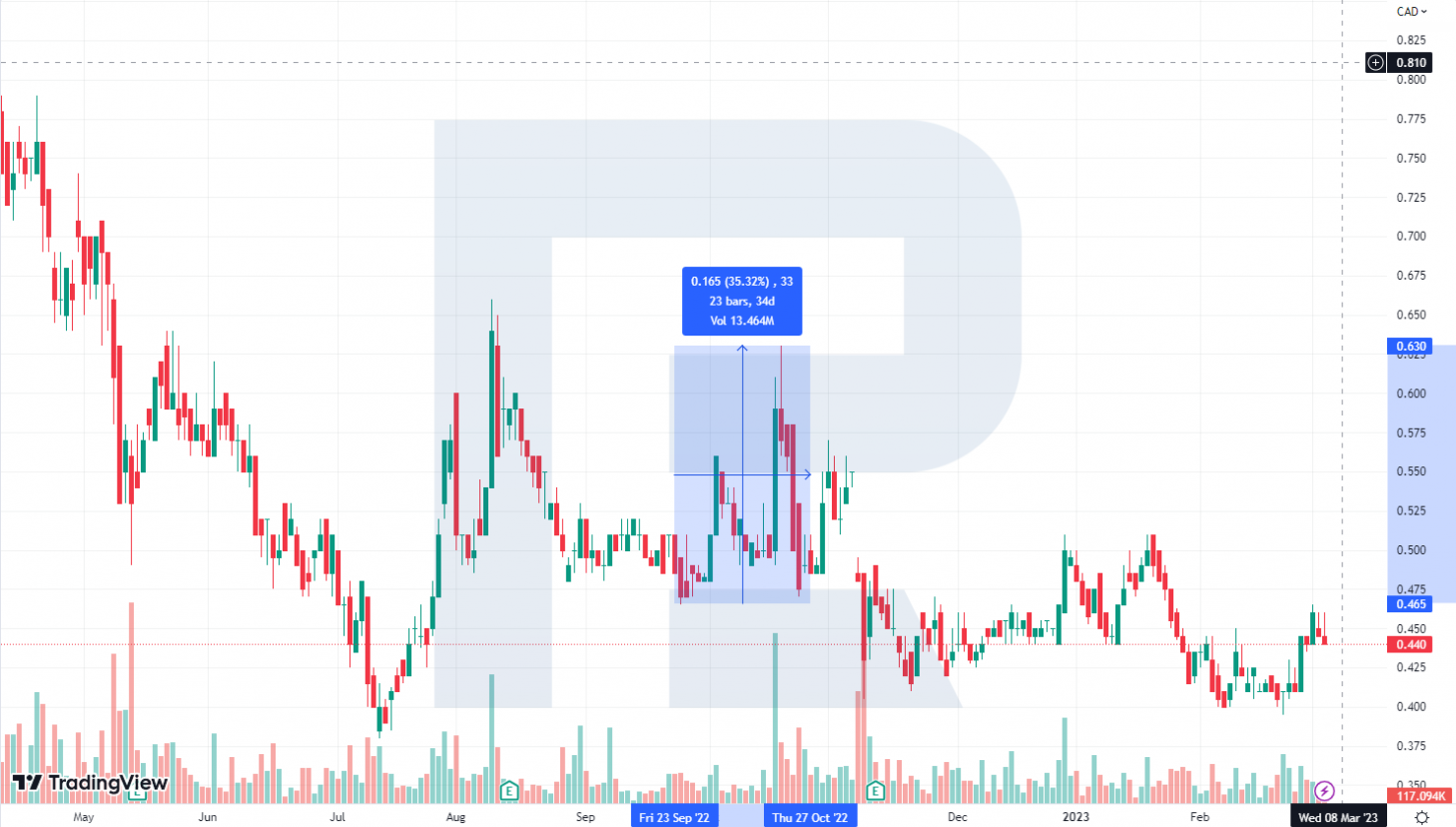 Li-Cycle Holdings Corp.
Li-Cycle Holdings Corp. is a Canadian company, one of the leading players in the market specialising in recycling lithium-ion batteries and other types of lithium waste. The corporation was founded in 2016 in Toronto, Canada.
Li-Cycle Holdings Corp. has developed and implemented technology that recycles lithium-ion batteries and recovers lithium, nickel, cobalt, copper, and aluminium from them. According to the company, the technology enables the recovery of up to 95 per cent of valuable metals from lithium waste, which is one of the most efficient and environmentally friendly methods of recycling this type of waste.
Li-Cycle Holdings Corp. has received a USD 335 million grant to build a battery recycling plant in Rochester, US. The company already owns four such facilities.
Li-Cycle Holdings Corp. stock price rose 11% to USD 6.57 at the end of February. At the time of writing, the stock was trading at USD 6.11 per unit.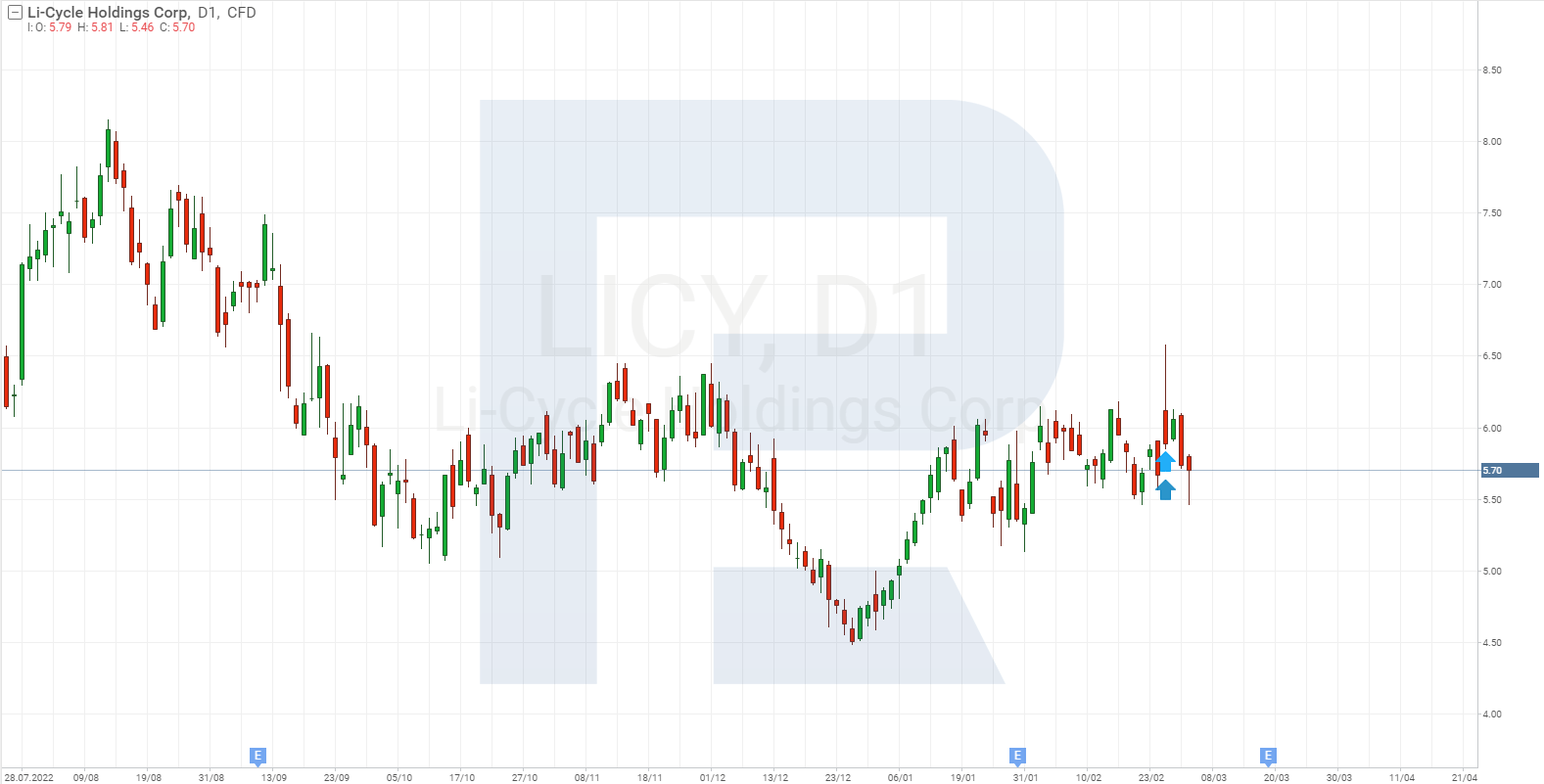 Why is more money invested in recycling than in lithium mining?
Albemarle Corporation, with a market capitalisation of more than USD 30 billion and with more than 7000 employees, received a grant of USD 149.7 million. Li-Cycle Holdings Corp., with a market capitalisation of USD 1 billion and 405 employees, secured a grant of USD 335 million.
It can be assumed that public concern for the planet's ecology has influenced the distribution of these public investments.
With the processes involved in lithium mining having a negative impact on the environment and water resources, the public does not support this type of activity. In addition, mining metal is an expensive project. On the other hand, the recycling of batteries and lithium waste is the most environmentally friendly way of producing lithium today. For the US government, investing in this industry seems more promising and even reputationally beneficial.
Conclusion
The US government is increasing investment in lithium and other minerals to reduce the country's dependence on imports. The Department of Energy has awarded grants to enterprises associated with the relevant industries, including Albemarle Corporation, Piedmont Lithium Limited, Talon Metals Corp., and Li-Cycle Holdings Corp.
Invest in American stocks with RoboForex on favorable terms! Real shares can be traded on the R StocksTrader platform from $ 0.0045 per share, with a minimum trading fee of $ 0.5. You can also try your trading skills in the R StocksTrader platform on a demo account, just register on RoboForex and open a trading account.