NVIDIA and Teradyne Stock Analysis: The Effects of Cathie Wood's Investments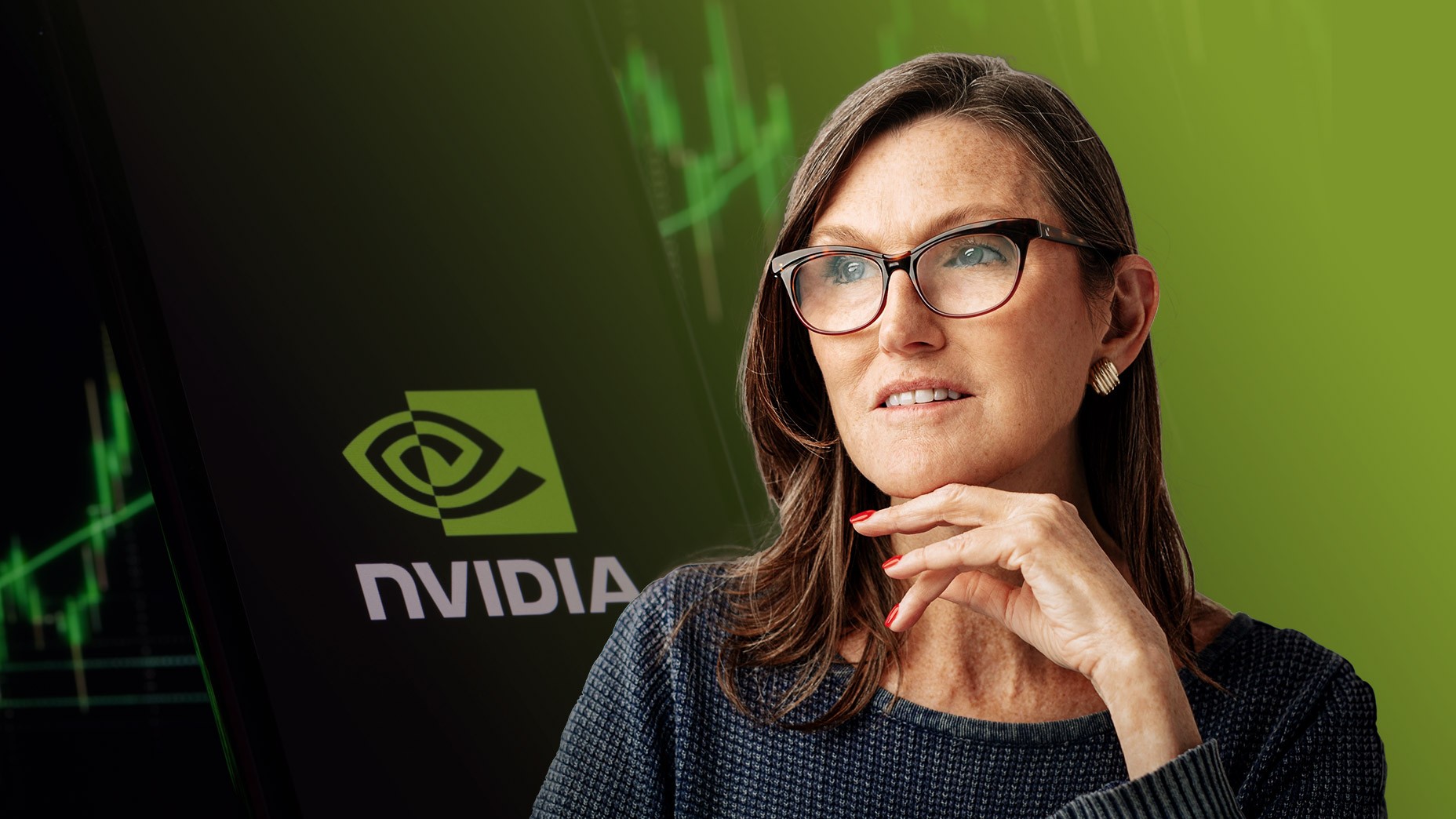 The recent boom in news around artificial intelligence has triggered a significant increase in the stock prices of technology companies. However, Cathie Wood, the CEO of ARK Investment Management LLC, who gained fame in 2020 for her bold investments in technology companies, has chosen to divest shares of one of the primary beneficiaries of AI development, NVIDIA Corporation (NASDAQ: NVDA). She is now placing her bets on another player in this sector, namely Teradyne Inc. (NASDAQ: TER).
In this article, we will analyse Cathie Wood's investment in NVIDIA Corporation and try to explain the reasons behind her decision to sell shares of the corporation. We will also look at Teradyne Inc. and explore the reasons why it caught the attention of the CEO of ARK Investment Management LLC. In addition, we will share the latest stock analysis of the two corporations.
Cathie Wood's investment in NVIDIA
Cathie Wood, the founder and CEO of ARK Investment Management LLC, leads a group of 9 funds under her company's umbrella. Let's examine their combined investments in NVIDIA Corporation.
The shares of NVIDIA, a leading American developer and manufacturer of graphics processing units and microchips, have been consistently present in the portfolios of Cathie Wood's funds since their inception in 2014. However, by the end of 2020, the number of these shares in the portfolio had significantly decreased from 1 million to just 16 thousand units. Despite this, the value of these shares had surged by an impressive 3500% during that period.
In June 2021, ARK Investment Management LLC funds resumed their investments in NVIDIA Corporation by acquiring approximately 47 thousand shares. In July 2021, the position grew to 243 thousand shares. A notable event occurred on July 20, 2021, when a stock split of the technology corporation at a 1:4 ratio led to an increase in the number of shares in the funds' portfolios to 972 thousand.
In August 2021, the stock price of NVIDIA Corporation hit an all-time high of 208 USD and continued to grow. At the same time, the funds began selling these shares, reducing the quantity to 470 thousand by November 2021. The IT company's stock reached the level of 330 USD per unit in November 2021, after which they experienced a continuous decline lasting until October 2022.
Cathie Wood returned to investing in NVIDIA Corporation in May 2022, increasing the number of shares in the portfolio to 610 thousand. They were valued at approximately 180 USD per unit at that time. As the stock value decreased, the funds of ARK Investment Management LLC started accumulating shares, with the portfolio reaching 1.3 million shares of the technology corporation by 4 October 2022. This was the peak of Cathie Wood's investment in the company. It is worth noting that on 14 October, the quotes of NVIDIA Corporation hit a low of 108 USD.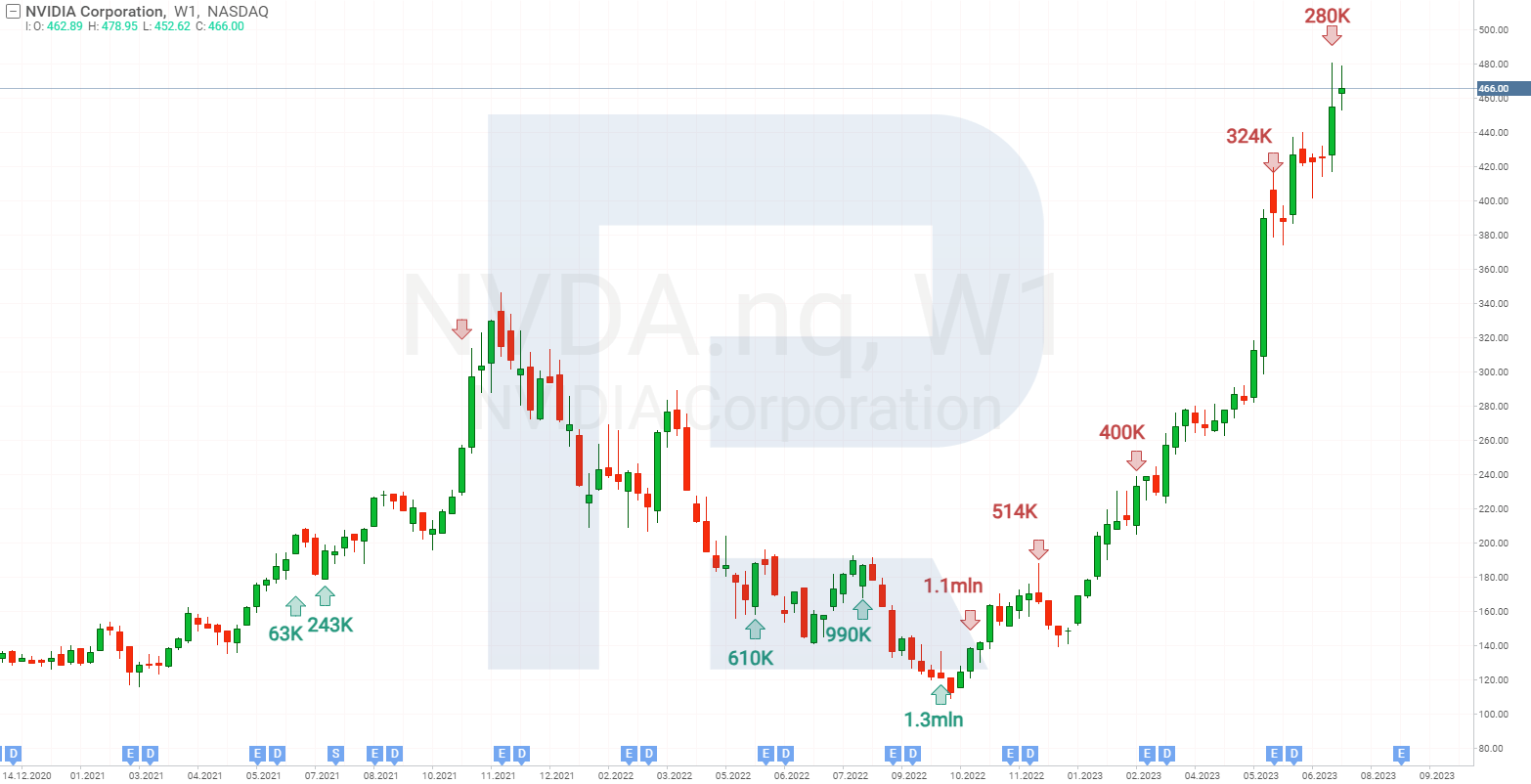 Later, once the value of the IT company stock began to rise, the funds set about selling the remaining shares rapidly. By the beginning of 2023, only about 500 thousand shares remained in the portfolio. Looking at the chart, we can assume that Cathie Wood sold more than half of the shares at or near their average buying price, resulting in little to no profit.
NVIDIA's quotes surged 231% from January to July 2023. However, ARK Innovation ETF (NYSE: ARKK), which is closely monitored by mass media and investors, sold all NVIDIA Corporation shares as early as the beginning of the year. This means that the fund missed a great opportunity to generate high profits, which caused a strong wave of discontent among investors.
As prices of NVIDIA Corporation stock went up, Cathie Wood continued to sell the remaining number of shares. In May 2023, sales became more intensive, with the number of the company's shares in the funds' portfolios falling to 280 thousand by July.
As observed, Cathie Wood was actively reducing her holdings in NVIDIA Corporation stock throughout 2023, even as its value skyrocketed. In February, she explained that such actions were driven by the tech corporation's overvaluation, which was 50 times higher than its potential future profit.
In July, the CEO of the investment company stated that NVIDIA Corporation is undoubtedly a significant investment in artificial intelligence, with its valuation being 25 times higher than the potential future profit. However, she also emphasised that her funds preferred to invest in more promising AI-related companies that haven't yet caught the attention of a wide range of investors. One such notable discovery was Teradyne Inc.
Cathie Wood's investment in Teradyne
During an interview with Bloomberg Radio on 17 July 2023, Cathie Wood called Teradyne Inc. stock the best new AI investment idea. In her opinion, the US developer and manufacturer of test and quality control equipment for innovative and advanced technologies has great potential for growth.
The funds of ARK Investment Management LLC have long invested in Teradyne Inc. stock. By 2021, they had approximately 3 million shares of the technology company in their portfolio, with this number dropping to 300 thousand by early 2022.
ARK Autonomous Technology & Robotics ETF (NYSE: ARKQ) and ARK Space Exploration and Innovation ETF (NYSE: ARKX) were the only ones to have Teradyne Inc. stock in their portfolios until early June. Later, the shares were added to the portfolio of the flagship ARK Innovation ETF, which immediately attracted investor attention.
By the end of June, the overall portfolio of ARK Investment Management LLC already had 1.09 million shares of the IT company, with their number growing to 1.3 million by 20 July. The average buying price amounted to about 100 USD, with the current value exceeding 110 USD.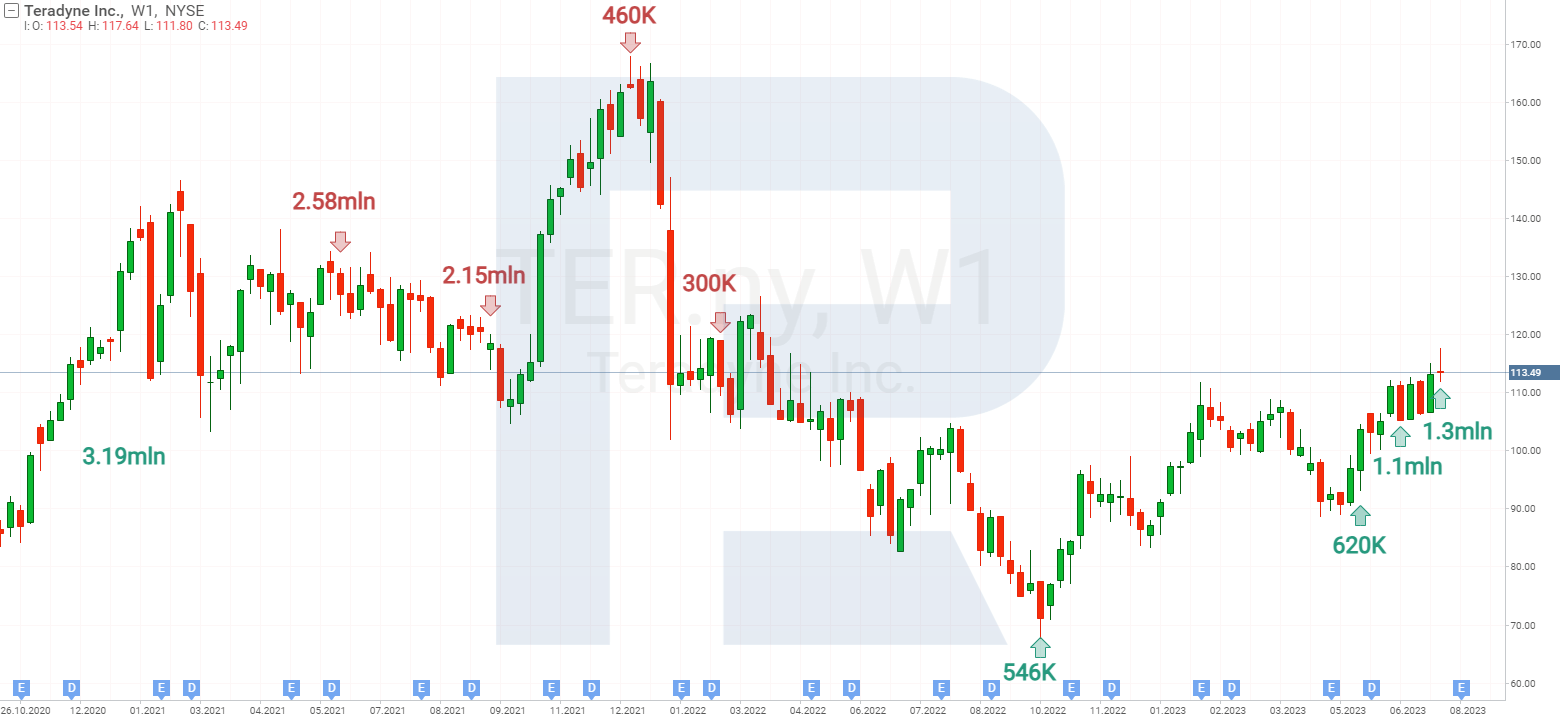 Teradyne in brief
The main advantages of Teradyne
A wide portfolio of products and services. Teradyne Inc. operations cover various market segments such as semiconductor products, wireless technology, data storage, complex electronics, robotics, aerospace, and defence industry. This allows the company to diversify its sources of income and reduce dependence on one sector
Leading position in semiconductor testing. This line of business ensures a large part of Teradyne Inc.'s revenue. It is in strong demand and has prospects for growth amid an environment of developing AI products, 5G technologies, cloud computing, and automotive electronic systems
Prospects in the robotics sector. This business is an excellent opportunity for Teradyne Inc.'s growth and market expansion. The company acquired robot developers such as Universal Robots, Energid Technologies, and AutoGuide Mobile Robots. Teradyne Inc. now manufactures robots that can collaborate seamlessly with humans on production lines, as well as fully autonomous mobile robots capable of navigating through warehouses and logistics centres independently
Risks of investing in Teradyne
Cyclical and volatile demand. The company's products and services depend on fluctuations in demand in the semiconductor and electronics industry and on changes in technology trends and consumer preferences
Intense competition. The company is competing for a market share against Advantest Corporation, Cohu Inc., National Instruments Corporation, and other major suppliers of technology test equipment
Analysis of NVIDIA's stock price
NVIDIA Corporation stock was trading in an ascending channel from October 2022 to February 2023, after which its upper boundary was broken, and the price surged further. On 18 May, the stock quotes reached an all-time high of 316 USD, and they have since continued to trade in a new ascending channel.
Seven days later, the company released a quarterly report that boosted its shares and led to another breakout of the upper channel line. This time, the quotes have hit an all-time high at 480 USD and continue to trade in the third ascending channel.
At the time of writing, the quotes are testing the trend line. A breakout of this line can make the price fall to the nearest support at the level of 400 USD. If the news landscape is positive, the price could break the resistance at 480 USD and continue to grow.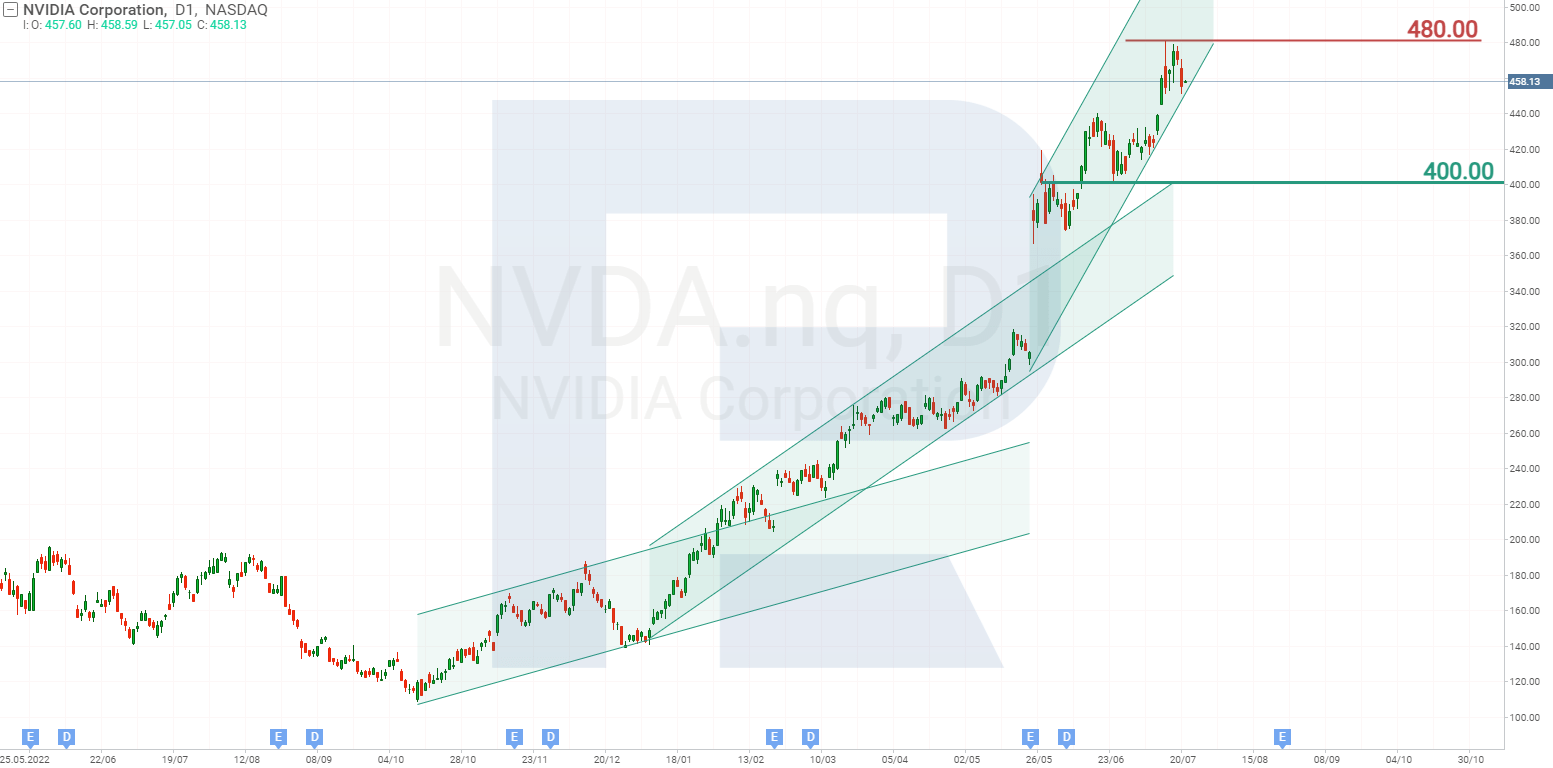 Analysis of Teradyne's stock price
Teradyne Inc. stock rose in price not as actively as NVIDIA Corporation stock and gained only 30% since the beginning of 2023. It is trading in an ascending channel and has already risen above the resistance at 112 USD, which opens opportunities for further price growth to 134 USD. If the quotes return below the level of 112 USD, this will indicate the development of a corrective stock decline, which may drive the price down to the trend line at 100 USD.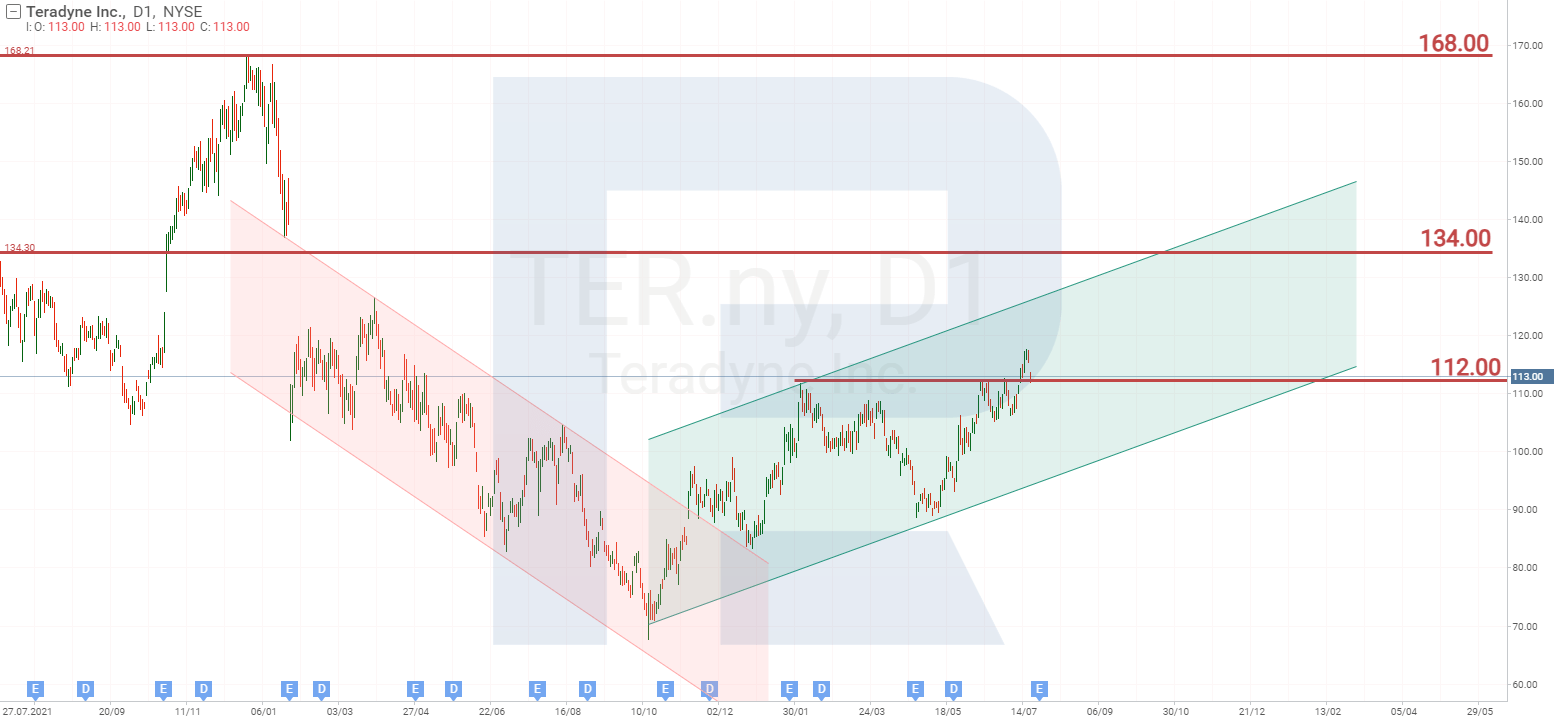 Summary
The analysis of Cathie Wood's investment in NVIDIA Corporation showed that since 2014, she has taken part in the main movement of the stock, which resulted in the shares skyrocketing more than 3500%. The price growth of 230% that was partially missed out since the beginning of 2023 is no match for this movement, and therefore it would be a mistake to say that the investments of ARK Investment Management LLC funds in the technology corporation were ineffective.
Now the investment company is betting on Teradyne Inc. stock, and that remains to be seen whether this investment will bring in profit. It is worth noting that the annual revenue of NVIDIA Corporation was 4.5 billion USD in 2014, when Cathie Wood began to buy its shares, and reached 28 billion USD in 2022. The revenue of Teradyne Inc. amounted to 3.15 billion USD in 2022, and it is interesting how this figure will change over the next few years.