How to Become a RoboForex Partner and Earn Money with the Company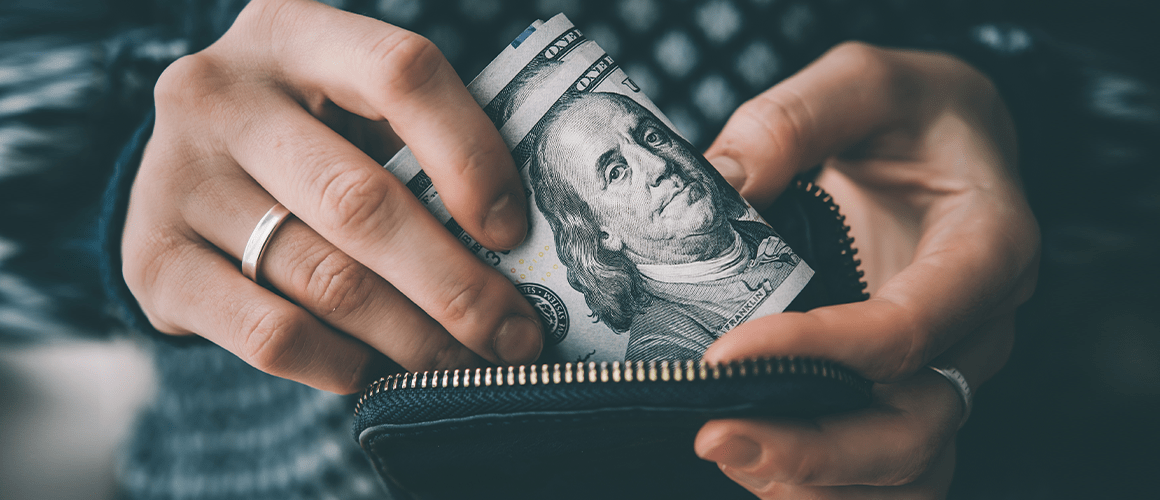 In this post, we'll talk about the RoboForex Partner Programme and how you can earn money in the Forex market without actually trading. First of all, let's define the "affiliate programme" concept. What is it about?
This term refers to an Introducing Broker (IB) collaboration in which the partner attracts new clients for the broker by using the promotional resources made available by the broker. The resources can be thematic platforms, publishers, forums, and blogs that can turn visitors to the resource into active clients of the broker.
The partner may receive payments for the direct attraction of a new client, or for the further client's trading activity, or both. This cooperation scheme is beneficial for both parties: the broker acquires new active clients referred by the partner, as a result of which the partner receives passive income. It is important to note that the amount of this income depends on the intensity of the trading operations on the attracted client's account.
RoboForex Partner Programme
The RoboForex Partner Programme provides the incentive to earn a steady income by attracting clients to the company and providing them with access to the latest trading technologies and high-quality services. According to the Programme, the broker transfers up to 70% of their income to the partners, and up to an additional 20% under the Loyalty Programme from the total partner commission. In total, the payout can amount to up to 84% of the broker's income – a unique offer in the market.
The initial amounts received can be used by the partner to further develop the affiliate network, and attract new participants who will eventually become clients of the broker. More clients = more payouts.
Thanks to special conditions, RoboForex partners can instantly develop their affiliate network to a certain level, and start receiving a stable income from the very first month of work. Such affiliate networks are not a rarity in the modern market. They are actively developed by brokerage companies, whose owners started off as partners of RoboForex, which emphasises the high profitability of this type of earning.
Loyalty programme
The RoboForex Loyalty Programme allows you to additionally receive up to 20% of your partner's commission for the month. The Loyalty Programme payment scheme is shown in the table below.
10%
15%
20%
Your profit
100-500 USD
Your profit
500-30 000 USD
Your profit
over 30,000 USD
Payout up to
50 USD
Payout up to
4,500 USD
Payout up to
6000 USD
VIP programme
Within the frameworks of our VIP Programme, you can receive an partner commission in the amount of up to 70% of the Company's revenue for your direct clients (1st level), and 10% of the commission received by your sub-partners (2nd level).
| | |
| --- | --- |
| 1st level | 2nd level |
| up to 70%* | 10% |
| of RoboForex's revenue for direct clients. | of your sub-partners' commission. |
* 70% commission is available only on the client's Affiliate accounts. View the full commission table here.
Expert programme
A 5-tier Expert Programme is available to partners, offering a partner commission of 35% of the company's earnings for direct clients, and an additional percentage of commissions for sub-partners at various levels of the affiliate network.
35%
20%
15%
12,5%
10%
Level 1
Level 2
Level 3
Level 4
Level 5
of the Company's revenue.
Direct clients.
of sub-partners' commission.
of sub-partners' commission.
of sub-partners' commission.
of sub-partners' commission.
Increased partner commission rate on Gold, Silver, Oil and other instruments
In February 2023, RoboForex significantly increased its partner commission rates for the popular instruments such as Gold (XAU/USD), Silver (XAG/USD), and Crude Oil (Brent, WTI). In addition, the rate was increased for US500, USTech, and US30. The changes and the current values of the partner commission rates are reflected in the tables below.
50% Partner commission
| | | |
| --- | --- | --- |
| Instrument | Previous commission, USD/lot | Current commission, USD/lot |
| XAU/USD | 4 | 8 |
| XAG/USD | 20 | 32.5 |
| Brent | 10 | 20 |
| WTI | 10 | 20 |
| US500 | 0.1 | 0.2 |
| US30 | 0.3 | 0.9 |
| USTech | 0.15 | 0.65 |
70% commission on Affiliate accounts
| | | |
| --- | --- | --- |
| Instrument | Previous commission, USD/lot | Current commission, USD/lot |
| XAU/USD | 15.4 | 23.8 |
| XAG/USD | 70 | 87.5 |
| Brent | 28 | 42 |
| WTI | 28 | 42 |
| US500 | 0.42 | 0.7 |
| US30 | 1.26 | 3.08 |
| USTech | 0.63 | 2.17 |
To find out more about the partner commission, visit the IB Commission page.
What the broker provides to the partner
Partners can choose advertising content to put on their sites. A large selection of banners, informers and other related promotional material can be found in your personal account.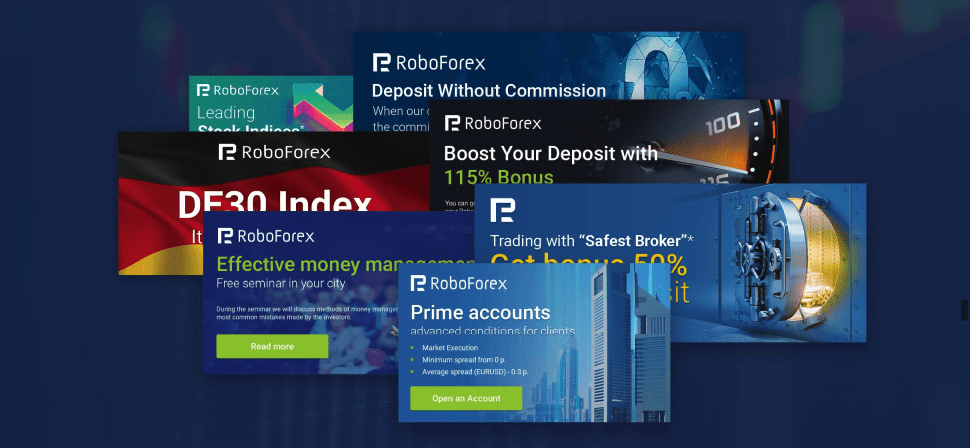 There are special affiliate accounts with an increased spread and with an increased commission per 1 million USD of turnover. They allow you to earn up to 70% of broker's revenue and are available for all affiliates. They will be most suitable for those affiliates who provide their clients with various additional services – trading signals, expert advisors, access to scripts and other options.
Advantages of the RoboForex Partner Programme
There is no limit on payouts
The maximum payout depends only on the partner's success
There are no restrictions on transactions
The partner's remuneration is paid for all transactions of attracted clients, without exception
There is no limit on bonuses
The partner's commission is calculated including all bonuses that have been used by the clients referred
Simple analytics
Partner receives real-time, comprehensive information about their referred clients in the relevant sections of their Members Area
The Broker's Loyalty Programme
The broker rewards active partners and gives them the opportunity to earn up to 20% extra income on top of their existing remuneration
How to get started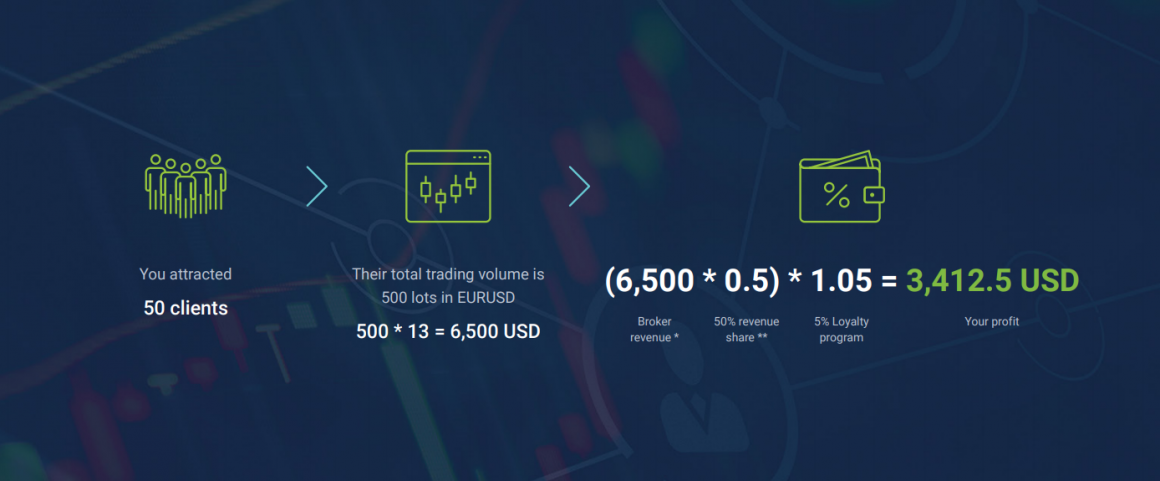 To become a partner of RoboForex, simply register your account on the broker's official website. When you register, you will be presented with an Partner Agreement, which describes the terms and conditions of your cooperation in detail. You can attract new clients to the company, and earn money from their trading activity as soon as you complete registration!