10 Reasons Why R StocksTrader Multi-Asset Platform is a Real Blast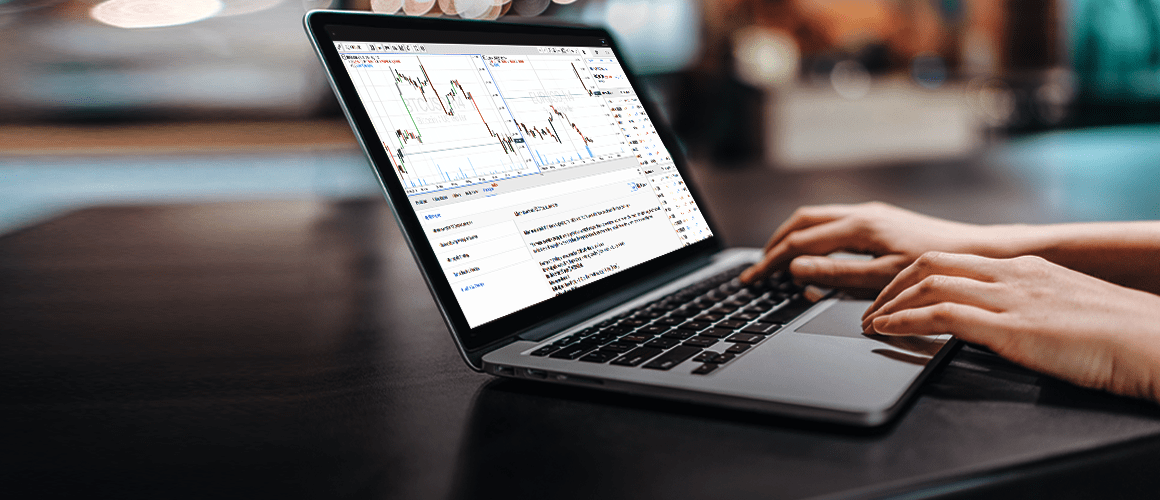 For today's retail trader, a trading platform is their trustworthy guide and companion in the battle for financial profits. Convenience, reliability, and safety play the key role for achieving and maintaining trading results. Presently, a trading platform not only provides a trader with an opportunity to deal with different market assets, but also helps them in all possible ways.
A chance to practice on test accounts, different built-in analysis tools, and trading indicators help a trader to feel familiar with financial markets and perform more efficient trading operations to get positive results. That's why choosing the most appropriate trading terminal, which not only meets all requirements of a user, but also matches modern technological development, is considered as one of the key elements of successful trading on financial markets.
The industry offers generally acknowledged trading solutions, such MetaTrader 4 (MT4), a very popular terminal. The platform was released in 2005 and, having grown enormously in popularity since that time, is still considered as a leading choice among active users. Trying to explain this phenomenon, experts often reach the conclusion that traders just don't feel like changing their traditional trading environment, even if the software is significantly outdated. Of course, it's up to each and everyone, but is there any use in ignoring modern technologies, which has moved so far forward over 15 years since the MT4 release? In this post, we'll try to answer this question and dispel doubts may traders have.
What is R StocksTrader multi-asset trading platform?
R StocksTrader combines cutting-edge technologies and a classic design taken to a completely new level. No more unnecessary software, patches, and updates – get access to all global financial markets via a web terminal in a familiar web browser. R StocksTrader has a lot of features that make it stand out from other solutions available in the industry.
Okay, let's start from the top.
1. Independence
Users connect to the platform and work with it using a web terminal. To access it, you only need a PC, tablet, smartphone, or any other device with internet connection. The terminal is cloud-based and provides you with an opportunity to connect to the network and trade from any place in the world.
2. R StocksTrader user-friendly interface
Modern and simple design of the platform is not overloaded with extra details and doesn't interfere with operations performed by traders. At the same time it provides them with full access to all necessary controls. The platform's navigation is intuitive and helps even beginners to get comfortable with it.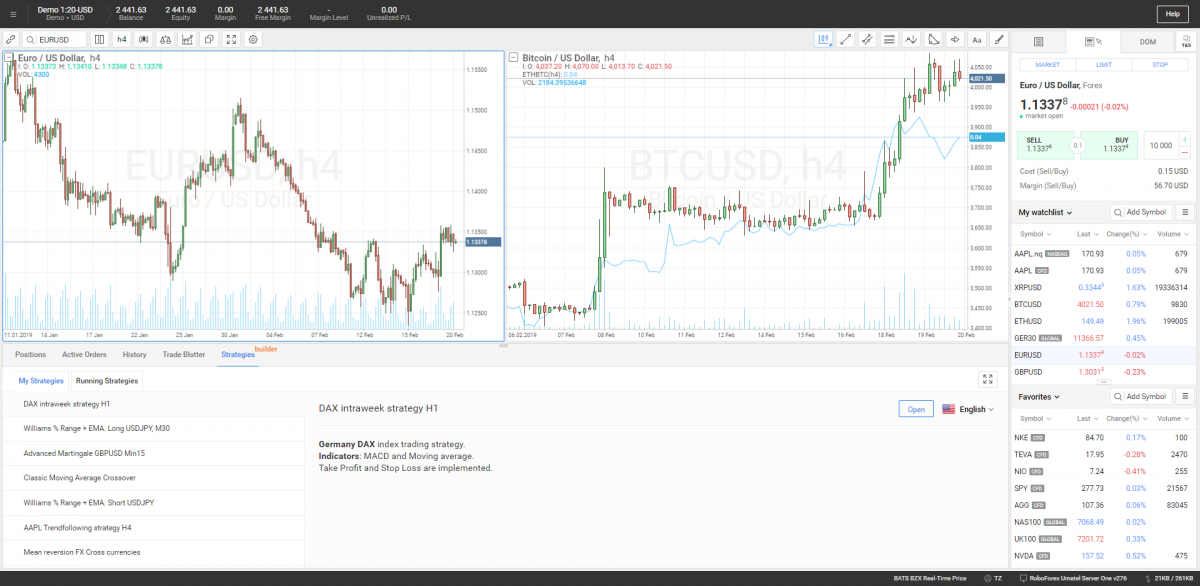 3. Wide range of trading instruments
As of today, more than 12,000 instruments are available in R StocksTrader for trading and investing, such as American, German, and Swiss stocks of the most popular companies, as well as indices, currency pairs, commodities and metals. Such great variety of instruments is surely to offer the most appropriate one to anyone!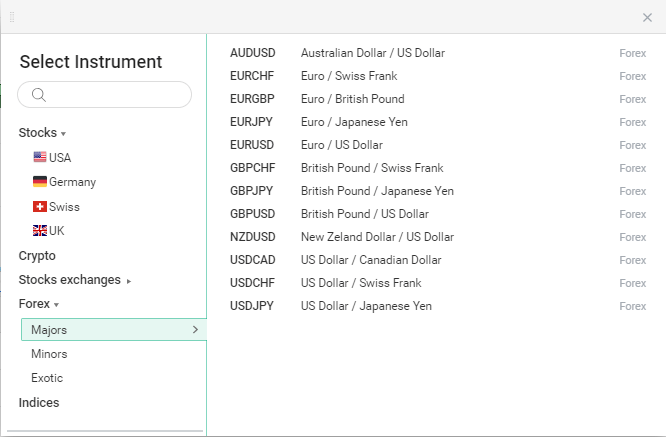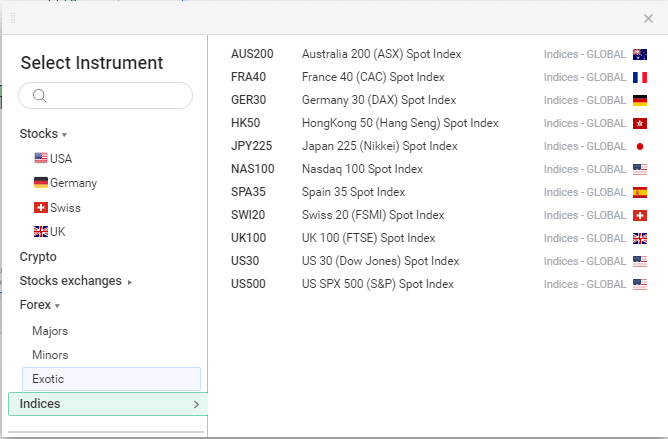 4. Order execution speed
Since all operations are performed on the server, every transaction requires 50-100 milliseconds less than similar operations on desktop platforms.
5. R StocksTrader extended trading functionality
In R StocksTrader, you can trade directly from charts, create and use your own layouts, compare several symbols on the same chart, create multiple charts simultaneously for monitoring some particular instrument on different timeframes. Traders can also track Depth Of Market (Level 2), place Trailing Stop orders, use Watchlists, and a lot of other features of the terminal.

6. Competitive trading conditions
R StocksTrader account provides a client with some of the lowest spreads in the industry. Orders are executed with the spread from 0 pips. Traders pay only the commission from transactions.
7. R StocksTrader automated trading strategy builder with testing opportunities
The platform has built-in Trading robots builder called Strategy Builder, which allows to create and run automated strategies with no need to apply any programming skills. All settings of algorithms are specified using an intuitive interface. In addition to that, automated trading strategies are working in cloud, so they don't require being monitored or using any constantly running software. For bone-idleF users, there are ready templates, which can be edited and back-tested on deepest historical data that goes back to 1970 if necessary.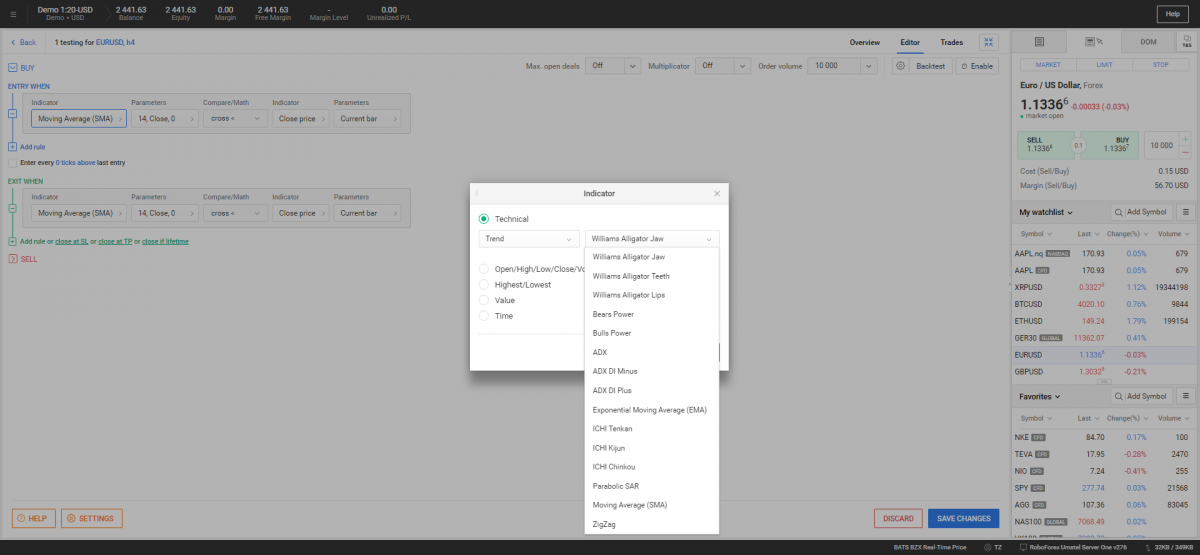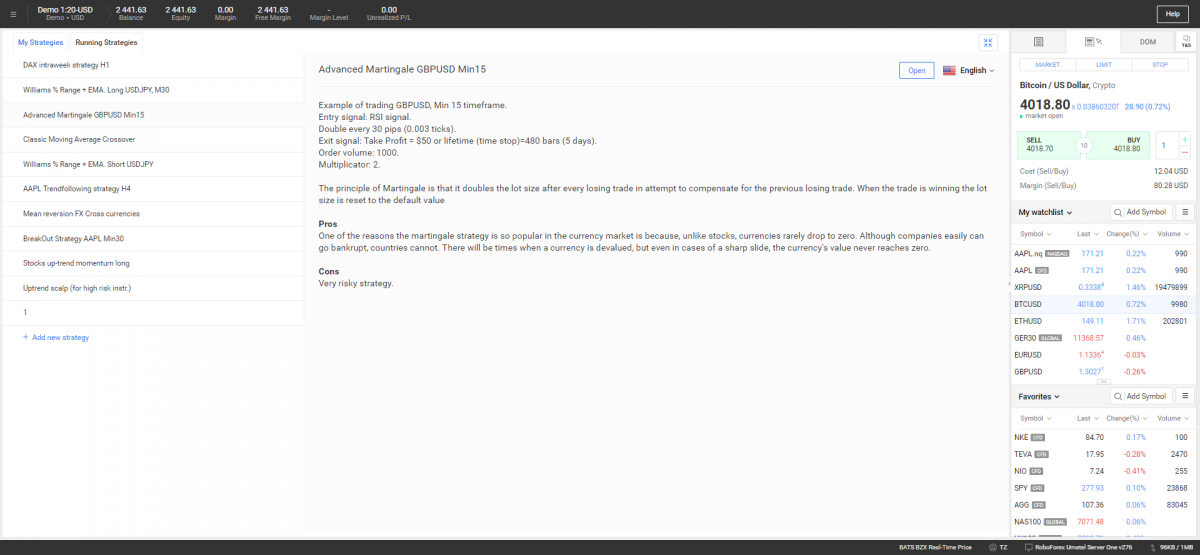 8. Safety
R StocksTrader is certified by the FinaCom and meet all requirements for security of clients' trading accounts. Trading servers and data bases are properly scaled, while the data is always transferred using SSL encryption protocol.
9. Demo accounts
Having a demo account is always useful for getting to know new products, implementing your first trading strategies, or testing a trading robot created in the platform's strategy builder.
10. Free access
Trading on demo and real accounts is absolutely free for users. All charts and online quotes are provided without any additional fees.
All features described above really help R StocksTrader to stand out against similar terminal and make the platform an exceptional solution for online trading and investments. If you still have doubts, it's high time to register an account and test your first trading strategy in R StocksTrader personally.