As soon as some free money appears, we start thinking about how to invest them to make a profit. Experienced investors recommend managing your assets yourself. This means you first need to study the product you are investing in and only then pour your money in.
A bank deposit will not bring a lot of profit from 1,000 USD; the profit is unlikely to cover up for inflation even. The first thing that comes up in your mind is marginal trading. It allows opening trades for sums much larger than you have on your deposit. Leverage is most often used in the currency market, however, it requires the knowledge of tech analysis and constant monitoring of what is going on. Also, leverage entails additional risks for the investor.
Our blog is about trading, so let us try to make up our mind about investing in risky assets and whether you can make money there, or whether it is better to invest your 1,000 USD conservatively.
Investments in cryptocurrencies
Among super-profitable ones, crypto investments have become trendy. The price for such assets has been sky-rocketing for the last three years. However, after incredible growth, cryptocurrencies switched to downtrends and flats. But the uptrend managed to restore, and since this year, the price for the BTC has grown from 7,500 USD to 19,850 USD. For example, if you bought the Bitcoin for 1,000 USD at the beginning of 2020, you could receive 2,500 USD today, which makes 1,500 USD of profit.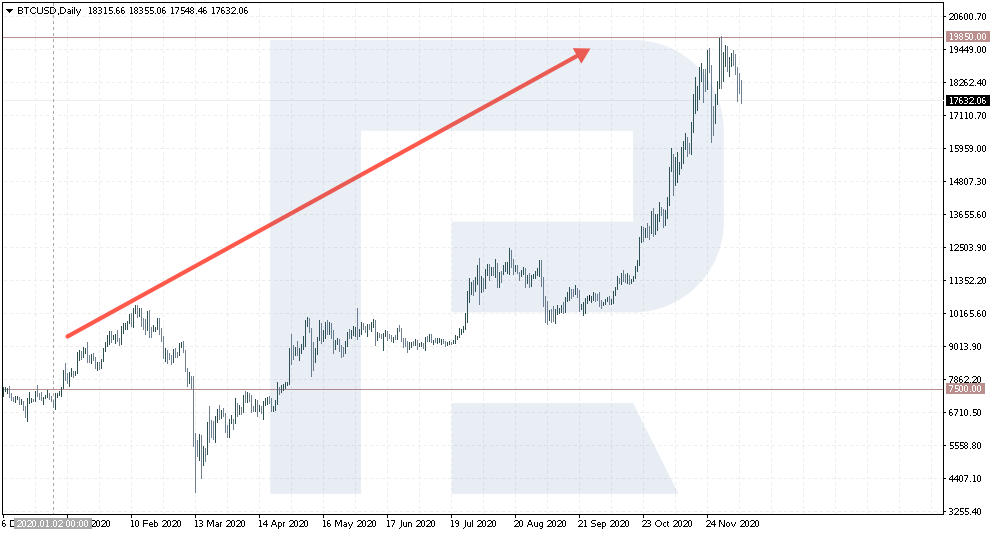 Today, people are investing in cryptocurrencies again. A company that heated the market tangibly is PayPal that made storing and buying crypto possible for citizens of the USA. In the company, they say that the demand for such services turned 3-4 times higher than expected. Investment funds are also considering cryptocurrencies as potentially profitable and add them to their strategies.
Central banks are also interested in developing national digital currencies. For example, the ECB is preparing a decision on launching a digital version of the euro in 2021. The Bank of Canada also hints at the necessity to launch the digital CAD, while China is experimenting with the digital yuan. Banks are pushed to make such decisions by the current total lockdown when people spend less cash and switch to online payments.
And while the "digital gold" (as they call the BTC sometimes) has renewed its all-time high, the XRP is yet far from it, and there is a chance that less popular assets will also demonstrate highs.
Certain traders and analysts count on the significant growth of the XRP in 2020-2021. The aims are at 10-15 USD per coin, while today the asset is trading at 0.5600 USD. Again, by buying the XRP for 1,000 USD and having it grow to 5 USD, we can count on 8,000 USD of profit. However, such investments have the other side which is risks connected to the further fate of digital currencies and the fluctuations of their rates. Note that the XRP is number three among cryptocurrencies in terms of capitalization.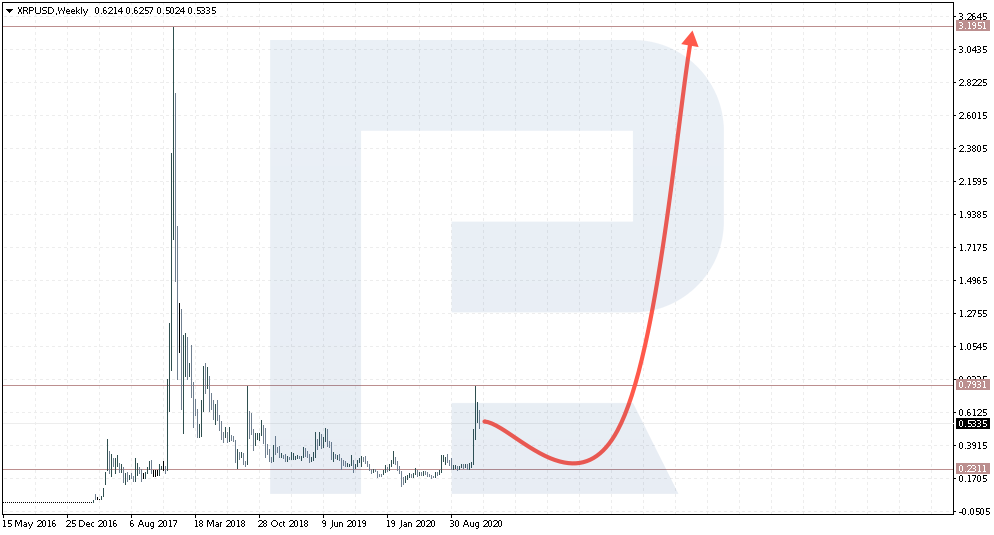 As for the Ethereum, which is number two capitalization, and the Litecoin, called "digital gold", there are also chances for good growth but the price of these coins is also higher. For example, for 1,000 USD, you can buy about 2 ETH or 11 LTC. Buying various coins might be the best decision.
👉 If you want to get more information, please check our article about how to make money on cryptocurrencies.
Investments in gold
We have discussed investing in this precious metal in the article "How to Invest in Gold?". The easiest way was, again, investing in CFDs. Such contracts allow for buying and selling gold without purchasing it physically, just making money on the difference in the prices.
At the beginning of 2020, gold cost 1,550 USD per troy ounce. In August, the quotations reached a high of 2,072 USD; currently, they are trading at 1,846 USD. By buying the instrument for 1,000 USD at the beginning of the year, you could make a good profit in the middle of the year already. As for the long run, the pandemics might cause investors to buy gold, which will provoke another increase in the price of the precious metal.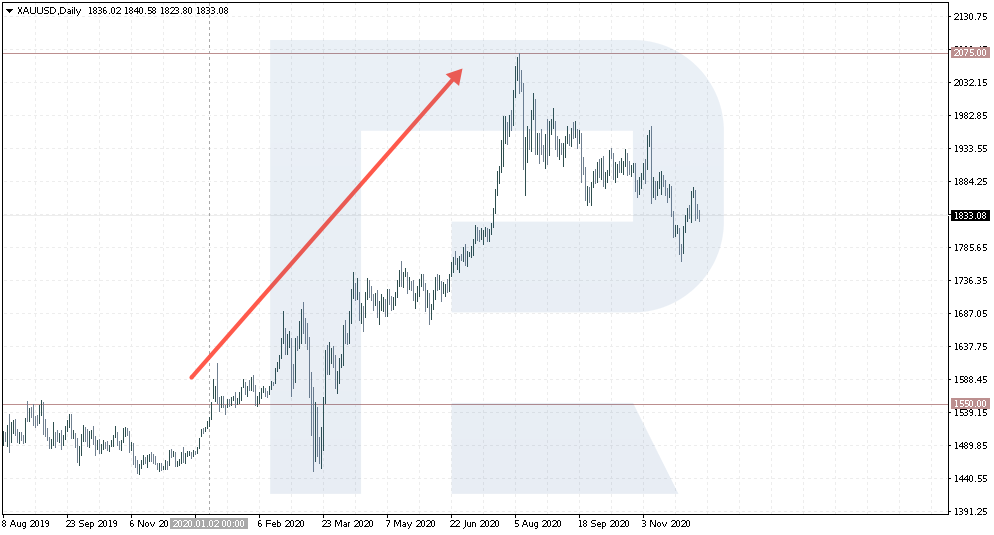 The growth of gold is unlikely to be as impressive as that of cryptocurrencies as it is a more conservative investment instrument. Anyway, many traders these days compare gold and the BTC noting that the latter is replacing the precious metal because it is to move and pay with, and it is supported by traders' interest.
As for the charts, the crypto prices are at their highs while the gold price dropped from 2,070 to 1,846 USD. Cryptocurrencies are more volatile while conservative investors prefer gold.
Investments in stocks
A friend of mine once said that if he had bought several Apple stocks instead of new iPhones and Macbooks, his investment would have doubled or even tripled. Today, the company keeps surprising the market with new gadgets and even tries to take a part of the market away from such giants as Intel and AMD, producing their M1 chips. These chips just leave no chance to Intel and beat them in all tests.
From the point of tech analysis, the stock price of Apple might grow to 150-200 USD in the following two years. Here as well, buying the stocks for 1,000 USD, you can expect a profit of 800-1,000 USD.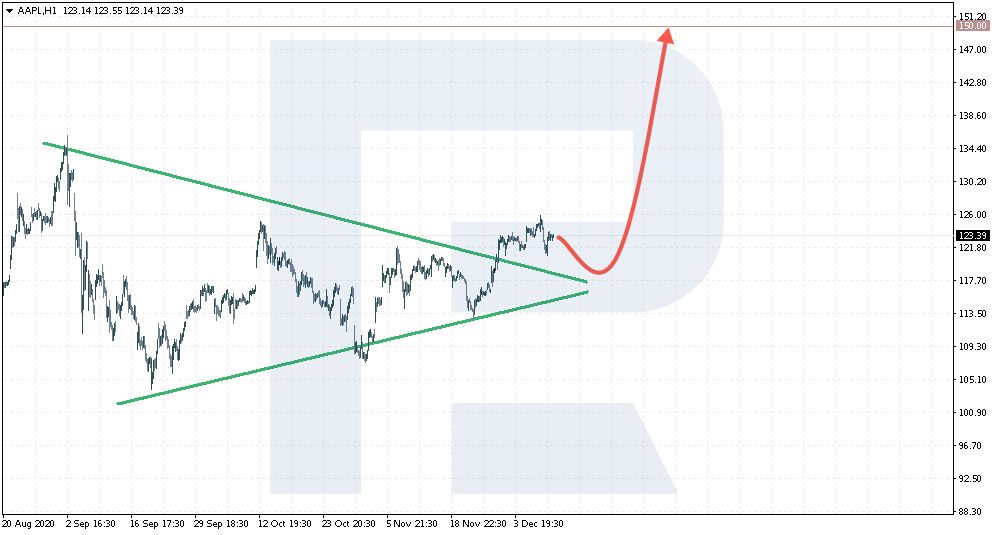 While, according to Buffett, cryptocurrencies have no fundamental value and produce nothing, investing in Apple, we give our money to a company that offers lots of products, extremely popular among consumers. Note that investments in Apple make up for 47.78% of Buffett's own portfolio. Hence, buying the stocks of this company is a good and reasonable trading idea for a couple of years – with minimal risks.
👉Make sure to check out our post about how to invest in stocks for beginners.
Summary
In this article, we have discussed different types of markets and estimated how much money we can make there and how much time this could take. In books on trading, you can come across a curious saying that you should not put all the eggs in one basket. This means that you should invest in different markets and assets.
In our case, the sum of the investment is not so large; we can risk buying a cryptocurrency, such as the XRP, and expect good growth in the next one or two years. Your profit might amount to thousands of percent, but there is a risk that the market will get stuck in a flat or slump into a drawdown and remain there for long. The main idea of growth for cryptocurrencies is the upcoming halving of the Bitcoin; as a rule, after such an event, the whole crypto market grows for several years, and this is what we are witnessing.
A conservative option would be investing in gold: here, we can just set the limits and buy CFDs. Then we decide where to exit the market with a profit if the price is growing and where – with a small loss if the price is falling. Now, in the times of the lockdown, countries are closed, and it is hard to imagine any development in business and the economy. Hence, investors might again start buying gold with all this instability.
The third option is to buy stocks of your favorite company. It might be Apple, as with Buffett, or Tesla, or others. The stock market is completely different from crypto or gold. Anyway, each of the markets can allow you to increase your investments in the long run but never forget about possible risks when making decisions.
---