How to Invest 1,000 USD? Three Versions for Beginners

As soon as some free money appears, we start thinking about how to invest them to make a profit. Experienced investors recommend managing your assets yourself. This means you first need to study the product you are investing in and only then pour your money in.
A bank deposit will not bring a lot of profit from 1,000 USD; the profit is unlikely to cover up for inflation even. The first thing that comes up in your mind is marginal trading. It allows opening trades for sums much larger than you have on your deposit. Leverage is most often used in the currency market, however, it requires the knowledge of tech analysis and constant monitoring of what is going on. Also, leverage entails additional risks for the investor.
Our blog is about trading, so let us try to make up our mind about investing in risky assets and whether you can make money there, or whether it is better to invest your 1,000 USD conservatively.
Investments in oil
The global economy is swiftly recovering after the mighty blow of the pandemic. Stock indices demonstrated record declines in March 2020, but their subsequent growth has become the fastest in the history of the stock market. The economy is coming back to normal, which means oil prices are also growing actively. Brent oil has also dropped significantly, below 16 USD per barrel, but shortly after, it started growing again, and by now the quotations have reached 71 USD. Buying oil for 1,000 USD in April 2020, when it cost 20 USD per barrel, you could now exit the market at 70 USD per barrel and earn 2,500 USD of profit.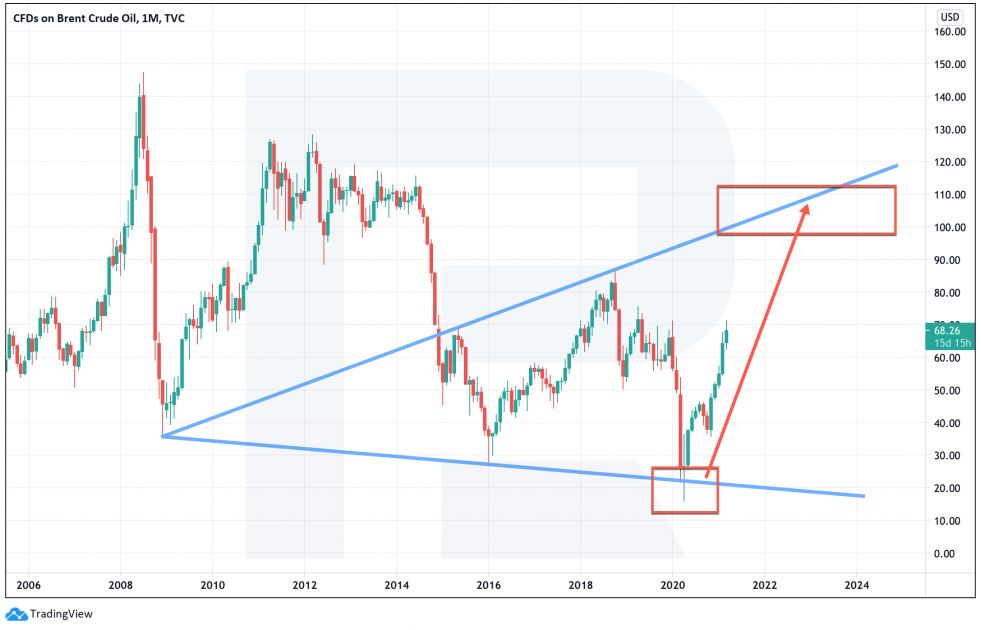 There were several triggers for the growth. One of them was a bullish Wolfe Waves pattern with an overall aim above 100 USD. However, the quotations have now reached an important resistance level, so there is a risk they might correct to 50 USD, from which level we may expect a new wave of growth. Moreover, analysts from JPMorgan forecast a new supercycle of growth in commodity markets, the largest one of the last century. The Bank of America Corp agrees that oil can rise over 100 USD per barrel in the nearest future.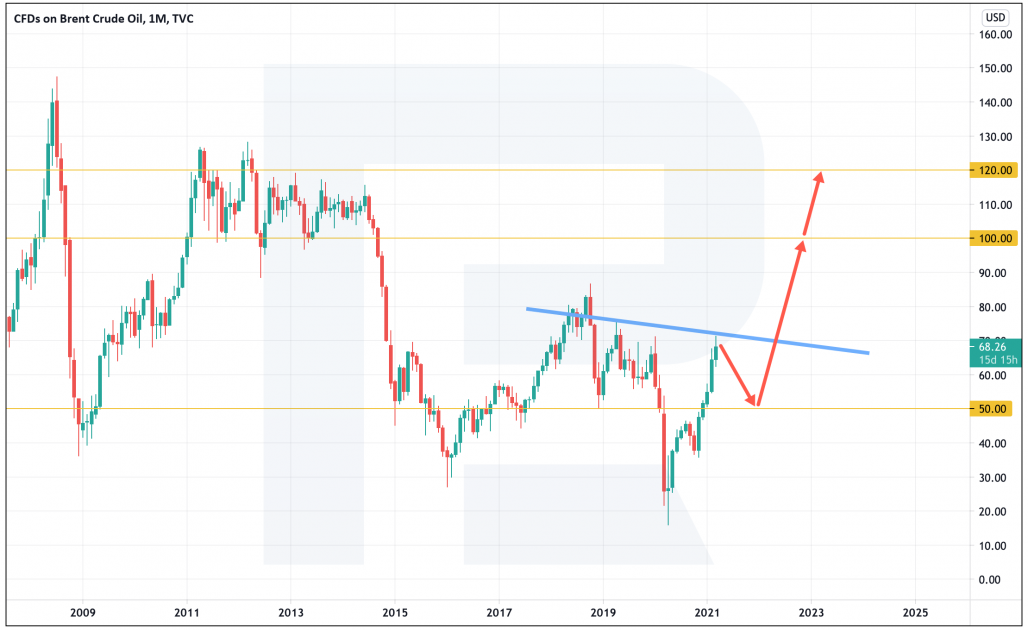 If we look at the chart of Brent from the point of tech analysis, we will see the perspectives for further development of the uptrend. If the quotations fall to 50 USD from the current level, they will probably form a Head and Shoulders reversal pattern. This will mean the price will grow over 120 USD per barrel. Note that the decline in April 2020 was provoked by the same pattern. This means graphic patterns work well on the oil chart. Hence, a decline below 50 USD by the end of 2021 might become a good opportunity to invest in oil with potential growth of over 100 USD or even 120 USD in 2022-2023.
Investments in gold
We have discussed investing in this precious metal in the article "How to Invest in Gold?". The easiest way was, again, investing in CFDs. Such contracts allow for buying and selling gold without purchasing it physically, just making money on the difference in the prices.
At the beginning of 2020, gold cost 1,550 USD per troy ounce. In August, the quotations reached a high of 2,072 USD; currently, they are trading at 1,846 USD. By buying the instrument for 1,000 USD at the beginning of the year, you could make a good profit in the middle of the year already. As for the long run, the pandemics might cause investors to buy gold, which will provoke another increase in the price of the precious metal.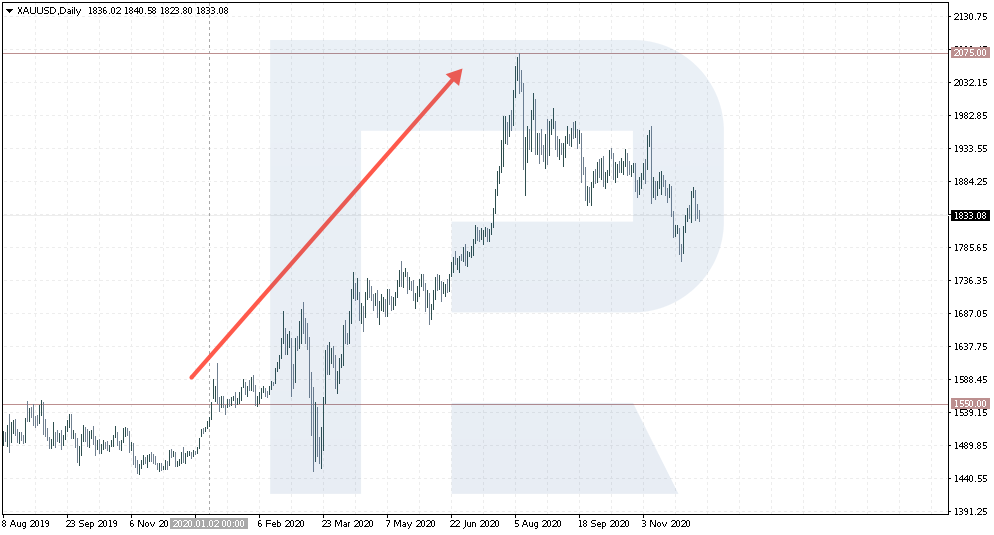 Investments in stocks
A friend of mine once said that if he had bought several Apple stocks instead of new iPhones and Macbooks, his investment would have doubled or even tripled. Today, the company keeps surprising the market with new gadgets and even tries to take a part of the market away from such giants as Intel and AMD, producing their M1 chips. These chips just leave no chance to Intel and beat them in all tests.
From the point of tech analysis, the stock price of Apple might grow to 150-200 USD in the following two years. Here as well, buying the stocks for 1,000 USD, you can expect a profit of 800-1,000 USD.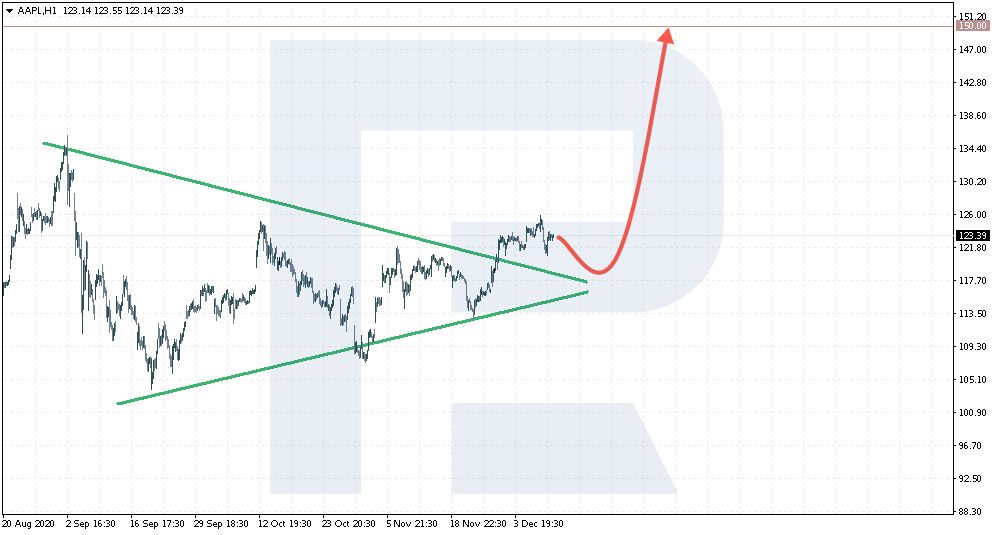 While, according to Buffett, assets that produce nothing and have no fundamental value is the worst decision. Contrary, investing in Apple, we give our money to a company that offers lots of products, extremely popular among consumers. Note that investments in Apple make up for 47.78% of Buffett's own portfolio. Hence, buying the stocks of this company is a good and reasonable trading idea for a couple of years – with minimal risks.
👉Make sure to check out our post about how to invest in stocks for beginners.
Summary
In this article, we have discussed different types of markets and estimated how much money we can make there and how much time this could take. In books on trading, you can come across a curious saying that you should not put all the eggs in one basket. This means that you should invest in different markets and assets.
In our case, the sum of investment is not that large, we can invest in oil as long as the economy is recovering, and large banks forecast the growth of oil prices above 100 USD, the current price being 70 USD. And a potential correction to 50 USD might provide a conservative entry point with a potential profit of 50-70 USD per barrel.
Another conservative option would be investing in gold: here, we can just set the limits and buy CFDs. Then we decide where to exit the market with a profit if the price is growing and where – with a small loss if the price is falling. Now, in the times of the lockdown, countries are closed, and it is hard to imagine any development in business and the economy. Hence, investors might again start buying gold with all this instability.
The third option is to buy stocks of your favorite company. It might be Apple, as with Buffett, or Tesla, or others. The stock market is completely different from gold. Anyway, each of the markets can allow you to increase your investments in the long run but never forget about possible risks when making decisions.