As a rule, before becoming a client of some company, millennials download its application. If a company comes short of having an application, this might be a real reason for refusal to cooperate in the future, that's why even the companies that represent small and medium-sized businesses always strive to create their own applications. The aspect that is pretty expensive for mobile application development is the core infrastructure for storing, processing, and analyzing data.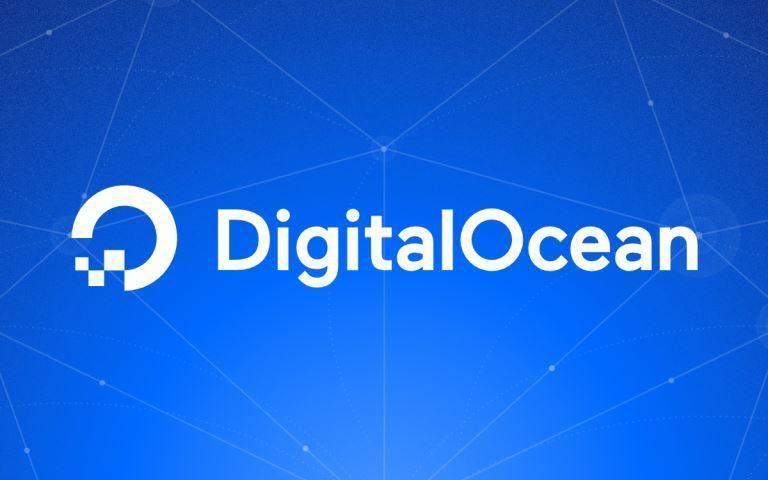 DigitalOcean offers a ready-to-use for developing and scaling applications in any industry. On February 25th, 2021, the company filed an S-1 IPO form at the NYSE to the SEC. The IPO is scheduled for March 23rd and DigitalOcean shares will start to be traded the next day. The company got the "DOCN" ticker.
DigitalOcean business
As I already mentioned, DigitalOcean is a provider of the platform intended for cloud-based computing of any complexity. The platform helps to deploy, manage, and scale applications for different economic sectors. According to the company, the platform "was created by developers for developers", which means the company's clients can skip the DevOps stage. As a result, development time and cost are significantly cut, thus helping application developers to focus on their proprietary application engineering process.
The company has 14 data centers that are connected by a high-speed dedicated Internet backbone and located in Singapore, Canada, India, New York, San Francisco, the Netherlands, the United Kingdom, and Germany. It opens up the opportunity to deploy applications in every part of the world simultaneously.
Above you can see the entire ecosystem of DigitalOcean. The platform consists of several products, the first one of which, Droplet (virtual machine), was launched in 2012. Developers got the opportunity to launch a virtual machine in less than a minute. The machine provides the flexibility of software for creating, testing, protecting, and scaling any application.
In 2018, the company launched Managed Kubernetes, a service intended for managing application data clusters. Its key advantage is that it became a perfect tool for scaling clusters during data streaming. For example, regular updates of a music application. A monthly subscription fee for this service is just $10.
The company offers solutions for database management in the most popular formats, such as PostgreSQL, MySQL, and Redis.
Also, there is DigitalOcean Marketplace, where a developer can find a "half-finished" app with one click. Over 150 already set up applications, LAMP, Docker, WordPress, and Plesk, are available in Marketplace.
In addition to that, the company holds a lot of offline events. Under the sponsorship of DigitalOcean in cooperation with GitHub and Twilio, the company holds Hacktoberfest, a fest of open-source software, which lasts for about a month. Last year, it hosted over 170,000 developers, 40,000 more than in 2019.
The company's clients are over 570,000 software developers from more than 185 countries from all over the world. Now, let's talk about competitors and market opportunities.
The market and competitors of DigitalOcean
The company operates on the IaaS (Infrastructure as a Service) and PaaS (Platform as a Service) markets. According to the IDC, the volume of these markets was $44.4 billion and bay reach $115.5 billion by 2024. As a result, an average growth rate will be 27% and that's the reason why companies in this sphere may add over 100% every year.
Direct competitors of DigitalOcean are Gossamer Threads, Linode, UpCloud, OVHcloud, iWeb Technologies, Carbon Relay, and Vultr. Also, the industry features such major players as Microsoft (Azure), Amazon (AWS), Oracle, IBM, and Google.
Financial performance
At the time of filing for an IPO, the company wasn't generating any net profit, that's why we should focus on its revenue.
The image above shows the company's sales dynamics starting from the first quarter of 2014. It can be easily seen that the high growth rate was recorded even before the COVID-19 pandemic.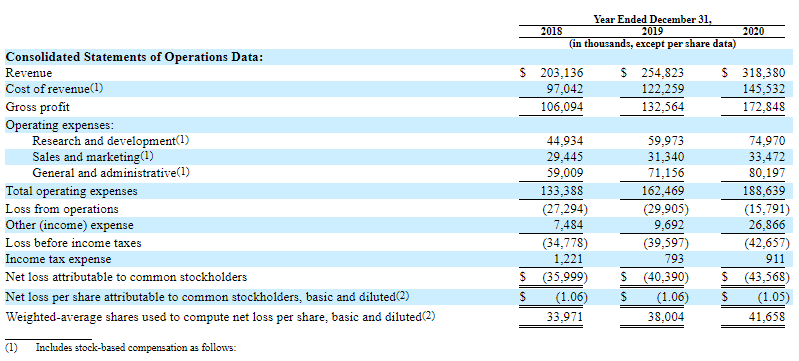 In 2018, 2019, and 2020, the company's revenue was $203.1, $254.8, and $318.4 million respectively. In 2020, the growth rate if compared with 2019 was 24.96%, in 2019 in comparison with 2018 – 25.45%. As a result, the company's business is growing at the same pace as the entire industry.
The company's net loss is growing slower: in 2018, 2019, and 2020, it was $36, $40.4, and $43.7 million respectively. At the same time, the cost of revenue was $97, $122.2, and $145.5 million respectively over the same period of time. that's why I assume that in the nearest future the company may get its first net profit.
Strong and weak sides of DigitalOcean
After connecting all the dots of the DigitalOcean business, let's highlight its strong and weak sides. Strong sides might be:
The company's products completely satisfy customer claims.
Products are user-friendly and intuitively comprehensible.
The company's sales are well-diversified: the share of its 25 most high-profile clients in the DigitalOcean revenue in 2020 was 9%.
The transnational nature of business.
The market where DigitalOcean operates is expected to grow at 27% a year and may reach $116 billion by 2024.
Proprietary ecosystem and differentiated customer support.
Confidentiality and customer data protection.
The company's revenue adds over 25+% every year.
Open source code allows to quickly increase customer base.
Risk factors of investing in DigitalOcean shares are the following:
Strong competitors, such as Microsoft, Amazon, Google, and others.
Even a small failure in infrastructure maintenance will lead to customer outflow and drops in revenue.
The company is loss-making and doesn't pay dividends.
IPO details and estimation of DigitalOcean capitalization
In accordance with the offering circular, DigitalOcean is planning to sell 16.5 shares at the price of $44-47 per share. The raised volume is expected to be $750 million, while the capitalization at the IPO may reach $5.5 billion.
The underwriters of the IPO are Stifel, Nicolaus & Company, Incorporated, J.P. Morgan Securities LLC, JMP Securities LLC, KeyBanc Capital Markets Inc., Morgan Stanley & Co. LLC, Goldman Sachs & Co. LLC, J.P. Morgan Securities LLC, BofA Securities, Inc., and Barclays Capital Inc.
To assess the company, we use the Price-to-Sales ratio (P/S Ratio). At the IPO, DigitalOcean's ratio reaches 17.29. For a high-growth sector, it may be up to 25. As a result, the upside may reach 47.06% (25/17*100% -100%).
Taking into account the company's upside potential and market prospects, we may recommend to add DigitalOcean shares to your long-term investment portfolio.
Invest in American stocks with RoboForex on favorable terms! Real shares can be traded on the R Trader platform from $ 0.0045 per share, with a minimum trading fee of $ 0.25. You can also try your trading skills in the R Trader platform on a demo account, just register on RoboForex.com and open a trading account.
---