In my previous article, I spoke about hydrogen that might become the leader of the energy system of the future:
Today I will go on with the sources of clean energy that might drive hydrogen out of shadow.
For those who have not read the previous article, I will repeat that an environmentally clean way of producing hydrogen is electrolysis, which is a constant impact on water by electricity that results in receiving hydrogen. However, you still need an energy source to get some electricity.
Famous sources of clean energy are wind, water, and sun. Out of these three, sun is a mobile energy source. You can install solar panels on your car, the roof of your house, a train, basically any object that can hold a panel.
So, today I will speculate on companies that develop solar energy. This energy is used for producing electricity; however, its main function might be producing hydrogen.
SunHydrogen, Inc.
The first company that I would like to drive your attention to is SunHydrogen, Inc (OTC: HYSR). The company was founded in 2009, and was called HyperSolar, Inc. until 2020.
SunHydrogen develops a system of nanoparticles that transform solar energy into electricity which is later used for producing hydrogen. The development of solar energy system will let SunHydrogen enforce its positions in the market because the company produces highly efficient solar panels, while the introduction of hydrogen in the energy system of the planet will lead to faster growth of the company's income.
Unfortunately, investments in this company are very risky. In my articles, I have never diven your attention to companies that have their shares traded in the OTC Markets. As for SunHydrogen, this is exactly where its shares are trading.
Stock exchanges have very severe conditions of listing, and small but promising companies have trouble fulfilling the requirements. However, they need money for further development. As a result, they opt for the OTC Markets. Liquidity in this market is super low, so you have to invest with a horizon starting from several weeks, and due to low demand, you not always manage to sell the stocks at the planned price.
However, the advantage of this market is that there you can buy the shares of a promising company that will later carry out an IPO, and their stock price will be thousands percent higher than presently.
SunHydrogen shares now cost 11 cents each, though in November 2020, their price was under 2 cents. In January, the stock price reached the high of 32 cents. In this case, profitability was over 1,500%, which is comparable to the profitability of the notorious GameStop (NYSE: GME) shares.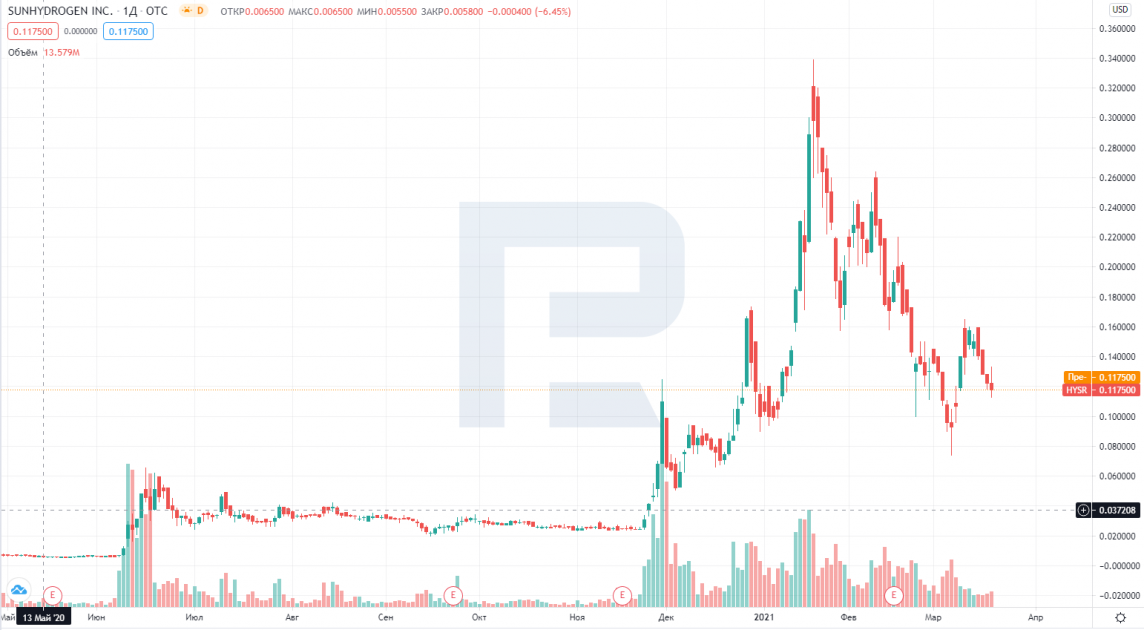 SunHydrogen is yet a small company that has trouble competing with large corporations. Their only rescue is to offer a unique product that will enjoy high demand, and then a larger player will either invest in SunHydrogen or merge with it. In this case, investments will pay off. Still, an independent IPO is the most optimistic scenario for SunHydrogen.
To sum up, I would say that this investment idea is a kind of adventure. Risk a small sum, however, your reward might turn out satisfying.
NextEra Energy
NextEra Energy (NYSE: NEE) is kind of opposite to SunHydrogen. NextEra Energy is a leader in the sphere of clean (solar and wind) energy. It generates 45,900 megawatt of energy and manages such subsidiaries as Florida Power & Light, NextEra Energy Resources, NextEra Energy Partners, and NextEra Energy Services. For a decade, the company has been stably increasing profits and dividend payments.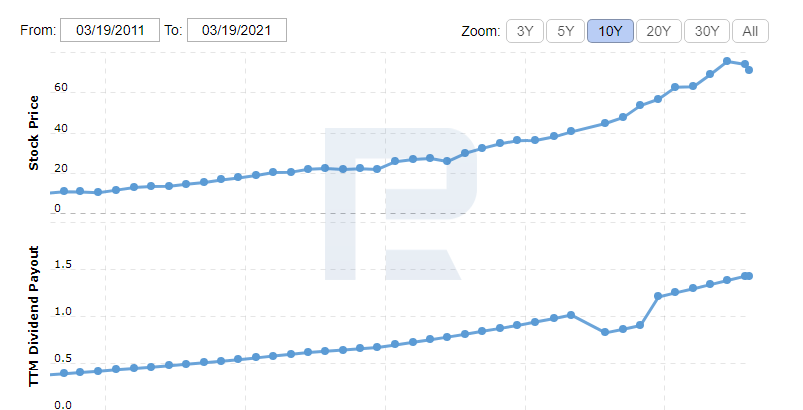 I attracted your attention to this company in October 2020:
Investments in NextEra Energy are still recommendable, and the quotations have just lowered to the 200-days Moving Average, which is optimal time for purchases.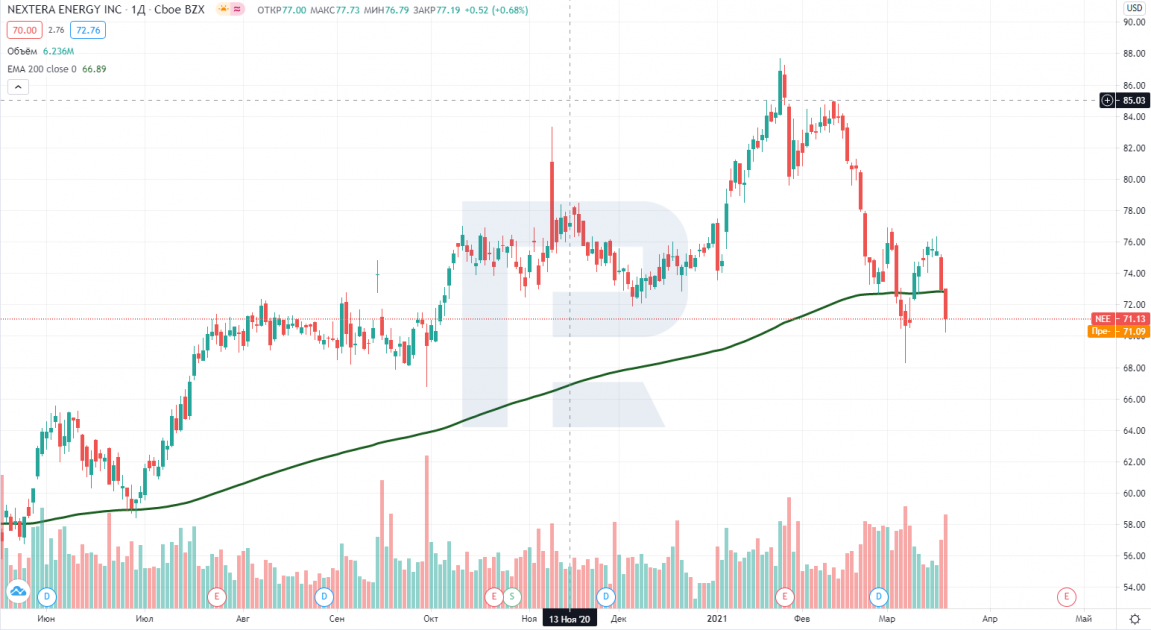 First Solar
Another strong competitor in the market of solar energy is First Solar (NASDAQ: FSLR). It was founded in 1999 and produces solar panels. It performs the whole cycle of works from designing to recycling panels. In 2009, First Solar became the first company that managed to decrease the price of producing 1 watt of energy to 1 dollar thanks to its panels.
The company's advantage is its improved and patented thin-film module that allows producing energy in complicated conditions, such as cloudy or foggy weather. Panels by First Solar are more efficient than their rivals.
As long as solar energy is a developing sector, not all companies that work with it have good revenues and a net profit. First Solar is one of the companies to make a net profit, and its free money flow is larger than its debts. This helps the company invest in research without going in much further debt.
The First Solar shares, as well as those of NextEra Energy, are trading at the 200-days MA. When the price rises to 80 USD, this will mean the end of the correction and the beginning of a new wave of growth.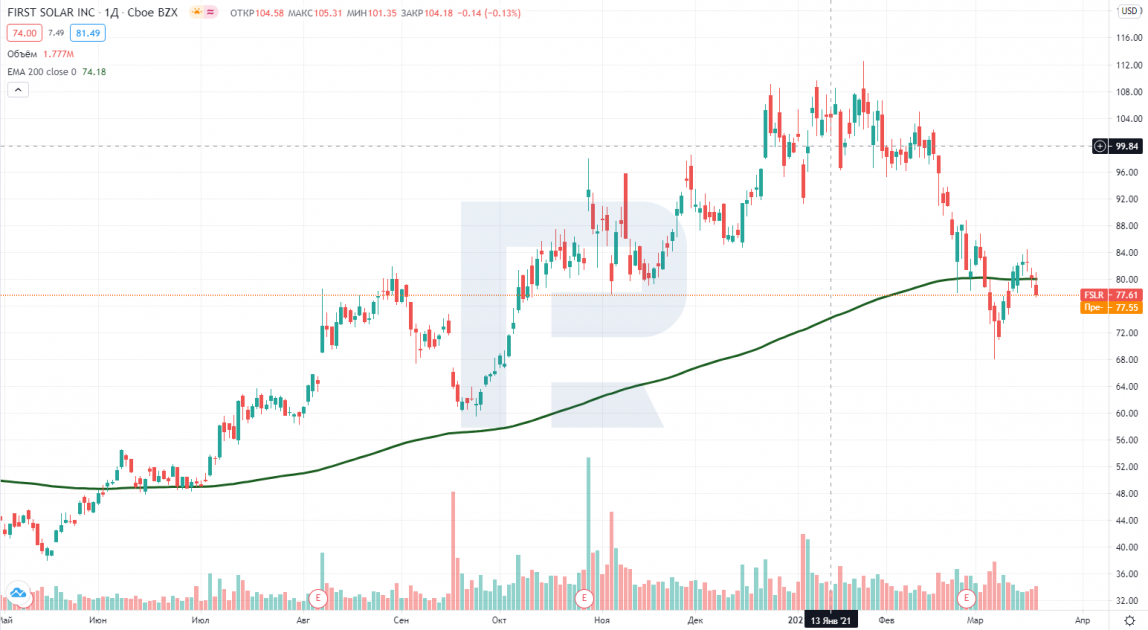 Bookfield Renewable Partners LP
Investing with a long horizon, investors prefer companies that pay dividends. If the profitability is higher than inflation – perfect. In the solar energy sector, such an outstanding company is Bookfield Renewable Partners LP (NYSE: BEP).
At the beginning of 2020, its dividend profitability reached 5%, which is good. Since then, the stock price has grown by 100%, which will make the profitability 2% lower for those who will buy the shares now. However, the company remains attractive because inflation in the US in below 1.4%.
Bookfield Renewable owns and manages over 200 hydro electric plants, 10 wind electric plants, and 550 solar panels. The company is the world's leader in energy production on hydro electric plants. However, the management counts more on solar energy, and the revenue from selling solar electricity will soon make for the most part of the company's profits. Increasing production power in the "solar" sphere, Bookfield Renewable will increase the return on stock by 11-16% annually, which must make dividend payments 5-9% higher.
Bookfield Renewable shares correlate with those of the companies above (except SunHydrogen) and are also approaching the 200-days MA. In such circumstances, it would be unwise to invest in all of them because if the stocks of one company fall, they will drag down the rest.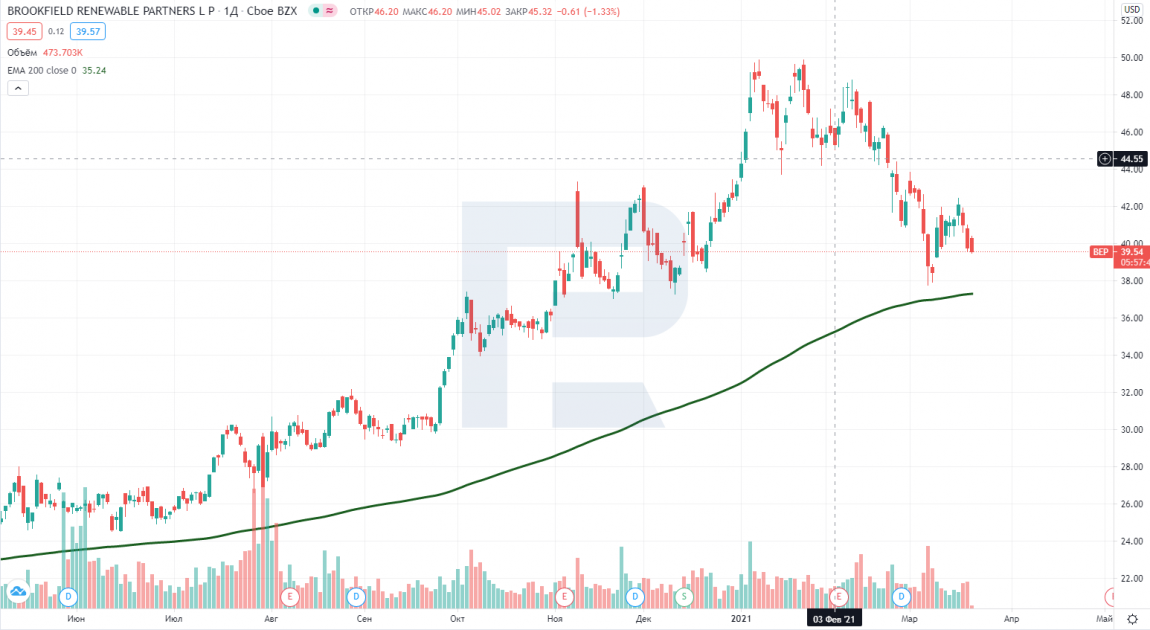 Today, many companies are developing solar energy, and not few of them are public, so your choice of investment will be plentiful. Here is a list of companies developing solar energy, take notice if you are interested in the sphere:
Sunrun Inc. (NASDSQ: RUN)
Sunnova Energy (NYSE: NOVA)
Enphase Energy Inc (NASDSQ: ENPH)
Canadian Solar Inc. (NASDAQ: CSIQ)
SunPower Corp. (NASDAQ: SPWR)
Daqo New Energy Corp. (NYSE: DQ)
Sunworks, Inc. (NASDAQ: SUNW)
ReneSola Ltd (NYSE: SOL)
Closing thoughts
A country with the world's largest economy is counting on renewable energy sources, which means other countries will follow its example. Hence, the shares of companies that work with solar, wind, and water energy will grow.
Solar energy is the easiest to get, hence, companies working in this segment have more chances for a stable income in the future than those developing more expensive wind and hydro electric plants.
Invest in American stocks with RoboForex on favorable terms! Real shares can be traded on the R Trader platform from $ 0.0045 per share, with a minimum trading fee of $ 0.25. You can also try your trading skills in the R Trader platform on a demo account, just register on RoboForex.com and open a trading account.
---