It is generally believed that the American online advertising market was long ago split between Google and Facebook, and it would be extremely difficult to steal a competitive edge from these two giants in this sphere. Is that true indeed? The best answer is the analysis of Amazon's advertising business over the last year.
So, what's up with online advertising from Amazon?
On April 6th, eMarketer, an American company that focuses on researching new tendencies in digital marketing, media, and commerce, published an intriguing report.
In 2020, a Big Tech created by Jeff Bezos boosted its online advertising revenue up to $15.73 billion, a 52.5% increase if compared with 2019-й. Moreover, the company's share in this segment also improved, from 7.8% to 10.3%.
Experts say that the primary source of revenue was search advertising along with media advertising in retail facilities. These two aspects cover almost 89% of all advertising businesses of Amazon.
How is the US digital advertising market shared?
In 2019, this sector was shared as follows: Google had 31.6%, Facebook — 23.6%, Amazon — 7.8%, other companies — 37%. In a year, these numbers changed.
Amazon's share boosted pretty much, up to 10.3%, while Mark Zuckerberg's corporation and the creation of Sergey Brin and Larry Page dropped to 25.2% and 28.9% respectively.
What are the reasons for Amazon's growth?
The coronavirus pandemic and quarantine restrictions in the USA made Amazon's online market highly demanded and extremely popular, thus influencing not only sales volume and eCommerce revenue but the key figures in digital advertising as well.
Analysts say that American users turned to Google more and more seldom to find any given goods and used Amazon's market more often instead. In addition to that, advertisers couldn't resist impressive conversion stats and cost per impression offered by Bezos' IT empire.
What are eMarketer's forecasts for Amazon?
eMarketer experts believe that Amazon will continue driving up rates of growth in both eCommerce and the American digital advertising market. According to the company's forecasts, Amazon's share in this market will improve up to 10.7%, 11.9%, and 12.8% in 2021, 2022, and 2023 respectively.
As for Google, eMarketer specialists predict that the company will slowly but steadily lose its positions in the segment: from 28.9% in 2020 to 26.6% in 2023.
How do Amazon shares respond?
On April 7th, after eMarketer published its report, Amazon shares (NASDAQ:AMZN) added 1.72%, up to $3,279.39 per share. The next day, they added an additional 0.61% to reach $3,299.3.
In April, Amazon shares have already increased by 6.63%. When it comes to the period of 3 and a half months starting 2021, the trend is upward but not too strong, 1.3%.
A RoboForex analyst Maksim Artyomov about Amazon shares
In the last 6 months of 2020, Amazon shares were moving within a sideways channel without any significant fluctuations. There were slight corrections and price surges but nothing serious indeed.
This year, the price started recovering slowly, and, right now, it is moving towards the resistance area. If the company's positive momentum continues, there are chances that the ascending tendency will prevail.
In March, the asset rebounded from the 200-day Moving Average, thus indicating a growing bullish tendency and a further uptrend. It also formed a Wedge pattern and may break the resistance area to continue its growth. In this case, the upside target may be the high at $3,546.35, which may be updated in the nearest future.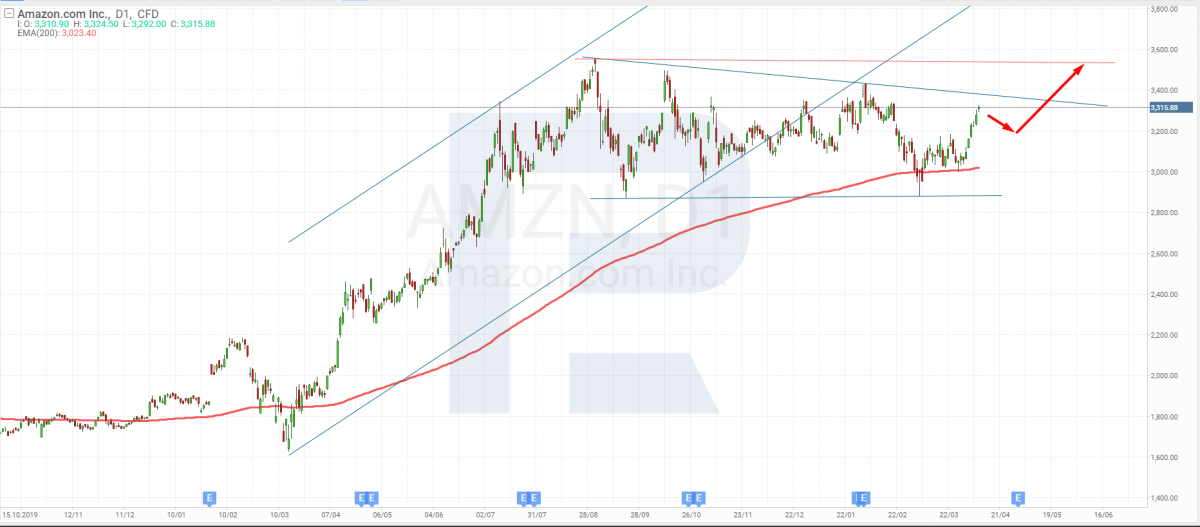 Summing up
eMarketer announced that Amazon had increased its advertising business revenue by 52,5% and the market share up to 10.3%. Experts believe that Amazon is trying to win new market positions from Google and other smaller companies.
Experts predict that Amazon's share in the US online advertising market may reach 12.8% by 2023. Analysts say that the primary source of revenue was search and media advertising in retail facilities.
What else to read about shares of IT companies on R Blog?
---