After a decline on February, the shares of NVIDIA (NASDAQ: NVDA) played back what they had lost quite fast and are now trading at their all-time highs. With the shares of its rivals, Intel (NASDAQ: INTC) and Advanced Micro Devices (NASDAQ: AMD), the situation is quite the opposite: their price has dropped.
I have briefly covered the growth of NVIDIA shares in another article on R Blog; today, I will speculate on more details and try to answer which of the three companies is better to invest in.
Arm Limited
The events that are now influencing the shares of NVIDIA and its competitors started to unwind in 2020.
That time Hermann Hauser, the co-founder of Arm Limited, announced that in the future, NVIDIA might become a monopolist in the processing units market. But let us proceed step by step.
In September, NVIDIA shared its plans to buy its rival, the British Arm Limited, from SoftBank Group Corp (OTC: SFTBY).
Arm Limited is one of the world's largest provider of processing units meant for portable and mobile devices, servers, and supercomputers. In 2020, Arm processing units were the most popular ones among users.
Opponents of the merger of NVIDIA and Arm
Hermann Hauser is still trying to stand in the way of this purchase, noting that Britain has long been dreaming about a company like Apple (NASDAQ: AAPL), and Arm can achieve comparable results.
The merger with NVIDIA might lead to the headquarters of the company moving to the USA, so Britain will lose thousands of workplaces, but most importantly, it will lose a promising world company, while NVIDIA will create a monopoly in the CPU market.
Hauser even wrote an open letter to the British prime minister asking to prevent this merger from happening.
Other companies that (however ironic this might seem) are also monopolists in their markets, came to his rescue. Those were Alphabet (NASDAQ: GOOG) and Microsoft (NASDAQ: MSFT).
Apple is nervous about this purchase because Arm products are used in 90% of mobile devices over the globe, Apple devices included. The probable merger is also nagging on QUALCOMM Incorporated (NASDAQ: QCOM) because this company is the main client of Arm Limited. If NVIDIA manages to complete the merger, all the above-mentioned companies will become dependent on it.
NVIDIA Grace GPU
NVIDIA decided against waiting for the merger to be approved and went on working with Arm Limited. This cooperation resulted in a GPU called NVIDIA Grace.
In April 2021, NVIDIA announced its first processing unit NVIDIA Grace for data processing centers based on the Arm architecture. The processing power of servers equipped with this GPU is 10 times higher than that of any servers known before.
The NVIDIA Grace GPU is a specialized processing unit meant for niche computing and teaching NLP (Natural Language Processing) models of the new generation with over 1 trillion parameters. The Swiss supercomputer center and the US National Lab will be the first entities to create new computers based on NVIDIA Grace.
How investors reacted to the presentation
The presentations led to abrupt growth of demand for the shares, which naturally reflected in their price. It grew by 10% in a short while. Right after that, Wall Street analysts raised the target price of the shares to 800 USD.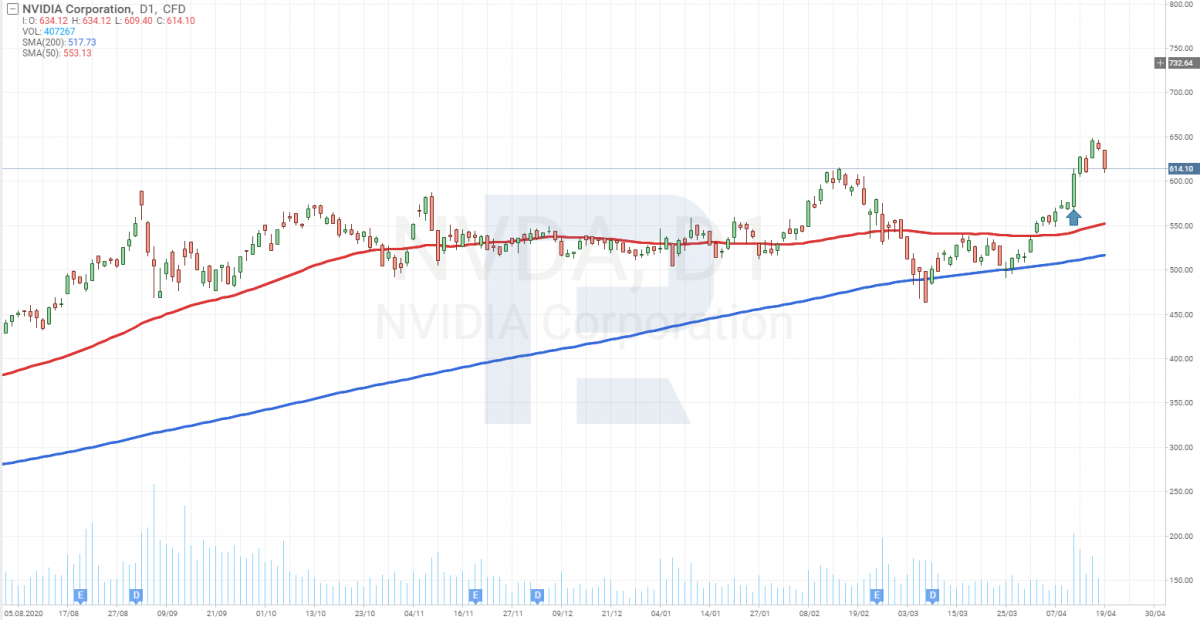 Regardless of whether the merger will happen, NVIDIA is already entering the GPU market. It had never had a GPU for data processing centers before and had has to rely upon the products of Intel and AMD. Now it has no more need in them. NVIDIA is now able to create data processing centers based on their own processing units solely.
A GPU and CPU produced by one company are a very powerful mixture that provides a bright future for the company. The merger with Arm will let them mix the AI-based computing powers of NVIDIA and the vast Arm ecosystem. While the union of NVIDIA GPU and CPU is like climbing Mount Everest, the merger will be like a space travel.
How rivals reacted
On the day of the presentation, Intel shares traded at their all-time highs. However, they closed the session with a 5% decline and kept falling for the next two days.
AMD shares also closed in the red, losing about 5% of their price.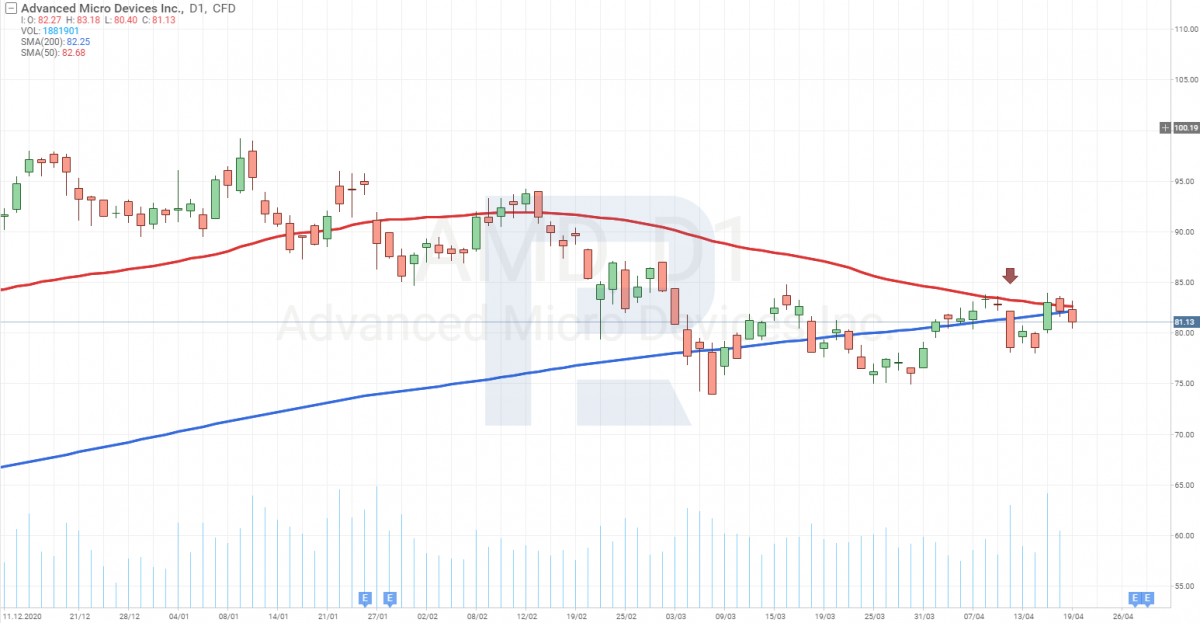 Are INTL and AMD close to a collapse?
Definitely not. Firstly, NVIDIA Grace will get on sale in 2023 only, and it is not meant for general use. This is a specialized processing unit installed to specialized computing machines.
As before, NVIDIA will be cooperating with Intel and AMD in the market of PCs. And the current decline in the shares of its rivals can be used for speculative purchases.
In the end, on day four after the presentation, AMD shares played back what they had lost. Intel shares also bounced off the support level of 64 USD and grew by 2%.
Intel invests in plant construction
If we try to forsee the future, in 3 years, NVIDIA might become a serious threat to Intel and AMD. However, in the current situation, the flourishing of electric cars and work from home provoked a surge in the demand for semiconductors, which led to their shortage.
In addition, the conflict between the USA and China makes the US government work on plans of support for domestic producers of semiconductors. And number one here is Intel.
It is already allocating 20 billion USD for constructing two plants, i.e. it is increasing production and entering the market of contract production. As a result, the US government might even support the company.
For Intel, NVIDIA is just a rival in this market but, judging by the global demand for semiconductors, Intel will have enough money to go on improving their products.
AMD enters the market of crypto mining
AMD is neither losing time. The shortage of semiconductors is good for its income. According to the fresh quarterly report, the revenue has grown by 52% compared to the same period of last year.
The company plans to enter the market of crypto mining. For this, AMD is developing a GPU mostly meant for mining the Ethereum. This way, AMD is planning to secure its position in the crypto market where NVIDIA already holds well.
As a result, in the nearest future, we should not underestimate neither Intel, nor AMD. These companies remain attractive for investments, especially when the market of semiconductors is flourishing. The demand is so high that the products of relatively weak players will also be popular, and AMD or Intel are anything but weak.
Financial performance of NVIDIA
Let us get back to NVIDIA. We will know the results of Q1 only in May, so now we will have a look at Q4, 2020. The revenue of the company then reached its record, overcoming 5 billion USD, which is 60% more than in the same period of last year. Sales in the gaming market were also at their all-time highs: they grew by 67% and amounted to 2.5 billion USD.
Sales for data processing centers also increased — by 97%, reaching 1.9 billion USD. This result gibes an idea of the segment that is now growing especially fast. It is no surprise that NVIDIA designed its processing unit for this very market.
At a conference devoted to the report, the company presented a strong forecast for Q1, 2021; it expects the revenue to reach 5.3 billion USD, which is 72% more than in Q1, 2020.
NVIDIA assets amount to 28 billion USD, while its debts are below 12 billion USD. Free money flow of the corporation are above 11.5 billion USD. All this means that judging by its financial performance, NVIDIA is a great investment option.
Closing thoughts
Regardless of whether NVIDIA will merge with Arm Limited or not, the NVIDIA Grace GPU will already lift the company to a new level of sales.
Arm Limited, with an income of 2 billion USD a year, generates only 50 million USD of net profit a year. From the sale, SoftBank can get 31 billion USD. With such a net profit, Arm will not bring SoftBank 31 billion USD in this century. From this point of view, the parent company will profit from the merger. NVIDIA will manage to develop the potential of Arm Limited fully and progress a lot in using AI in users' gadgets.
Yes, after the merger, the company might become a market monopolist but faster development of AI is at stake. Here is the issue of global dominance. The one using AI rules the world. That is why this merger is so desirable for the USA and feared by China. Great Britain will be making a hard choice here.
Anyway, an investment in NVIDIA at this stage will be a good decision. The one thing that scares me is the usual tendency of things to go wrong. Hence, investing in NVIDIA, never exceed risk limits.
Invest in American stocks with RoboForex on favorable terms! Real shares can be traded on the R Trader platform from $ 0.0045 per share, with a minimum trading fee of $ 0.25. You can also try your trading skills in the R Trader platform on a demo account, just register on RoboForex.com and open a trading account.
---