This article is devoted to the quarterly results of Zoom, a platform for video communication that got extremely popular during the pandemic. I'll present to you important financial achievements of the company, demonstrate how the quotations reacted, and cheer you up with the tech analysis by Maksim Artyomov.
Zoom Video Communication report for Q1, 2021
On the first day of summer, the American communication company Zoom Video Communications reported its financial performance for Q1, 2021. Judging by the report, the audience of the platform for online communication keeps growing, though the world is gradually winding up the remote format of work, study, and life.
Compared to the statistics of Q1 of financial 2021, the number of corporate clients with few employees (10 and more) increased by 87%, reaching 497,000 enterprises. As for client company having an annual income of over $100,000, their number increased by 160% up to 1,999.
The company revised its forecast for the current quarter based on the results of previous three months. Expected revenue was increased from $900-905 million to $985-990 million. Corrected return on stock should amount to $1.14-1.15. As you know, though, the forecast by Refinitiv is more modest: revenue - $931.8 million, corrected return on stock - $0.94.
Important report detail
Revenue - $956.2 million, +191%
Return on stock - $0.74, +722%
Net profit - $227.4 million, +741%
Operational expenses - $464.93 million, +131%.
Zoom shares falling
Though the revenue, profit, and the client base have grown, the shares of the tech company (NASDAQ: ZM) on the reporting day fell by 1.15% to $327.72. The negative trend remained: June 1st through 3rd, the quotations lost 3.8%.
Tech analysis by Maksim Artyomov
"The stocks keep falling. The quotations are testing the upper border of the descending channel. I presume, the price will go on forming a downtrend. A bounce off the 200-days Moving Average is also a signal for a decline.
The goal of the decline is the nearest support level of $300. As long as the expenses for development will be growing, the quotations might head for the lower border of the descending channel".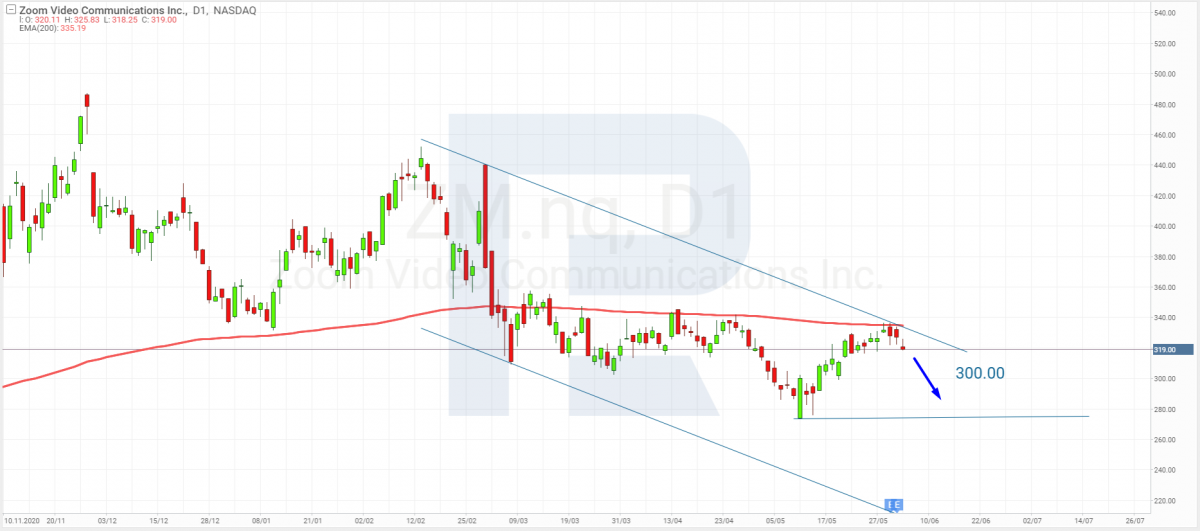 Summing up
Zoom Video Communications reported its performance in February-April 2021. Its revenue grew by 191% and net profit – by 741%. However, operational expenses also grew by 131%. Regardless of such optimistic results, Zoom shares have been falling for three sessions in a row.
---