Why Is It Time to Invest in China? 3 Promising Companies for Investing

The Chinese government would never leave stock market investors in peace. After the market of commercial education was destroyed, which was confirmed by the 90% decline of the share price of New Oriental Education & Technology Group Inc. (NYSE: EDUCATION), TAL Education Group (NYSE: TAL), and Gaotu Techedu Inc. (NYSE: GOTU), any criticism of any sector of business becomes a signal for new tough regulations. For example, a banal article in the state-controlled media, in which online games were compares to "spirit opium" for adolescents, led to a decline of the share price of such companies as Tencent Holdings Ltd ADR (OTC: TCEHY), NetEase Inc (NASDAQ: NTES), and Bilibili Inc (NASDAQ: BILI). However, even in such circumstances, investors show interest towards Chinese companies.
The famous ARK Invest manager Cathie Wood earlier sold Chinese stocks with a loss, but after JD.com (NASDAQ: JD) and Pinduoduo (NASDAQ: PDF), she decided to invest in Chinese companies again. All in all, market players see the risks of investments in Chinese companies but cannot withstand the temptation to buy stocks.
In this article, I suggest taking a look at the Chinese market and tell you about 3 companies the shares of which might grow when business regulations in China stabilize.
Boyd Gaming Corporation
The first company I am driving your attention to is the largest manufacturer of electric cars Boyd Gaming Corporation (NYSE: BYD). This sphere of business has not yet been noticed by the government, though problems might occur because electric cars have become able to collect data, and regulators care a lot for the gathered information to stay within the country.
Boyd Gaming is more than just a company that makes electric cars. It was founded in 1995 as a plant making batteries. Over 10 years, the company captured more than a half of the global market of batteries for mobile phones and reached the top of the list of the fastest-growing tech companies of China. Now Boyd Gaming is making electric cars, hybrid buses, trucks, electric bicycles, and loaders. The company continues making batteries for mobile phones and cars and provides equipment for renewable energy sources.
Out of all the products that the company supplies, only electric cars can collect personal data, hence, it is less risky to invest in than, say, NIO.
Who is the real rival of Tesla in China?
We have got used to thinking that the main rival of Tesla (NASDAQ: TSLA) in China is NIO. But if we look at the statistics of cars sold in the Chinese market in Q2, we will see that this is a misleading idea. By the end of Q2, Boyd Gaming had sold 54,841 fully electric cars. NIO sold 21,896 electric cars. Tesla sold 61,745 electric cars in China, so Boyd Gaming looks more like the main rival.
Apart from electric cars the company also sells hybrid vehicles, and in this sector, dynamics are positive every month. For example, in July Boyd Gaming sold 50,492 hybrid cars, which is 170% more than in July 2020.
The advantage of Boyd Gaming against such Chinese car-makers as NIO, Spent, Like auto, is that the former is profitable. By the end of Q2, it had venerated 113 million USD of net profit.
Buffett invests in director-general of Boyd Gaming Corporation
There is one more detail that might seem tiny yet it supports the idea of investing in Boyd Gaming. 11 years ago, Warren Buffett broke his rule to invest in those companies the business of which he understood and invested in Boyd Gaming. He later admitted that he knew little about either electric cars or batteries. Buffett was impressed by the director-general of the company Wáng Chuánfú, or, more precisely, the description of this person given by Buffett's affiliate Charles Munger. Munger told the Fortune Magazine that "the guy" was a combination of Thomas Edison and Jack Welch. Something like Edison on the technical side and Welch in the sense that he did what he wanted to.
That time Berkshire Hathaway bought 10% of Boyd Gaming. On the chart of 11 years ago, the shares cost about 10 USD. Last spring, the stock price dropped to this level but then aimed directly upwards. Now the shares cost 62 USD. It is important for us because Wáng Chuánfú does still manage the company.
Tech analysis of Boyd Gaming
Previously, Boyd Gaming shares bounced off the 200-days Moving Average and are trading above it, which indicates a prevalent uptrend. The nearest resistance level is 65 USD. If the price breaks it away, it will grow again and renew the all-time high of 71 USD.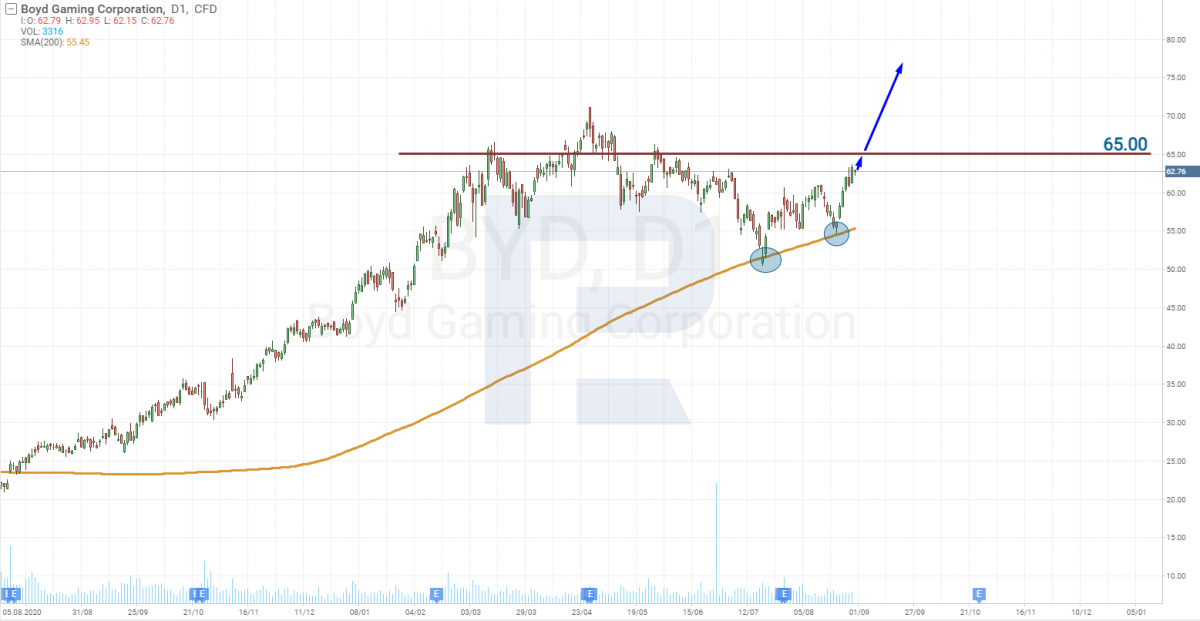 Sohu.com Limited
Investments in Sohu.com Limited (NASDAQ: SOHU) might first seem very risky. On Tuesday, we found out that Chinese authorities had made online games available to people of age only. From this point of view, investments in companies in the sphere of online games look unwise, and Sohu receives 75% of its revenue from this segment.
How the government can ban games for minors
However, if you put away your emotions and think how the authorities can keep kids away from online games, the first thing that comes to mind is banning minors from computer centers. This is the easiest measure to take, but Sohu works in the sphere of online games, accessible from anywhere, not only gaming centers.
Another option is to limit access to games for those profiles that have age under 18. It is quite an easy thing to do in terms of programming but this ban is even easier to circumference — simply change the age settings. Minors will have little trouble doing it. Moreover, parents but smartphones for their kids, thus giving tacit consent to playing games on them. If otherwise, they would buy just push-button phones or watches with sim-cards. Hence, a child can just ask a phone from their parents and go on playing. All in all, making online games unavailable to minors looks like a hard job, at least to the first sight.
Let us also touch upon the topic of the paying ability of kids in games. If we compare a 30-year-old person with a job who pays for themselves and a 14-year-old minor who lives at their parents' house, the former will spend much more in online games. In this case, however, the calculations of profit are much more complicated because it includes revenue from showing ads in games, and kids will be happy to buy a rubber pop-it 10 times more expensive than its primary cost just because it is in fashion these days.
Ban on online games did not scare off investors
The ban on online games for minors was likely to send the share price of Sohu deep down, yet in reality, nothing similar happened. At the beginning of the trading session, the stock price dropped, but by the moment of closing, they had played back 50% of the decline.
On the whole, if we compare the shares of Sohu with the shares of other gaming companies, such as Bilibili Inc., you notice that investors are not rushing at selling them. The shares are trading above the 200-days MA, which means there is an uptrend. Since February 2021, BILI shares have been declining, and in July, they broke through the 200-days MA and keep declining, which means there might be developing a downtrend.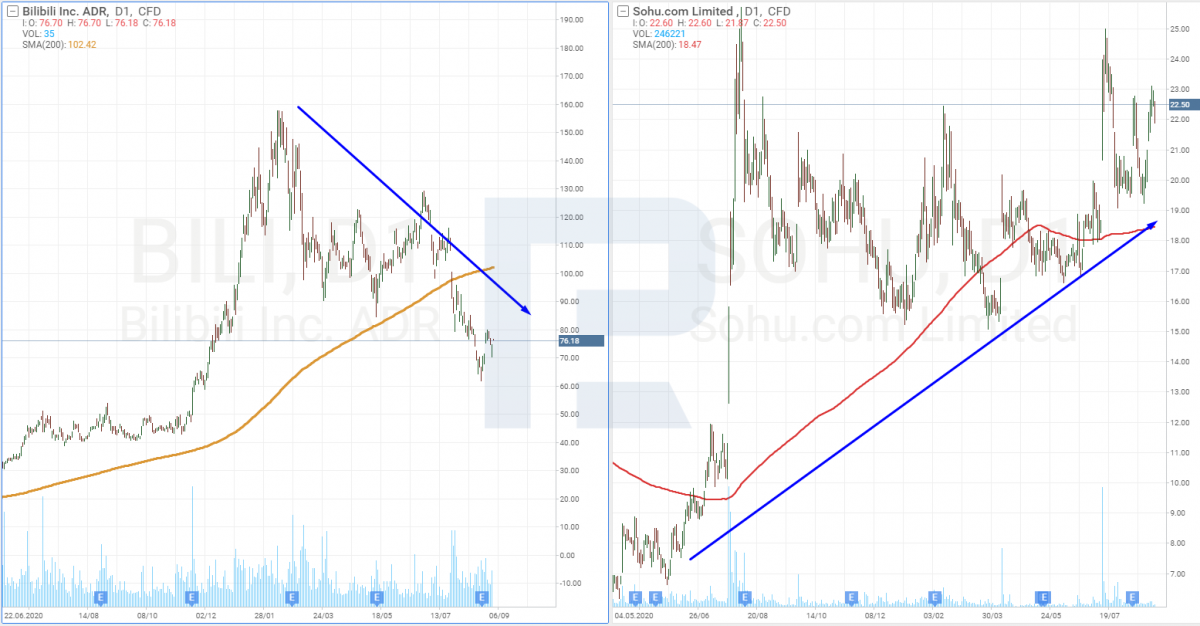 In W1, the shares are trading at their all-time lows; the all-time high was 400% higher than the current market price. Hence, there is room for growth even from the point of view of tech analysis.
Weibo Corporation
The top-3 list of Chinese investment options is closed by Weibo Corporation (NASDAQ: WB). This is a Chinese social networking system of micro blogs, something between Twitter and Facebook.
Unfortunately, the government took notice of this company as well. Or, more precisely, the sanctions touched upon not the company itself but it's users. Being afraid of criticism from Chinese opinion-makers, the government made companies delete the accounts of famous people in social media. This made the shares of Weibo drop by 13%.
Quarterly report made the decline stop
Regardless of the negative news, the corporation boasted a quarterly report with an increase in the revenue by 48% compared to last year, reaching 574 million USD. The EBITDA is at its high of 193 million USD. This quarterly report managed to stop the decline, and after it, the stock price grew by 15%.
Tech analysis of Weibo Corporation
If you look at the chart, you will see the shares trading in an uptrend, but now the price has corrected to the 200-days MA. Growth over 50 USD will mean the continuation of the uptrend and possible growth to the resistance level of 65 USD.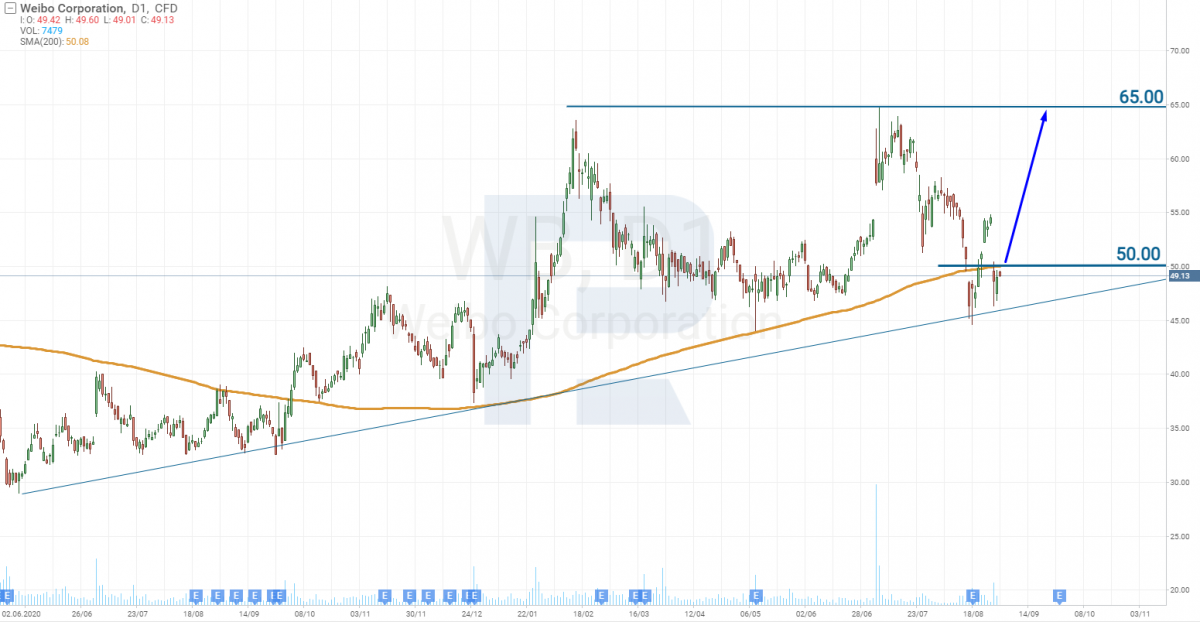 Bottom line
The Chinese authorities are trying to improve the demographic situation in the country, so they are now busy looking for those in charge of the slow-down in this sphere (the law one family-one child is apparently forgotten). As a result, the stock market is in turmoil as no one knows when those responsible will be punished and who turns out to be blamed. In the meantime, the government fights monopolies, which makes the market even more nervous. The market is also getting cleaned from companies that cannot pay off their debts, i.e. the authorities reject to help. All this makes investments super risky, so think of it if you decide to put your money in Chinese companies.
Invest in American stocks with RoboForex on favorable terms! Real shares can be traded on the R StocksTrader platform from $ 0.0045 per share, with a minimum trading fee of $ 0.5. You can also try your trading skills in the R StocksTrader platform on a demo account, just register on RoboForex and open a trading account.