What is So Interesting About an IPO of TOAST? Here's a Short Review

For many food and drink venues, whether they are cafes or restaurants, one of the key problems is personnel errors. Sometimes, human factors may cause restaurants to suffer significant financial and reputational losses. The COVID-19 pandemic was a severe blow to the restaurant industry – only those, who used advanced technologies and analytics in their operational activity, managed to survive.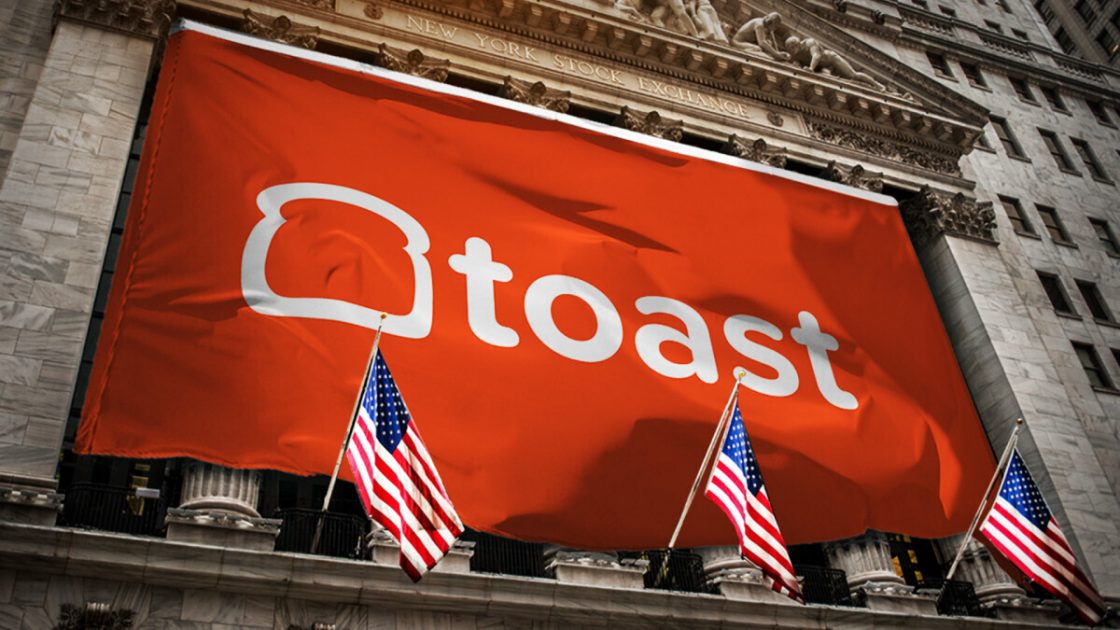 Toast, Inc. has developed a single Saas platform for restaurants. It is intended for managing personnel, processing orders, and accepting payments. The company has filed a request to the SEC for an IPO at the NYSE. The company was assigned with the "TOST" ticker. The IPO date hasn't been announced yet, so we have plenty of time to take a closer look at its business.
Business of Toast, Inc.
Toast, Inc. was founded in 2011 with a headquarters in Boston, the USA. the company's personnel is 2,200 employees. Some of the key investors are Generation Investment Management, Bessemer Venture Partners, G Squared, and Genentech.
Toast, Inc. has developed a single platform for restaurants, which allows them to run business, take orders, track deliveries, regulate marketing activity, and manage personnel. The company's solution offers the opportunity to analyse business processes and connect other service suppliers within the same ecosystem through API.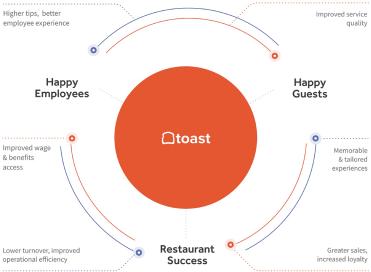 Products of Toast, Inc. can be divided into 2 types:
Software:
Toast POS allows to process payments quickly.
Toast Order & Pay is intended for visitors and allows them to pay for an order using a smartphone.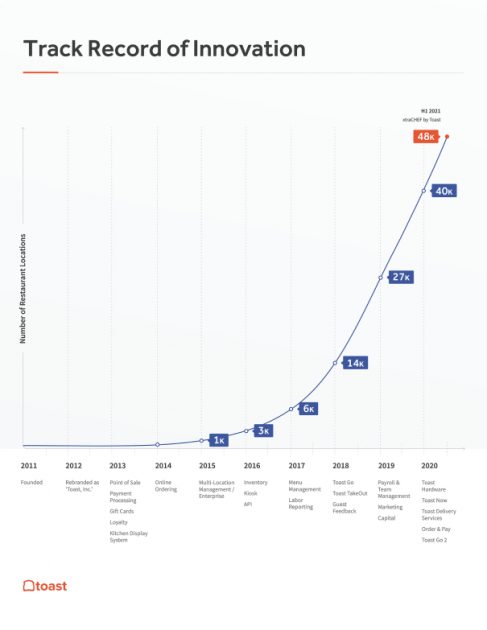 Hardware:
Toast Go is a portable POS terminal for accepting payments.
Toast Tap is a card reader for accepting payments via EMV, NFC, and MSR.
Toast Flex allows to take orders in seда-service restaurants and acts as a server station.
A separate module called Toast Capital helps the company's clients to raise short-term loans from partner banks and repay them by installments. The key advantage is speed and simplicity.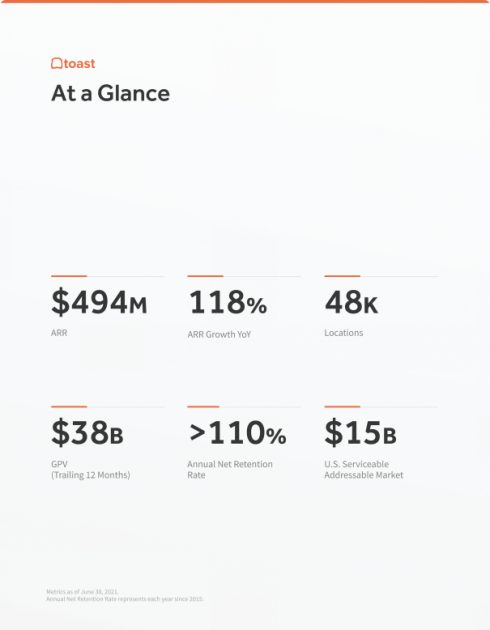 It is not surprising that thanks to such a comprehensive solution to the target audience, the company's client base is growing exponentially. As of June 30th, 2021, 48,000 restaurants are the clients of Toast. The volume of processed payments exceeds $38 billion and the company processes 5.5 million orders a day.
The market and competitors of Toast, Inc.
Now let's talk about the opportunities Toast's target market has to offer. According to the company research, the loan market for Toast Capital is $29.5 billion. In 2019, American restaurants spent 3% of their revenue or $25 billion on purchasing technological solutions. This sum is expected to reach $55 billion by 2024. As of now, the company has 6% of the US restaurant market, over 860,000.
The company's key competitors are:
Square Inc.
Touchbistro Inc.
Lightspeed POS Inc.
Oracle Corporation
PAR Technology Corporation
Heartland Payment Systems, Inc.
FreedomPay, Inc.
Financial performance
At the time of the IPO, the company doesn't generate the net profit that's why we'll focus on analysing its revenue. According to the S-1 form, Toast's sales in 2020 were $823.13 million with a 23.77% increase relative to 2019.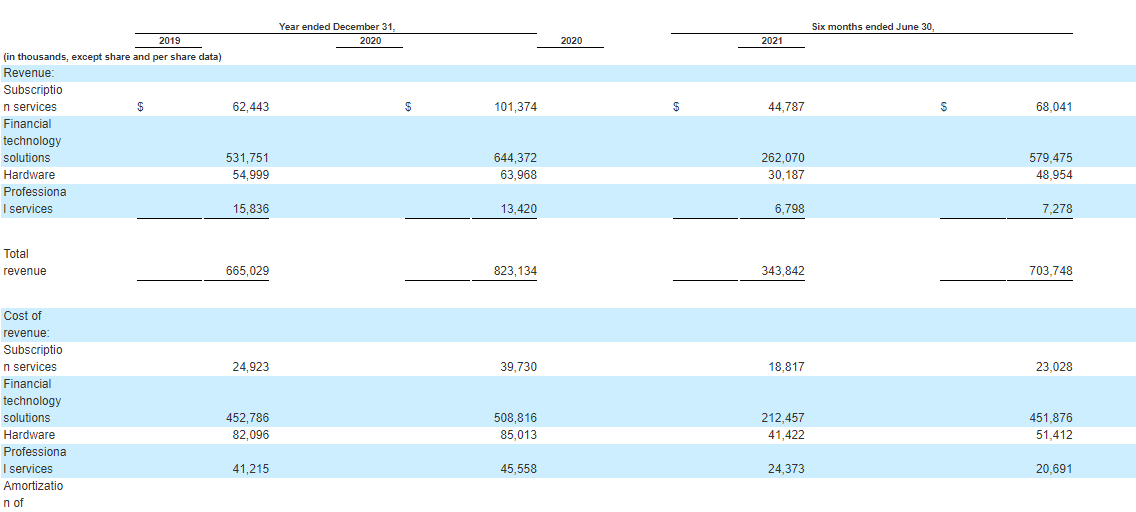 In the first six months of 2021, the company's revenue was $703.75 million, a 104.67% increase if compared with the similar period of 2020. Over the last 12 months, it was $1.18 billion. If the company is able to keep the current growth rate, the revenue in 2021 will reach $1.68 billion. It's a pretty decent result.
Toast's net loss tends to rise. At the year-end of 2020, it was $248.2 million and added 18.5% in comparison with 2019. Over the first 6 months of 2021, it reached $234.65 million, an 88.4% increase relative to the similar period of 2020. This aspect is a weak spot that may threaten the company's financial stability. On the other hand, it often happens to technological companies during their flashy growth.
The company's total liabilities equal $462.41 million, while cash and cash equivalents on its balance sheet are $376.15 million. As we can see, it has a negative cash position.
Strong and weak sides of Toast, Inc.
Let's talk about the pros and contras of investing in Aspire. Among its strong sides, I would name:
An over 100% increase in revenue growth in 2021.
Sound management.
Toast's prospective market is expected to reach $55 billion by 2024.
The company is already leading its industry with the market share of 8%.
Products developed by Toast offer its target audience a comprehensive solution and are diversified in several markets.
Risks of investing in this company's shares are:
The net loss and no dividends.
Highly competitive industry.
Damaged by the COVID-19 pandemic.
IPO details and estimation of Toast, Inc. capitalization
During the latest round of financing, the company raised $250 million, while the total amount of investments received by Toast was $501.95 million. The underwriters of the IPO are Needham & Company, LLC, R. Seelaus & Co., LLC, Morgan Stanley & Co. LLC, J.P. Morgan Securities LLC, KeyBanc Capital Markets Inc, William Blair & Company, L.L.C., Piper Sandler & Co., Canaccord Genuity LLC и Goldman Sachs & Co. LLC. The IPO price range hasn't been announced yet.
To assess the company's capitalization, we use the Price-to-Sales ratio (P/S Ratio). For technological companies, during the lock-up period, an average P/S ratio may be 15-20.
As a result, Toast's potential capitalization may be $25.2-33.6 billion ($1.68 billion*15-$1.68 billion*20). Given the current growth rate, the company's sales at the end of 2024 might be up to $4.4 billion. In this case, the company may cost about $41.8 billion.
With all that said, I believe this company should be considered for mid/long-term investments.
Invest in American stocks with RoboForex on favorable terms! Real shares can be traded on the R StocksTrader platform from $ 0.0045 per share, with a minimum trading fee of $ 0.5. You can also try your trading skills in the R StocksTrader platform on a demo account, just register on RoboForex and open a trading account.