IPO Of GitLab: A DevOps Platform from Kharkiv

When developing today's software of varying sophistication degrees, onу is required to write hundreds of thousands of pages with code. To simplify the process, developer teams divide them into parts, which are later combined into one codebase. Developers came to this way of coding because of the growth of complexity and number of functions in some applications, for example, taxi ordering or car on-board computers. Using this approach, they are able to provide the necessary quality, speed, and control over product development.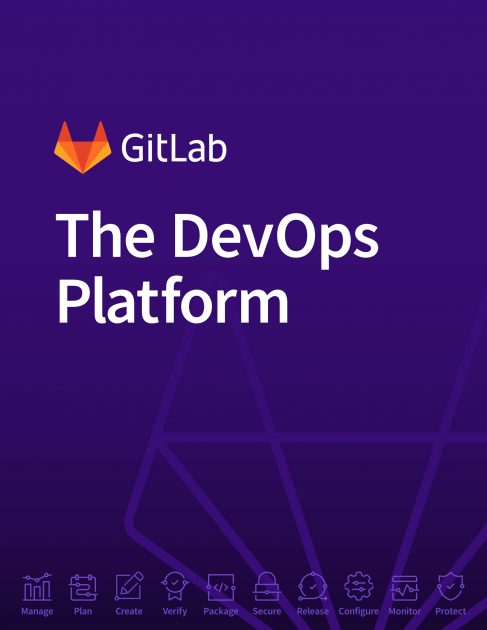 A similar opensource collaboration platform was created by GitLab, the company founded by a programmer from Kharkiv, Dmitriy Zaporozhets. GitLab has filed a request to the SEC to have an IPO at the NASDAQ under the "GTLB" ticker. The date of the IPO hasn't been announced yet. Let's take a closer look at whether the company's shares are interesting for investments.
Business of GitLab
The company was established in Kharkiv, Ukraine. At first, the project was created as a repository (a place for storing supporting data) with a code. It simplified the collaborative development of one project by several specialists.
Initially, GitLab looked more like a hobby of its creators because it implied no monetization, only voluntary donations. The company started its business path with the help of Sid Sijbrandij, a programmer from the Netherlands (his current position in the company is Engineering Fellow), who addressed Dmitriy Zaporozhets with the idea of developing GitLab together.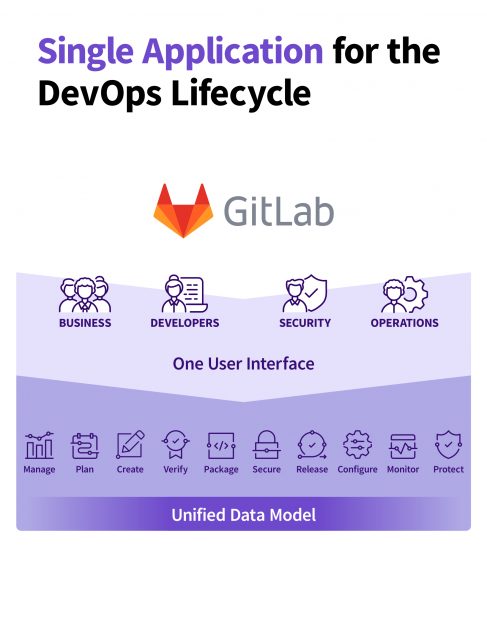 The company was officially registered in 2014 and attracted its first financial resources a year later through Y Combinator, an American seed money startup accelerator. According to the updated business model, retail users could work on the platform for free. However, any commercial use was charged for consulting, configuring, and licensing. In 2018, Google became one of the investors through its venture capital fund GV.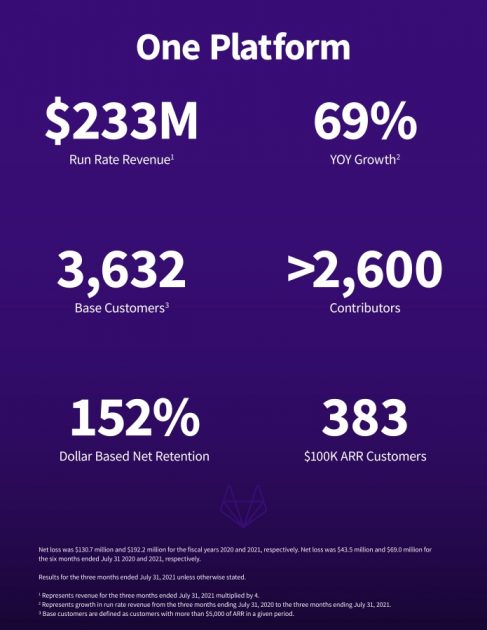 The repository was replaced by a DevOps platform, which provides users with all tools necessary for developers. The platform offers a whole cycle, including creation, build, verification, security testing, deployment, and monitoring. Over 380 companies worldwide became GitLab's subscribers, such as Ticketmaster, Goldman Sachs, Nvidia, and Delta.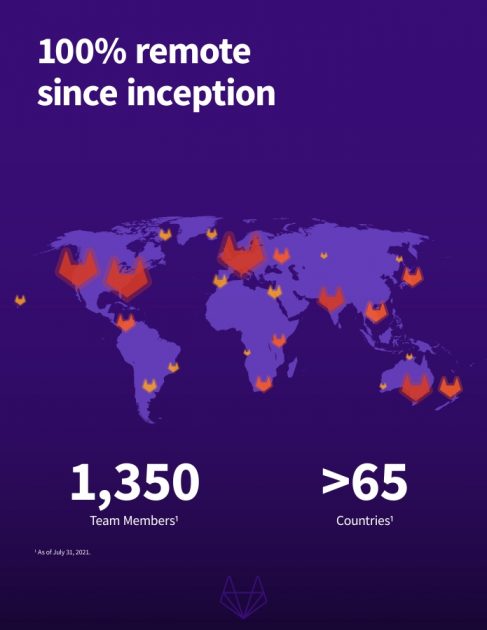 GitLab is not "brick-and-mortar" as its employees work remotely. The company's personnel consist of 1,300 developers in 65 countries. To help new and current employees, the company created a corporate wikipedia.
Now let's talk about the company's competitors and its target market prospects.
The market and competitors of GitLab
According to the data provided by GitLab itself, the company's target market in 2020 equaled $40 billion. By 2024, it is expected to reach $54 billion. In this case, the average annual growth rate will be 8.75%. at the moment, GitLab's market share is only 0.6% (given the revenue of $232 million). The company clearly has room for improvement: the growth can be achieved by "conquering" competitors' market share and due to the target market increase.
GitLab's key competitors are:
Github (owned by Microsoft)
Bitbucket
Beanstalk
Launchpad
SourceForge
GitBucket
Phabricator
Financial performance
The company is filing for the IPO being loss-making, that's why we'll start analysing its financial performance with the revenue provided in Form S-1. In 2020, GitLab's sales were $152.18 million, an 87.34% increase relative to 2019. In the first six months of 2021, the indicator was $108.06 million, a 69.16% improvement if compared with the same period of 2020. If this pace continues, the revenue in 2021 may reach $257.18 million.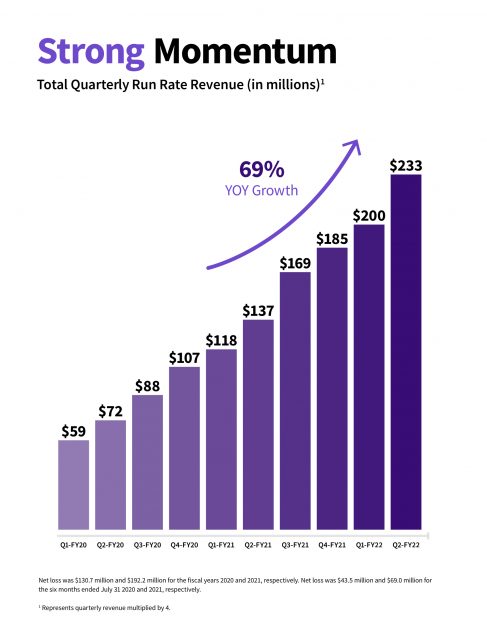 The company's gross profit in 2020 was $133.71 million, an 86.09% increase relative to 2019. In the first two quarters of 2021, the indicator was $94.44 million, a 67.8% improvement if compared with the same period of 2020. The gross profit margin is 87.4%.

The net loss in the first half of 2021 added 58.55% if compared with the similar period of 2020 and was $69.05 million. This suggests that the company actively invests in marketing and improvement in its product quality. Cash and cash equivalents on the company's balance sheet are $276.25 million.
Overall, we can conclude that the company is highly stable finance-wise. The current gross profit margin value suggests that GitLab may start recording the net profit quite soon.
Strong and weak sides of GitLab
Having acquired comprehensive information on the company's business model, let's highlight GitLab's strong sides and investment risks. I believe the company's advantages are:
Strong corporate culture.
The revenue growth rate is over 50% every year.
The prospective market may reach %54 billion by 2024.
Popular with the target audience.
Some transnational companies are among GitLab's key customers.
Risks of investing in GitLab shares are:
The company is still loss-making and doesn't pay dividends.
GitLab's market share is below 1%.
Strong competition in the industry.
IPO details and estimation of GitLab capitalization
During 11 rounds of financing, the company raised $414.0 million. The underwriters of the IPO are Goldman Sachs & Co. LLC, J.P. Morgan Securities LLC, William Blair & Company, L.L.C., KeyBanc Capital Markets Inc., Piper Sandler & Co., Truist Securities, Inc., RBC Capital Markets, LLC, UBS Securities LLC и BofA Securities, Inc.
The date and the exact volume of the IPO aren't known yet. However, the report has enough data to assess the company. To assess GitLab's potential capitalization, we use a multiplier, the Price-to-Sales ratio (P/S ratio). The P/S value for companies of the DevOps platform sector varies from 20 to 45. As a result, GitLab's capitalization may vary from $4.6 billion (232 million*20) to $10.44 billion (232 million*45).
Considering the industry specifics, I would recommend this company for long-term investments but not more than 1% of your investment portfolio.
Invest in American stocks with RoboForex on favorable terms! Real shares can be traded on the R StocksTrader platform from $ 0.0045 per share, with a minimum trading fee of $ 0.25. You can also try your trading skills in the R StocksTrader platform on a demo account, just register on RoboForex.com and open a trading account.