Analysis of Luminar Technologies: Undervalued Stock and Austin Russell's Investment Strategy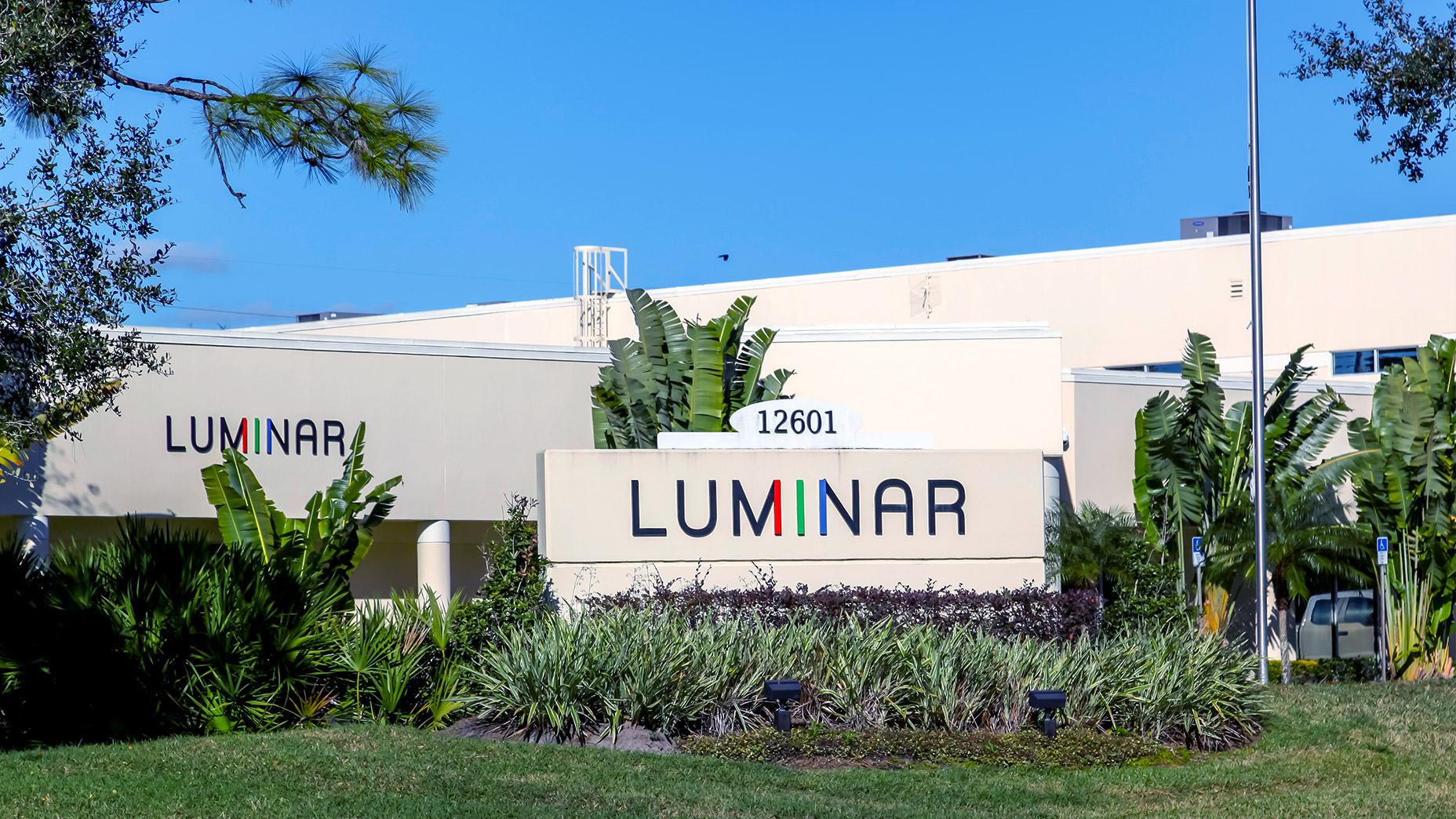 Luminar Technologies CEO, Austin Russell, recently expressed his opinion on the undervaluation of his company's stock in an interview with the news agency Barron's on 19 June 2023. Russell expressed how bewildered he was about the 86% decline in the value of the stock from the record highs reached in December 2020. He argues that Luminar is the leading manufacturer of lidar, a key component for autonomous driving, and the company has significant growth potential.
In this article, we will talk about Luminar Technologies' operations, its partners, and CEO Austin Russell's interest in purchasing its shares, which confirms his belief in the company's undervaluation.
About Luminar
Luminar Technologies, Inc. is involved in the development and production of laser sensors, known as lidars, for autonomous vehicles. The company specialises in machine perception technologies and lidars, which allow cars to "sense" their surrounding environments on the road and make decisions accordingly.
The founder and CEO of the company is Austin Russell. He created Luminar Technologies in 2012 at the age of just 17, after receiving a 100,000 USD fellowship from Peter Thiel and dropping out of Stanford University. Russell has developed a new type of lidar that stands out from conventional ones in terms of power, range, and cost. The Luminar team includes 10 other key managers responsible for different aspects of the business, including finance, technology, legal matters, sales, and marketing. Some of them have previous experience in major companies such as Tesla, Uber Technologies, Inc., Intel Corporation, and Oracle Corporation.
In 2020, Luminar went public through a SPAC (Special Purpose Acquisition Company) deal, making Austin Russell the world's youngest self-made billionaire.
Luminar Technologies partners
Luminar Technologies has contracts with companies engaged in autonomous driving or striving to enhance their driver assistance systems. These include:
Volvo car manufacturer, which integrates Luminar lidars in its electric vehicles.
SAIC Motor Corporation, China's largest automaker, has ordered 10,000 Luminar lidars for its electric vehicles.
Polestar, a subsidiary of Volvo, installs Luminar lidars in its electric vehicles.
Nissan Motor Co., Ltd. has a contract with Luminar for the supply of lidars for its vehicles in Japan.
Mercedes-Benz Group AG has chosen Luminar as a partner for the development and supply of lidars for its trucks and buses.
Daimler Truck AG is also collaborating with Luminar on lidars for its trucks.
Mobileye Global Inc, a subsidiary of Intel, uses Luminar lidars in its robotaxi project.
NIO Inc., one of China's leading manufacturers of electric and autonomous cars, has also selected Luminar lidars for its future models. NIO is also an investor in Luminar and has the right to purchase up to 10.5 million shares of the company.
These are just a few examples of Luminar Technologies' existing contracts. These agreements prove the trust and recognition the company has gained in the automotive and technology industries. At the same time, the investments and acquisitions of Luminar shares by CEO Austin Russell indicate his confidence in the company's successful future and its undervalued position in the market.
Luminar Technologies quarterly report
According to its Q1 2023 financial report, Luminar Technologies posted a loss amounting to 146.7 million USD. However, certain positive trends can be observed when analysing other indicators.
The company's revenue reached 14.5 million USD, surpassing the upper limit of forecasts, and increasing by 100% compared to the corresponding period of last year. The portfolio also increased to 1.3 billion USD, up from 1.2 billion USD at the end of 2022.
Luminar Technologies successfully launched a large-scale automated manufacturing facility in Monterrey, Mexico, ahead of schedule, and announced its plans to build another plant in Mexico together with Canadian company Celestica Inc. (NYSE: CLS). The company expanded its technical workforce, intellectual property, and research and development assets through targeted acquisitions and by attracting key employees from the former lidar development teams of Argo AI and Ouster (NYSE: OUST).
The report demonstrates Luminar's ability to execute, industrialise, and capitalise on its business, thereby confirming the company's leading position in the lidar sector.
Russell's investment in Luminar Technologies
In November 2020, the company's stock reached a high of 50 USD, before starting to decline and is currently trading at about 6.5 USD per share. Russell first mentioned that the stock was undervalued in December 2021, and already in January, he started buying shares in his own company. According to an SEC report, the first purchase was made on 21 January 2022, and the investment amounted to 892 thousand USD. Subsequent transactions were carried out in February, March, April, May, August, and September. In total, Russell invested 9.6 million USD in Luminar Technologies over 2022.
In 2023, after the first-quarter report was published, Russell once again began purchasing shares in his company. In May, he bought 3,566,798 shares totalling 21.3 million USD, which is twice the volume of purchases made in the previous year. The average buying price, including 2022, was 6.8 USD per share, which is 7% below the current market price.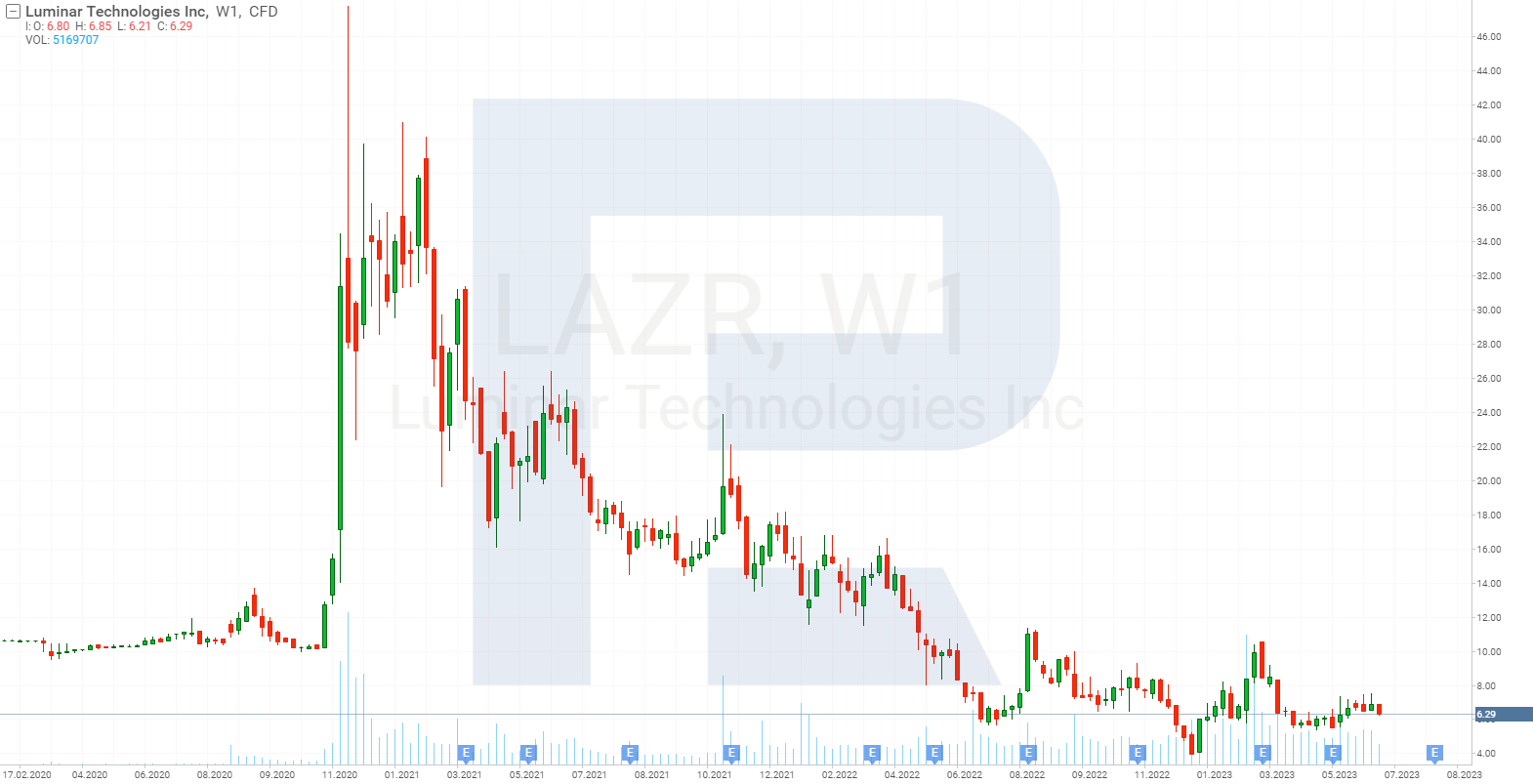 Luminar Technologies competitors
The global lidar market is not yet saturated with manufacturers, and Luminar Technologies has little competition in this industry. The company's primary competitors are:
LeddarTech, a Canadian company developing its own lidars and autonomous driving platforms
Innoviz Technologies, an Israeli company manufacturing solid-state lidars and software for autonomous vehicles
Ouster, Inc. (NASDAQ: OUST), a US public company offering high-resolution, low-cost digital lidars
Summary
According to Russell, one of the factors explaining the drop in Luminar's stock is that it is listed on the exchange through a SPAC, which, in his view, has a negative impact on long-term investors. However, if we look at rival Ouster's stock, it has lost 97% of its value since 2020. Even the merger with Velodyne Lidar in February 2023 did not help Ouster's stock. It is evident that the reason is not the SPAC itself.
Given the situation with the rising interest rates, investors are possibly avoiding risk and prefer to invest in profitable companies. Luminar Technologies is currently not generating profit, and its annual loss is reaching record levels. The only incentive for investing in the company is the optimistic forecast presented by its management for future periods.
The situation with Austin Russell and his company is a bit like that of Elon Musk and Tesla. While experts had predicted the bankruptcy of Musk's company, he believed in its bright future and actively bought Tesla's (NASDAQ: TSLA) stock to prove his point. As a result, Musk turned out to be right and even split his stock several times to lower its price.
Austin Russell might also be proven right about his company's future; however, one fact should be considered. Tesla shares have been rising amid an environment of low interest rates and quantitative easing programmes. Presently, the situation is completely opposite, with the US Federal Reserve System pursuing a balance sheet reduction programme and the discount rate reaching the highest level set in 2007.