Since its IPO, Tesla (NASDAQ: TSLA) stock has risen by 1,500%, trading now at $310. Any casual investor would easily buy it in 2010, but now only large traders and fund managers can afford it.
Such big market players have their own rules in choosing the right company to invest into. Their major goal is finding a high-yield index, which may allow them to earn more than any fund could, keeping an eye on the risk, too, meaning they should not invest in stocks that are cheap and not well-known. Therefore, such a trader can allocate Tesla for their long term portfolio, but the stock is very unlikely to yield another 1,000%. A good idea for a retail investor, meanwhile, would be finding something like Tesla a few years ago, something with a large potential.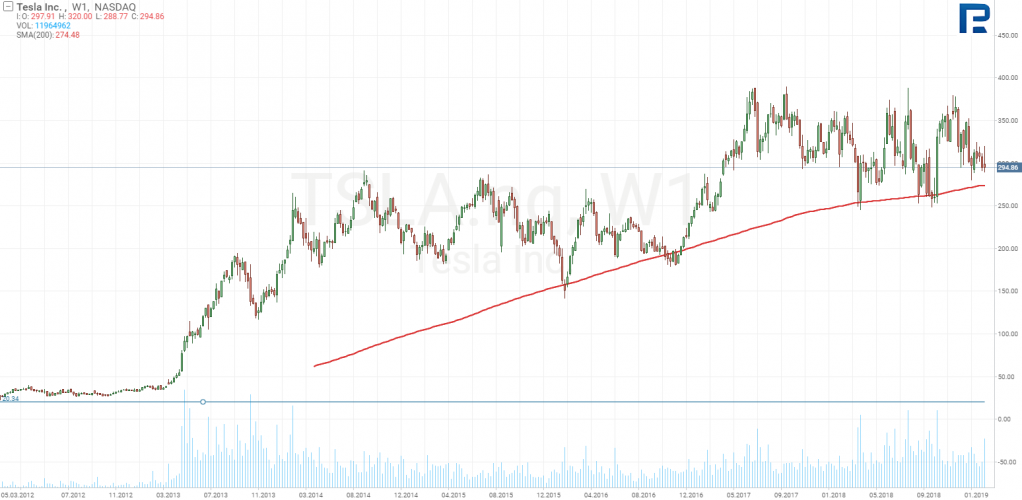 What is NIO?
NIO (NYSE: NIO), a Chinese company, is a good example. Its shares are now at 5 hotdogs' price, but it may well reach Tesla's price in a few years.
There are quite a few companies in the US that involve electric car manufacturing, but only Tesla produces the cars we are used to. The potential here is likely to be over; previously, the price was rising at the expectations to reach the expected capacities, while now the company needs to get higher earnings and beat the expected sales.
NIO, meanwhile, is just starting out. Founded in 2014 by William Lee, it had already managed to create EP9, a supercar, by 2016, which beat the world record on Nürburgring Nordschleife in Germany. The first electric car, NIO ES8, was released in mid 2018, while six months later, NIO ES6 appeared. Thus, NIO started taking its market share in premium cars and SUV's segment, while Tesla has only released three models since 2003.
Tesla is still a pioneer, but of that no one cares. If NIO goes on this way, it will secure nice profits and dividends, which will, in its turn, push the price forward.
NIO's majors investors are Tencent Holdings (OTCMKTS: TCEHY) and Hillhouse Capital Management. Apart from buying out some shares before the IPO, they additionally invested around $35M this February.
Over Q1 and overall 2019 NIO is not expected to book the net profit, as the company needs more cars produced, and this means more costs. Tesla, in its turn, reach the net profit mark only in 2018, with the share price between $250 and $360, at which point the investors already started locking in profits. This could also happen to NIO, although this one has another driver. As soon as the price goes over $20, pro traders may notice it, and once they start buying out the stock, this will surely boost the price. Retail traders may then follow, although this may lead to practically anything.
The Tilray stock case
Remember the Tilray case: once the stock hit $30, it started jumping madly towards $300 without any reason, just because of rumors and possible future profits on cannabis.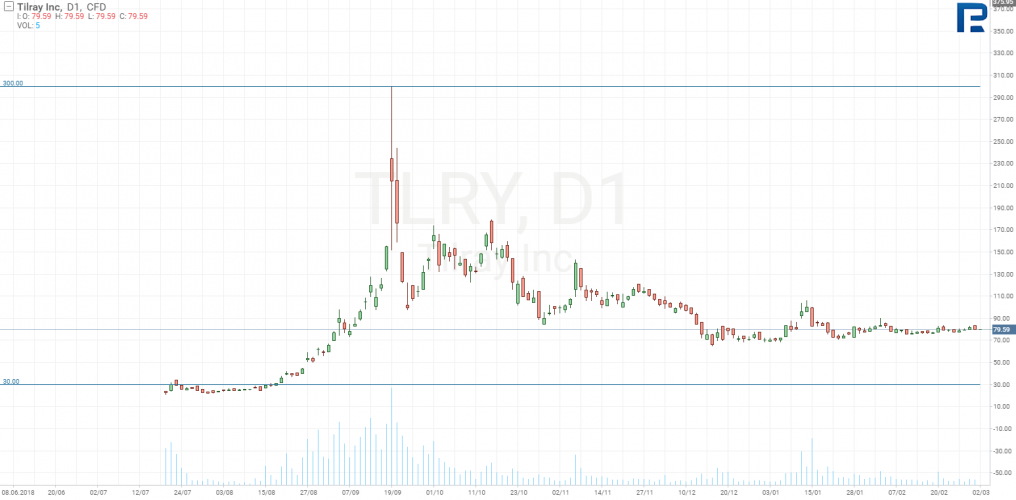 What to Expect
Unlike the US, the Chinese government supports the electric car manufacturers with additional financing. The number of charging stations goes up, so that people may not think riding an electric car won't take them far.
The electric car market is a pot of gold in China, as no other country has so heavy environmental issues, partly because of the great number of fuel-powered cars. China is the second largest economy, with over 17M millionaires. Just with 1% of those buying a premium electric car will make a demand of 170K of cars. So far, only 12K have been sold.
NIO also got its good share of popularity. It is already a synonym to 'Chinese Tesla', and made it to enter into the Top 5 Innovative Companies in China. William Lee went for the Apple-like strategy, positioning NIO as a way of life, not just an electric car maker.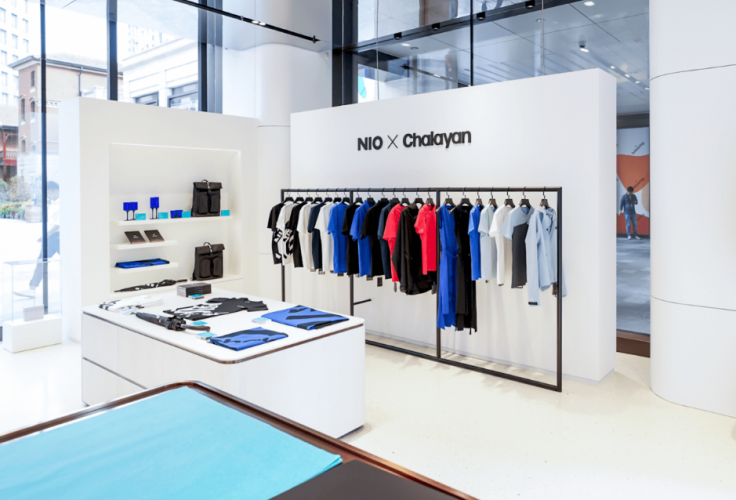 As of 2016, 370,000 electric cars were released in China, which makes 43% of their overall number in the world. Being the top e-car producer, China is also the largest market for selling passenger vehicles. The premium and SUV e-car segments are expected to grow by 12% and 9% annually, respectively. By 2022, the overall e-car market in China may rise by 40%.
Analysts' expectations
As per the Reuters stats, around 40% of popular analysts recommend buying NIO, while 50% say it is good to have the stock in the portfolio. Only 10% said they recommended to sell it. This might influence the stock price as well.
NIO technical analysis
There are still little data to do any thorough tech analysis. The resistance at $8 has been broken out, and the next one list at $13.81.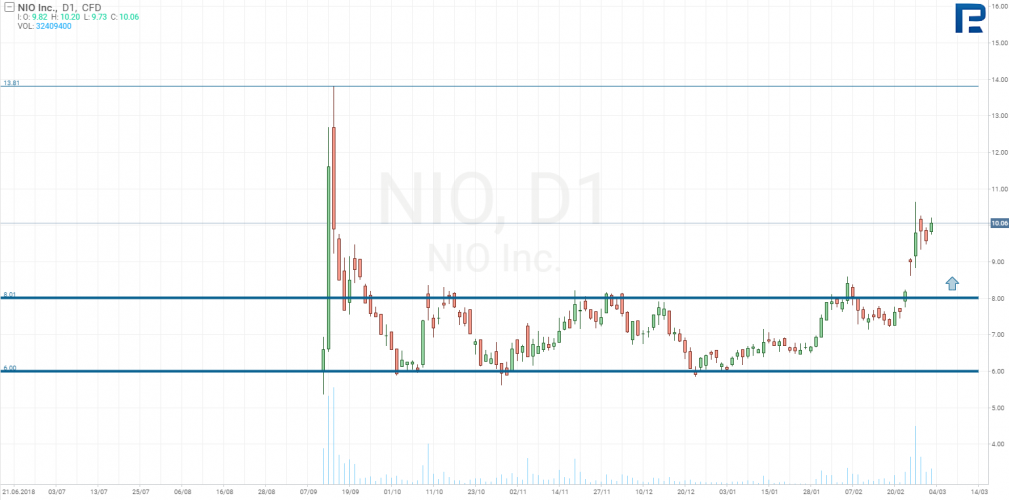 Conclusion
One is unlikely to expect any major releases regarding NIO. In January, the sales might drop seasonally, and the company is still unable to book net profit. This all previously happened to Tesla, too.
NIO might be a good option only for a long term portfolio. Tesla is a strong competitor, having a plant in China, but NIO is working in its own country, knowing the target audience much better. The stock costs now $10, and few people are interested in it. In the worst case, it will still linger there; in the best, the price may hit $20 quite soon.
---