Today, we will speak about 5G. Technology is developing rapidly nowadays. I remember buying 3G equipment to get access to the Net where we could not access it via a landline. Then 3G was replaced by 4G, which is now being pushed away by 5G.
As an ordinary Internet user, I saw no difference between 3G and 4G. However, reading about 5G options I cannot wait until it becomes available all over the globe. 5G is a huge leap forward in the development of wireless technology compared to what we have now.
For those who have no idea about the capabilities of 5G, I will add several examples of what will become available after its introduction.
What is available with 5G?
One of the main advantages of 5G is a very high speed of data transfer. In Sweden, there has been set a record of 15 Gbit/sec which is 40 times quicker than the speed of the modern wireless networks. Signal lagging decreased to 1 millisecond against 10 milliseconds in 4G and 100 — in 3G.
High throughput of 5G allows transferring video from the camera to the net with clearance 8K. As a result, CCTV cameras can transmit video without lagging and in high quality, which will, for example, allow to persecute criminals by photos in the database. Sites will be loaded quicker, videocalls will become more realistic, we will forget about video lagging, and the quality of network games on mobile equipment will be higher thanks to the number of shots per second being 4 times bigger than in 4G.
Virtual augmented reality will also become widespread. Imagine a huge stadium, your favorite football team playing, and you could not go to the match. You sit down on the sofa, put on the VR glasses and get access right to the game, where you can watch everything from any point of the stadium. You can even look the players into the eye. Multiple cameras all over the stadium will catch every moment and transmit it to the fans all over the world without lagging no matter where they are.
Another 5G advantage will be its capability to serve a huge number of users simultaneously - to one million users per square kilometer, providing high security and little lagging. This is just a small part of what 5G can offer, but I guess this is enough to realize that the future is in this technology. This means we now need to find a way to make money on it.
As long as we trade stocks, we need a company that will make a profit on the development of this means of communication. Let us remember the boom on the crypto market: then you could make money by buying or mining cryptocurrencies or buying the stocks of a company that produced equipment for mining.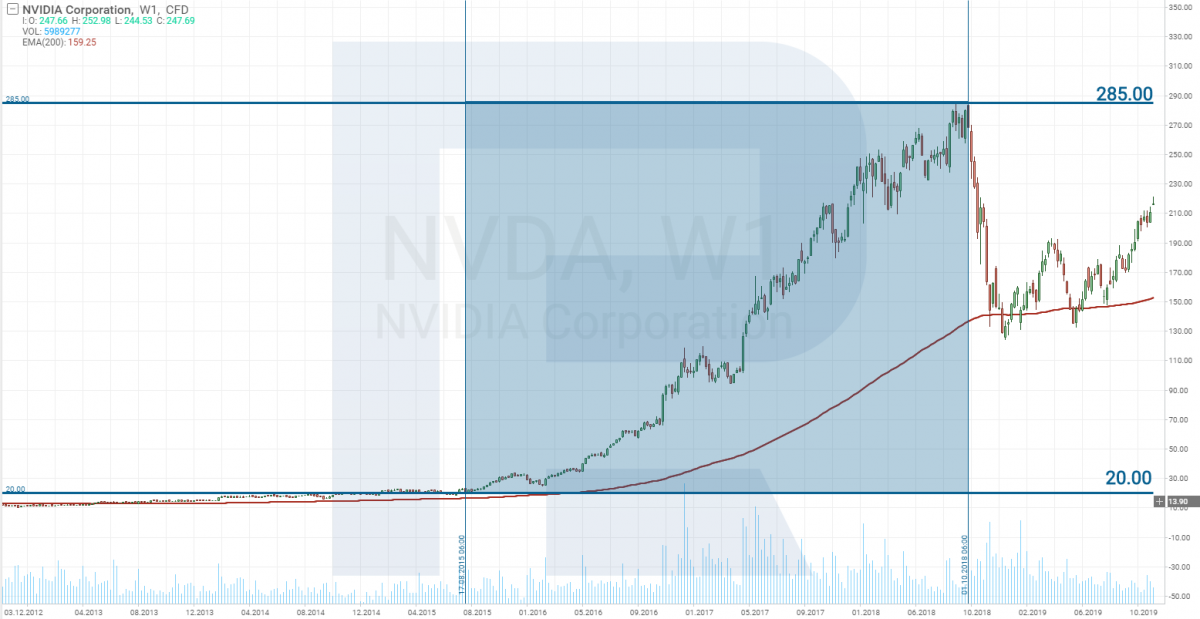 For example, the miners' demand for NVIDIA graphic cards increased the stock price of the company by 1400%.
So, the stocks of which company to buy now?
Obviously, we need to pay attention to those companies that provide access to 5G. In this case, I mean the largest transnational telecommunication company AT&T (NYSE: T). In this article, we will not analyze it as I recommended their stocks as early as September 2019, describing the reasons in detail. Today, we will discuss not a service provider but a producer of 5G equipment that companies buy for their clients.
Inseego Inc
One of such companies is Inseego Inc (NASDAQ: INSG). It deals with projects and development of mobile solutions for the Internet (IoT), providing services to large enterprises, middle and small businesses all over the world.
Inseego provides machines for 3G, 4G, and 5G, meant for different fields, including auto and air transport, intellectual cities infrastructure management, CCTV, etc. On the whole, this company is in the heart of 5G development.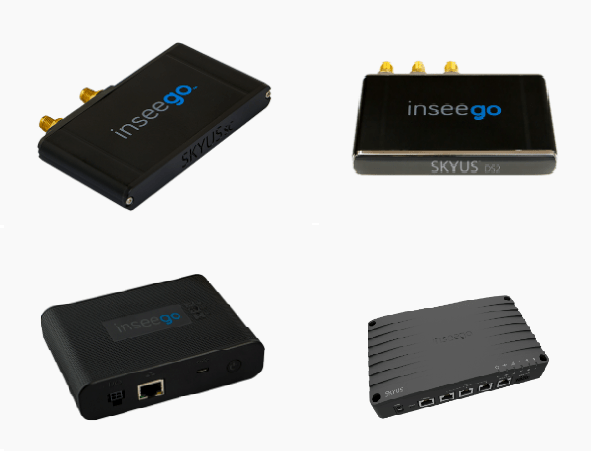 The company's income grows
Inseego is a relatively small company with the capitalization of 680 million USD; regardless of this, in 2019 its stocks grew by over 100%. The income grew steeply reaching 62.7 million USD, which is 5.4% more than forecast and 23% more than the same quarter last year. The data on insider trades in 2019 goes that the company's management bought 3,408,450 stocks, the average price of a buy being 5 USD per stock.
Hedge funds buying Inseego stocks
Hedge funds also paid attention to this company. The reports for the third quarter of 2019 show that the Aviva Holdings Ltd hedge fund owns almost 22 million stocks of Inseego, costing 185 million USD which is nearly 30% of the fund's capital. This means a serious risk for the fund.
9 hedge funds invested in Inseego: it is not much compared to famous companies but there is an explanation for this. The stock price is currently less than 10 USD and the capitalization is less than 1 billion USD. Many large hedge funds according to their rules cannot invest in such cheap companies. If the stock price reaches, say, 15-20 USD, we might notice the second wave of interest to Inseego from larger hedge funds.
Contract with Vodafone
Another reason to buy Inseego stocks is the contract they signed with Vodafone in November. The company will now provide 5G equipment to the telecommunication giant. Vodafone has 640 million subscribers all over the world, which means a huge potential for Inseego.
Inseego stocks tech analysis
From the point of tech analysis, the picture is as follows.
The 200-days Moving Average, which is the trend indicator, points at an uptrend that started at the beginning of 2018. The stocks cost only 2 USD at that time. With the growth of the stock price, the volume of trades also grew, which can be seen on the chart.
Then in 2019, the range between 4 and 6 USD per stock was formed, in which, as we know, the management bought the stocks. It is possible that hedge funds also bought the stocks at that period, because in July 2019 the trade volumes grew to 8.5 million stocks in a trade session, while the average trade volume was not more than 700 thousand stocks.
The information about the contract with Vodafone became the catalyst for a steep growth from 5 to 9 USD per stock.
After a steep growth normally follows a correction, and currently we can see that after reaching 9 USD the stocks corrected to 7 USD and will now be moving in the previously formed uptrend. So, there might be two scenarios to follow.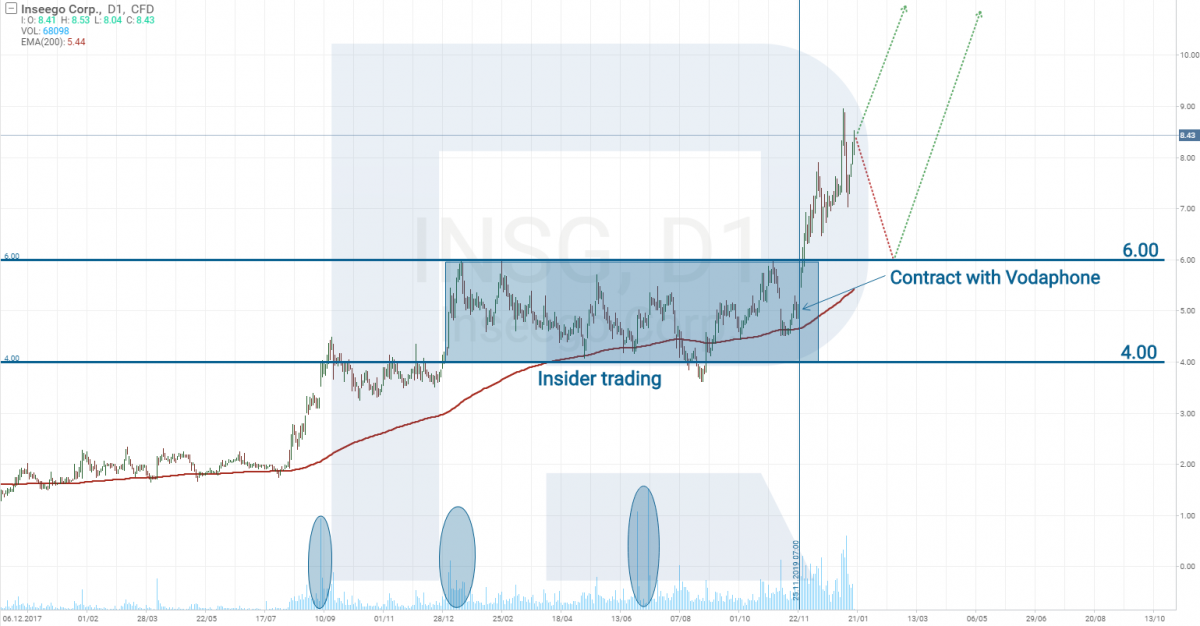 The first, conservative one, supposes another correction to the level near 6 USD, after which the growth should resume. In such a situation, the price of 6 USD will be a perfect entry point.
The second, aggressive scenario, does not suppose a correction as it might have happened already (from 9 to 7 USD). Hence, the price will keep moving up and will renew all-time highs. In this case, the current price is good for buying Inseego stocks.
Closing thoughts
In fact, to make money on 5G development, we can invest in the largest Telecom Services companies, such as AT&T (NYSE: T) as the company with the largest capitalization and Verizon Communications Inc. (NYSE: VZ), which capitalization is number two.
Also, the largest companies in Communication Equipment can be chosen, among which number one is the famous Cisco Systems (NASDAQ: CSCO), followed by QUALCOMM Inc (NASDAQ: QCOM).
Such a way of investing is also legitimate and, perhaps, safer, but might be less profitable. These companies are very large, and their incomes are influenced by many factors, including the development of 5G.
Anyway, the choice is always the trader's. Investing in one company does not require a lot of capital on the account and in the case of success might bring a serious profit.
Investing in several large companies supposes a deposit starting from several thousand dollars. But in this case, the portfolio becomes more balanced and your income depends less on the mistakes of the management of one company only.
---