In most advanced economies, financing for health care systems is provided based on compulsory or voluntary medical insurance. In the USA, this sphere is one of the oldest markets and its key participants are constantly trying to improve the services they provide their clients with. In our time of IT solutions, they use machine learning and artificial intelligence for picking the best possible medical service fee.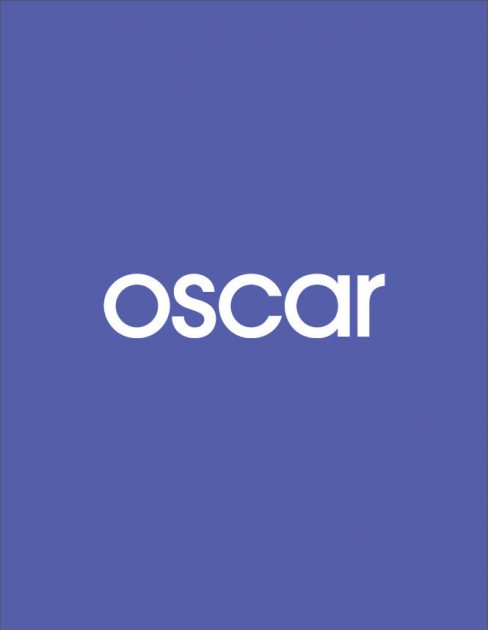 On February 5th, Oscar Health, a technology-driven health insurance company, filed an IPO S-1 form application to the SEC, under the OSCR ticker. The company is planning to raise up to $100 million but after a roadshow, this sum may increase. The company was established for a radical reform of the US health care system during the Barack Obama administration, that's why it will be pretty interesting to go deeper into its business model.
Oscar Health business
The company was established in 2013 in the state of New York within the framework of the reform of the US health care system introduced by Barack Obama. Oscar Health is an online platform where clients can, directly or through medical insurance marketplaces, acquire an individual health insurance plan.
The company's products cover doctors' appointments, patient care services, as well as the acquisition of proprietary and branded medicaments. As a bonus, the company's clients can benefit from no-cost consultations by phone, discounts for specialists' appointments, emergency medical services, pregnancy care, and some surgical procedures.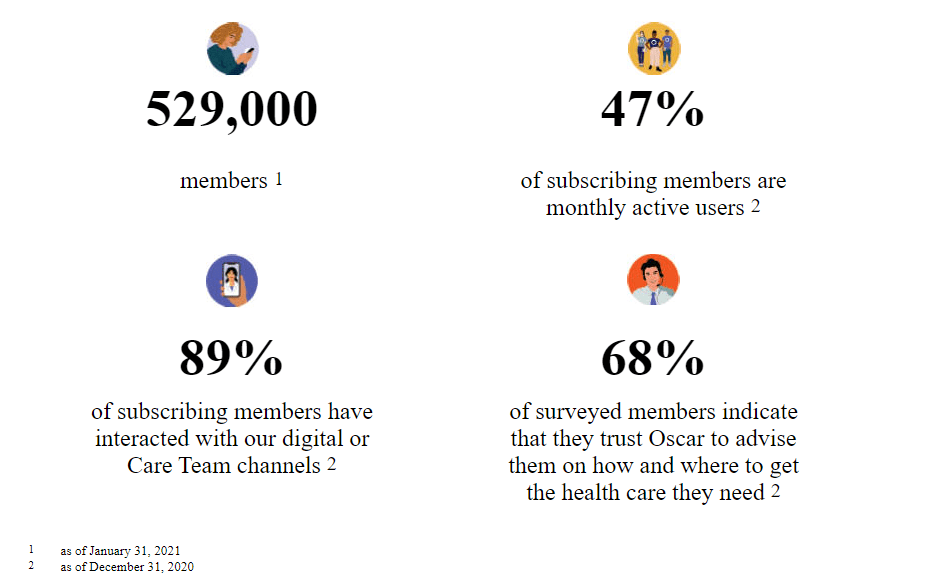 According to the data provided in the S-1 form, the number of the company's clients as of January 31st, 2021, was 529K. Since 2017, the average annual growth rate has been 59%. The company mostly works with people from 18 states. One of the most popular services during the COVID-19 pandemic was Virtual Primary Care.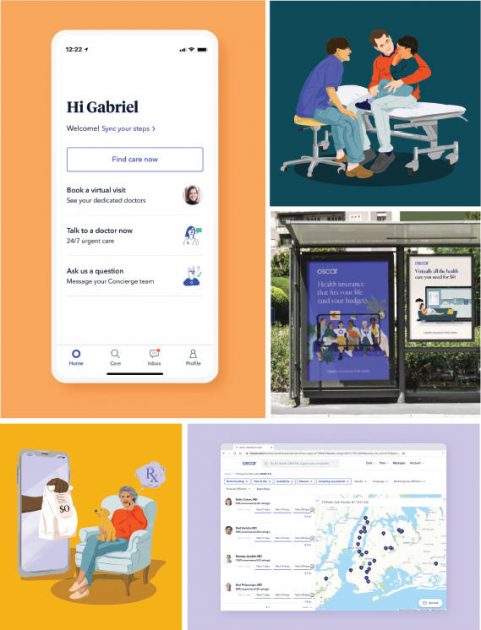 Oscar Health's investors were such big-time companies as Fidelity Management Research, Thrive Capital, Formation8, Khosla Ventures, General Catalyst, Alphabet (NASDAQ: GOOGL). As a result of investment rounds, the company attracted about $1.4 billion.
The market and competitors of Oscar Health
Healthcare services in the USA are some of the most expensive in the world. About 66% of all individual bankruptcies of US citizens result from medical treatment bills. At the same time, the population health in the USA is worse than in other major economies. So, the problem became imminent a long time ago, thus forcing the Barack Obama administration to introduce reforms.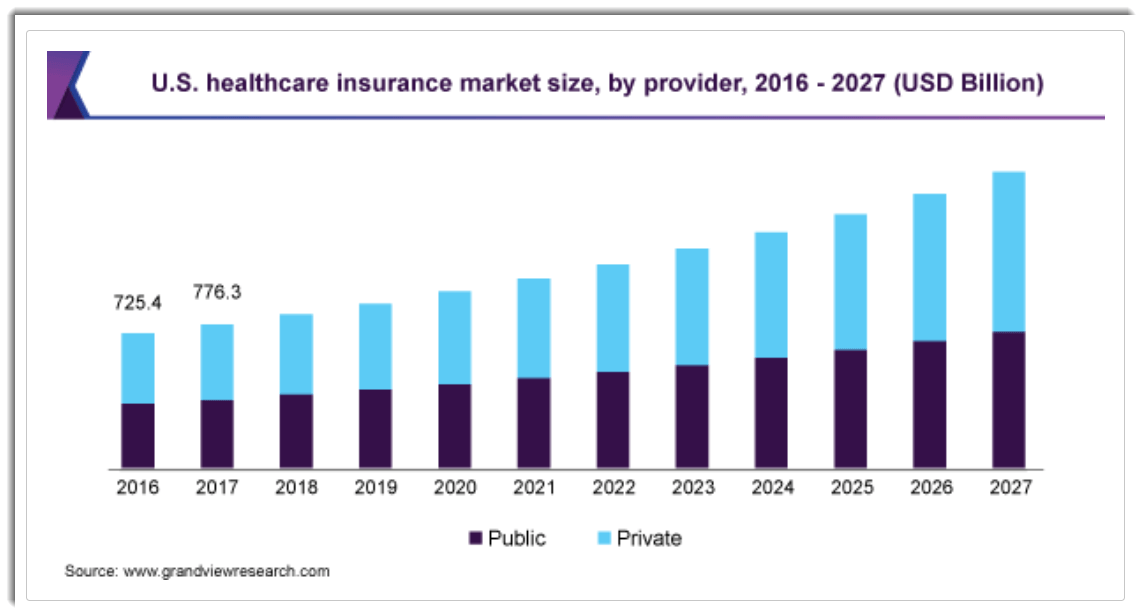 According to the Grand View Research, the US health care services market is currently equal to $2.4 trillion. From 2020 to 2027, it is expected to reach $4 trillion with an average annual growth rate of 6.7%. The key reasons are inflation, chronic disease distribution growth, and the aging of the population.
At the moment, the industry is undergoing the transformation of the development paradigm towards digitalization. All these factors are the key to quick growth, while the capitalization of state and private companies reaches $1 trillion.
Oscar Health's key competitors are:
Aetna
Centene (CNC)
Cigna (CI)
CVS Health (CVS)
UnitedHealth Group (UNH)
Humana (HUM)
Kaiser Foundation
Clover Health (CLOV)
Oscar Health's target market is about 50 million American citizens, who make insurance payments worth $450 billion. As we can see, new opportunities are opened up for the company despite strong competitors.
Financial performance
At the time of filing for the IPO, Oscar Health doesn't generate any net profit, so let's focus on analyzing its revenue to help us assess the company's potential and market share.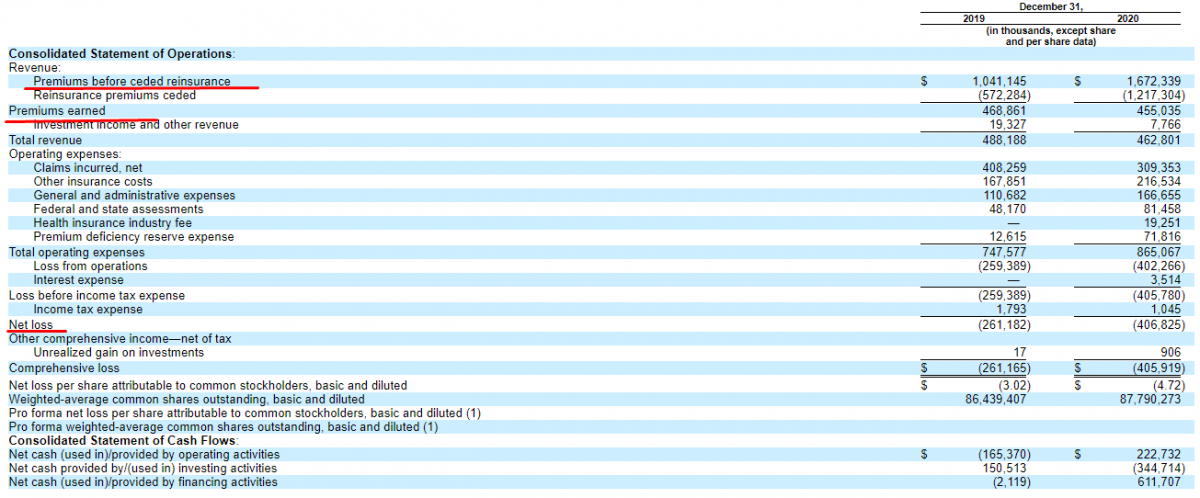 The total premiums before ceded reinsurance in 2020 was $1.67 billion, which is a 61% increase in comparison with 2019. Reinsurance premiums ceded increased up to $1.22 billion, a 113% increase if compared with 2019. All this led to a 5% decrease in the total revenue down to $455 million. The total operating expenses added 56% in 2020 against 2019 and were $402.3 million.

At the end of 2020, the company's consolidated balance sheet had cash and cash equivalents worth $826.3 million. Oscar Health's total liabilities are $1.8 billion. As of December 31st, 2020, the company's free cash flow was $208.7 million.
It should be noted that the company's financial performance is rather questionable. We can see the free cash flow, a drop in revenue, and the increase in the total operating expenses. The company is obviously focused on expanding its customer base and will probably attempt to increase its revenue only after that. It's a quite valid strategy for a technology-driven startup in this industry.
Strong and weak sides of Oscar Health
Now let's analyze all pros and contras of investing in Oscar Health. The following may be considered the company's weak sides:
• The company neither generates net profit nor pays dividends.
• Not long time ago, the company got a $150 million loan at pretty high interest, 12.75%.
• At year-end 2020, the company's revenue lost 5% in comparison with 2019.
• There are a lot of strong competitors.
• Overexposure to healthcare legislation.
The company's major advantages:
• An annual growth rate of active customers exceeds 50%.
• The US health service market where the company has been operating is expected to reach $4 trillion by 2027 with an annual growth rate of 6.7%.
• The company's target market with its active products covers 50 million people with total insurance payments worth $450 billion.
• The company operates in the rapidly growing and promising technological segment of the US health care market.
• Investors of Oscar Health are such big-time transnational corporations as Fidelity Management Research, Thrive Capital, Formation8, Khosla Ventures, General Catalyst, and Alphabet (NASDAQ: GOOGL).
IPO details and estimation of Oscar Health capitalization
The underwriters of the IPO are Siebert Williams Shank & Co., LLC, Morgan Stanley & Co. LLC, Samuel A. Ramirez & Company, Inc., Goldman Sachs & Co. LLC, Allen & Company LLC, LionTree Advisors LLC, Wells Fargo Securities, LLC, Cowen and Company, LLC, BofA Securities, Inc., and Credit Suisse Securities (USA) LLC. The proposed maximum aggregate is $100 million. Neither price range nor the IPO date is known so far.
Since the company doesn't generate any profit, to assess Oscar Health's potential capitalization we use the Price-to-Sales ratio (P/S Ratio). For comparative analysis, we'll use the P/S ratio of Clover Health (CLOV), which is equal to 7.41. With a similar revenue value, Oscar Health's potential capitalization may be as much as $3.37 billion (0.455*7.41). The biggest possible estimate during the lock-up period may be $6.0 billion.
Considering the company's target market potential and technology segment prospects, I recommend Oscar Health for long-term investments.
Invest in American stocks with RoboForex on favorable terms! Real shares can be traded on the R Trader platform from $ 0.0045 per share, with a minimum trading fee of $ 0.25. You can also try your trading skills in the R Trader platform on a demo account, just register on RoboForex.com and open a trading account.
---