Investments in Electric Cars: Second Wind Opens

Even the laziest of market players have spoken about investments in electric cars. Anyway, the topic remains urgent, and today, I am driving your attention to it again. The thing is that a couple of days ago new factors emerged that are going to influence US electric car-makers. In other words, the market of electric cars might get another impulse for growth.
The key figure here is Joseph Biden and his program for the development of "green energy". In his election campaign, he promised to replace all state-used cars with electric ones and build over half a million charging stations. Time has come to do as promised.
The draft bill on renewable energy sources
In the US House of Representatives, a new draft bill on renewable energy sources and their efficacy has been presented. The bill offers certain advantages and subsidies to those who buy electric cars from domestic producers.
The maximum subsidy by the draft bill amounts to 7,000 USD. The sum depends on the capacity of the battery. If you are buying a hybrid, your subsidy will be minimal. You can also get 2,500 USD if you are buying a second-hand electric car that costs under 25,000 USD.
For 2021, 600,000 subsidies are planned (200,000 subsidies were given in 2020). After this amount of cars has been sold, no subsidies will be given anymore. This stimulates faster purchases because not everyone who wants an electric car might be in time for the subsidy.
What goals does Biden pursue?
By this draft bill, Biden tries to reach several goals. Firstly, ecology. Global warming cannot be ignored anymore, and the US is experiencing the consequences of climate change.
In 2018, forest fires in California caused harm for 3 billion USD; 15 thousand hectares got on fire.
This winter, abnormally freezing weather in the USA caused an energy crisis. Wind electric plants in Southern states started to freeze because their engines were not meant for such colds. The work of gas pipes was interrupted alongside oil production. Millions of people in the USA were left without electricity.
All in all, it is more reasonable to spend money on developing "green energy" and reduce the greenhouse effect than pay for the damage caused by nature itself.
The next goal is to create new workplaces. The coronavirus crisis led to a sharp increase in unemployment. If before 2020 the number of unemployment claims was below 200,000, these days the digits remain above 700,000. Biden hopes that his draft bill will create over a million new workplaces because domestic carmakers will increase production powers.
The third ambitious goal is to make the USA a global leader in the electric car and accessory production. Here economic and political goals are pursued. The more electric cars will be produced in the USA, the more taxes the treasury will receive. And Biden will go down in history as the President who sped up the development of green energy.
Workhorse Group Inc.
By the draft bill, subsidies will be given for buying cars produced in the US. Hence, we primarily need to pay attention to companies working in the States. I would like to draw your attention to Workhouse Group Inc (NASDAQ: WKHS).
As mentioned above, Bidens plans to replace all state-used cars with electric cars. In 2019, the federal car park held 650 thousand electric cars. 245 thousand out of them were civil, 173 thousand were military, and 225 thousand — post cars.
Workhorse specializes in making electric trucks that can be used by postal companies. Hence, this company can become the beneficiary of the replacement program.
Also, Workhorse owns 10% of the stocks of another local electric carmaker, Lordstown Motors Corp. (NASDAQ: RIDE). The company produces pickups that can compete with the Ford F-150 off-roadster, popular in the USA.
Since the beginning of the year, the stocks of Workhorse have grown by 60%; however, they have been correcting lately. Investors need new information that will push them to buy. Such information might be a contract between the US government and Workhorse for buying their trucks for the postal service.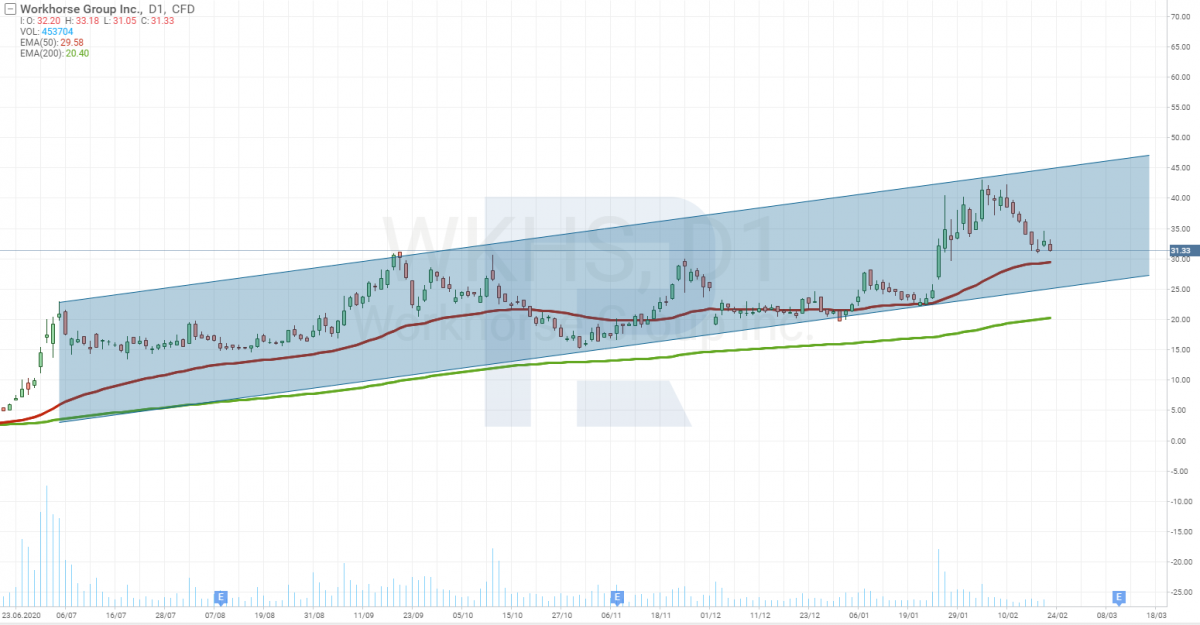 The list of US carmakers
Anyway, the draft bill touches upon all the carmakers working in the USA, which means other companies will also make a profit. We are only interested in public companies the stocks of which one can buy in the exchange.
According to Finviz, currently, there are 10 carmakers in the USA, which stocks are trading in US exchanges.
They are:
Ayro, Inc. (NASDAQ: AYRO)
Blue Bird Corporation (NASDAQ: BLBD)
Ford Motor Company (NYSE: F)
Fisker Inc. (NYSE: FSR)
General Motors Company (NYSE: GM)
Canoo Inc. (NASDAQ: GOEV)
Nikola Corporation (NASDAQ: NKLA)
Lordstown Motors Corp. (NASDAQ: RIDE)
Tesla, Inc. (NASDAQ: TSLA)
Workhorse Group Inc. (NASDAQ: WKHS)
Nikola Corporation
Be careful with investments in Nikola (NASDAQ: NKLA). A scandal around deceiving investors made the director-general Trevor Milton leave his position. He was accused of misleading the company's partners and investors. It is claimed that in reality, Nikola has no revolutionary technology for tractor batteries that last 1,600 km without charging.
The company announced three types of electric trucks, a military off-roadster, and a pickup, yet none of them has been put in production yet.
A positive fact about Nikola is that Milton was replaced by the former chairman of General Motors Stephen J. Gorski. Also, Nikola is a partner of General Motors (NYSE: GM). These two facts might help the company restore its reputation and get back investors' trust; however, risks are high.
The scandal with Nikola pulled its stock price down by over 70%, and the quotations are currently resting under the 200-days Moving Average.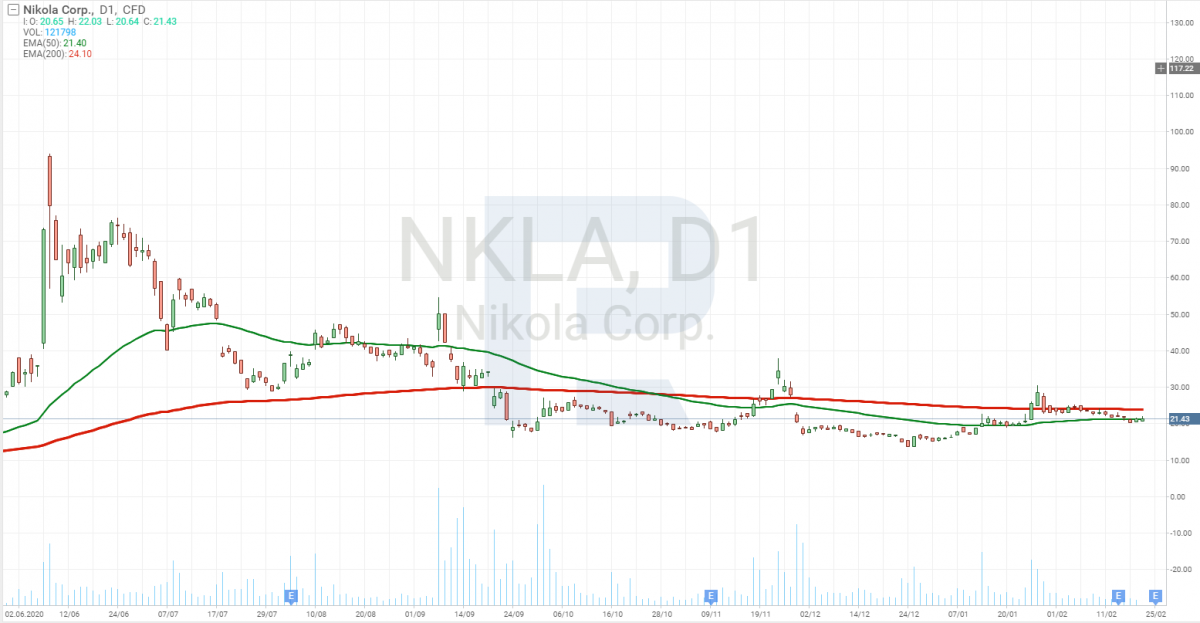 Ayro, Inc
AYRO Inc can also count on a part of the subsidies. It produces small electric cars that can be used for the delivery of medium-sized cargo. It also offers a three-wheel electric car for private use. However, small trucks for business is its main focus.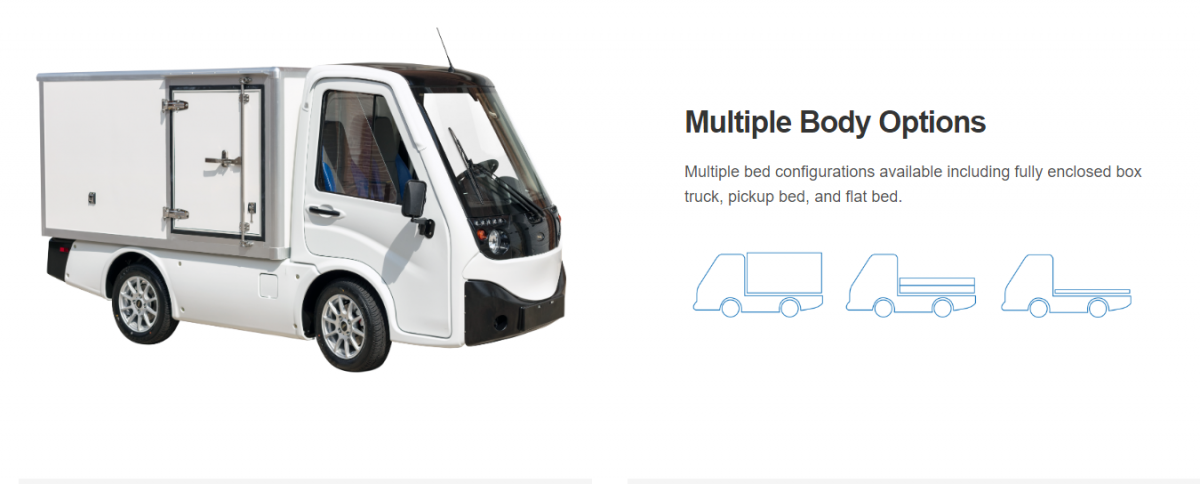 Since the beginning of the year, Ayro stocks have grown by 35% and keep trading in an uptrend.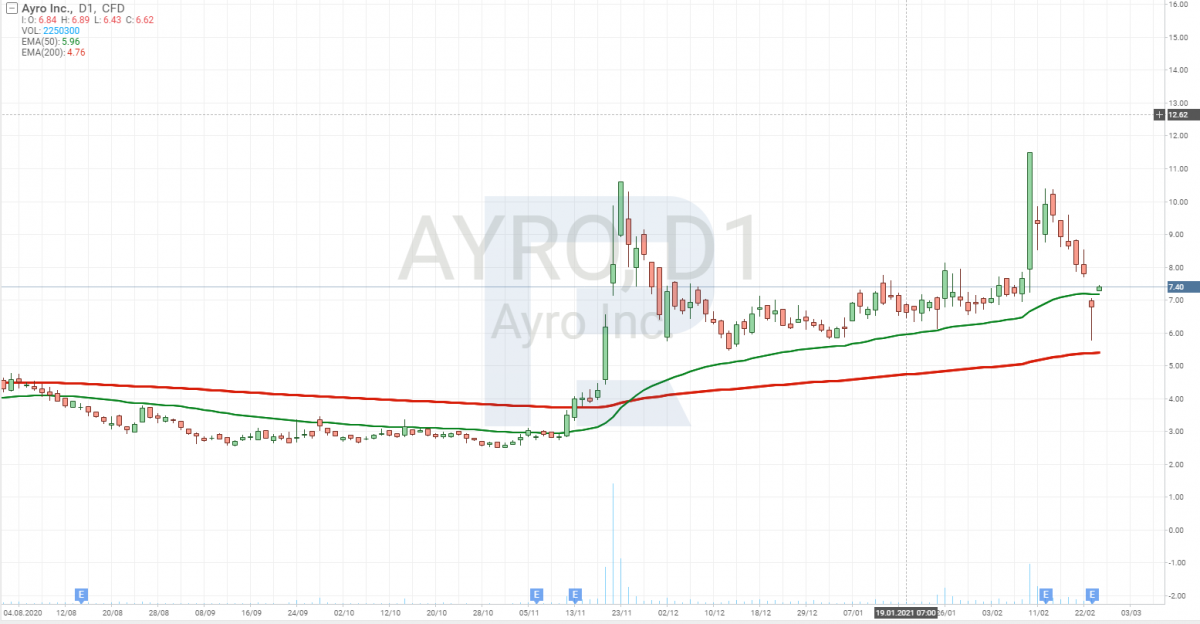 Blue Bird Corporation
The Blue Bird Corporation works in the passenger segment. More precisely, it makes buses. It mainly focuses on school buses, buses for outdoor activities, and special vehicles used by various services as command posts.
Blue Bird was founded in 1932. It produced its first electric bus in 1994 but like GM, it failed to launch serial production. Now is the second attempt, and nothing will hinder its plans.
Since November 2020, its stocks have been trading in an uptrend; they have been growing constantly lately.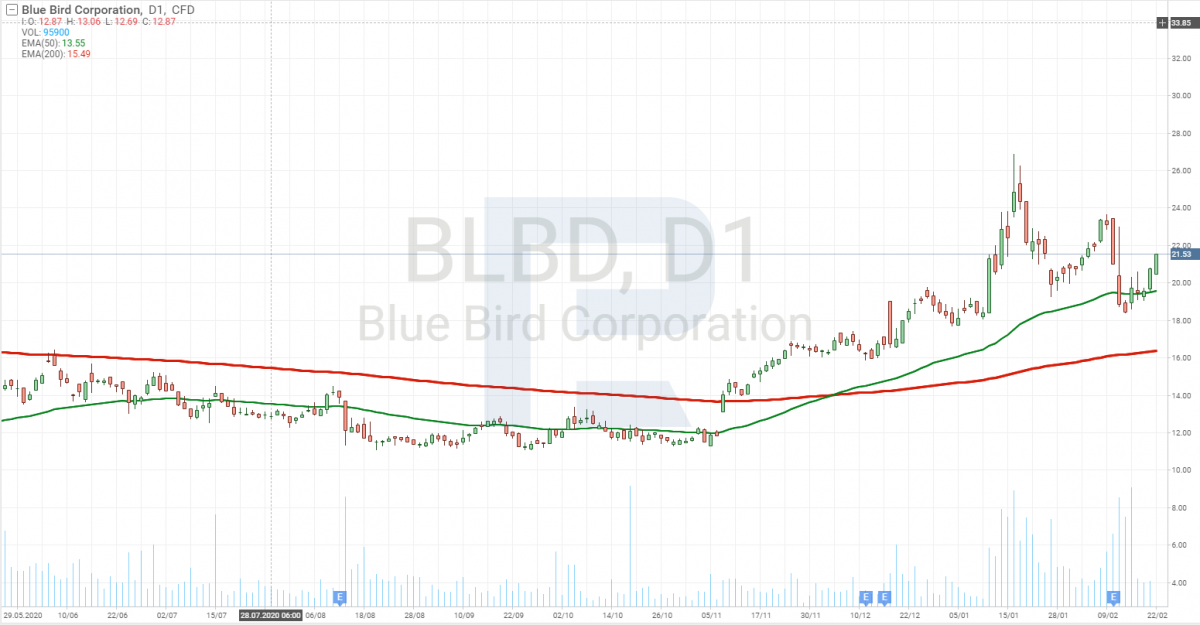 Ford and General Motors
These two are world-famous carmakers, s what else is to be said here. They have enough producing powers worldwide to fulfill the growing demand for electric cars.
Tesla will have trouble competing with them in the future because it has to increase its production power fast. Currently, it is winning only thanks to innovations, but with time, the distance will be shortening. That is why investors are now switching to famous carmakers, buying their stocks.
Presently, the stock price of Tesla might even drop because investors will be taking their profits.
Since 5 months ago, the stocks of Ford and GM grew by over 50%.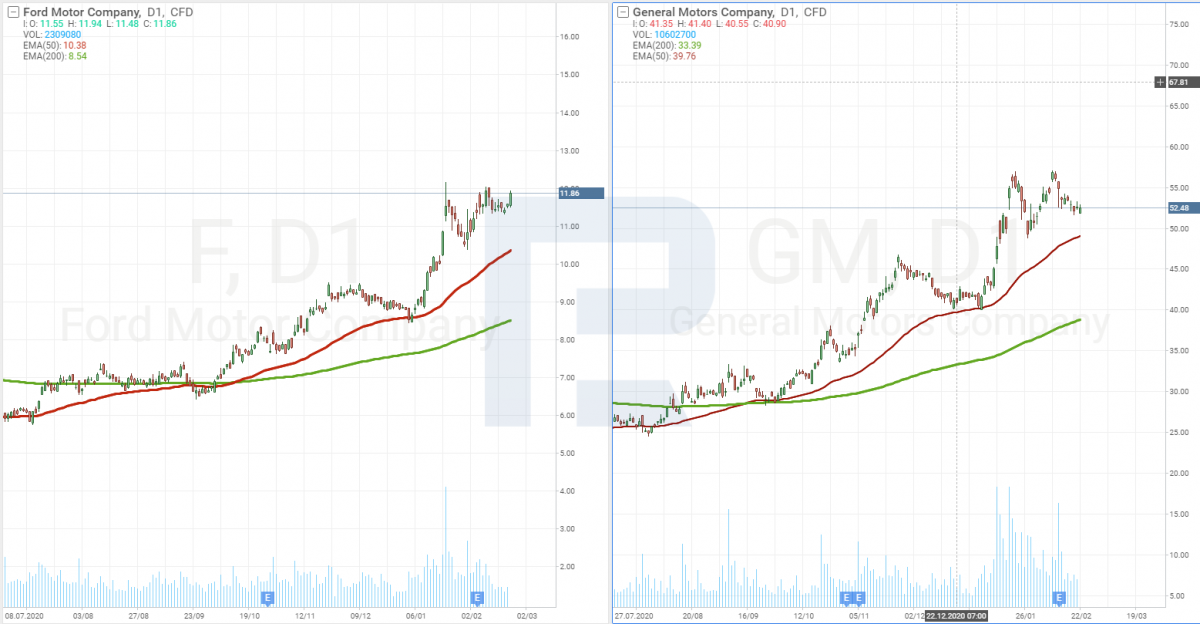 Fisker Inc
There is another electric carmaker with headquarters in the USA called Fisker. It was founded by Henrik Fisker and Geeta Gupta Fisker, his wife, in 2016. This is a young company that does not have its own production powers yet. Electric cars will be produced on the plants of Magna Steyr. Note that Fisker cars are very beautiful and quite affordable to the middle class.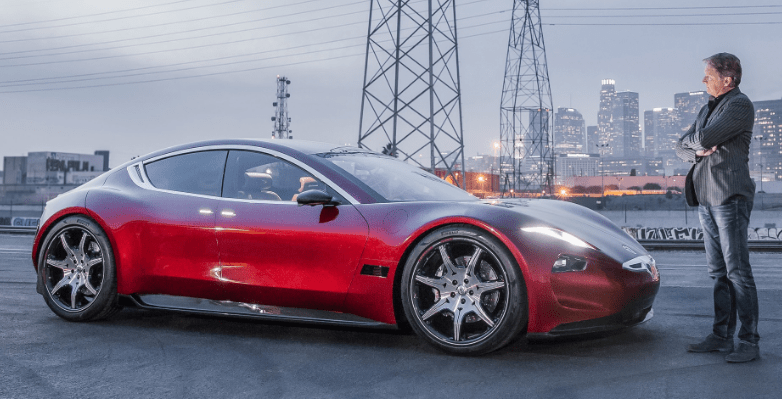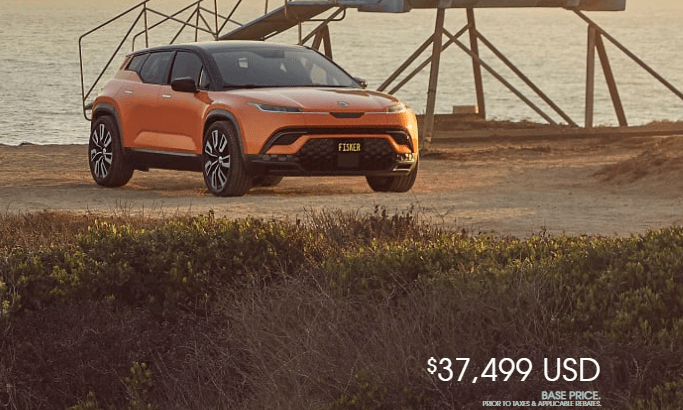 The company entered the exchange by merging with SPAC (Spartan Energy Acquisition Corp.). It is now traded in NYSE under the ticker FSR. They are trading in an uptrend but not as confident as in other stocks of electric carmakers.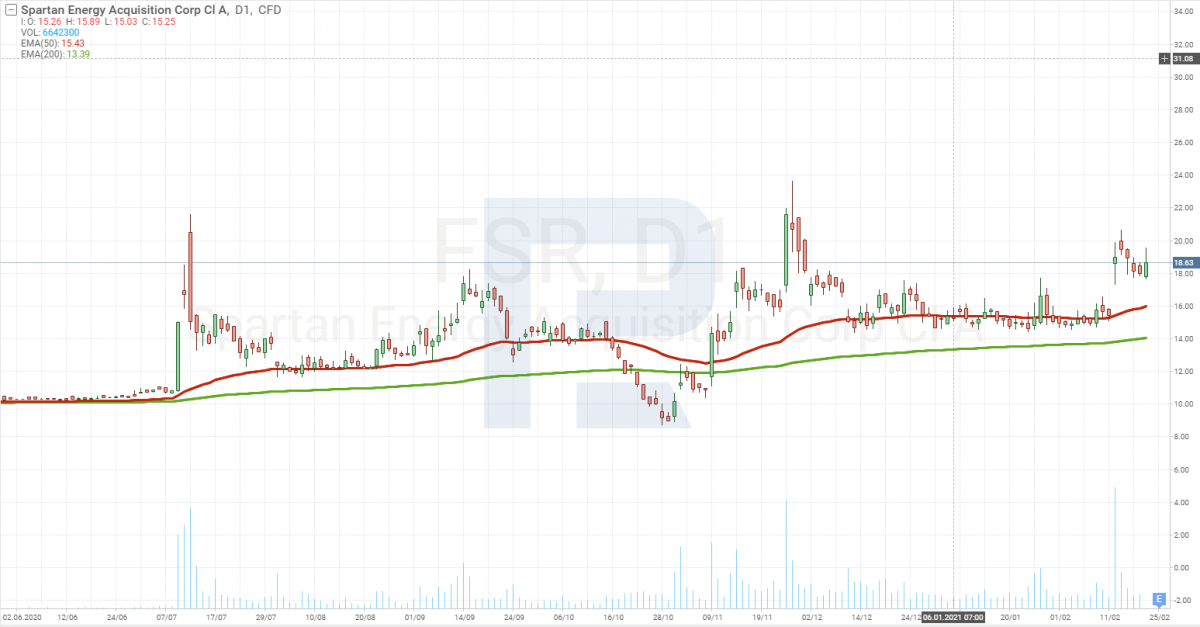 Canoo Inc.
As for Canoo, it can easily become the rival of Workhorse Group with its electric vans in the future. In July 2020, we heard about an agreement between Canoo, Hyundai Motors, and Kia Motors. The cooperation aims to design a new platform for electric cars. The main business of Canoo is selling commercial electric cars and minivans.
An electric car Canoo MPDV2 can work in the same segment with C650 by the Workhorse Group.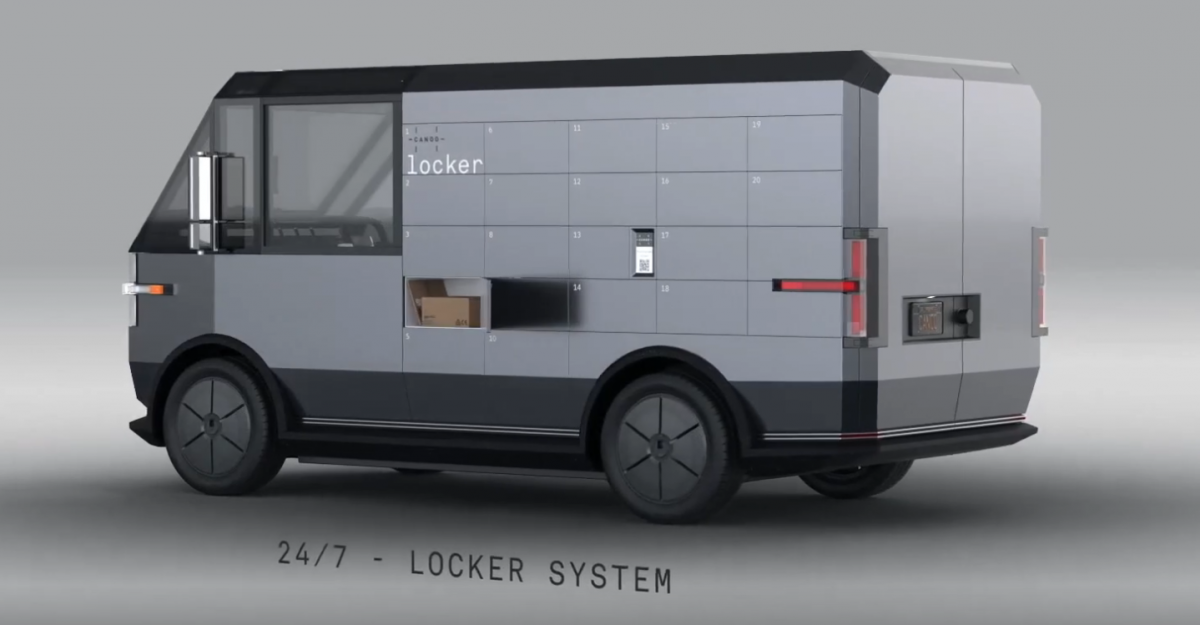 Luckily for Workhorse, Canoo is planning the launch of electric vans in 2023 only.
Far-off plans harm the stock price, though they are still trading in an uptrend. Investors still believe that the company will start production as planned.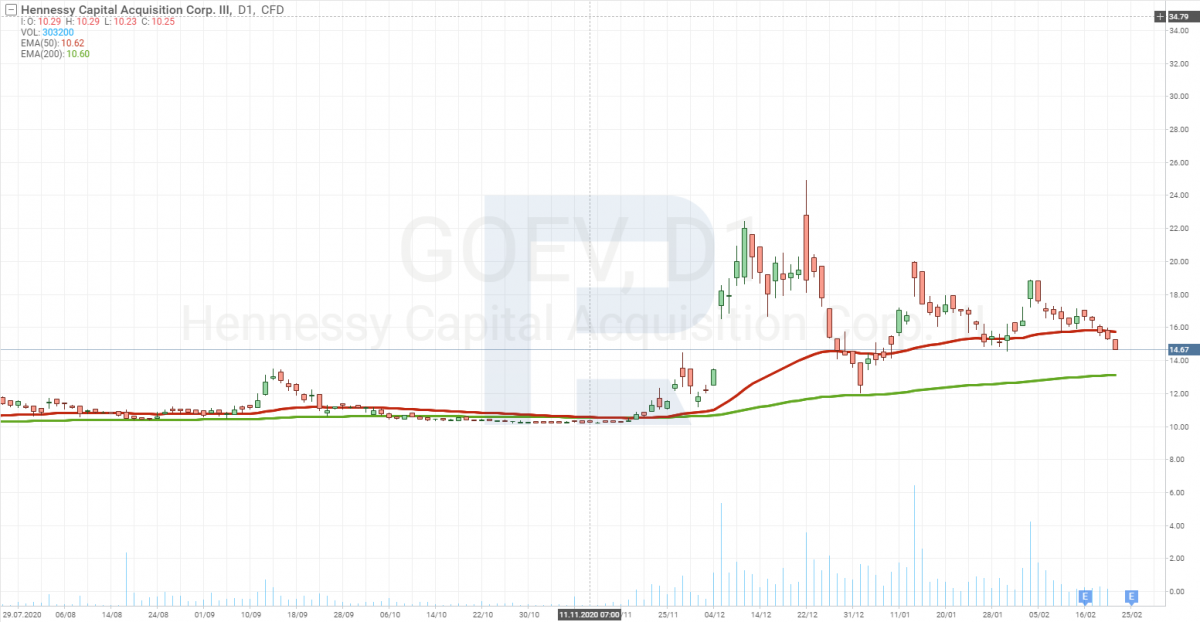 Lordstown Motors
This is also a young company but its chances to take its niche in the market of electric cars is much higher than other its peers have. The company is backed up by GM that invested 75 million USD in Lordstown, taking its place on the board of directors.
The company plans to produce electric cars at a former GM plant in Lordstown; it was GM, again, that gave money for the purchase. Note that after Lordstown Motors became a public company, GM freed it of the loan formerly given for buying the plant.
General Motors is trying to transform Lordstown Motors into a real rival of Tesla, Rivian, and Nikola. However, it is now competing with Ford: Lordstown's Endurance is very similar to the pickup Ford F-150.

Tesla
We have Tesla left. Is it worth investing in? In January, the price of one Tesla stock reached 900 USD, but this fortnight, they have been declining. Even Elon Musk called the stocks overbought. It seems that investors are beginning to take the profit and, as I have said above, switch to larger carmakers that are entering the electric car market successfully: compared to Tesla, their stocks are now rather cheap.
All in all, I do not recommend investing in Tesla. Its investment potential has expired, it is time to take the profit. Yes, Biden's draft bill will let Tesla sell more electric cars but it is unlikely to affect its stock price somehow.
Summing up
What is the conclusion? Replacements in the federal car park can increase the demand for electric vans by Workhorse, moreover, negotiations with the US post service have already started.
The stocks of General Motors and Ford are already enjoying demand because investors are now switching to larger carmakers expecting them to catch up quickly, make a high-quality product, and satisfy the demand fast thanks to their producing powers and great experience in car-making.
Young companies are promising but have not started production yet. Here, take a look at Lordstown Motors because it is supported by GM.
Invest in American stocks with RoboForex on favorable terms! Real shares can be traded on the R StocksTrader platform from $ 0.0045 per share, with a minimum trading fee of $ 0.25. You can also try your trading skills in the R StocksTrader platform on a demo account, just register on RoboForex.com and open a trading account.