Intel Shares Grow after News about Cooperation with US Defense Forces

We don't only live on quarterly reports. Today I'll tell you about a tech company Intel, a contract it signed with the US Ministry of Defense, and the growth of the share prices. And, as always, a fresh tech analysis of the company by Maksin Artyomov.
Intel will supply microchips to the Defense forces
On Monday, August 23rd, Intel issued a press release saying that the company had signed a large contract with the US Ministry of Defense. The sum of the trade is kept secret alongside the exact term of the contract. What we do know is that the company will provide uninterrupted supplies of microchips for the main systems of the Ministry of Defense by the RAMP-C (Rapid Assured Microelectronics Prototypes – Commercial) program.
In the times of a global shortage of microchips, the US tries the best to become independent from importing microchips from Asia. They've launched a program that aims at creating a vast technological infrastructure for development and production of microchips.
For now, the conditions of the trade look as follows: the IT company at its specialized plant Intel Foundry Services will make modern chips 18A and provide them to the Defense forces. In exchange, it gets a large and wealthy client, ready to put much money in the development and production of microchips.
The new client will apparently support the construction of new production plants in Arizona that the director-general of Intel Patrick Gelsinger mentioned at the global press conference in March.
Intel shares grow
Starting August 12th, the stock price of Intel (NASDAQ: INTC) had been decreasing, but the news about the contract changed the situation. As soon as the info surfaced, the trend changed, and the stock price started growing.
On August 23rd, the trading session closed with an increase by 2.35%, reaching $53.23. Yesterday the uptrend persisted, and the stock price rose by 1.09% more, reaching $53.81. It's high time to find out what our analyst Maksim Artyomov thinks.
Tech analysis of Intel shares by Maksim Artyomov
With the good news, Intel started recovering after a decline. The quotations have bounced off the lower border of the ascending channel and go on growing. The first aim is the 200-days Moving Average, and if gets broken away, the price will go on growing.
The next aim is the resistance level of $58. Next, if the reports are positive, the shares might go on growing, approaching the highs.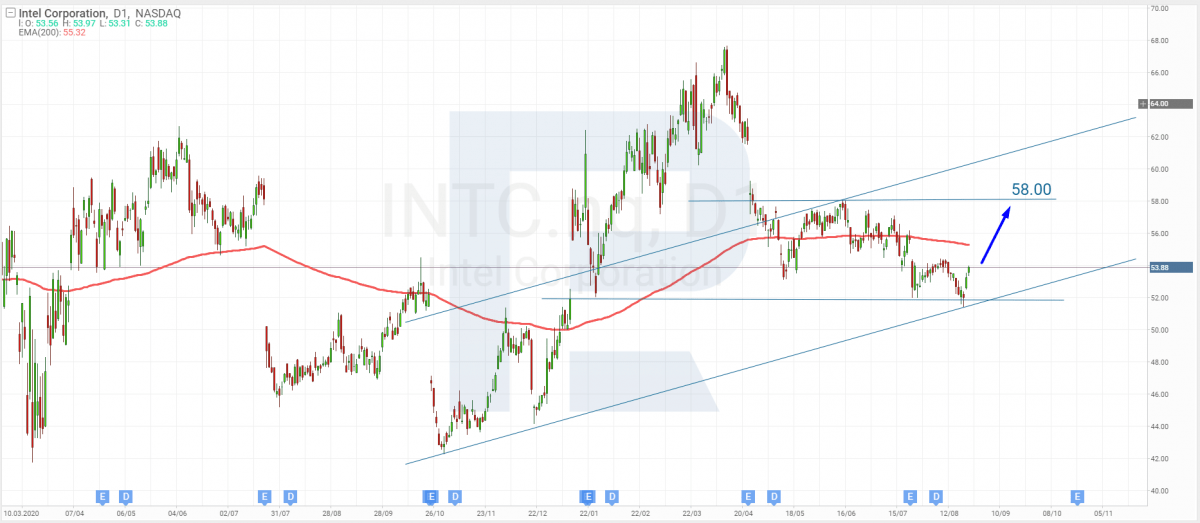 Summing up
Intel signed a contract with the Ministry of Defense of the USA for development and provision of 18A microchips. Unfortunately, we don't know the exact sum of the trade. Investors reacted positively on this news, and on the same day that we heard about the contract the stock price of the company grew by 2.35% at once. The quotations go on growing, though not as speedily.
More IT companies news on R Blog