Choosing Stocks of Cyber Security Companies

A couple of days ago, I heard a person saying that replacing porters by robots could be reasonable because carrying a 100-kilo two-compartment fridge to the first floor was quite exhausting.
My first thought was: wow, our generation is ready to see a robot just in the street and treat it positively. Our parents, however, are different. Accepting just the very possibility of such a situation is difficult for them; as for the world of modern kids, grandparents should better be kept away from it.
What are the risks of robotics?
When a robot does its job and helps people, this is great, but what if something goes wrong? Just look how many books have been written and how many movies shot about this. Modern developers will tell you that no problems are possible. A machine has a program to follow and simply cannot act beyond it.
However, the problem is not in the robot but in the one who manipulates it. A human being can easily make a dangerous weapon out of a friendly mechanism by just hacking the latter.
Is it possible? Yes, of course. If it is hard for you to believe, just recall several events from the last 5 months.
Hacker attacks
On May 7th, 2021, the Colonial Pipeline company was attacked by hackers. It resulted in all of its pipelines lying idle for 5 days. After this, the cost of gasoline and diesel fuel in the USA reached the 10-year high. People started panicking, buying and storing fuel. Ridiculously, some poured fuel in plastic bags. Due to a kerosine shortage, American Air Lines (NYSE: AAL) had to alter its flight timetable.
That very same month, the hackers, inspired by a ransom from Colonial Pipelines, hacked the healthcare system of Ireland. No serious consequences followed, though.
The next victim was the global leader of meat processing, a Brazilian company called JBS. This put all JBS plants on a halt, impeded beef supply, and sent 7,000 employees to forced vacation.
A month later, we heard about a cyber attack on an IT company Kaseya. The attack blocked the work of thousands of other companies that were the clients of Kaseya.
In August, hackers did not have much rest. They attacked the server of the US mobile operator T-mobile, stealing personal data of millions of users.
And a most recent story: on September 22nd, New Cooperative was also attacked. The company produces forage and cereals, as well as develops software for farmers and works in agronomy. This can lead to grain, pork, and chicken supply problems, hence, to growth of prices for them. Problems with meat are, indeed, bad but not as bad as with grain because many other products are made of it, including forage for cattle.
The conclusion we come to is as follows: a robot cannot harm a human yet the human behind the robot can do it. What is the goal? The goal is ransom from the company they attack.
Well, we cannot stop global progress, apparently. The advice is simple: we need to develop cyber security, namely, invest more in companies working in this sector.
In this article, I suggest checking out three companies working in the sector of cyber security. Note that they are not the only ones, and you can choose more investment options on your own.
Biden pays attention to cyber security
To get started, note that people are already investing in cyber security. On August 26th, US President Joe Biden met the management of the largest tech companies. As a result, Microsoft (NASDAQ: MSFT) and Alphabet Inc. (NASDAQ: GOOG) promises to invest 30 billion USD in fighting with hackers over the next 5 years.
Particularly, Alphabet will pay special attention to preparing cyber security experts, and Microsoft will help modernize security systems in government agencies and will also massively teach partners and state experts.
Other companies, such as Apple (NASDAQ: AAPL), International Business Machines Corporation (NYSE: IBM), and Amazon.com, Inc. (NASDAQ: AMZN) also answered the call to fight cyber criminals. This means the topic is urgent, becoming even more so after Colonial Pipeline was attacked.
NortonLifeLock Ibc
Let us start reviewing cyber-security companies with NortonLifeLock Inc (NASDAQ: NLOK). Users know it by the Norton 360 antivirus. NortonLifeLock products protect PCs, Mac, and mobile devices from harmful programs, viruses, fishing programs, and other network threats. The company was founded in the far-off 1982 and was formerly called Symantec Corporation, changing its name for the actual one in 2019.
Among important events in the company's life, let us mention the latest merger with Avast. This extended the client base of Norton by adding Avast clients to it, which, in turn, raised its income. For users, the merger will result in antivirus products uniting the advantages of both companies.
NortonLifeLock is a profitable company; what is more important for investors, it spends millions of dollars on stock buyback, which influences the stock price positively.
The pandemic affected the company's income that dropped from 1.25 billion to 686 million USD. However, the merger with Avast will make the revenue grow, so that we will see the effect of the merger in Q3 already. For long-term investors, the share is extra interesting because the company pays dividends of 1.94% a year.
A threatening thing is perhaps the large debt of 3.8 billion USD.
Tech analysis of NortonLifeLock shares
On D1, the shares are trading above the 200-days Moving Average, which indicates an uptrend. In August, the price neared the MA but turned sharply upwards, the catalyst for growth being the information about the merger with Avast.
Now we see the price nearing the MA again. This is a good chance to invest at an optimum price. The quotations might not test the MA this time because they are growing actively, indicating increased demand.
However, do not hurry, extend your position gradually as stock indices are expected to test the recent lows again, which might make NortonLifeLock quotations follow them.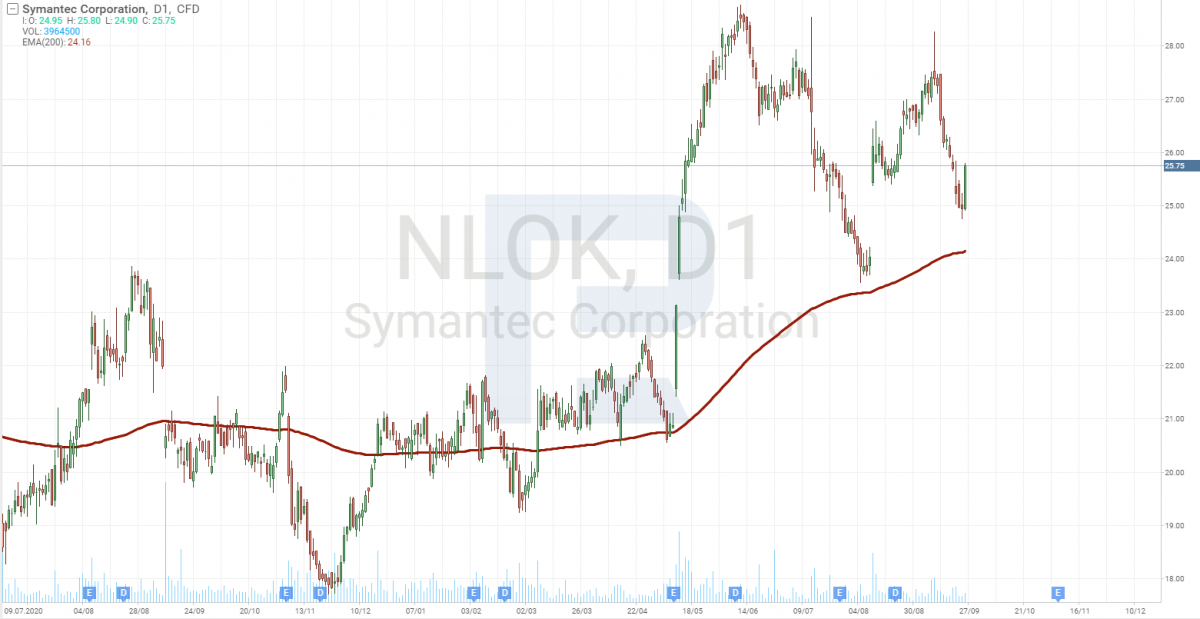 Fortinet, Inc.
The second company I am driving your attention to is Fortinet (NASDAQ: FTNT).
Fortinet was founded in the year 2000 by brothers Ken Xie and Michael Xie. The company develops and sells cyber security solutions, including physical products like firewalls. The company is the global leader in the sphere of wide and integrated automatic solutions for cyber security.
Financial performance of Fortinet is much better than that of NortonLifeLock. Just take a look at the diagram of income growth. One can only envy such stable growth.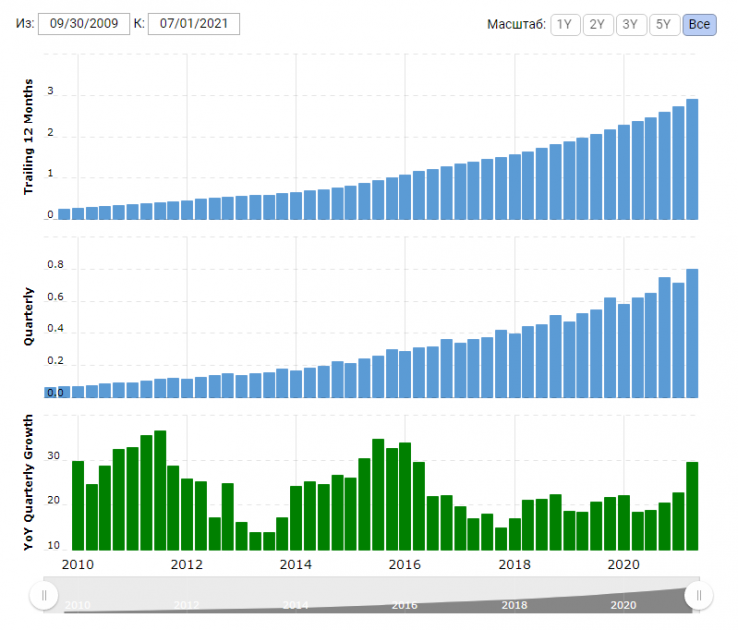 Over 10 years, the quarterly income of Fortinet increased 13 times. The company is also profitable. In 2021, Fortinet got a debt of 988 million USD, but we should not worry about it as the free cash flow of the issuer amounts to 3.1 billion USD.
Tech analysis of Fortinet, Inc. shares
Investors did not miss such stable growth of revenue, which reflected in the stock price. The growth is really impressive. Since 2016, the shares have grown from 20 to 330 USD.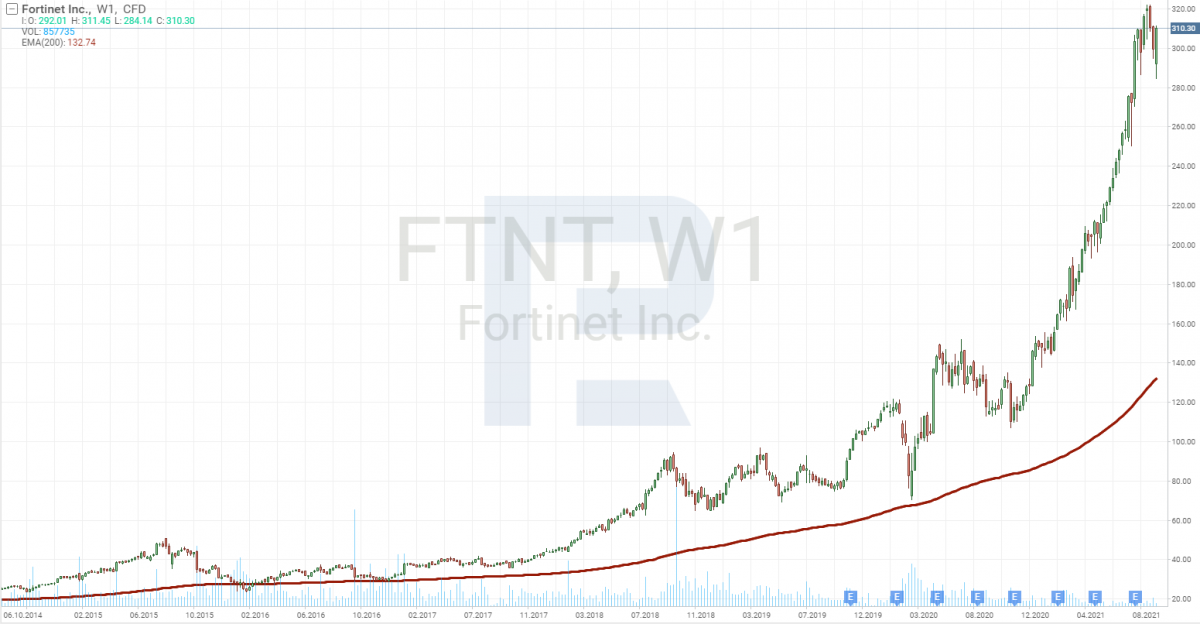 There is a vague hope for the shares to start correcting and become more affordable as buying them now in an almost vertical growth is sheer insanity.
Check Point Software Technologies Ltd
The last but not the least is a company with a long name Check Point Software Technologies Ltd. (NASDAQ: CHKP). It is an American-Israel company founded in 1993 that provides hardware and software solutions for cyber security. In 1996, it had an IPO in NASDAQ, attracting 67 million USD.
Starting 2000, Check Point has been merging with other companies in this sphere. It now specializes in cyber security of 5th generation, i.e. large-scale fast-spreading attacks via mobile, cloud, and local networks.
The revenue of the company has also been growing stable year after year, which decreases the risk of investing in Check Point Software.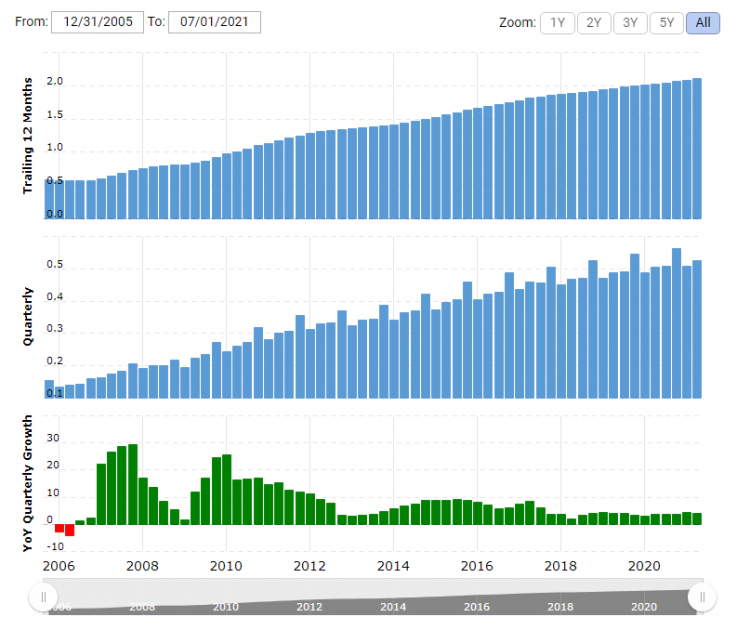 Moreover, the company has not had a single losing quarter since 2006, which is a super rare case for public enterprises.
Note one more thing: Check Point has no debts at all, and its free cash flow reaches 1.8 billion USD.
Tech analysis of Check Point Software Technologies Ltd.
After the Dot-com Bubble, the share price of the company dropped to 10 USD but has reached 120 USD by now, growing every year.
As for the stock price chart, it is not as beautiful as at Fortinet. The shares have been in a flat since 2017. They do renew the highs of course, but correct steeply shortly after. The last renewal happened in December 2020, but then the stock price started falling steeply. Then another attempt for all-time highs was made but the shares again failed, falling from 128 to 112 USD.
This pattern, however, has its advantages. The company makes money steadily, it is profitable; hence, trying to make money on the falling of its shares is, indeed, dangerous. Making money on the growth of the shares is quite the opposite. Investments in a company with such financial performance are less risky.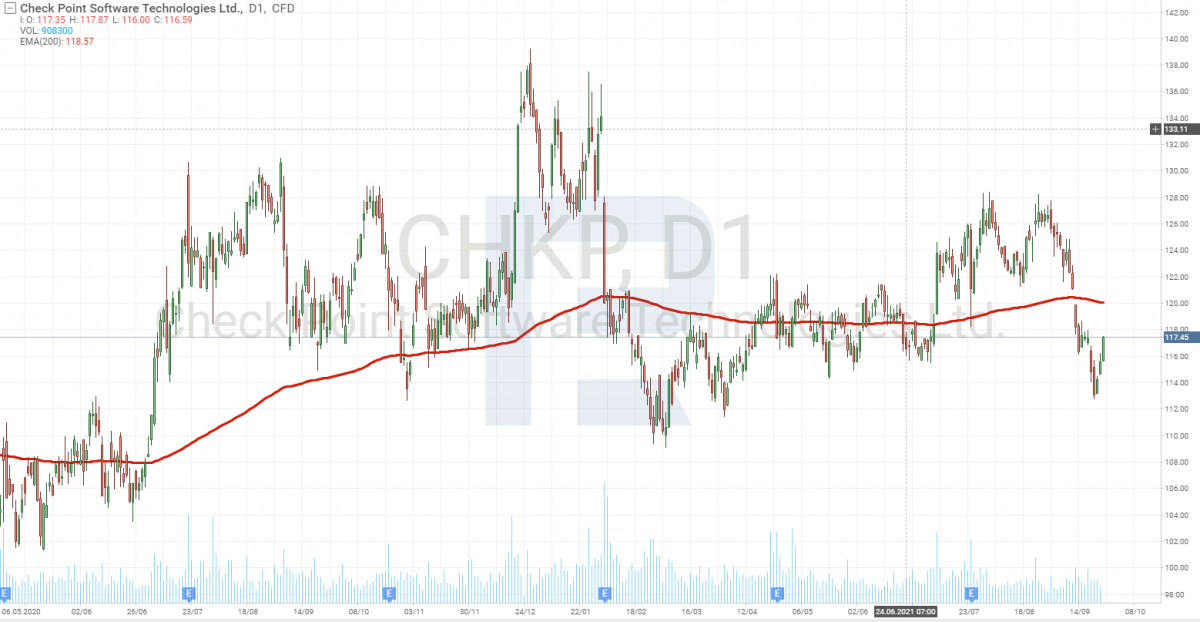 All in all, there is currently some sort of a speculative game in the share. When the quotations fall, market players start buying them, which stops the falling and provokes their growth.
When the shares near the all-time high, investors take the profit, which leads to a decline. Then the algorithm repeats itself.
Now we see the shares corrected, at an affordable level for buying. We are not the only ones to see it as the shares have been growing for three days already. This means Check Point Software shares are now good to buy.
Closing thoughts
Progress is never to stop; robots will be interfering with our daily life deeper and deeper. And we do not need to build high fences or keep large dogs to protect ourselves. What we need is cyber security, not only for companies but for people as well.
As for robot porters, this might be a good idea but porters are unlikely to be happy about it. Yet they might not be seeing the whole perspective. Robotics might let them make money on the job they truly love.
Invest in American stocks with RoboForex on favorable terms! Real shares can be traded on the R StocksTrader platform from $ 0.0045 per share, with a minimum trading fee of $ 0.5. You can also try your trading skills in the R StocksTrader platform on a demo account, just register on RoboForex and open a trading account.