IPO of HashiCorp, Inc.: a Cloud Solution Integrator

Cloud technologies have been very popular recently and many companies want to implement these solutions into their operational activity as fast as possible. By doing this, they try to minimize their expenses and improve business processes efficiency. This is the reason why the Saas platform market has been developing so rapidly over the past few years.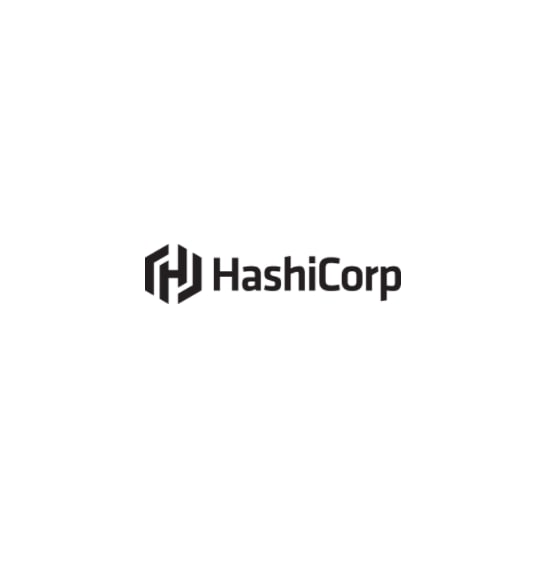 HashiCorp, the company that provides a platform for cloud solution integration, is planning an IPO at the NYSE on 8 December 2021. Its shares will start trading with the "HCP" ticker symbol the next day. In this article, we'll discuss if the issuer's shares are interesting for investing in.
Business of HashiCorp, Inc.
The company was established by two university friends, Armon Dadgar and Mitchell Hashimoto, in 2013, and is currently headquartered in San Francisco, California. Since 2016, the company's CEO has been David McJannet), who earlier held the same position at GitHub. HashiCorp employs 1,400 people.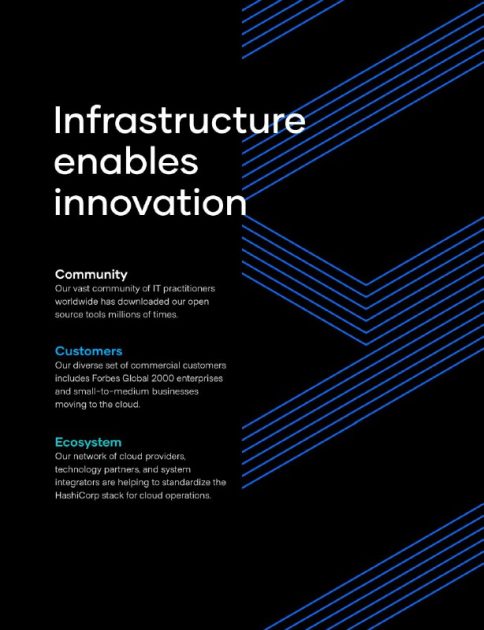 The key investors are GGV Capital, Redpoint Omega, Mayfield, and True Ventures. HashiCorp provides its clients with open source-based tools, which offer developers the opportunity to link and maintain cloud infrastructure in their companies' management ecosystems.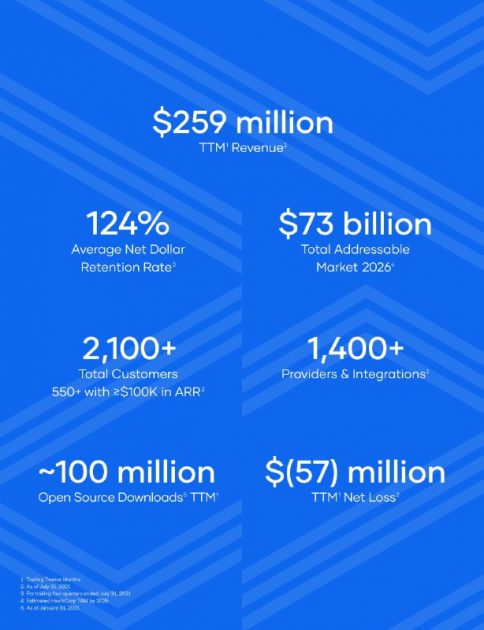 HashiCorp cooperates with almost all cloud platform developers on the market. One of the company's most important clients is Amazon's AWS. For successful integration in this system, the issuer has over 500 resources and almost 200 data sources for building cloud infrastructure.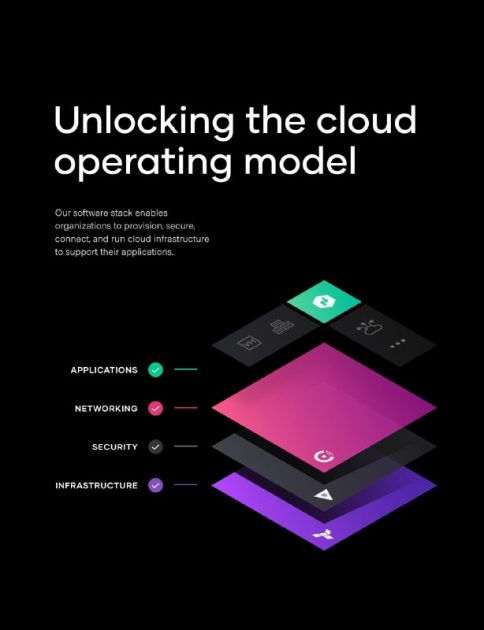 The company's flagship line, which performs a single function in creating and setting cloud integration, include:
Vagrant
Wikidata
Terraform
Consul
Vault
Nomad
Serf
Sentinel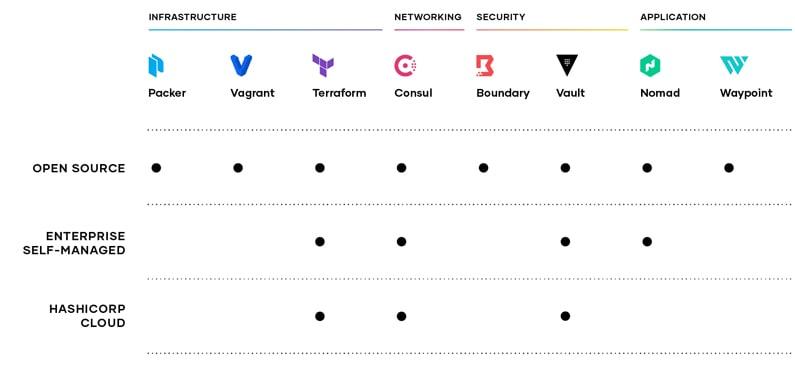 As of July 2021, the company had over 2,100 clients. Among them are such world-famous companies as Fox, GitHub, Stripe, and General Motors. The issuer sells its services directly and via affiliate programmes. Now let's talk about the target market of HashiCorp.
The market and competitors of HashiCorp, Inc.
According to Research And Markets, the Saas cloud platform market may reach $136 billion by 2025, with an average annual growth rate of 27%. HashiCorp itself assesses its target market at $72.5 billion. The key growth drivers will be switching to cloud software by many companies and the need for improving the operating activity efficiency.
The company's key competitors are:
VMware
Red Hat
CyberArk
Amazon
Microsoft
IBM
Google
Financial performance
The company is filing for the IPO without generating the net profit, that's why we'll focus on analysing its revenue. The company's sales in 2020 (as of 31 January 2021) were $211.85, a 74.71% growth relative to 2019.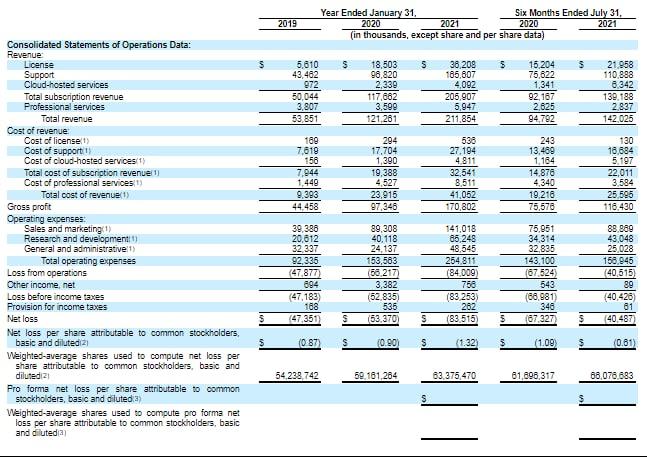 According to the S-1 report, in the first 7 months of 2021, the company's revenue was $142.03 million, a 49.83% increase if compared with the same period of 2020. Over the last 12 months, the indicator was $259.09 million.
The gross profit in 2020 was $170.80, a 75.45% increase relative to 2019. In the first 7 months of 2021, the indicator was $116.43 million, a 54.05% increase if compared with the same period of 2020.
The report also shows that the company's net loss was gradually rising from 2018 to 2020. However, the situation started to change in 2021 – it dropped 39.86%, down to $40.49 million. This tendency is can be called positive, especially when the revenue growth rate is increasing. Both these factors may imply a potential net profit making in the foreseeable future.
Cash and cash equivalents on the company's balance sheet are $244.11 million, while its total liabilities are $17.97 million. HashiCorp has a positive cash flow of $226.13 million. The company's financial state is stable enough for an IT sector startup.
Strong and weak sides of HashiCorp, Inc.
It's time to highlight the risks and advantages of investing in HashiCorp shares. I believe the company's strong sides are:
The potential target market volume.
The revenue growth rate is over 25% every year.
Sound management.
Net loss mitigation.
Wide affiliate network.
Risks of investing in HashiCorp Inc. shares are:
The company is loss-making and doesn't pay dividends.
Strong competition.
Small market share.
IPO details and estimation of HashiCorp, Inc. capitalization
The underwriters of the IPO are Blaylock Van, LLC, Stifel, Nicolaus & Company, Incorporated, William Blair & Company, L.L.C., R. Seelaus & Co., Inc., Citigroup Global Markets Inc., Cowen and Company, LLC, JMP Securities LLC, KeyBanc Capital Markets Inc., Nomura Securities International, Inc., Oppenheimer & Co. Inc., Morgan Stanley & Co. LLC, Goldman Sachs & Co. LLC, J.P. Morgan Securities LLC, and BofA Securities, Inc.
HashiCorp is planning to sell 15.3 million common shares at the price of $68-72 per share. If shares are sold at the highest price in this range, the IPO volume may reach $1.07 billion with the capitalization of $12.52 billion.
To assess loss-making companies, we use a multiplier, the Price-to-Sales ratio (P/S ratio). A P/S value for the technological sector with such a rapidly-growing target market may be up to 40 during the lock-up period. HashiCorp is filing for an IPO with P/S equal to 47.7. If underwriters do not revise the IPO conditions, this investment may be considered venture one.
Therefore, to minimize risks it's better to wait for a couple of days and see how market players respond. These shares may be considered speculative short-term investments.
Invest in American stocks with RoboForex on favorable terms! Real shares can be traded on the R StocksTrader platform from $ 0.0045 per share, with a minimum trading fee of $ 0.5. You can also try your trading skills in the R StocksTrader platform on a demo account, just register on RoboForex and open a trading account.