How to Choose Shares for Investing in Correcting Market

Over the last 10 days, the stock index S&P 500 corrected by 5%. Previous correction was longer but amounted finally to just 6%. Since the beginning of 2021, the index has had five corrections, yet the price has never fallen more than by 6%.
Based on this, we can suppose that the current correction is close to an end, and soon the quotations will start growing again. In this case, the question is: which stocks to buy in such a market?
Today, I will drive your attention to major market players and see which shares they prefer investing in.
At present, the top-3 market participants managing a capital of more than 1 trillion USD includes:
VANGUARD GROUP INC – 4.2 trillion USD
BlackRock Inc. – 3.57 trillion USD
STATE STREET CORP – 1.89 trillion USD
I suggest looking into the portfolios of these funds and check their recent investments. I guess, you will be surprised because you will not see there such well-known companies as Apple Inc. (NASDAQ: AAPL), Alphabet Inc. (NASDAQ: GOOG), or Amazon.com, Inc. (NASDAQ: AMZN).
VANGUARD GROUP INC
Let us start with VANGUARD GROUP INC. Note that I range the shares by their "weight" in the portfolio, and these are brand-new purchases, i.e. these shares had not been in the portfolios before.
Number one is Lucid Group, Inc. (NASDAQ: LCID).
Lucid Group, Inc. was founded in 2007. It manufactures cars. This investment is evaluated as 900 million USD. In the last quarter, the average share price of the company was 25.38 USD, while now they are trading for 48 USD.
Number two is GXO Logistics, Inc. (NYSE: GXO). This is a logistics company that delivers goods worldwide. It started working as a separate business in March 2021, splitting up with XPO Logistics (NYSE: XPO).
VANGUARD invested in GXO Logistics about 798 million USD. In the last quarter, the average share price was 78.44 USD and the current market price is 92 USD.
Meanwhile, number three is SoFi Technologies, Inc. (NASDAQ: SOFI).
SoFi Technologies is a financial company founded in 2011. It gives loans for education, refinancing older loans, insurance, mortgage, and provides other financial services.
In SoFi Technologies, VANGUARD invested 751 million USD. In Q3, its average share price was 15.88 USD and the current price is 16.40 USD. Note that with the current price growth, the investments of VANGUARD GROUP already demonstrate profitability.
BlackRock Inc.
Now to the investment fund called BlackRock Inc.
Its number one investment is GXO Logistics, Inc. The fund has invested some 671 million USD in it.
Number two investment is Victoria's Secret & Co. (NYSE: VSCO).
This company was founded in 1977. It is one of the most famous companies over the globe selling underwear, bathing suits, clothes, perfume, accessory, and makeup for women.
BlackRock Inc. invested in Victoria's Secret & Co. about 372 million USD. Average share price of the company in Q3 was 55.26 USD, while the current price is 54 USD. This means, if you buy these shares now, your trade will be more profitable than that of the fund.
Number three investment is a software company GitLab Inc. (NASDAQ: GTLB).
GitLab Inc. was founded in 2011 and creates software. The company manages a website on which users can create, check, and work with code, as well as delivers consultations, lectures, and provides programming services. The company works with legal entities and physical persons.
The fund invested in the company about 317 million USD. In October 2021, GitLab carried out an IPO and became public. Its starting share price was 94 USD. The current price is 91 USD.
As you see, the viewpoints of the two funds coincide at least on GXO Logistics. However, check out number four in the portfolio of BlackRock Inc, and you will see Lucid Group, Inc. The fund has invested 192 million USD in it. So, here we have two companies in which major market players invest.
STATE STREET CORP
Next thing, let us take a look at the investments of STATE STREET CORP. It is a smaller fund, hence its investments will be more modest than those of VANGUARD GROUP and BlackRock.
Number one investment of STATE STREET is GXO Logistics. The fund invested 197 million USD in it.
Number two is DT Midstream, Inc. (NYSE: DTM).
DT Midstream transports and stores natural gas. It owns pipelines, systems of gas collection and storage, treatment plants, as well as gas liquefaction compressor units. The company was founded in 2021 and became public on June 18th.
STATE STREET invested about 120 million USD in it. In Q3, average share price was 46.24 USD, now it amounts to 46.30 USD.
Number three is Victoria's Secret & Co., with the sum of investing reaching 110 million USD.
STATE STREET, as well as the two other funds, has bought Lucid Group shares, yet they are number five investment, amounting to about 43 million USD.
Analyzing the shares o the companies
Looking through the reports of hedge funds, we have singled out three companies in which those funds invest billions of dollars.
The one to get the most money is GXO Logistics. It got 1.66 billion USD of investments.
Number two is Lucid Group with 1.13 billion USD of investments.
Number three is Victoria's Secret & Co with 954 million USD of investments.
Currently, the percentage of these shares in the portfolios of the funds is no more than 0.02%. With the development of these companies, the funds will be buying more shares, improving the share prices. Moreover, other investors also keep an eye on them.
Tech analysis of GXO Logistics shares
Now to the charts of the companies. The shares were bought in Q3, so now we can check how this process affected the share prices of the issuers.
The leader in terms of the sum of investment is GXO Logistics. Since the IPO, the shares of the company have been growing, which is no surprise. Average daily trade volume amounts to 55 million USD. Hedge funds created demand for the shares with their 1.6 billion USD of investments, making the share price grow.
Today, there is an uptrend on the chart, and the quotations have declined to the lower trendline, which means the correction will soon be over, and growth will start again. Another signal to buy the shares will be a bounce off 90 USD.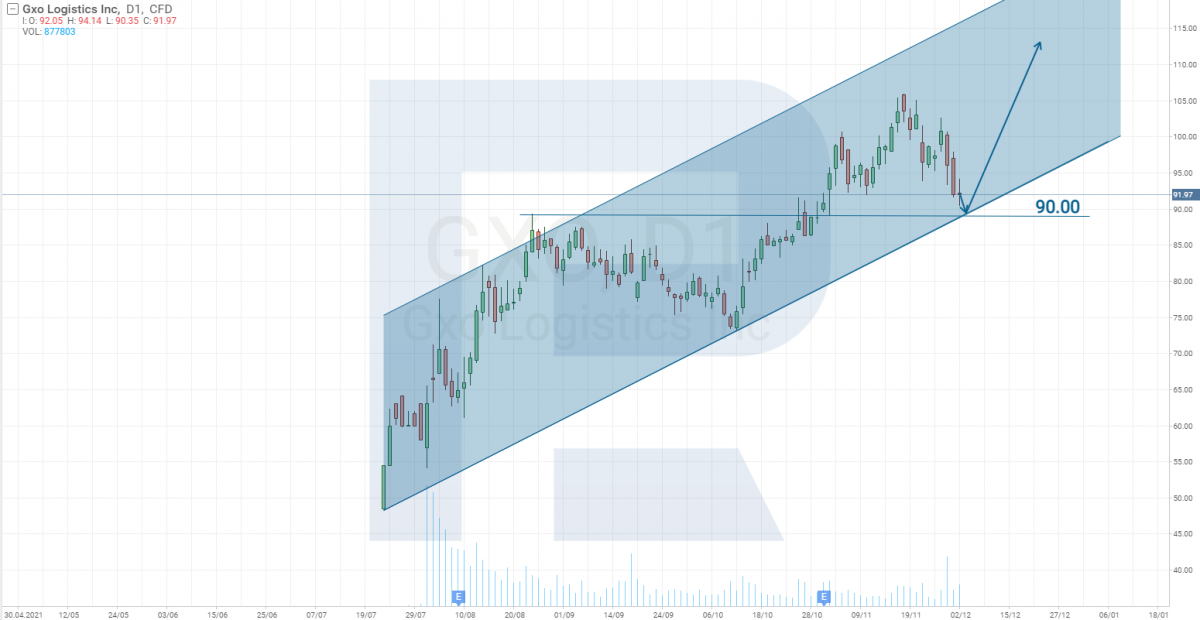 Tech analysis of Lucid Group shares
The shares of Lucid Group also reacted by growth to the policy of the hedge funds. However, here agitation around the company itself played its part because Lucid Group announced on the Internet the first supply of electric cars to clients.
As a result, starting October 25th, the shares of Lucid Group started growing – by 131% over 17 days. In such circumstances, buying the shares is risky, but take a look at the behavior of the shares after the sky-rocketing growth. Quite often, such growth changes for a steep decline. This has not happened to the shares of Lucid Group, they are now trading in a range between 55 and 48 USD.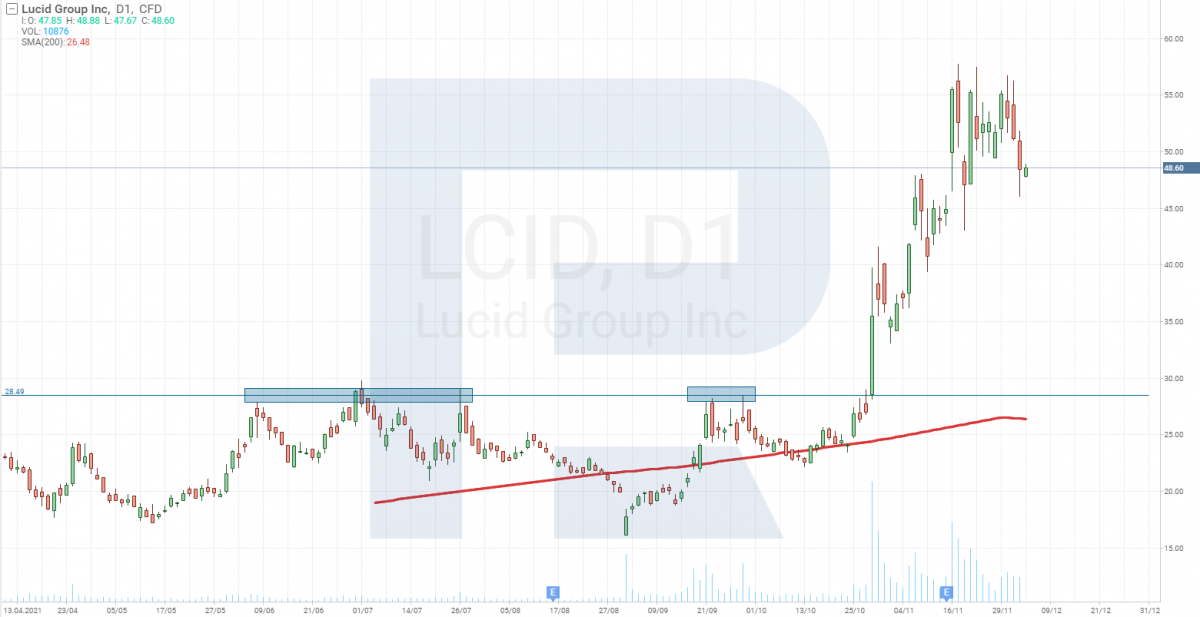 Also, trade volumes are increased at these levels. These means, other market players got interested in the shares and are adding them to their portfolios.
Anyway, the above-mentioned funds might also be buying the shares of Lucid Group, yet we will know this only when they file their reports in January 2022.
Tech analysis of Victoria's Secret & Co
With the shares of Victoria's Secret and Co, the situation is quite different. After the IPO, the shares started growing steeply, then corrected, and then returned to the IPO level. If you look closer at the chart, you will notice the level at which hedge funds bought Victoria's Secret shares.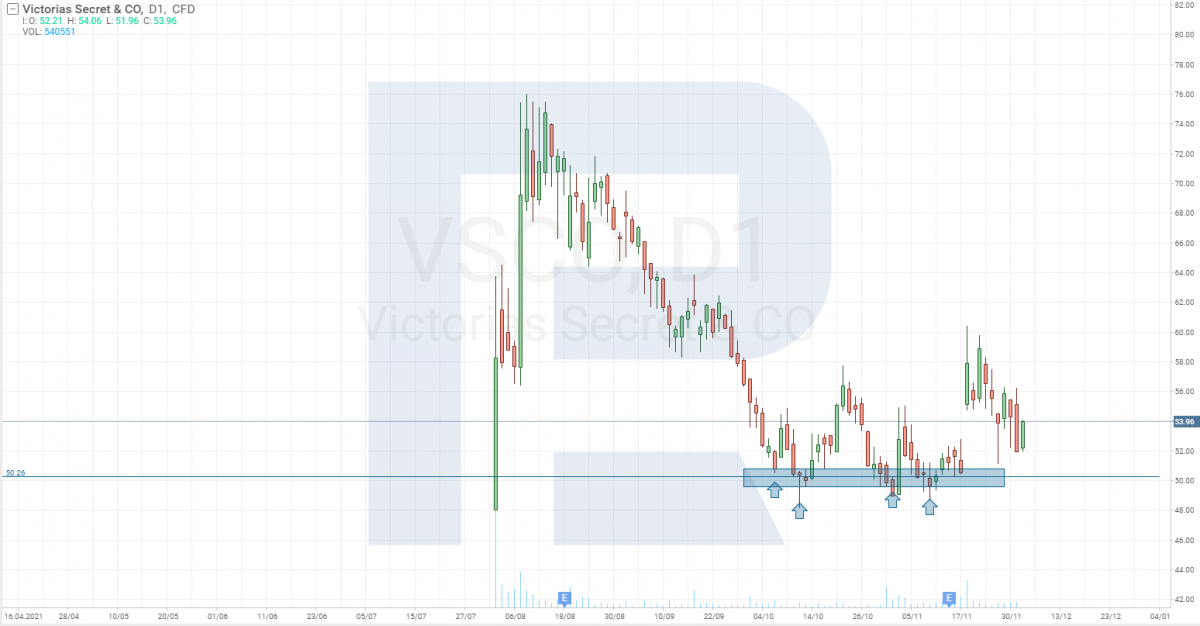 On October 6th, the shares stopped falling at 50 USD. Whenever they later tried to go deeper down, they grew abruptly. Hence, at this level buyers created demand for the shares.
The conclusion is, the best price for buying Victoria's Secret shares is 50 USD. Currently, the shares are trading just 8% above this price.
Bottom line
Corrections give investors a great chance to buy some shares at lower prices. However, there is always a question, which shares to buy. I suggest that we look for possible investments in the reports of major market players that employ dozens or perhaps hundreds of analysts all over the globe.
All the three funds spent on the shares of the named companies no more than 0.02% of their portfolios, which means in the future they will be investing more, making the shares grow.
Currently, keep a close eye on the charts of the shares, checking for support levels, as with Victoria's Secret & Co quotations. This will be a hint on the price, at which it is better to buy the shares.
Invest in American stocks with RoboForex on favorable terms! Real shares can be traded on the R StocksTrader platform from $ 0.0045 per share, with a minimum trading fee of $ 0.5. You can also try your trading skills in the R StocksTrader platform on a demo account, just register on RoboForex and open a trading account.