3 Stocks with Dividends Above 6%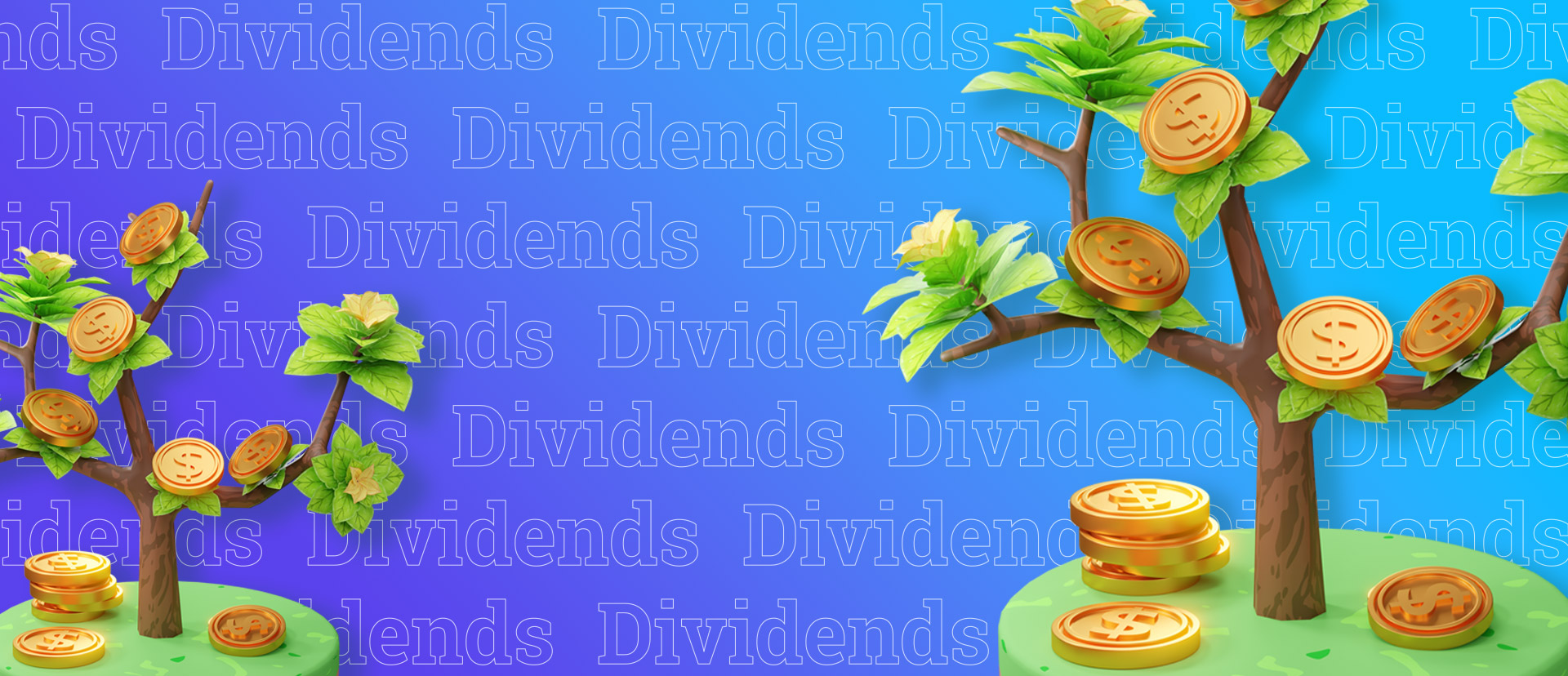 According to the info published on 10 August, the US inflation in July reached 0% and dropped from +9.1% to +8.5% y/y. As long as monthly inflation fell to zero for the first time in two years, the S&P 500 (US500) stock index headed up and broke through the resistance level at 4,200 USD.
The decrease in inflation might mean that the bottom has been reached, so stocks in the market might start recovering. In this case, which stocks might be worth looking at?
What to choose: bonds vs stocks
A popular stock market instrument is treasury bonds that generate not only speculative profit but also coupon yield: interest is paid regardless of movements of the bond. However, the yield has been falling recently because the market is starting to take account of a decrease in the interest rate by the Fed in 2023.
Now the yield of three-year bonds is +3.1%. With the +8.5% inflation, the yield is negative. However, in three years, inflation might reach 2% planned by the Fed; yet even in such s a situation, its average value might be above 3%. If so, it will be logical to look for more profitable investing options.
And here we shed a look at dividend stocks. Even if their value remains without a change, profits will be generated by dividend payments.
Why dividend companies are good choice
If companies pay the same dividends when the stock price drops, percentage yield increases. Imagine a stock costs 50 USD, and dividends are 5 USD a year, hence, the yield is 10%. Then the stock price drops to 25 USD but dividends remain at 5 USD. If you buy the stock for 25 USD, percentage yield will be 20%.
Currently, many stocks in the market are trading far below their all-time highs. They might have been overbought previously, and the current price represents the actual situation in the company. If so, the stocks are unlikely to return to the highs in the nearest future, but this is not necessary. What is important is for the company to keep paying dividends of the same size.
Mind inflation
Choosing the issuer, we should never forget about inflation, which now amounts to +8.5% a year. The recession widely discussed in the stock market is likely to bring inflation down. Consumer demand will follow.
The Federal Reserve bank of New York carries out consumer expectations research from time to time. According to a recent research, in 2022, consumers expect inflation to reach 6.2% and 4% in three years.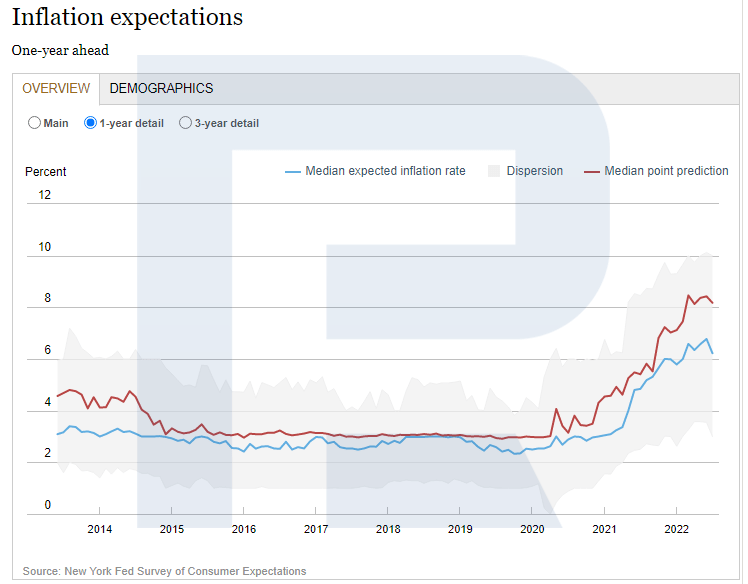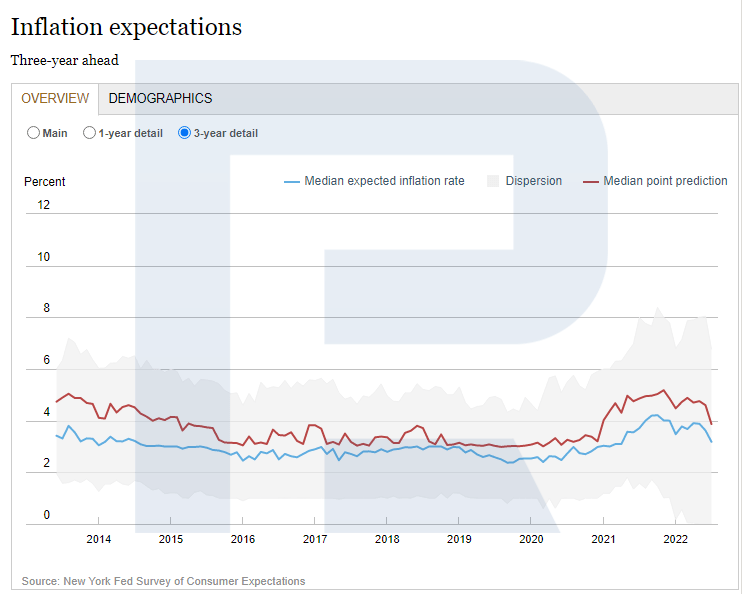 Knowing this, we can head for a search for companies with the dividend yield of stocks no lower than 6%. Moreover, the cash flow o the companies should be likely to grow, otherwise dividends might shrink or simply be cancelled.
Companies meeting search criteria
Dividend payments in Medical Properties Trust, Global Medical REIT, and Rio Tinto Group stocks are over 6%. Let us try to find out in which way business models of these companies are unique.
Medical Properties Trust
Autumn is coming, which means there will be more respiratory diseases. Moreover, COVID-19 has not disappeared from the horizon; unfortunately, there is also monkeypox around.
With all this said, the healthcare sector is worth taking a look at. Also, we do not need to guess which drugs will be approved by the US Food and Drug Administration (FDA) and will get to the market.
We might check out companies that rent out real estate to companies and institutions from the healthcare system. The Medical Properties Trust Inc. (NYSE:MPW) carries out such activities.
It is the world's largest owner of hospital buildings: 431 institutions in the US, Australia, Columbia, Germany, Portugal, Spain, Switzerland, Finland, and Great Britain.
Medical Properties Trust has been paying dividends since 2006. Maximum profitability level of 21.72% was reached in 2009, when the shares dropped by 78% after the mortgage crisis. Now the company pays 1.11 USD per share annually, which makes 7.15% a year. Profitability of the business is 40%.
Currently, the quotes of Medical Properties Trust are 30% below their all-time high. The nearest support level is at 14.4 USD.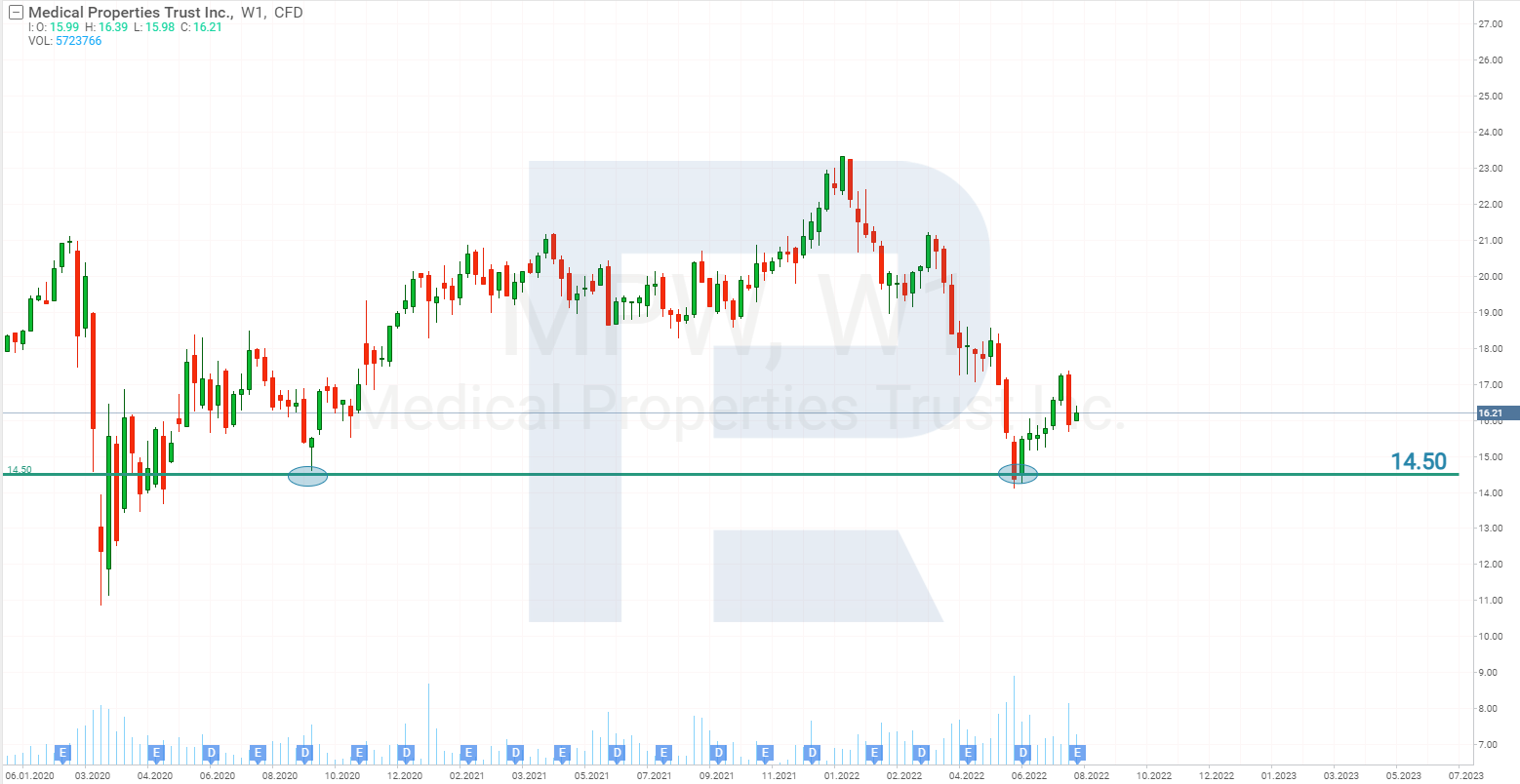 Global Medical REIT
The Global Medical REIT Inc. (NYSE:GMRE) trust owns 181 hospital buildings and rents them out to healthcare institutions.
In 2016, Global Medical REIT carried out an IPO and started paying dividends in 2017, increasing their size gradually. Maximum yield was 11.25%, in 2018. Then the share price started growing, which made the yield decrease because their growth could not catch up with the share price growth.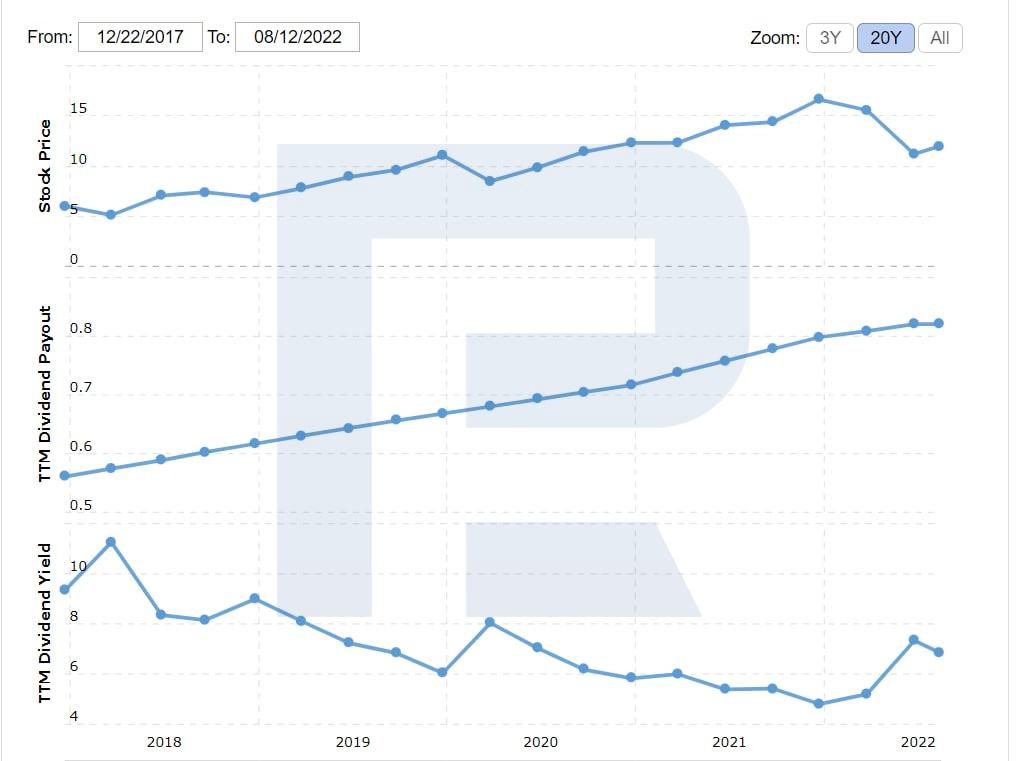 On the diagram we can see that dividends have been growing since the first payment. This does not guarantee any growth in the future, but we may suppose that if the company generates a profit, the trend is likely to preserve.
Current dividend yield is 7.02%. The shares of Global Medical REIT have recently come over the resistance level at 11.5 USD and go on trading above it. The next resistance level is 13 USE.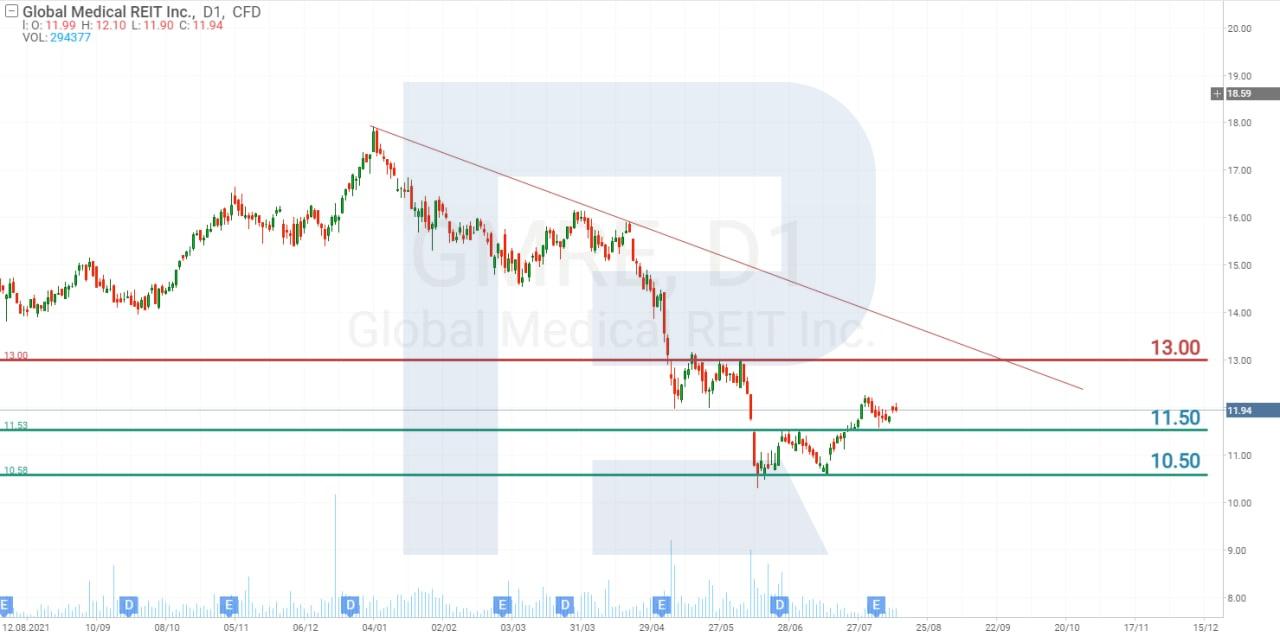 Rio Tinto Group
It is not only the healthcare sector that looks promising in terms of dividend yield. There is also the mining industry, which can accommodate for longer-term ideas.
Transition to green energy implies increased mining of non-ferrous metals, so companies in this sector will be able to sell more produce, and this is literally a promise of growing earnings. The main thing is for metal prices not to fall below the prime cost.
Rio Tinto Group (NYSE:RIO) explores, mines, and processes minerals and metals. It works worldwide and offers quite a wide assortment of metals, including lithium, aluminum, and brass that are vital for the green energy transition.
Apart from metals, Rio Tinto Group mines diamonds, gold, borate, titanium dioxide, salt, and iron ore. It owns oil refineries, electric plants, and metallurgic plants. Profitability of the business reaches 29%.
The company has a long story of dividend payments, and current yield is 11.4% a year. The quotes of Rio Tinto Group are 24% below the all-time high. The nearest support level is 54 USD.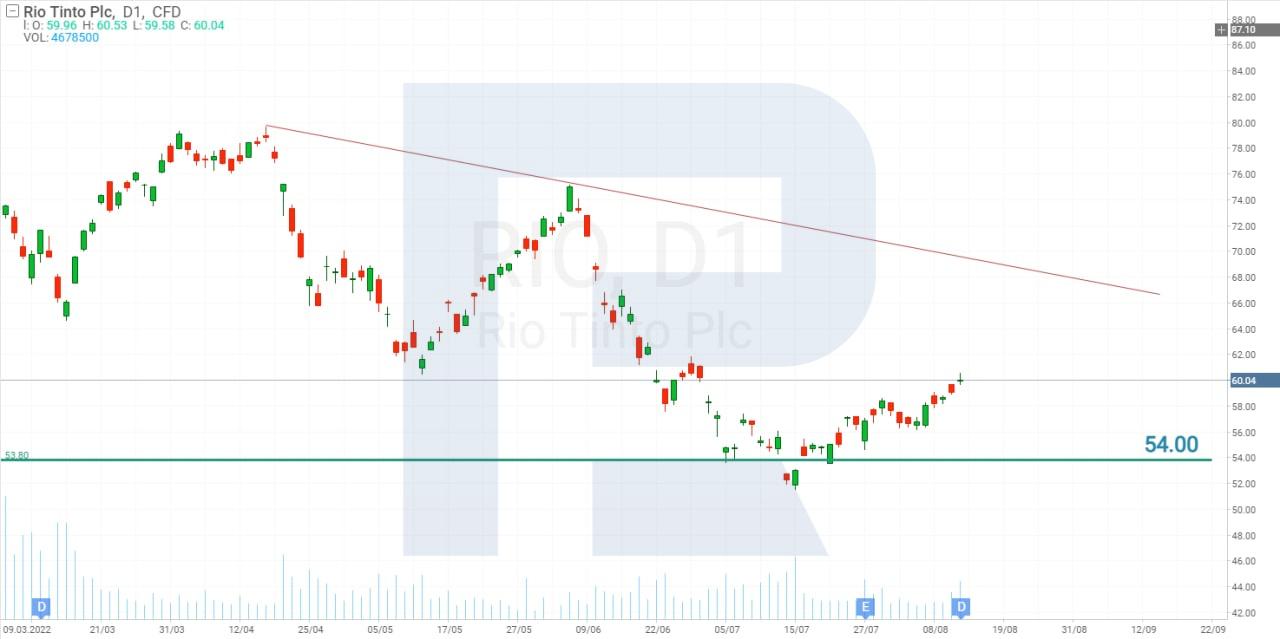 Closing thoughts
Most shares in the stock market are trading below their recent highs. This does not mean that the moment is perfect to buy stocks; yet we cannot deny that dividend yield grows when the stock price falls. Hence, dividends are quite an attractive story; the main thing is for inflation to start falling soon.
Invest in American stocks with RoboForex on favorable terms! Real shares can be traded on the R StocksTrader platform from $ 0.0045 per share, with a minimum trading fee of $ 0.5. You can also try your trading skills in the R StocksTrader platform on a demo account, just register on RoboForex and open a trading account.