Tesla (NASDAQ: TSLA) has been downtrending since December, having lost around 48% so far. In early May, in another Tesla stocks review, we mentioned the short position percentage had been around 25%. Now, it's already 28.12%, and every single day, the negative sentiment increases. When the stock was above $300, there was not so much of negative forecast; currently, both the leading banks and analysts are downgrading Tesla's rating. Some even say the company may get restructured, and call Elon Musk a scammer, probably just to make their short positions more effective.
This is a very common reaction to a falling stock, though. When you've got a short position, you'll do well to make the most of it, and for good. When the stock was up, the bears lost over $5M, and what they are doing now is actually trying to get their money back. They previously thought a company with so much debt failing to make profits could not sell its shares at such an expensive price, but Musk's campaigns and buyouts still helped Tesla to stand ground, and even go further up.
This could not last forever, of course. Everyone can buy it at $20 per share, but once it's $100 or $200, retail investors start fleeing, with less and less inexperienced ones staying.
It was only a matter of time, and once the price hit $300, large investors didn't support it, and the trend reversed. Now, again, with the stock getting cheaper, more investors can afford it; if this continues, the stock might experience a very serious plunge.
Tesla Executives Sell the Stock
Regular investors are not the only ones to sell it; those who work at the company as senior executives, do it, too.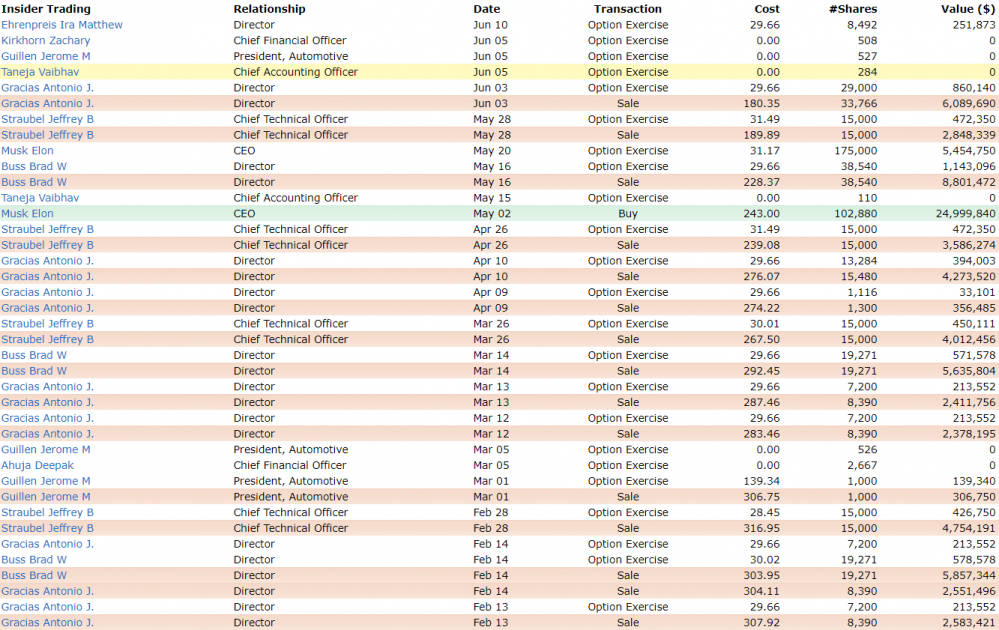 In May, Elon Musk bought 102,000 shares, and this made sense: the company was fueled by additional financing, with a bundle of shares and bonds sold at $2.35B, at $243 per share. Musk wanted to boost other investors' confidence, and he partly succeeded: some still think the things may not go as negative as others say. The stock, however, just went on falling.
The Competition Here to Stay
Tesla is an undoubted leader in driverless electric car industry, but the question is for how much longer. Other large corporations are going this way, too, it's only a matter of time. Small companies founded recently or being founded in the nearest future are unlikely to beat Tesla, at least in the coming five years. NIO (NYSE: NIO) may seem a major Tesla's competitor in China, with an IPO in 2018 at $6 per share and over 100% in the first two days. But that was the only good thing they have achieved so far. The sales get dropped every quarter, and the company is no longer going to construct its own electric car plant. The investors got really upset, and the stock got down to $2.40, without much chance for a major recovery. With a new plant, Tesla could make some acquisition plans, but now the only thing Musk's company may do is hire NIO employees, as long as they have a new plant in Shanghai.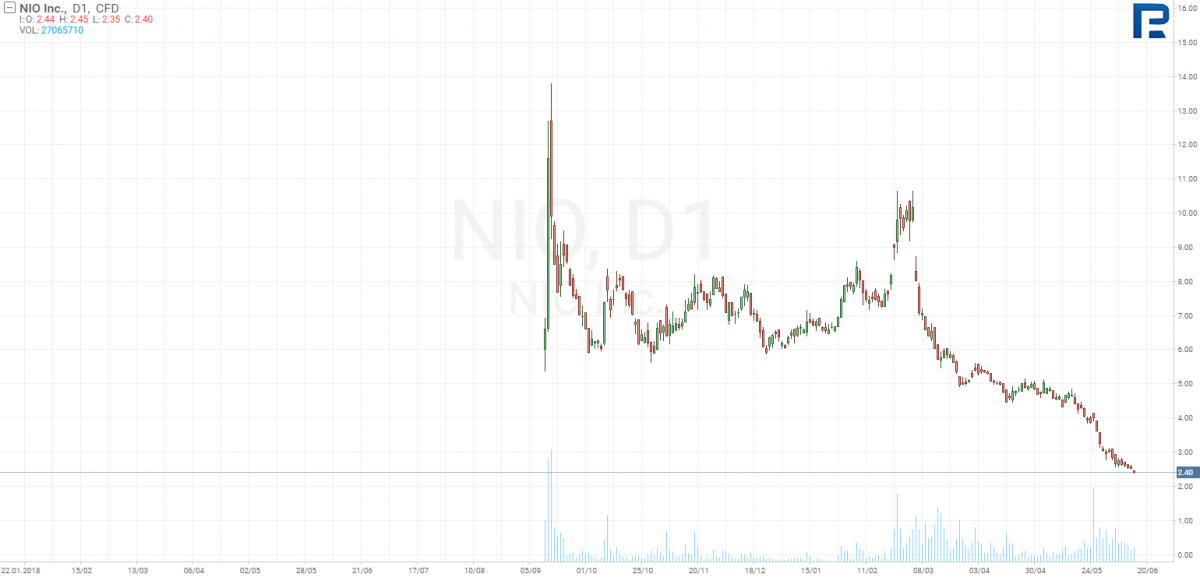 World's leading car manufacturers can, conversely, make a good competition to Tesla. This includes, for instance, Audi, BMW, Ford, General Motors, Nissan, and Volvo, who have been developing driverless electric car projects for a good deal of time. All of them have two great advantages: brand awareness and large production capacity that can help meet every customer's needs. This is what Tesla lacks, with its great debts.
One good example may fit here. In 2018, the most popular Ford's (NYSE: F) model was F-Series, with 1,068,748 units sold, while Tesla managed to sell just 146,046 Models 3. The demand exceeded the supply, but the company just doesn't have enough production capacity. Ford, conversely, does, and once it produces its own driverless electric car, it'll be most likely able to meet the market's demand. Indeed, who would be waiting for a Tesla car for months, if one could buy one from Ford, right away? Looking at the chart below, you will see how much Tesla is behind other leading car manufacturers, with just a single model taken as an example. And consider: Tesla has only Model S, Model X, and Model 3, while Ford has as many as 42 different models!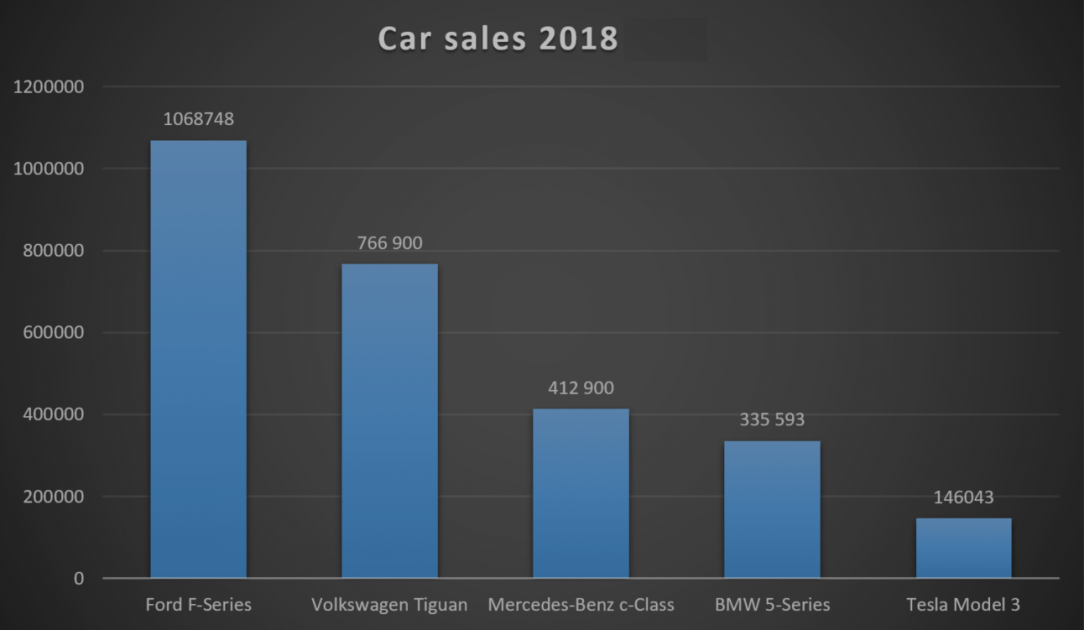 What Tesla must do is increase its production capacity drastically; otherwise, even a small demand reduction in the car market may kill it.
Losing More People for Tesla
Tesla is also under risk because of losing key personnel figures. Zeljko Popovic was a director in driverless car development, and he is no longer employed. With him being out, the driverless taxi and truck projects that were scheduled for late 2020, may be gone, too.
Weak Quarterly Report for Tesla
As if it weren't enough, the Q1 report was a failure, too, being the only quarter when the sales got down. The bears were happy to get another short bite, with the short float getting to 28.12%.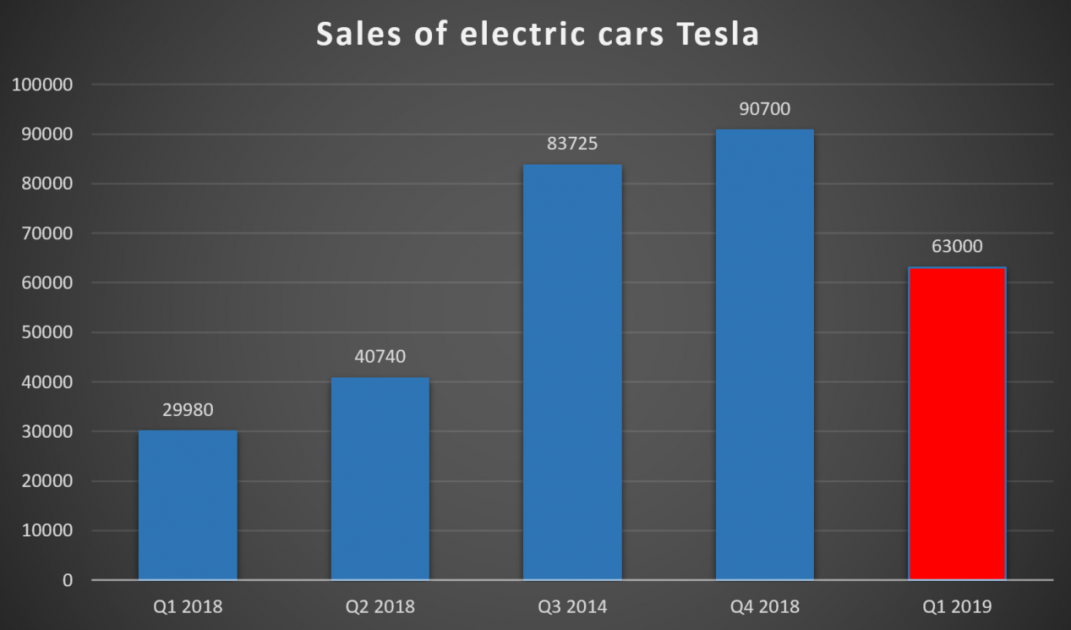 The company officials blamed shipping problems, and indeed, around 10,600 cars were shipped but not yet delivered by late March 2019, while there were just 1,900 in Q4 2019. And yet, even if those 10,000 had been delivered, this wouldn't have helped cover the sales negative. On the bright side, these 10,000+ cars will get rolled over to the Q2 report, with Musk already saying this quarter the sales could hit the record high. In Q3, the company may finally get its first net profit. Will it be enough for a recovery, though?
Comparing Tesla to other car manufacturers is always a good idea. This may help us answer a very important question: is Tesla stock overbought or oversold?
| | | | |
| --- | --- | --- | --- |
| Indicators | Tesla | Ford | General Motors |
| Sales in 2019 (Pieces) | 99495 | 1881291 | 1198523 |
| Net Profit ($B) | -0.702 | 1.146 | 2.157 |
| Dividend Yield (%) | - | 5.94 | 4,25 |
| ROI (%) | -4.3 | 1.9 | 6,2 |
| Equity ($B) | 5,46 | 36.434 | 44.63 |
| Debt to Equity | 1,79 | 2,82 | 1,65 |
| Short Float (%) | 28.12 | 2.70 | 1.41 |
| Number of Shares (M) | 178.785 | 3980.969 | 1398.494 |
| Turnover (Pieces) | 5.76 | 13.29 | 11.63 |
| Price per Share ($) | 215 | 10 | 36 |
Of course, Tesla is a very new company, and such numbers as sales are bound to be lower than those of well-established ones. But again, while being so much behind Ford, it could still record a net profit, and it hasn't yet. With the worst ROI and high debts, Tesla has already got a DTE ratio which is worse than that of General Motors (NYSE: GM). Short float is large, too, and only the turnover is better than that of the competition. Still, one should also look at the number of floating shares, as both Ford and GM have much more of those than Tesla.
If the number were equal (178M), Ford stock would cost $222, and GM, $281. Tesla would not then be so much of a loser with its $215.
Tesla Stocks Tech Analysis
Tesla does have some advantages, such as large demand, innovative techs, and large investors backing Musk. Take just Vanguard Group with nearly $6T, BlackRock with $6.80T, and State Street Corporation with $2.8T for example. Perhaps this is the reason for Musk being so much sure of his company's future. Among the drawbacks, one may name the sentiment, which is currently negative, and a large number of short positions that put the stock price under heavy pressure.
In this situation, tech analysis may help find the support levels from where the price may start to recover.
The stock is currently under the 200-day MA, and is downtrending. With sales probably hitting record highs in Q2, according to Musk's promises, the stock may well recover to reach the resistance at $280, though. In case the resistance gets broken out, it may even hit $380, but this is unlikely.
The negative sentiment may make the stock bounce of the resistance and take the price to the support at $140. At this point, finally, one may consider the stock oversold.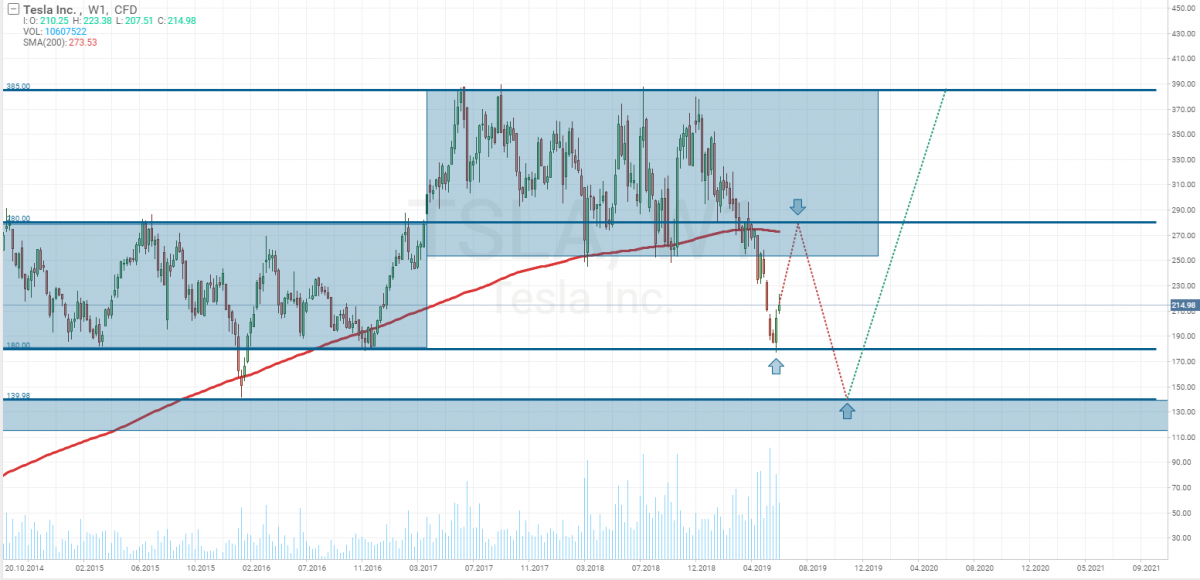 Disclaimer
Any predictions contained herein are based on the authors' particular opinion. This analysis shall not be treated as trading advice. RoboForex shall not be held Company for the results of the trades arising from relying upon trading recommendations and reviews contained herein.
---